Vickers Vendace Video - Picture
Vickers Vendace Aircraft Information
Vickers Vendace
Vendace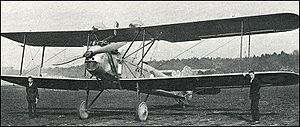 Role: Trainer
Manufacturer: Vickers
First flight: 1926
Introduction: 1928
Retired: 1933
Primary user: Bolivia
Number built: 5

The Vickers Vendace was a British trainer aircraft of the 1920s. Originally designed as a floatplane trainer for the Royal Air Force, three were sold to Bolivia.
Development
The British Air Ministry issued Specification 5A/24 for a floatplane trainer in October 1924. To meet this requirement, Vickers designed a two-seat biplane, the Vickers Type 120 Vendace I. The Air Ministry placed an order in August 1925 for a single prototype, as well as competing aircraft from Parnall and Blackburn (the Parnall Perch and Blackburn Sprat).
The Vendace I was a two-bay biplane with folding wooden wings and a steel tube fuselage, powered by a Rolls-Royce Falcon engine. Its undercarriage could be changed from floats to wheels in 10 minutes, while its fuel supply was held in two streamlined tanks above the upper wing.
The Vendace was flying by March 1926, and underwent successful trials as a landplane in 1926, including operation from the aircraft carrier HMS Furious, these being followed by testing in seaplane mode at the Marine Aircraft Experimental Establishment, Felixstowe, the following year. Despite the successful trials, the RAF did not order production, although they did retain the aircraft for experimental purposes.
Vickers built a second aircraft, the Type 157 Vendace II, as a private venture, with an ADC Nimbus (an inline six-cylinder engine derived from the Siddeley Puma) replacing the Falcon of the Vendace I. This first flew in November 1927, being sold to the Aircraft Operating Company for survey operations in South America.
Development continued with the Hispano-Suiza 8F powered Type 155 Vendace III, of which three were sold to Bolivia for use as trainers.
Operational history
The three Bolivian Vendaces entered service with the Escuela Militar de Aviacix³n in October 1928, They experienced some engine problems, blamed on the dusty conditions in the Bolivian summer, but remained in service until 1933.
Variants
Type 120 Vendace I Prototype convertible landplane/seaplane for RAF, powered by 275 hp (205 kW) Rolls-Royce Falcon III engine. One (serial number N208) built. Type 157 Vendace II Private venture aircraft powered by 300 hp (220 kW) ADC Nimbus engine. One (registered G-EBPX) built, converted for airborne survey purposes. Type 155 Vendace III Trainer for Bolivia, powered by 300 hp (220 kW) Hispano-Suiza 8F engine. Three built.
Operators
Bolivia United Kingdom
Royal Air Force

Specifications (Vendace III)
Data from Vickers Aircraft since 1908
General characteristics
Crew: Two
Length: 33 ft 3 in (10.14 m)
Wingspan: 44 ft 7 in (13.59 m)
Height: 12 ft 9 in (3.89 m)
Wing area: 533 ft² (49.5 m²)
Empty weight: 2,604 lb (1,184 kg)
Loaded weight: 3,207 lb (1,458 kg)
Powerplant: 1x— Hispano-Suiza 8F V-8 liquid cooled engine, 300 hp (224 kW)

Performance
Maximum speed: 103 knots (119 mph (192 km/h)) at 19,000 ft (5,800 m)
Service ceiling: 25,800 ft (7,870 m) (absolute)
Rate of climb: 720 ft/min (3.66 m/s)
Wing loading: 6.02 lb/ft² (29.5 kg/m²)
Power/mass: 0.094 hp/lb (0.15 kW/kg)

Bibliography
Andrews, C.F. and Morgan, E.B. Vickers Aircraft since 1908. London: Putnam. Second Edition, 1988. ISBN 0 85177 815 1.
Donald, David (ed.). The Encyclopedia of World Aircraft. Aerospace Publishing. 1997. ISBN 1-85605-375-X.
"The Vickers 'Vendace': An Efficient Land or Sea Training Biplane". Flight. March 18, 1926. London. p. 165-167.

Vickers Vendace Pictures
Living Warbirds: The best warbirds DVD series.
Source: WikiPedia