Vickers Venture Video - Picture
Vickers Venture Aircraft Information
Vickers Venture
Venture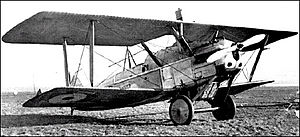 Role: Reconnaissance aircraft
Manufacturer: Vickers
First flight: 3 June 1924
Primary user: Royal Air Force
Number built: Six
Developed from: Vickers Vixen

The Vickers Venture was a British army co-operation biplane of the 1920's, designed and built by Vickers, as a development of the Vixen. While six were built for the Royal Air Force, they were found unsuitable and were used for experimental work.
Development and design
The Vickers Type 94 Venture was a further development of the Vixen II to meet the requirements of Air Ministry Specification 26/27, six aircraft being ordered. The Venture, like the Vixen which formed its basis, was a single bay biplane with a steel tube fuselage and wooden wings. It used the wings of the Vixen II with the lengthened fuselage of the Vixen III. The first Venture flew at Vickers factory at Brooklands on 3 June 1924 , being sent to the Aeroplane and Armament Experimental Establishment at Martlesham for evaluation. While demonstrating what was said to be "docile" handling , further testing showed that the aircraft had poor longitudinal stability, had a long landing run and was considered too large for use in army co-operation, where it would be expected to operate out of small airstrips . While it underwent brief Service trials with No. 4 Squadron, the six Ventures were relegated to experimental purposes, the final aircraft being struck off charge in January 1933 .
Operators
United Kingdom
Royal Air Force

Specifications (Venture)
Data from The British Bomber since 1914
General characteristics
Crew: Two
Length: 32 ft 0 in (9.76 m)
Wingspan: 40 ft 0 in (12.20 m)
Height: 13 ft 3 in (4.04 m)
Wing area: 526 ft² (48.9 m²)
Empty weight: 3,140 lb (1,427 kg)
Loaded weight: 4,890 lb (2,223 kg)
Powerplant: 1x— Napier Lion I 12 cylinder water cooled W-block, 450 hp (336 kW)

Performance
Maximum speed: 112 kn (129 mph, 208 km/h) at 10,000 ft
Service ceiling: 19,200 ft (8,730 m)
Wing loading: 9.30 lb/ft² (45.5 kg/m²)
Power/mass: 0.092 hp/lb (0.015 kW/kg)

Armament
2 x— forward-firing .303 in (7.7 mm) Vickers machine guns
1 x— .303 in (7.7 mm) Lewis Gun on Scarff ring in observers cockpit

Related development
Vickers Vixen
Vickers Valparaiso

Vickers Venture Pictures
Living Warbirds: The best warbirds DVD series.
Source: WikiPedia