Vickers Vernon Video - Crosswind landing - Warbirds Over the Rockies
Vickers Vernon Video - Warbirds Over the Rockies
Vickers Vernon Aircraft Information
Vickers Vernon
Vernon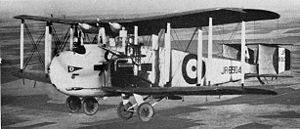 Picture - Vernon of 70 Squadron RAF, powered by Rolls-Royce Eagle engines.
Role: Transport
Manufacturer: Vickers
Introduction: 1921
Retired: 1927
Primary user: Royal Air Force
Number built: 55
Developed from: Vickers Vimy Commercial

The Vickers Vernon was a British biplane cargo aircraft used by the Royal Air Force. It was the first dedicated troop transport of the RAF, entering service in 1921.
The Vernon was a development of the Vickers Vimy Commercial, a passenger variant of the famous Vickers Vimy bomber, and was powered by twin Napier Lion engines. 55 were built.
In February 1923, in Iraq, Vernons of Nos. 45 and 70 Squadrons RAF airlifted nearly 500 troops to Kirkuk, after the civilian area of that town had been overrun by Kurdish forces. This was the first ever strategic airlift of troops.
Vernons were replaced by Vickers Victorias from 1927.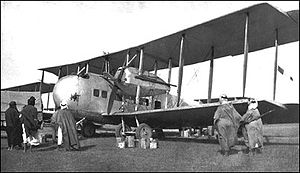 Picture - Vickers Vernon
Variants
Vernon Mk I Twin-engined military transport aircraft for the RAF. Vernon Mk II Powered by two 450 hp (340 kW) Napier Lion II piston engines. Vernon Mk III Powered by two Napier Lion III piston engines.
Operators
United Kingdom
Royal Air Force
No. 45 Squadron RAF
No. 70 Squadron RAF

Specifications (Vernon)
Data from Aircraft of the Royal Air Force
General characteristics
Crew: 3
Capacity: 11 passengers
Length: 42 ft 8 in (13.01 m)
Wingspan: 68 ft 1 in (20.76 m)
Height: 13 ft 3 in (4.04 m)
Wing area: 1,330 ft² (124 m²)
Empty weight: 7,981 lb (3,628 kg)
Loaded weight: 12,554 lb (5,706 kg)
Powerplant: 2x— Napier Lion, 450 hp (336 kW) each

Performance
Maximum speed: 87 kn (100 mph, 161 km/h)
Cruise speed: 65 knots (75 mph, 121 km/h)
Range: 278 nmi (320 mi , 515 km)
Service ceiling: 11,700 ft (3,600 m)
Wing loading: 9.44 lb/ft² (46.0 kg/m²)
Power/mass: 0.0717 hp/lb (0.118 kW/kg)

Related development
Vickers Vimy

Vickers Vernon Pictures
Living Warbirds: The best warbirds DVD series.
Source: WikiPedia