Vickers Victoria Video - Picture
Vickers Victoria Aircraft Information
Vickers Victoria
Victoria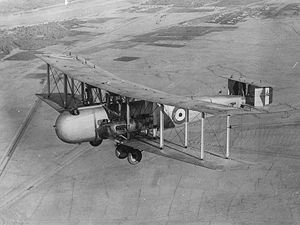 Role: Cargo/troop carrier
Manufacturer: Vickers
First flight: 1922
Retired: 1935
Primary user: RAF
Number built: 96
Developed from: Vickers Virginia
Variants: Vickers Valentia

The Vickers Type 56 Victoria was a British biplane freighter and troop transport aircraft used by the Royal Air Force, which flew for the first time in 1922 and was selected for production over the Armstrong Whitworth Awana.
Design and development
The design mated a similar fuselage of the earlier Vernon transport with the wing of the Virginia bomber, which was developed in parallel. It was also powered by twin Napier Lion engines.
97 were built, many of which were later converted into Valentias.
Variants
Type 56 Victoria Mk I
The first prototype.
Type 81 Victoria Mk II
The second prototype.
Type 117 Victoria Mk III
The first production version. Military transport aircraft for the RAF. 31 new built.
Type 145 Victoria Mk IV
Metal wing structure. One prototype powered by Bristol Jupiter radials. Six Lion engined conversions from earlier marks.
Type 169 Victoria Mk V
This was the main production version. Metal structure. Powered by two 570 hp (430 kW) Napier Lion VIIB piston engines. 37 new build, plus one converted from Mk III.
Type 262 Victoria Mk VI
Final production - powered by 622 hp (464 kW) Bristol Pegasus engines instead of Lions. 11 new build, 23 by conversion.
Operators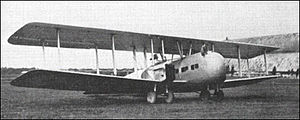 Picture - Vickers Victoria
United Kingdom
Royal Air Force
No. 58 Squadron RAF
No. 70 Squadron RAF
No. 216 Squadron RAF

Specifications (Victoria V)
Data from Aircraft of the Royal Air Force
General characteristics
Crew: Two
Capacity: 22 troops
Length: 59 ft 6 in (18.14 m)
Wingspan: 87 ft 4 in (26.62 m)
Height: 17 ft 9 in (5.41 m)
Wing area: 2,178 ft² (202.4 m²)
Empty weight: 10,030 lb (4,559 kg)
Loaded weight: 17,760 lb (8,073 kg)
Powerplant: 2x— Napier Lion XI inline piston engine, 570 hp (388 kW) each

Performance
Maximum speed: 96 kn (110 mph, 177 km/h)
Range: 670 nmi (770 mi, 1,240 km)
Service ceiling: 16,200 ft (4,940 m)
Wing loading: 8.15 lb/ft² (39.9 kg/m²)
Power/mass: 0.0642 hp/lb (0.0873 kW/kg)
Climb 11 mins to 4,920 ft

Vickers Victoria Pictures
Living Warbirds: The best warbirds DVD series.
Source: WikiPedia