Vickers Viscount Video - Overview
Vickers Viscount Video - Viscount Stephen Piercey comes to Brooklands Museum - The Inside Story
Vickers Viscount Aircraft Information
Vickers Viscount
Viscount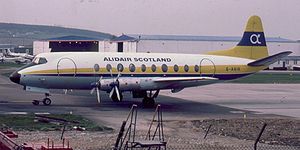 Picture - A Vickers Viscount 700 at Aberdeen Airport, Scotland
Role: Turboprop airliner
Manufacturer: Vickers-Armstrongs
First flight: 16 July 1948
Introduction: 1950
Primary users: British European Airways Capital Airlines
Produced: 1948-1963
Number built: 445
Developed into: Vickers Vanguard

The Viscount was a British medium-range turboprop airliner first flown in 1948 by Vickers-Armstrongs, making it the first such aircraft to enter service in the world. It would go on to be one of the most successful of the first generation postwar transports, with 445 being built.
Design and development
The design resulted from the Brabazon Committee's Type II design, calling for a small sized, medium range pressurised aircraft to fly its less-travelled routes, carrying 24 passengers up to 1,750 mi (2,816 km) at 200 mph (320 km/h). British European Airways (BEA) was involved in the design and asked that the aircraft carry 32 passengers instead, but remained otherwise similar. During development, Vickers advocated the use of turboprop power, believing piston engines to be a dead end in aviation. The Brabazon committee was not so convinced, but agreed to split the design into two types, the Type IIA using piston power, and the Type IIB using a turboprop. Vickers won the IIB contracts, while the IIA was the Airspeed Ambassador.
Prototype aircraft
The resulting Vickers Type 630 design was completed at Brooklands by Chief Designer Rex Pierson and his staff in 1945, a 32-seat airliner powered by four Rolls-Royce Dart engines providing a cruising speed of 275 mph (443 km/h). An order for two prototypes was placed in March 1946, and construction started almost immediately. Originally to be named Viceroy, the name was changed to Viscount after the partition of India in 1947. There was some work on replacing the Darts with the Armstrong Siddeley Mamba, but this was dropped by the time the prototypes were reaching completion.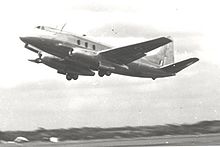 Picture - Type 663 Tay Viscount demonstrating at Farnborough in September 1950
The prototype Type 630 made its maiden flight on 16 July 1948, piloted by Joseph "Mutt" Summers, Vickers' Chief Test Pilot. The design was considered too small and slow at 275 mph (443 km/h), making the per passenger operating costs too high for regular service, and BEA had placed an order for 20 piston engined Airspeed Ambassadors in 1947. Early flight trials, however, showed the qualities of a turboprop, resulting in a February 1949 order from the Ministry of Supply for a prototype of a stretched version with more powerful engines, the Type 700. The first prototype Type 630 was meanwhile awarded a restricted Certificate of Airworthiness on 15 September 1949, followed by a full Certificate on 27 July 1950, which allowed the aircraft to be placed into service with BEA on 29 July to familiarize the pilots and ground crew with the new aircraft, flying services between London and Paris, and London and Edinburgh for a month.
The second prototype Viscount was named the Type 663 and was built as a testbed. This aircraft fitted with two Rolls-Royce Tay (turbojet) engines and first flew in RAF Markings as VX217 at Wisley on 15 March 1950. It was demonstrated at the Farnborough SBAC Show in September and was later used in the development of powered controls for the Valiant bomber. Subsequently, Boulton Paul Ltd used it as a test bed for electronic control systems until scrapping in 1960 at Seighford airfield, Staffordshire.
Type 700 Viscount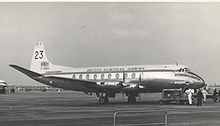 Picture - Viscount 700 prototype G-AMAV in BEA colours as competitor No. 23 in the NZ Air Race at London Airport 8 October 1953
The designers then went back to the drawing board and the aircraft emerged as the larger Type 700 with up to 48 passengers (53 in some configurations), and a cruising speed of 308 mph (496 km/h). The new prototype G-AMAV first flew from Brooklands on 28 August 1950. It was used in flight tests and proving trials throughout 1951/52. BEA started regular passenger flights as the world's first sustained turboprop service in April 1953.
Today's airline passengers accustomed to small "portal" type windows can hardly imagine the panorama seen through a Viscount's window, 19 inches wide and 26 inches tall. It is equally hard to imagine a first experience of turbine-powered flight; passengers and air crew had accepted the roar and vibration of piston engines and would continue to do so, but a smooth engine hum had great appeal (although the Viscount's hum would still seem loud to today's traveller).
In October 1953 the Viscount 700 prototype G-AMAV achieved the fastest time (40 hours 41 minutes flying time) in the transport section of the 12,367 mi (19,903 km) air race from London to Christchurch, New Zealand. The aircraft averaged 320 mph (520 km/h) in the event, crossing the finishing line nine hours ahead of its closest rival, a Douglas DC-6A of KLM, with the latter winning on handicap. En route, equipped with extra fuel tanks, it flew 3,530 mi (5,680 km) nonstop from the Cocos (Keeling) Islands to Melbourne's Essendon Airport in 10 hours 16 minutes. Vickers Viscounts later served with New Zealand's National Airways Corporation.
Viscount production and operation
Type 700 series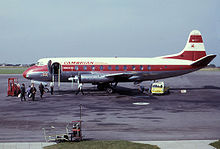 Picture - Viscount 701 of Cambrian Airways at Bristol Airport in 1963
The Type 700D added more powerful engines, and the Type 724 included a new fuel system, two-pilot cockpit, and increased weights.
Type 800 series
The final major change to the design was the Type 800, unofficially named the Super Viscount, stretched 3 ft 10 in (1.2 m) for up to 71-74 passengers. Wider, more square doors were fitted to the airframe at this time. A further fuselage extension was planned but not produced, instead eventually developing into the later Vanguard. The last Viscounts built were six for the People's Republic of China state airline Civil Aviation Administration of China, which were delivered during 1964, giving a total production total of 445.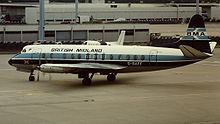 Picture - Viscount 814 of British Midland in 1981
The Viscount continued in BEA and, later, British Airways service until early 1985, when they were withdrawn from service, eventually being passed on to charter operators such as British Air Ferries (later British World). After a life extension programme on the airframes, the Viscounts continued in service both as a passenger aircraft (until early 1997), and freighters, able to carry seven tonnes of payload, a useful amount in the market. The last British-owned Viscounts were withdrawn and sold on by the then operator British World Airlines for use in Africa in 1997.
As of August 2010, one Viscount 800 series (ex-G-APEY) remains airworthy and for sale at Lanseria, Africa. This means the Viscount has flown between 1948 and 2010, giving the aircraft type, an amazing lifespan of 62 years.
Accidents and incidents
See List of accidents and incidents involving the Vickers Viscount.
Variants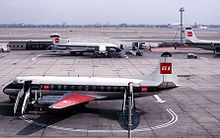 Picture - British European Airways Vickers Viscount 802 at London Heathrow Airport in 1964. Behind it is a BEA Hawker Siddeley Trident and on the right a BEA Vickers Vanguard
Type 630
First prototype, with short fuselage (74 ft 6 in (22.71 m), accommodating 32 passengers and powered by four 1,380 ehp (1,032 kW) Rolls-Royce Dart R.Da Mk 501 engines.
Type 663
Second prototype, testbed for Rolls-Royce Tay turbojet.
Type 640
Planned third prototype, to be powered by four Napier Naiad turboprops. Not built, with parts incorporated in Type 700 prototype.
Type 700
The first production version, 1,381 hp (1,030 kW) engines, 287 built
Type 700D 1,576 hp (1,175 kW) engines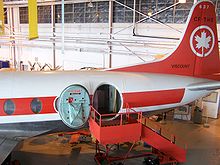 Picture - Tail fin of a Viscount 757 at the Western Canada Aviation Museum in Winnipeg, Manitoba.
Type 700D
1,576 hp (1,175 kW) engines
Type 724
15 sold to Trans-Canada Air Lines (TCA) of Canada, included increased electrical power, new fuel system, and cold weather operation provisions.
Type 745D
40 sold to Capital Airlines of the USA
Type 757
35 for Trans-Canada Air Lines with upgraded 1,600 hp (1,120 kW) Dart 510 engines
Type 771D
Improved 770D
Type 785D
Type 800
Fuselage extended by 3 ft 10 in (1.2 m), 67 built
Type 810
1,991 hp (1,485 kW) engines, 84 built
Operators
Civil operators
In August 2010, only two Vickers Viscount aircraft (both ex-B.E.A. type 800, the first one reg. no. 3D-PFI), remain in airworthy flying condition in Africa, and there is a possibility that 9Q-COD ( the second one,ex. G-APEY) remains flyable, but is parked on the military ramp at Kinshasha. There is a further Viscount 800 parked at Lubumbashi, and this machine flew twice in 2008, so may be in a flyable condition at the time of writing (2010). In addition to this, one (a series 700) is in a near flyable condition at the Mid-Atlantic Air Museum, in the USA, but requires a complete fuel line overhaul.
Aden Airways
Aer Lingus
Air Canada
Air Bridge Carriers
Air Ferry
Air France
Air Inter
Air Malawi
Air Rhodesia
Alitalia
All Nippon Airways
Aloha Airlines
Ansett
Arkia Airlines
Austrian Airlines
Bahamas Airways
Braathens SAFE
British Air Ferries
British Airways
British Eagle
British European Airways
British Midland
British United Airlines
British West Indian Airways
British World Airways
Bouraq Indonesia Airlines
BWIA West Indies Airways
CAAC

Cambrian Airways
Capital Airlines
Central African Airway
Continental Airlines
Cubana
Cyprus Airways
Dan Air
EgyptAir
Euroair
Far Eastern Air Transport
Ghana Airways
Hong Kong Airways - leased from BOAC
Hunting Clan
Icelandair
Indian
Intra Airways
Iran Air
Iraqi Airways
KLM
Kuwait Airways
LOT Polish Airlines (3)
Lx­neas Aéreas Canarias
Lufthansa
MacRobertson Miller Airlines
Mandala Airlines
Manx
Maritime Central Airways
Merpati Nusantara Airlines
Middle East Airlines (MEA)

Misrair - Egypt Airlines
National Airways Corporation
Northeast Airlines
Pakistan International Airlines
Philippine Airlines
PLUNA
SAETA (Sociedad Anx³nima Ecuatoriana de Transportes Aéreos)
South African Airways
Starways
TAO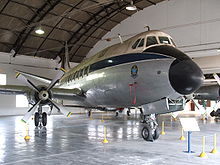 Picture - Brazilian Air Force Viscount used by Brazilian authorities on display at Brazilian Air Force Museum, in Rio de Janeiro
TAP Portugal
Transair (Canada)
Transportes Aéreos Centroamericanos (TACA)
Trans Australia Airlines (TAA)
Trans Canada Airlines (TCA)
Turkish Airlines (THY)
VASP
Union of Burma Airways
United Airlines
Virgin Atlantic Airways
Military operators
Australia
Royal Australian Air Force
No. 34 Squadron RAAF - 2 aircraft operated in VIP configuration 1964-1969

Brazil
Brazilian Air Force

People's Republic of China
People's Liberation Army Air Force

India
Indian Air Force

Oman
Sultan of Oman Air Force

Pakistan
Pakistan Air Force

South Africa
South African Air Force
No. 21 Squadron SAAF

Turkey
Turkish Air Force

United Kingdom
Aircraft on display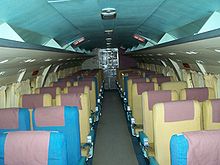 Picture - Interior of Viscount 757 in Winnipeg museum
Type 701 (Registration G-ALWF named Sir John Franklin) on display in BEA colours at Duxford, Cambridgeshire, England.
Type 701 (Registration G-AMOG named Sir Robert Falcon Scott) on display in BEA colours at National Museum of Flight, Scotland.
Type 708 (Registration F-BGNR named Victoria Lynne) awaiting restoration at the Midland Air Museum, Coventry Airport, England
Type 708 (Registration F-BGNU) on display in Air France colours at Sinsheim Auto & Technik Museum, Germany.
Type 745D (Registration N7471) in Capital Airlines colors, at the Mid-Atlantic Air Museum, Reading, PA, USA.
Type 757 (Registration CF-THG) in Air Canada colours under restoration at BC Air Museum, Victoria, BC, Canada.
Type 757 (Registration CF-THI) on display in Trans-Canada Airlines colours at Canada Aviation and Space Museum, Rockcliffe, Canada.
Type 757 (Registration CF-THS) on display in Air Canada colours at Western Canada Aviation Museum, Winnipeg, Manitoba, Canada.
Type 772 (Registered 9Y-TBT) fire training at Port of Spain, Piarco International Airport.
Type 789D (Serial Number FAB2101) on display in Brazilian Air Force colours at the Museu Aeroespacial, Campos dos Afonsos, Rio de Janeiro, Brazil.
Type 794D (Manufacturer Serial Number 430, registration TC-SEL changed to TC-SEV, which crashed 1959 in Gatwick) Military Aviation Museum, Yeşilkx¶y, Istanbul, Turkey.
Type 806 (Registration G-APIM named Viscount Stephen Piercey) on display in British Air Ferries colours at Brooklands, Surrey, England.
Type 807 (Registration ZK-BRF named "City of Christchurch") on display at the Ferrymead Heritage Park, New Zealand
Type 813 (Registration ZS-CDT and then G-AZLP) awaiting restoration at the North East Aircraft Museum, Sunderland, United Kingdom.
Type 814 (Registration D-ANAM) on display in British Air Ferries colours with no titles at Flugausstellung Leo Junior at Hermeskeil in Germany.
Type 818 (Registration VH-TVR named John Murray) on display in Trans Australia Airlines colours at the Australian National Aviation Museum, Moorabbin, Australia.
Type 843 (Serial Number 50258) in China Air Force colours as the Beijing Aviation Museum, China.

Specifications (Type 810)
Data from Jackson, 1974.
General characteristics
Crew: Two pilots + cabin crew
Capacity: 75 passengers
Length: 85 ft 8 in (26.11 m)
Wingspan: 93 ft 8 in (28.56 m)
Height: 26 ft 9 in (8.15 m)
Wing area: 963 ft² (89 m²)
Empty weight: 41,276 lb (18,722 kg)
Max takeoff weight: 67,500 lb (30,617 kg)
Powerplant: 4x— Rolls-Royce Dart RDa.7/1 Mk 525 turboprop, 1,990 shp (1,484 kW) each

Performance
Maximum speed: 352 mph (566 km/h)
Range: 1,380 mi (2,220 km)
Service ceiling: 25,000 ft (7,620 m)
Wing loading: 75 lb/ft² (368 kg/m²)
Power/mass: 0.12 hp/lb (0.19 kW/kg)

Comparable aircraft
Airspeed Ambassador
Armstrong Whitworth Apollo
Ilyushin Il-18
Lockheed L-188 Electra

Bibliography
Andrews, C.F. and E.B. Morgan. Vickers Aircraft since 1908. London: Putnam, Second Edition, 1988. ISBN 0-85177-815-1.
Cacutt, Len, ed. "Vickers Viscount." Great Aircraft of the World. London: Marshall Cavendish, 1989. ISBN 1-85435-250-4.
Dunn, Robin MacRae. Vickers Viscount (AirlinerTech Volume 11). North Branch, Minnesota: Specialty Press, 2004. ISBN 978-1-58007-065-2.
"England to New Zealand -in 24 hours: Varied Fortunes in the London-Christchurch Race". Flight, 16 October 1953, pp. 521-523.
Jackson, A.J. British Civil Aircraft since 1919 (Volume 3). London: Putnam, 1974. ISBN 0-370-10014-X
Jackson, A.J. British Civil Aircraft 1919-1972: Volume III. London: Putnam, 1988. ISBN 0-85177-818-6.
"The Story of the Viscount: Evolution of an Airliner: The First Ten Years." Flight, 15 July 1955, pp. 83-86, 93.

Vickers Viscount Pictures
Living Warbirds: The best warbirds DVD series.
Source: WikiPedia