Vickers Vulcan Video - Picture
Vickers Vulcan Aircraft Information
Vickers Vulcan
Vickers Vulcan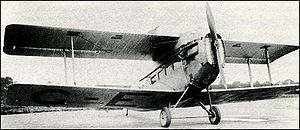 Role: Airliner
Manufacturer: Vickers
Designed by: Rex Pierson
First flight: April 1922
Introduced: 1 June 1922
Retired: July 1928
Primary users: Instone Air Line Imperial Airways
Produced: 1922-1925
Number built: 8

The Vickers Vulcan was a British single-engine biplane airliner of the 1920s built by Vickers Limited at Brooklands Aerodrome, Surrey. It carried eight passengers and a pilot.
Development
The Vickers Vulcan was designed by Rex Pierson of Vickers and it first flew in April 1922 at the hands of the chief test pilot, S. Cockerell, at the Brooklands Aerodrome in Surrey, UK.
The Vulcan was based on a civil version of the Vimy bomber, but featured many changes, including a much larger fuselage (taller) and one, instead of two, Rolls Royce Eagle VIII engines, with the intention being to get low operating costs. The shape of its fuselage, as well as its flying characteristics, earned it the nickname "Flying Pig". The first delivery took place in August 1922, to Instone Air Line Ltd. Other operators included Imperial Airways and Qantas (however, the latter returned the aircraft as their performance was too poor for the company's needs). The last Vulcan flying was a Type 74 with Imperial Airways. It crashed in July 1928.
Variants
Type 61 - first production version
Type 63 - cargo version based on the Type 61
Type 74 - upgraded to 450 hp Napier Lion engine

Operators
Australia
Qantas

United Kingdom
Imperial Airways
Instone Air Line

Individual aircraft
Specifications (Vulcan Type 74)
Data from Vickers Aircraft Since 1908
General characteristics
Crew: 1
Capacity: 6-8 passengers
Length: 38 ft (11.58 m)
Wingspan: 49 ft (14.94 m)
Height: 14 ft 3 in (4.34 m)
Wing area: 840 ft² (78.1 m²)
Airfoil: High lift T64
Empty weight: 4,400 lb (2,000 kg)
Max takeoff weight: 6,750 lb (3,062 kg)
Powerplant: 1x— Napier Lion inline engine, 450 hp (336 kW)

Performance
Maximum speed: 112 mph (180 km/h) at sea level
Range: 430 mi (692 km)
Service ceiling: 10,500 ft (3,200 m)
Rate of climb: 500 ft/min (2.5 m/s) initial
Wing loading: 8.03 lb/ft² (39.2 kg/m²)
Power/mass: 0.07 hp/lb (0.11 kW/kg)
Climb to 5,000 ft (1,520 m): 13 minutes

Related development
Vickers Vimy

Comparable aircraft
De Havilland DH.18
De Havilland DH.34

Vickers Vulcan Pictures
Living Warbirds: The best warbirds DVD series.
Source: WikiPedia