Vickers Windsor Video - Picture
Vickers Windsor Aircraft Information
Vickers Windsor
Vickers Windsor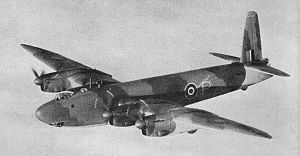 Role: bomber
Manufacturer: Vickers-Armstrongs (Aircraft) Ltd.
First flight: 23 October 1943
Status: Prototype
Primary user: Royal Air Force
Produced: 1943-1944
Number built: 3

The Vickers Windsor was a Second World War British four-engine heavy bomber, designed by Barnes Wallis and R.K. Pierson at Vickers-Armstrongs.
Design and development
The Windsor was designed to Air Ministry Specification B.5/41 (later modified to Spec. B.3/42) for a high-altitude heavy bomber with a pressurised crew compartment, and an ability to fly at 345 miles per hour (555 km/h) at 31,000 feet (9,400 m). Notable features of the Windsor included its pressurised crew compartment, four mainwheel struts (each extending from one of the engine nacelles and carrying a single balloon-tyred wheel), elliptical planform high aspect ratio wings, and guns mounted in barbettes at the rear of each (outboard) nacelle, which were to be remotely operated by a gunner in a pressurised compartment in the extreme tail.
The Windsor used Wallis's geodetic body and wing structure that Vickers had previously used in the Wellesley, Wellington and Warwick bombers. Instead of doped Irish linen however, a stiff and light skin was used on the Windsor, made with woven steel wires and very thin (1/1000 inch thickness) stainless steel ribbons, doped with PVC or other plastic, specially designed to avoid balloning. To properly fit the skin to the frame, a tuning fork had to be used.
The wings' structure had no spars. Instead, it was a single hollow geodetic tube from tip to tip, passing through the fuselage truss. To better resist the compression and tension efforts, the elements were assembled at 16 degrees next to the root, reverting to the more conventional ninety degrees on the tips, longitudinal elements locking everything in place. The elements' thickness was also reduced towards the tips. No two joints had the same angle on the wing, an authentic production engineer's nightmare.
The wing was designed so that the tips had a noticeable droop on the ground, but was straight in flight, so the skin had to be fitted tighter on top than on the bottom to be evenly tight in flight.
Operational history
Only three examples (the original plus successive prototypes Type 457 and Type 461) were built in total due to refinements in the existing Lancaster bomber rendering it suitable for the role for which the Windsor had been designed. The first prototype flew in 23 October 1943, second on 15 February 1944, third on 11 July 1944. Two latter prototypes were tested till the end of the Second World War, when further development and production were cancelled.
Variants
Type 447
First prototype, serialled DW506, powered by four 1,315 horsepower (981 kW) Rolls-Royce Merlin 65 engines.
Type 457
Second prototype, serialled DW512, powered by four 1,635 horsepower (1,219 kW) Merlin 85 engines.
Type 461
Third prototype, serialled NK136, powered by four 1,635 horsepower (1,219 kW) Merlin 85 engines, armed with four 20mm guns in remote-controlled barbettes in rear of outer engine nacelles (a pair in each) aimed from the unarmed tail position.
Operators
United Kingdom
Royal Air Force

Specifications (Vickers Windsor Type 447)
Data from Vickers Aircraft since 1908
General characteristics
Crew: six to seven
Length: 76 ft 10 in (23.43 m)
Wingspan: 117 ft 2 in (35.71 m)
Height: 23 ft (7.01 m)
Wing area: 1,248 ft² (116 m²)
Empty weight: 38,606 lb (17,548 kg)
Loaded weight: 54,000 lb (24,545 kg)
Powerplant: 4x— Rolls-Royce Merlin 65 liquid cooled V12 engine, 1,635 hp (1,220 kW) each

Performance
Maximum speed: 317 mph (276 knots, 510 km/h) at 23,000 ft (7,010 m)
Range: 2,890 mi (2,513 nmi, 4,653 km) with 8,000 lb (3,600 kg) bombs
Service ceiling: 27,250 ft (8,300 m)
Rate of climb: 1,250 ft/min (6.4 m/s)

Armament
Guns: 4 x— 20 mm cannon in remote controlled barbettes firing to rear
Bombs: about 15,000 lb (6,800 kg) of bombs

Comparable aircraft
Avro Lancaster
Handley Page Halifax
Avro Lincoln
Heinkel He 177B

Andrews, C.F. and E.B. Morgan. Vickers Aircraft since 1908. London:Putnam, 1988. ISBN 0 85177 815 1.
Bridgman, Leonard, ed. Jane's All The World's Aircraft 1945-1946. London: Samson Low, Marston & Company, Ltd., 1946.
Mason, Francis K. The British Bomber since 1914. London:Putnam, 1994. ISBN 0 85177 861 5.
Murray, Dr. Iain Bouncing-Bomb Man: The Science of Sir Barnes Wallis. Haynes. ISBN 978-1-84425-588-7.
Swanborough, Gordon. British Aircraft at War, 1939-1945. East Sussex, UK: HPC Publishing, 1997. ISBN 0-9531421-0-8.

Vickers Windsor Pictures
Living Warbirds: The best warbirds DVD series.
Source: WikiPedia