VL Kotka Aircraft Information
VL Kotka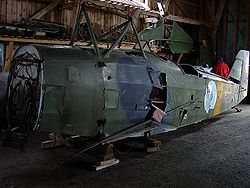 Picture - VL E.30 Kotka II, KA-147, in Vesivehma in 2006
VL E.30 Kotka (English: Eagle) was a Finnish two-seat, biplane maritime patrol aircraft, designed by Kurt Berger at the State Aircraft Factory (Valtion lentokonetehdas). It was meant to replace the Blackburn Ripons that were in service with the Finnish Air Force.
The prototype made its first flight on September 30, 1930. In 1931 the State Aircraft Factory began producing a series of five aircraft. These were used as liaison aircraft until 1944.
One aircraft (no. 4, KA-147) is still preserved and on display at the Px¤ijx¤t-Hx¤me Aviation Museum.
Versions
VL Kotka I - prototype aircraft, one built
VL Kotka II - series production aircraft, five built

Operators
Finland
Finnish Air Force.

Specifications (VL Kotka II)
General characteristics
Crew: Two
Length: 9.7 m (31 ft 10 in)
Wingspan: 12.7 m (41 ft 8 in)
Height: ()
Wing area: m² (ft²)
Max takeoff weight: 2,380 kg (5,250 lbs)
Powerplant: 1x— Wright R-1820 Cyclone E radial engine, ()

Performance
Maximum speed: 225 km/h (140 mi/h)
Service ceiling: 3,000 m (9,840 ft)

VL Kotka Pictures
More aircraft.
Source: WikiPedia