VL Tuisku Video - Picture
VL Tuisku Aircraft Information
VL Tuisku
Tuisku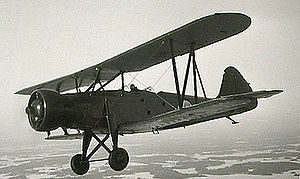 Role: Advanced trainer or reconnaissance aircraft
National origin: Finland
Manufacturer: Valtion Lentokonetehdas
Designed by: A. Ylinen
First flight: 10 January 1934
Introduced: 1935
Retired: 1949
Primary user: Finnish Air Force
Number built: ca. 31

The VL Tuisku was a Finnish trainer aircraft designed in the 1930s. It was a two seat, single engined biplane with a welded steel framework, covered with fabric. 30 were produced for the Finnish Air Force and served from 1935-1949.
Design and development
Arvo Ylinen, who was the chief designer at the State Aircraft Factory (Valtion lentokonetehdas, abbreviated VL) led a project to create a new trainer aircraft for the Finnish Air Force. A prototype was built in 1933 and its was first flown on January 10, 1934 by lieutenant U.E. Mx¤kelx¤. Series production began one year later in 1935 - 30 aircraft were built over a period of two years. The name Tuisku means Snowstorm in English.
Operational hisory
Three different versions of the aircraft were made: a maritime, a pilot training and a reconnaissance training version. The aircraft was in use with all Finnish Air Force squadrons until 1949, bearing the identification codes TU-149 - TU-179.
Aircraft on display
One Tuisku, named "Sokeri-Sirkku" (TU-178) is preserved and on display at the air museum in Vantaa. The fuselage of TU-169 is preserved in the museum's storage facilities. A Tuisku is also on display in front of the old State Aircraft Factory in Tampere.
Variants
Tuisku : Prototype.
Tuisku I : Initial production version.
Tuisku II : Improved version, fitted with a 215-hp (160-kW) Armstrong Siddeley Lynx radial piston engine.

Operators
Finland Finnish Air Force
Specifications (Landplane)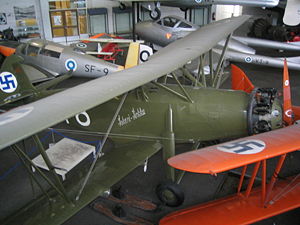 Picture - VL Tuisku at the air museum at the Helsinki-Vantaa airfield.
Data from Grey 1972, p. 101c
General characteristics
Crew: 2
Length: 9.35 m (30 ft 8 in)
Upper wingspan: 12.10 m (39 ft 8 in)
Lower wingspan: 10.28 m (33 ft 9 in)
Height: 3.26 m (10 ft 8 in)
Wing area: 33.65 m (362.2 sq ft)
Empty weight: 990 kg (2,183 lb)
Max takeoff weight: 1,625 kg (3,583 lb)
Powerplant: 1 x— Armstrong Siddeley Lynx IVC 7-cylinder radial aircooled, 160 kW (215 hp)

Performance
Maximum speed: 207 km/h (129 mph; 112 kn)
Cruising speed: 170 km/h (110 mph; 92 kn)
Range: 1,150 km (715 mi; 621 nmi)
Service ceiling: 4,400 m (14,436 ft) service
Rate of climb: 2.80 m/s (551 ft/min) to 2,000 m (6,100 ft with weight 1,350 kg (2,976 lb)
Wing loading: 48.3 kg/m² (9.9 lb/sq ft)

Notes and references
Grey, C.G. (1972). Jane's All the World's Aircraft 1938. London: David & Charles. ISBN 0-7153-5734-4.

VL Tuisku Pictures
More aircraft.
Source: WikiPedia