Voisin III Video - Replica
Voisin III Video - Pearson Airfield Museum in Vancouver, Washington
Voisin III Aircraft Information
Voisin III
Voisin III

Role: Biplane
Manufacturer: Aeroplanes Voisin (Gabriel Voisin)
Designed by: Aeroplanes Voisin (Gabriel Voisin)
First flight: 1914
Introduced: 1914
Retired: before 1918
Status: Decommissioned
Primary user: Aéronautique Militaire
Number built: over 800
Developed from: Voisin I

The Voisin III (or Voisin 3) was a two-seat bomber and ground attack aircraft of World War I, one of the first of its kind. It is also notable for being the first Allied plane in the war to win an aerial fight and shoot down an enemy airplane.
It was a pusher biplane, developed by Aeroplanes Voisin of Gabriel Voisin in 1914 as a more powerful version of the 1912 Voisin I (Voisin 1) design. It also incorporated a light steel frame which made it survivable in the temporary airfields of wartime military aviation.
Operational history
Early in the war, Voisin III became the most common Allied bomber. Significant numbers were purchased by French Air Force and the Imperial Russian Air Force. Russia ordered over 800 in France and built a further 400 under license at DUX in Moscow. Around 100 were built in Italy, and 50 in the United Kingdom, while smaller numbers were purchased by Belgium and Romania.
Like many other airplanes of its era, Voisin III was a multi-purpose plane. Its missions included reconnaissance, artillery spotting, training, day and night bombing, and ground attack.
Fighter role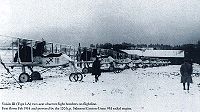 Picture - squadron of Voisin III's, First World War.
On October 5 1914 , over Jonchery, Reims, Sergeant Joseph Frantz and Corporal Louis Quénault of Escadrille VB24 scored the first air-to-air kill (not involving ramming - see Pyotr Nesterov) of the war, shooting down a German Aviatik B.II with machine gun fire. Quénault fired two 48-round magazines at the Germans. The Germans returned fire with rifles. When the Frenchman's 8mm Hotchkiss M1909 machine gun jammed, he successfully returned fire with his rifle. Oberleutnant Fritz von Zangen and Sergeant Wilhelm Schlichting of FFA 18 fell to their deaths. This is believed to be the first air-to-air kill in any war.
Bomber role
The Voisin III is also notable in being one of the first dedicated bombers. The steel frame construction of the aircraft enabled a bomb load of approx. 150 kg (330 lb) to be carried. With development, the final variants of the type were able to carry twice this load.
France was the first country to organize dedicated bomber units on the Western Front, using the Voisin. Three Escadrilles (squadrons) of the aircraft comprised the first bomber group, GB1, formed in September 1914 under the leadership of Commandant de Gox¿s. de Goys' contribution both as a tactical leader and theoretician, in developing the theory and practice of long range bombing sorties, is significant. An almost unopposed bombing campaign was conducted by GB1 during the early months of 1915, culminating in a retaliatory attack against the Badische Anilin Gesellschaft at Ludwigshafen, Germany, on May 26, 1915, shortly after the German Army introduced poison gas in battle. Of the 18 aircraft which took part, only Gox¿s himself failed to return, his Voisin being forced down by mechanical failure.
Following the success of GB1 other bomber groups were formed and successful daytime attacks on targets within Germany ensued throughout the summer and autumn of 1915 with as many as 62 aircraft involved. But by 1916 advances in airplane design made Voisin III increasingly obsolete, as it became vulnerable to better performing German fighter aircraft. With mounting losses and better designs being introduced, a decision was made to withdraw Voisin III from day operations. It was succeeded, among others, by Voisin V (Voisin 5).
Variants
Voisin III : Two-seat bomber, ground-attack biplane. Also known as the Voisin LA.
Voisin LAS : Improved version.

Operators
Belgium France
French Air Force
French Navy

Italy Romania Russia
Imperial Russian Air Force

Ukraine Two aircraft only. United Kingdom
Royal Flying Corps
Royal Naval Air Service

Design
The first Voisin III was powered by a single 120-horsepower Salmson M9 engine, later the 150hp P9 and R9. It had a range of 200 km, top speed of 105-113km/h and ceiling of 3350m-6000m (sources vary).
Earlier planes were armed with a machine gun (Hotchkiss M1914 machine gun) on the fuselage operated by a standing observer, later models had 37mm or 47mm guns for ground attack. It could carry up to 55 kg, 60kg or 150 kg of bombs (sources vary).
Specifications (Voisin LA)
Data from The Aeroplanes of the Royal Flying Corps (Military Wing)
General characteristics
Crew: 2
Length: 9.50 m (31 ft 2 in)
Wingspan: 14.74 m (48 ft 4 in)
Height: 2.95 m (9 ft 8 in)
Wing area: 49.7 m² (534 ft²)
Empty weight: 950 kg (2,094 lb)
Loaded weight: 1,350 kg (2,976 lb)
Powerplant: 1x— Salmson M.9 water-cooled radial engine, 97 kW (130 hp)

Performance
Maximum speed: 105 km/h (57 knots, 65 mph) at sea level
Endurance: 4½ hours
Climb to 1,000 m (3,300 ft): 12 min
Climb to 2,000 m (6,600 ft): 30 min

Armament
Guns: 1x— .303 in Lewis gun
Bombs: up to 91 kg (200 lb) of bombs

There is a Full-scale replica of the Voisin III La on display at the Pearson Air Museum in Vancouver, WA near Portland Oregon
IWW Planes: Voisin III
Voisin III
Voisin III
On Voisin aircraft
(French) Voisin series of aircraft
(Polish) Voisin III (LA) vel Wuala

Angelucci, Enzo (1983). The Rand McNally encyclopedia of military aircraft, 1914-1980. The Military Press. p. 21. ISBN 0-517-41021 4.
Bruce, J.M. (1982). The Aeroplanes of the Royal Flying Corps (Military Wing). London: Putnam. ISBN 0 370 30084 x.
Guttman, Jon, et. al. Pusher Aces of World War 1. Osprey Pub Co, 2009. ISBN 1846034175, 9781846034176.

Voisin III Pictures and Voisin III for Sale.
Living Warbirds: The best warbirds DVD series.
Source: WikiPedia