Vought XF3U Video - Picture
Vought XF3U Aircraft Information
Vought XF3U
XF3U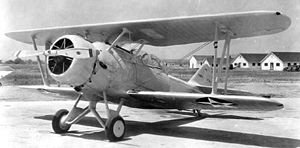 Role: Fighter
National origin: United States
Manufacturer: Vought
First flight: 9 May 1933
Number built: 1
Developed into: SBU Corsair

The Vought XF3U was the prototype of a two seat, all metal biplane fighter built by Vought Aircraft Company of Dallas, Texas for the U.S. Navy.
Development and design
The XF3U was designed to meed the Bureau of Aeronautics 1932 Design Specification No. 111, which called for a high performance fighter with a fixed undercarriage and powered by a Pratt & Whitney R-1535. Of the seven proposed aircraft the XF3U and the Douglas XFD were chosen. The XF3U was the first all-metal aircraft produced by Vought. The aircraft was also equipped with a closed cockpit. During flight testing in 1933 it outperformed the Douglas entry and was chosen the winner. The Navy no longer was interested in two seat fighters, and therefore only the one prototype aircraft was built. The XF3U subsequently evolved into a dive bomber, the XSBU prototype for the SBU-1 Corsair.
Specifications
Data from Angelucci, 1987. p. 434.
General characteristics
Crew: Two: pilot, navigator
Length: 27 ft 10 in (8.4 m)
Wingspan: 33 ft 3 in (10.1 m)
Height: 11 ft 11 in (3.6 m)
Wing area: 295 ft² (27.4 m²)
Empty weight: 3,435 lb (1,558 kg)
Max takeoff weight: 5,297 lb (2,402 kg)
Powerplant: 1x— Pratt & Whitney R-1535-80 Twin Wasp Jr. double row radial air-cooled engine, 700 hp (518 kW)

Performance
Maximum speed: 208 mph (334 km/h)
Cruise speed: mph (km/h)
Range: 570 mi (917 km)
Service ceiling: 25,300 ft (7,700 m)
Rate of climb: ft/min (m/s)
Wing loading: 18 lb/ft² (88 kg/m²)
Power/mass: 0.13 hp/lb (0.22 kW/kg)

Armament
three 7.62 mm machine guns

Bibliography
Angelucci, Enzo (1987). The American Fighter from 1917 to the present. New York: Orion Books. ISBN 0-517-56588-9.

Vought XF3U Pictures
Living Warbirds: The best warbirds DVD series.
Source: WikiPedia