Vought VE-7 Video - Taking off from USS Langley - October 17, 1922
Vought VE-7 Aircraft Information
Vought VE-7
Vought VE-7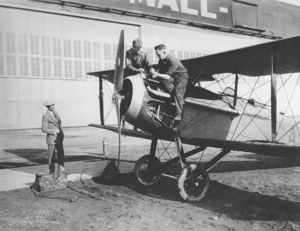 Picture - Mechanics work on a VE-7
Role: Fighter & Trainer
Manufacturer: Lewis & Vought Corporation
Designed by: Chance Milton Vought
First flight: 1917
Primary users: United States Navy United States Army Air Service
Produced: 1918-1928
Number built: 128

The Vought VE-7 Bluebird was an early biplane of the United States. 1st flying in 1917, it was designed as a 2-seat trainer for the United States Army, then adopted by the United States Navy as its very first fighter aircraft. In 1922, a VE-7 became the first plane to take off from an American aircraft carrier.
Design and development
The Lewis & Vought Corporation was formed just months after the US entered World War I, with the intention of servicing war needs. The company's trainer was patterned after successful European designs; for instance, the engine was a Wright Hispano Suiza of the type used by the French Spads. In practice, the VE-7's performance was much better than usual for a trainer, and comparable to the best fighters, and the Army ordered 1,000 of an improved design called the VE-8. However, the contract was cancelled due to the end of the war.
However, the Navy was very interested in the VE-7, and received a 1st machine in May 1920. Production orders soon followed, in fact beyond what the fledgling Vought organization could handle, and the Naval Aircraft Factory was pressed into service. In all, 128 VE-7s were built.
The fighter version of the VE-7 was designated VE-7S. It was a single-seater, the front cockpit being faired over and a Vickers .30 cal. machine gun mounted over it, on the left side and synchronized to fire through the propeller. Some planes, designated VE-7SF, had flotation gear consisting of inflatable bags stowed away, available to help keep the plane afloat when ditching at sea.
The Bluebird won the 1918 Army competition for advanced training machines.
The VE-8 variant completed in July 1919, had a 340hp Wright-Hispano H engine, reduced overall dimensions, increased wing area, a shorter faired cabane, and 2 Vickers guns. 2 were completed. Flight test results were disappointing, the aircraft was overweight, with heavy controls, inadequate stability and sluggish performance.
The VE-9 variant, 1st delivered to the Navy on 24 June 1922, was essentially an improved VE-7, with most of the improvements in the fuel system area. 4 of the 21 ordered by the U.S. Navy were unarmed observation float seaplanes for battleship catapult use.
Operational history
The VE-7s equipped the Navy's 1st 2 fighter squadrons VF-1 and VF-2. A VE-7 flown by Lieutenant Virgil C. Griffin made history on 17 October 1922 when it took off from the deck of the newly-commissioned Langley. The VE-7s were the Navy's frontline fighters for several years, with 3 still assigned to the Langley in 1927; all were retired the following year.
Variants
VE-7 (1918) - 14 built for the U.S. Army Air Service; 39 built for the U.S. Navy; (One of 2 known built at McCook Field. Reportedly 4 more were built by Springfield Co)
VE-7F (1921) - 29 built for the U.S. Navy
VE-7G (1921) - 1 converted from VE-7 for U.S. Marine Corps, 23 converted from VE-7 for U.S. Navy
VE-7GF (1921) - 1 converted from VE-7
VE-7H (1924) - 9 built for the U.S. Navy
VE-7S (1925) - 1 converted from VE-7
VE-7SF (1925) - 11 built for the U.S. Navy
VE-7SH - 1 VE-7SF converted into a floatplane.
VE-8 (1918) - 4 ordered by the U.S. Army on Oct 11, 1918; two were canceled; 340 hp Wright-Hispano H engine installed, 2 Vickers .30 in (7.62 mm) machine guns, wingspan decreased to 31 ft (9.45 m), wing area increased to 307 sq ft (28.5 m) (28.52 m), shortened to 21 ft 4in (6.5 m), speed increased to 140 mph (225 km/h), loaded weight increased to 2,435 lb (1,105 kg)
VE-9 (1921) - 2 converted from VE-7 for U.S. Army; speed increased to 119 mph (192 km/h), service ceiling increased to 18,840 ft (5742 m)
VE-9 (1927) - 22 built for the U.S. Army, 17 built for the U.S. Navy. (U.S. Army used same designation as U.S. Navy)
VE-9H (1927) - 4 unarmed observation float seaplanes built for the U.S. Navy battleships, modified vertical tail surfaces for improved catapult and water stability
VE-9W - canceled
A scratch-built replica of the Bluebird was completed in early 2007 by volunteers of the Vought Aircraft Heritage Foundation.

Operators
United States
United States Army Air Service
United States Navy

Specifications (VE-7)
Data from Janes Fighting Aircraft of World War I by Michael John Haddrick Taylor (Random House Group Ltd. 20 Vauxhall Bridge Road, London SW1V 2SA, 2001, ISBN 1-85170-347-0), 320 pp.
General characteristics
Crew: two
Length: 24 ft 5.375 in (7.45 m)
Wingspan: 34 ft 4 in (10.47 m)
Height: 8 ft 7.5 in (2.63 m)
Wing area: 284.5 ft (26.43 m)
Empty weight: 1,392 lb (631 kg)
Loaded weight: 1,937 lb (879 kg)
Powerplant: 1x— Wright-Hispano E-3 two bladed 8 ft 8 in (2.64 m) diameter propeller, 180 hp (134 kW)

Performance
Maximum speed: 106 mph (171 km/h)
Range: 290 mi (467 km)
Service ceiling: 15,000 ft (4,600 m)
Rate of climb: 738 ft/min (225 m/min)

Armament
(VE-7S) 1 Vickers .30 in (7.62 mm) machine gun synchronize to fire through the propeller
K.O. Eckland's Aerofiles; accessed 13 May 2007

Vought VE-7 Pictures
Living Warbirds: The best warbirds DVD series.
Source: WikiPedia