Vought XSB3U Video - Picture
Vought XSB3U Aircraft Information
Vought XSB3U
XSB3U-1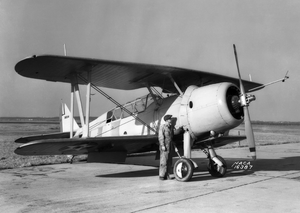 Role: Scout bomber
Manufacturer: Vought-Sikorsky
First flight: 1936
Retired: 1939
Primary user: United States Navy
Number built: 1
Developed from: SBU Corsair
Type: Prototype
Serial: 9834

The Vought XSB3U was an American biplane scout bomber developed by Vought-Sikorsky for the United States Navy during the 1930s. Developed as an alternative to the SB2U Vindicator monoplane, the aircraft proved unsatisfactory to the Navy in comparison, and development was not pursued.
Design and development
In late 1934, the U.S. Navy's Bureau of Aeronautics (BuAer) issued a specification for new scout bomber and torpedo bomber designs. Eight companies submitted ten designs in response, evenly split between monoplanes and biplanes.
Exemplifying the Bureau of Aeronautics' reluctance to fully embrace the monoplane configuration for carrier-based aircraft, the XSB3U-1 was proposed as a more conventional alternative to Vought's XSB2U-1, which was designed as a modern monoplane. The XSB3U was modified from the last production SBU Corsair, using essentially the same airframe, including a fully enclosed cockpit, and Pratt & Whitney R-1535 radial engine, but with a more streamlined surface and cowling. In addition, the XSB3U had fully retractable landing gear.
Operational history
The XSB3U-1 was delivered to Naval Air Station Anacostia for evaluation by the U.S. Navy in April 1936;, at the same time as its primary competition, the XSB2U-1. Comparative testing of the two aircraft during 1936 proved the complete superiority of the monoplane configuration; on the same power, the SB2U-1 was 15 miles per hour (24 km/h) faster despite being larger and heavier than the biplane. However, the Navy was impressed by the XSB3U's method of landing gear retraction, which provided a more streamlined surface after retraction than most other methods used at the time.
Following the end of the evaluation, the XSB3U was retained by the Navy, and utilised for experimental and liaison purposes by the Navy, also being utilised by NACA at Langley Field for testing of tail loads starting in Augsut 1938, continuing through January 1939 when the aircraft was returned to the Navy, being retired shortly thereafter.
Operators
United States
United States Navy
NACA

Specifications (XSB3U-1)
Data from
General characteristics
Crew: 2 (pilot and observer)
Length: 28 ft 2 in (8.59 m)
Wingspan: 33 ft 3 in (10.13 m)
Wing area: 327 sq ft (30.4 m)
Empty weight: 3,876 lb (1,758 kg)
Gross weight: 5,837 lb (2,648 kg)
Powerplant: 1 x— Pratt & Whitney R-1535-82 radial engine, 750 hp (560 kW)
Propellers: 2-bladed Hamilton Standard variable-pitch

Performance
Maximum speed: 215 mph (346 km/h; 187 kn) at 8,900 feet (2,700 m)
Stall speed: 66 mph (57 kn; 106 km/h)
Range: 525 mi (456 nmi; 845 km)
Combat range: 590 mi (513 nmi; 950 km) with 500 pounds (230 kg) payload
Service ceiling: 26,500 ft (8,077 m)

Armament
Guns: 1 x .50-cal MG in cowl, 1 x .30-cal MG in rear cockpit
Bombs: Up to 500 pounds (230 kg).

Related development
Vought SBU Corsair

Comparable aircraft
Curtiss SBC Helldiver
Great Lakes XB2G
Grumman XSBF

Citations
Bibliography
Baugher, Joe (October 5 2009). "US Navy and US Marine Corps BuNos, First Series (A6002 to 9999)". US Navy and US Marine Corps Aircraft Serial Numbers and Bureau Numbers--1911 to Present. http://www.joebaugher.com/navy_serials/firstseries2.html. Retrieved 2011-01-13.
Dann, Richard S. (1996). Grumman Biplane Fighters in action. Aircraft In Action. 150. Carrollton, TX: Squadron/Signal Publications. ISBN 0-89747-353-1.
Doll, Tom (1992). SB2U Vindicator in action. Aircraft In Action. 122. Carrollton, TX: Squadron/Signal Publications. ISBN 0-89747-274-8.
Donald, David (1997). Complete Encyclopedia of World Aircraft. London: Orbis Publishing Ltd. ISBN 0-7607-0592-5.
Hansen, James R. (1987). Engineer In Charge: A History of the Langley Aeronautical Laboratory, 1917-1958. NASA History Series. SP-4305. Washington, D.C.: Scientific and Technical Information Office, National Aeronautics and Space Administration. ASIN B0047OKSSO. http://history.nasa.gov/SP-4305/app-e.htm. Retrieved 2011-01-18.
Johnson, E.R. (2008). American Attack Aircraft Since 1926. Jefferson, NC: McFarland & Company. ISBN 987-0-7864-3464-0. http://books.google.com/books?id=GmFhOCYckfQC&printsec=frontcover&dq=american+Attack+Aircraft+Since+1926&hl=en&ei=EQs1Tda3AcLFgAfLkIS2Cw&sa=X&oi=book_result&ct=result&resnum=1&ved=0CCYQ6AEwAA#v=onepage&q=Grumman%20XSBF&f=false. Retrieved 2011-01-18.
Swanborough, Gordon; Peter M. Bowers (1976). United States Navy Aircraft since 1911 (2nd ed.). London: Putnam. ISBN 0-370-10054-9.

Vought XSB3U Pictures
Living Warbirds: The best warbirds DVD series.
Source: WikiPedia