Waco 10 Warbird Information
Waco 10
Aircraft Picture - Waco 10 giving joy rides.
Role: light passenger transport
Manufacturer: Advance Aircraft Waco Aircraft Company
Designer: Charles Meyers
First flight: 1927
Introduction: 1927
Produced: 1927 - 1933
Number built: 1,623
Unit cost: $2,145 minus engine & prop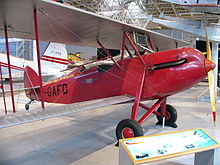 Airplane Picture - Waco 10 (or GXE) in the Canada Aviation Museum.
The Waco 10/GXE/Waco O series was a range of three seat open-cockpit biplanes built by the Advance Aircraft Company, later the Waco Aircraft Company.
Design and development
The Waco 10 was a larger span development of the Waco 9, both single engined three seat single bay biplanes constructed around steel tube frames. The wing covering was fabric and both upper and lower planes carried ailerons, which were strut linked. The two passengers sat side by side in a cockpit under the upper wing and ahead of the pilot, who had a separate cockpit. It had a split axle fixed undercarriage and a tailwheel. The main undercarriage was fitted with hydraulic shock absorbers, unusual at the time on a light aircraft. The fin could be trimmed on the ground to off set engine torque and the tailplane could be trimmed in flight. Initially it was powered by a Curtiss OX-5 water cooled 90 V-8 engine producing 90 hp (67 kW).
Its first flight was in 1927. It was numerically the most important type to be built by Waco with at least 1,623 built over a period of 7 years from 1927 to 1933 and was fitted with a very large variety of engines of radial and V configuration.
Operational history
The Waco 10 turned out to have attractive handling and there was a ready supply of war surplus Curtiss engines. It was widely used for the popularisation of aeronautics through barnstorming and joyrides, and was also much used as a trainer and by small operators for charter flights.
Variants
In 1928, after the Waco 10 had entered production, Waco changed its designation system so that the basic model 10, powered by a 90 hp (67 kW) Curtiss OX-5 engine became the GXE. The OX-5 was also used in the Waco 9 and this led to the confusing popular description of both aircraft as Waco 90, after the power.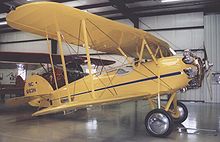 Airplane Picture - Waco ASO Straight-wing of 1929 at the Historic Aircraft Restoration Museum near St Louis in June 2006
Later aircraft used a three letter designation, the first denoting the engine, the second, S or T meaning Straight or Tapered wing and the final O indicating it belongs to the Waco O series for open cockpit. An -A suffix indicated an armed variant intended for export.
Apart from the Curtiss and Hispano-Suiza, all of these engines were air cooled radials.
Other engines were fitted experimentally, without unique designations, including Rausie, Siemans, and the 115 hp (86 kW) Milwaukee Tank engine. This was an air-cooled version of the Curtiss OX-5, and was intended as an aircraft engine.
Two mailplane derivatives from the O series (types JYM and JWM) were single seaters with a 14" stretch in the fuselage.
Specifications (Waco GXE)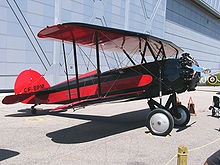 Airplane Picture - 1929 model Advance Aircraft Company Taperwing ATO of Vintage Wings of Canada.
Data from Aerofiles
General characteristics
Crew: one
Capacity: two passengers
Payload: 825 pounds (including pilot, fuel and oil) (374 kg)
Length: 23 ft 6 in (7.16 m)
Wingspan: 30 ft 7 in (9.32 m)
Height: 9 ft 0 in (2.74 m)
Airfoil: Aeromarine 2A
Empty weight: 1199 lb (545 kg)
Loaded weight: 2025 lb (920 kg)
Powerplant: 1 x— Curtiss OX-5, 90 hp (67 kW)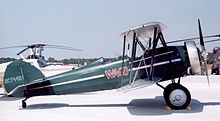 Airplane Picture - Waco CTO of 1929 at Marine Corps Air Station Beaufort South Carolina, in April 2004.
Performance
Maximum speed: 97 mph (156 km/h)
Cruise speed: 84 mph (135 km/h)
Stall speed: 37 mph (60km/h)
Range: 380 miles (610 km)
Rate of climb: 500 ft/min (2.54 m/s)

Bibliography
http://aerofiles.com/_waco.html
Juptner, Joseph P. U.S. Civil Aircraft Vol. 1 Los Angeles, California: Aero Publishers, Inc., 1962. Library of Congress # 62-15967.
Brandly, Raymond H. Waco Aircraft Production 1923-1942 Troy, Ohio: Waco Aircraft Co., 1986 (2nd Edition). ISBN 096027345X, ISBN 978-0960273454
Kobernuss, Fred O. Waco - Symbol of Courage and Excellence unk : Mystic Bay Publisher, 1999. ISBN 1887961011.

Waco 10 Pictures
More airplane video.
Source: WikiPedia