Waco 9 Warbird Information
Waco 9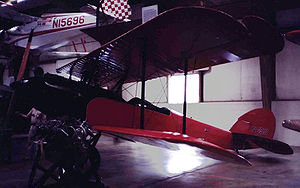 Aircraft Picture - Waco 9 of 1925 exhibited at the NASM storage facility at Silver Hill, Maryland, in June 1982
Role: three seat open cockpit biplane
National origin: United States
Manufacturer: Advance Aircraft Company
First flight: 1925
Status: about 10 survivors in 2007
Primary user: barnstorming
Number built: about 270

The Waco 9 is an American-built biplane design that first flew in 1925.
Development
The Waco 9 was the first of the steel-tubed fuselage aircraft designs to be built by the Advance Aircraft Company, which became the Waco Aircraft Company circa 1929. The Model 9 was a three-seat open cockpit biplane with the ailerons on the upper wings extending outboard of the main wing surfaces. About 270 Model 9 aircraft were built during 1925 and 1926.
Operational history
The Model 9 was of rugged construction to meet the barnstorming requirements of the period. The cost when new was between $2,025 and $2,500. A Waco 9 was flown in the 1926 Ford National Reliability Air Tour.
The Model 9 was the first aircraft type to be fitted with aluminum floats (by the EDO Corporation in 1928). By 2007, a few examples remained airworthy in the USA and five aircraft were held by museums.
Variants
Model 9s were fitted with a variety of engines including the 90 hp (67 kW) Curtiss OX-5, the 100 hp (75 kW) Curtiss OXX-6, 100 hp (75 kW) Curtiss C-6 and the 150 hp (112 kW) Hisso A. Fitment of the various engines did not change the model number.
Specifications (Model 9 with Curtiss OX-5 engine)
Data from Aerofiles
General characteristics
Crew: 1
Capacity: 2 passengers
Length: 23 ft 4 in ( m)
Wingspan: 29 ft 6 in ( m)
Powerplant: 1 x— Curtiss OX-5, 90 hp ( kW)

Performance
Maximum speed: 92 mph ( km/h)
Cruise speed: 79 mph ( km/h)
Stall speed: 32 mph ( km/h)
Range: 375-400 miles ( km)

Bibliography
Ogden, Bob. Aviation Museums and Collections of North America. Tonbridge, Kent, UK: Air-Britain (Historians) Ltd., 2007. ISBN 0-85130-385-4.

Waco 9 Pictures
More airplane video.
Source: WikiPedia