Waco N series Video - Picture
Waco N series Warbird Information
Waco N series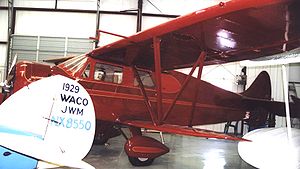 Aircraft Picture - Waco AVN-8 cabin biplane of 1938 with fixed spatted tricycle undercarriage displayed airworthy at the Historic Aircraft Restoration Museum, Creve Coeur Airport near St Louis
Role: Four-seat tricycle undercarriage cabin biplane
National origin: United States
Manufacturer: Waco Aircraft Company
First flight: 1937
Status: a few still airworthy in 2009
Primary user: private owner pilots
Number built: approx 20
Developed from: Waco C series

The Waco N series is a range of 1930s American-built cabin biplanes with a fixed tricycle undercarriage produced by the Waco Aircraft Company.
Design and development
Waco introduced the luxury N series biplane in 1937. It was based on the Waco C series five-seat Custom Cabin Waco with that model's curved pointed wings, but with an unusual fixed tricycle undercarriage and a modified tail with a lower rudder extension to give increased side area. The Waco N was fitted with flaps on all four wings to improve the aircraft's landing characteristics.
Operational history
The prototype, was designated ZVN-7, with the '7' indicating its year of manufacture (1937), and was powered by the 285 hp (213 kW) Jacobs L-5 engine. Only around 20 examples of the N series were completed, as the AVN-8, and ZVN-8. A few were impressed by the USAAC during the Second World War as the UC-72J and UC-72L. One AVN-8 was used by the Royal Aircraft Establishment at Farnborough for trials with tricycle landing gear.
An example of the AVN-8 is maintained in airworthy condition by the Historic Aircraft Restoration Museum at Creve Coeur Airport near St Louis Missouri.
Variants
ZVN-7 and ZVN-8 285 hp (213 kW) Jacobs L-5 AVN-8 330 hp (246 kW) Jacobs L-6 engine
Specifications (AVN-8)
Data from Green, 1965, p. 306
General characteristics
Crew: 1
Capacity: 3 passengers
Length: 27 ft 7 in ( m)
Wingspan: 34 ft 9 in ( m)
Height: 8 ft 6 in ( m)
Wing area: 246 ft ( m)
Empty weight: 2,493 lb ( kg)
Gross weight: 3,800 lb ( kg)
Powerplant: 1 x— Jacobs L-6 seven-cylinder radial air-cooled, 330 hp ( kW)

Performance
Maximum speed: 161 mph ( km/h)
Cruise speed: 151 mph ( km/h)
Service ceiling: 14,200 ft ( m)
Rate of climb: 900 ft/min ( m/s)

Bibliography
Green, William (1965). The Aircraft of the World. Macdonald & Co. (Publishers) Ltd.
Simpson, Rod (2001). Airlife's World Aircraft. Airlife Publishing Ltd. ISBN 1-84037-115-3.

Waco N series Pictures
More airplane video.
Source: WikiPedia