Westland C.O.W. Gun Fighter Video - Picture
Westland C.O.W. Gun Fighter Aircraft Information
Westland C.O.W. Gun Fighter
C.O.W. Gun Fighter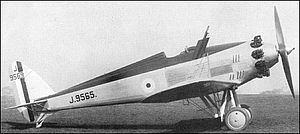 Role: Interceptor
Manufacturer: Westland Aircraft
First flight: December 1930
Status: Prototype only
Number built: 1
Developed from: Westland Interceptor

The Westland C.O.W. Gun Fighter was an attempt to produce a fighter aircraft armed with a heavy calibre gun. The Coventry Ordnance Works (COW) 37 mm automatic gun was developed for this purpose.
Design and development
The design was in response to Air Ministry specification F.29/27. The design was an open cockpit single engined metal monoplane with fabric covering. The aircraft design had already been submitted for specification F.20/27 as the Westland Interceptor but had lost out to the Gloster Gauntlet. The gun was in the fuselage and fired up at an angle, in order to attack bombers from below. The plane first flew at the end of 1930 but the trials did not give satisfactory results to continue with the idea.
The COW gun had been developed by 1918 for use in aircraft and had been trialled on the Airco DH.4.
Specifications (C.O.W. Gun Fighter)
Data from Westland Aircraft since 1915
General characteristics
Crew: One
Length: 29 ft 10 in (9.10 m)
Wingspan: 40 ft 10 in (12.45 m)
Height: 10 ft 7 in (3.23 m)
Wing area: 223 ft² (20.7 m²)
Airfoil: RAF 34
Empty weight: 2,615 lb (1,189 kg)
Loaded weight: 3,885 lb (1,786 kg)
Powerplant: 1x— Bristol Mercury IIIA nine-cylinder air-cooled radial engine, 485 hp (362 kW)

Performance
Maximum speed: 185 mph (161 knots, 299 km/h) at 13,000 ft (3,960 m)
Service ceiling: 27,900 ft (8,500 m) (Absolute ceiling: 29,400 ft (8,960 m)
Wing loading: 17.4 lb/ft² (86.3 kg/m²)
Power/mass: 0.12 hp/lb (0.30 kW/kg)
Climb to 10,000 ft (3,050 m): 7 min

Armament
Guns: One fixed upward firing 1½ lb (37 mm) COW 37 mm gun with 39 rounds

Related development
Westland Interceptor

Comparable aircraft
Vickers Type 161

James, Derek N. Westland Aircraft since 1915. London: Putnam, 1991. ISBN 0-85177-847-X.
Mason, Francis K. The British Fighter since 1912. Annapolis, Maryland: Naval Institute Press, 1992. ISBN 1-55750-082-7.

Westland C.O.W. Gun Fighter Pictures and Westland C.O.W. Gun Fighter for Sale.
Living Warbirds: The best warbirds DVD series.
Source: WikiPedia