Westland Wapiti Video - History of the Indian Air Force
Westland Wapiti Aircraft Information
Westland Wapiti
Westland Wapiti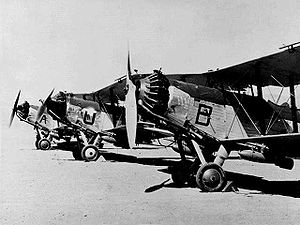 Role: general purpose
Manufacturer: Westland Aircraft
Designed by: Arthur Davenport
First flight: 7 March 1927
Introduced: June 1928
Primary users: Royal Air Force IAF, RCAF, AAF
Number built: 558 + 27 licence built in South Africa
Variants: Westland Wallace, Westland PV-3

The Westland Wapiti was a British two-seat general purpose military single-engined biplane of the 1920s. It was designed and built by Westland Aircraft Works to replace the Airco DH.9A in Royal Air Force service.
First flying in 1927, the Wapiti entered service with the RAF in 1928, and remained in production until 1932, a total of 565 being built. It equipped twenty squadrons of the RAF, both overseas (particularly in India and Iraq) and at home, remaining in RAF service until 1940, also being used by the Air Forces of Australia, Canada, South Africa and India. It also formed the basis for the Westland Wallace which partly replaced the Wapiti in RAF use.
Design and development
In 1927, the British Air Ministry issued Specification 26/27 for a replacement of the elderly Airco DH.9A, designed during the First World War which still equipped the Royal Air Force's General Purpose squadrons. To save time and money, the specification called for the use of a high proportion of DH.9A components, (as the RAF still held large stores of DH.9A spares), while it encouraged the use of an all metal structure. A large number of types were tendered to meet this requirement from most of the major British aircraft manufacturers, including Westland, who submitted the design that later became known as the Wapiti. Westland had an advantage in that it had carried out the detailed design work for the DH.9A, and was already a major contractor for the DH.9A.
The Wapiti was a conventional single-engined equal span two-bay biplane with slight stagger. It had tandem open cockpits and a fixed main undercarriage plus tail-skid. The forward fuselage was of metal tube structure with aluminium and fabric covering, while the rear fuselage was of fabric covered wooden construction. The wings and tail were standard wooden DH.9A components, although later models replaced the wodden parts with an all metal structure. The Wapiti was powered by a single Bristol Jupiter radial engine, and its crew of two were armed with a forward firing Vickers machine gun and a Lewis gun for the observer, while it could carry up to 580 lb (264 kg) of bombs under the wings and fuselage. It was also fitted with radio and photographic cameras, and like the DH.9A before it, could carry a spare wheel for operations in adverse terrain.
The prototype first flew on 7 March 1927. Initial tests showed poor control, and the prototype was modified with a much larger tail and horn-balanced ailerons, solving these problems. (It was later discovered that a 2 foot (0.61 m) fuselage section had been omitted from the prototype - as handling was now acceptable, it was not re-instated.) The Wapiti performed well during RAF trials, while using significant amounts of DH.9A components, and was declared the winner of the competition, an initial contract for 25 aircraft being placed in October 1927.
After initial production, the wooden fuselage, tail and wings were replaced by metal structures in the Wapiti II and IIA, and the original long fuselage was eventually re-instated in the Wapiti V and later versions. In 1930, Westland produced an updated version of the Wapiti, the Wapiti VII, which differed so much that it was re-named the Westland Wallace.
Operational history
The type entered service with No. 84 Squadron RAF in Iraq in June 1928. It was heavily used in Iraq and India in the Army Co-operation role, acting also sometimes as a bomber or reconnaissance aircraft. Wapitis of No. 20 squadron escorted Victoria troop carriers in the evacuation of Kabul (the Kabul Airlift) in December 1928. It was still in service in India until 1939. In Britain, Wapitis served with the Auxiliary Air Force from 1929-37. It was also flown by Australia and Canada, where it saw service at the start of the Second World War.
The prototype Wapiti V, registered G-AAWA, was used for demonstration flights in Argentina and Uruguay on floats, powered by a 550 hp Armstrong Siddeley Panther IIA engine. It was later modified as the Bristol Pegasus powered Westland PV-6 or Wapiti VII, re-registered G-ACBR (also known as the Houston-Wallace after the patron Lucy, Lady Houston), for an attempt to fly over Mount Everest. Flown by Flt Lt David F. McIntyre and accompanied by a Westland PV-3 the two aircraft became the first to fly over Mount Everest on 3 April 1933. The PV-6 was later designated the Wallace Mk I, bearing serial K3488 which introduced a number of improvements. A total of 68 Wapitis were converted to Wallace Mk I standard.
Military operators
Australia
Royal Australian Air Force - 44 Wapitis (RAAF serial A5-1 to A5-44) were in service with the RAAF from 1929 to 1944.
No. 1 Squadron RAAF
No. 3 Squadron RAAF
No. 1 Flying Training School RAAF
Central Flying School RAAF

Canada
Royal Canadian Air Force
No. 3 Squadron RCAF
No. 100 Squadron RCAF

China
India
Royal Indian Air Force
No. 1 Squadron, Indian Air Force
No. 2 Squadron, Indian Air Force
No. 7 Squadron, Indian Air Force
No. 1 Air Gunnery School (India)
No. 1 AACU
No. 2 AACU
No. 3 AACU
No.1 Coastal Defence Flight, IAFVR
No.2 Coastal Defence Flight, IAFVR
No.4 Coastal Defence Flight, IAFVR (Later No. 104 (GR) Squadron, Indian Air Force )
No.5 Coastal Defence Flight, IAFVR
No.6 Coastal Defence Flight, IAFVR

South Africa
South African Air Force

United Kingdom
Royal Air Force

(in India)

No. 5 Squadron RAF
No. 11 Squadron RAF
No. 20 Squadron RAF
No. 24 Squadron RAF
No. 27 Squadron RAF
No. 28 Squadron RAF
No. 31 Squadron RAF
No. 60 Squadron RAF

(in Iraq)

No. 30 Squadron RAF
No. 39 Squadron RAF
No. 55 Squadron RAF
No. 84 Squadron RAF

(in the UK)

No. 501 Squadron RAF
No. 502 Squadron RAF
No. 600 Squadron RAF
No. 601 Squadron RAF
No. 602 Squadron RAF
No. 603 Squadron RAF
No. 604 Squadron RAF
No. 605 Squadron RAF
No. 607 Squadron RAF
No. 608 Squadron RAF

Variants
All built by Westland at Yeovil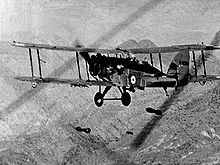 Picture -
Wapiti I - Initial production version for the RAF. Wooden structure. Powered by a 420 hp (313 kW) Bristol Jupiter VI radial piston engine. 25 built for RAF.
Wapiti IA - Improved version for the RAAF. Powered by a 480 hp (358 kW) geared Bristol Jupiter VIIIF radial piston engine and divided-axle main undercarriage. 28 built.
Wapiti IB - Similar to the Wapiti IA. Four exported to South Africa. Later re-engined with the 525 hp (392 kW) Armstrong Siddeley Panther. Increased fuel.
Wapiti II - Pre-production version with all-metal rear fuselage and wing structure replacing wooden structures of Wapiti I. Powered by Jupiter VIII engine. 10 built.
Wapiti IIA - Major production version with tropical equipment and partial dual controls, and able to use wheel or float landing gear. Initially powered by Jupiter VIII. 430 built.
Wapiti III - Two-seat general-purpose biplane for the SAAF based on Wapiti IIA. Powered by 480 hp (358 kW) Armstrong Siddeley Jaguar VI or 550 hp (410 kW) Panther VI engines. Four built by Westland followed by 27 under licence in SAAF Workshops.
Wapiti IV - Project for Hispano-Suiza 12N powered aircraft with long fuselage for Spain. One long fuselage aircraft designated Wapiti IV may have been delivered to Chinese Warlord Zhang Xueliang in 1931.
Wapiti V - Long-fuselage army co-operation version for RAF, fitted with message pick-up hook, stronger undercarriage and powered by a 600 hp (448 kW) Jupiter VIIIF. 35 built.
Wapiti VI - Unarmed dual control training version for the RAF. 16 built.
Wapiti VII - Converted Wapiti V prototype, original designated the Houston-Wallace P.V.6 before reconversion to Wapiti VII experimental aircraft.
Wapiti VIII - Long fuselage version for Central Chinese government. Powered by a Panther IIA, four built.

Specifications (Wapiti IIA)
Data from The British Bomber since 1914
General characteristics
Crew: 2
Length: 31 ft 8in (9.65 m)
Wingspan: 46 ft 5 in (14.15 m)
Height: 13 ft (3.96 m)
Wing area: 488 ft² (45 m²)
Empty weight: 3810 lb (1732 kg)
Loaded weight: 5410 lb (2459 kg)
Powerplant: 1x— Bristol Jupiter VI 9-cylinder air-cooled radial engine, 420 hp (313 kW)

Performance
Maximum speed: 112 knots (129 mph, 208 km/h) at 6500ft (1980 m)
Cruise speed: 96 knots (110 mph, 177 km/h)
Range: 313 nm (360 mi, 580 km)
Service ceiling: 18,800 ft (5730 m)
Rate of climb: 1140 ft/min (5.8 m/s)
Wing loading: 11.1 lb/ft² (57.9 kg/m²)
Power/mass: 0.0776 hp/lb (0.127 kW/kg)
Climb to 10,000 ft 15 minutes

Armament
Guns: One 0.303 inch forward firing Vickers gun and one Lewis gun on Scarff ring on rear cockpit,
Bombs: Up to 580 lb of bombs.

Related development
Westland Wallace

Comparable aircraft
Blackburn Baffin
Fairey III
Fairey Gordon
Hawker Hardy
Vickers Vincent
Westland Wallace

Bibliography
Andrews, C.F. (1965). The Westland Wapiti. Leatherhead, Surrey, UK: Profile Publications Ltd.
Jackson, A.J. (1960). British Civil Aircraft 1919-59 Vol 2. London: Putnam.
James, Derek N. (1991). Westland Aircraft since 1915. London: Putnam. ISBN 0 85177 847 X.
Jarrett, Philip (July 1994). "Wapiti and Wallace:Part I". Aeroplane Monthly (London: IPC) 22 (7 Issue 255): pp. 58-63. ISSN 0143-7240.
Jarrett, Philip (August 1994). "Wapiti and Wallace:Part 2". Aeroplane Monthly (London: IPC) 22 (8 Issue 256): pp. 18-22. ISSN 0143-7240.
Mason, Francis K (1994). The British Bomber since 1914. London: Putnam Aeronautical Books. ISBN 0 85177 861 5.
Thetford, Owen (1957). Aircraft of the Royal Aircraft 1918-57 (1st ed.). London: Putnam.
Thetford, Owen (September 1994). "Wapiti and Wallace Service History:Part I". Aeroplane Monthly (London: IPC) 22 (9 Issue 257): pp. 16-22. ISSN 0143-7240.
Thetford, Owen (October 1994). "Wapiti and Wallace Service History:Part II". Aeroplane Monthly (London: IPC) 22 (10 Issue 258): pp. 32-39. ISSN 0143-7240.

Westland Wapiti Pictures and Westland Wapiti for Sale.
Living Warbirds: The best warbirds DVD series.
Source: WikiPedia