McDonnell XF-85 Goblin Video - "The X-85" - Official McDonnel Film - 1949
McDonnell XF-85 Goblin Video - From Discovery Channel's Strange Planes
McDonnell XF-85 Goblin Aircraft Information
McDonnell XF-85 Goblin
XF-85 Goblin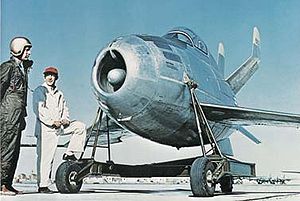 Picture - XF-85 Goblin
Role: Parasite Fighter
Manufacturer: McDonnell
First flight: 23 August 1948
Status: Cancelled 1949
Number built: 2
Unit cost: US$3.1 million for the program

The McDonnell XF-85 Goblin was a fighter aircraft, conceived during World War II and intended to be carried in the bomb bay of the giant Convair B-36 bomber as a defensive "parasite fighter". Because of its small and rotund appearance, it was nicknamed "The Flying Egg".
Design and development
The McDonnell XF-85 Goblin was designed to meet a USAAF requirement for a single-seat "parasite" escort fighter that could be carried by a large bomber. Development of two prototypes was ordered in March 1947. The resulting design was entirely the product of design constraints, which required it to fit into the bomb bay of a B-36 (although it was first tested under a B-29). The B-36 was the intended mother ship that would carry as many as three Goblins.
A tiny, short fuselage was fitted with low/mid-set foldable swept wings, of 21 ft 1.5 in (6.44 m) span. It was powered by a 3,000 lb (1,400 kgf) Westinghouse J34-WE-7 turbojet. There was no landing gear except for emergency skids. The fighter was intended to return to the parent aircraft and dock with a trapeze, by means of a retracting hook.
Operational history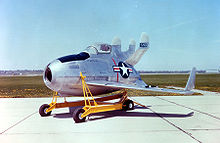 Picture - XF-85 Goblin #46-523 in the National Museum of the United States Air Force
McDonnell built two Goblin prototypes (USAF Serial no. #46-523 and #46-524). During wind tunnel testing at Moffett Field, California, the first prototype XF-85 was damaged. Consequently, the second aircraft was used for the initial flight trials; its first flight was on 23 August 1948. As a prototype B-36 was unavailable, all XF-85 flight tests were carried out using a converted Boeing EB-29 Superfortress parent ship. On the first flight, after a little over two hours it became obvious that turbulence around the bomber created difficult control problems. In flight, the tiny fighter was stable, easy to fly and recovered well from spins.
However, the test pilot, Ed Schoch, found it difficult to hook the Goblin to the bomber's trapeze. Although Schoch had flown dummy dockings with a Lockheed F-80 fighter with no problems, the Goblin was lighter and more sensitive to turbulence than the F-80. McDonnell considered adding a telescoping extension to the docking trapeze, but the XF-85 program was cancelled in mid-1949 before it could be done. The Goblin had flown six times with a total flight time of about two and a half hours; Schoch was the only person who ever flew it.
The cancellation was the result of a number of factors:
Later, a B-36 was used as a mother ship for similar tests, carrying a conventional Republic F-84 Thunderstreak fighter. These tests, known as FICON (Fighter Conveyor) experiments, were not focused on the concept of a bomber carrying its own escort; initially the idea was to use a B-36 to carry an F-84 over very long range and use the F-84 to perform a nuclear strike, the B-36 being seen as vulnerable to Soviet air defenses. The scheme was actually fielded in the mid-1950s, though the mission was changed to long-range reconnaissance, with a B-36 carrying a RF-84 reconnaissance fighter. It is not known if any operational FICON flights were performed; in any case, the system was withdrawn after the introduction of the long-range Lockheed U-2 reconnaissance aircraft.
Survivors
Two XF-85 prototypes were built, and both still survive:
46-523 is on display at the National Museum of the United States Air Force at Wright-Patterson Air Force Base near Dayton, Ohio. The aircraft was transferred to the Museum on 23 August, 1950 following the cancellation of the XF-85 program, and was one of the first experimental aircraft to be displayed at the new Air Force Museum. For several decades the aircraft was displayed alongside the Museum's B-36 Peacemaker. In 2000, it was decided to move the aircraft to the Museum's Experimental Aircraft Hangar. This move was the subject of intense objection by Museum staff and visitors, who felt the aircraft should be displayed alongside the B-36 to properly present its design intentions. In 2007, the XF-85 was again returned to display alongside the Museum's B-36. Along with the Boeing Bird of Prey it is the only experimental aircraft not displayed in the Museum's Research & Development Hangar. As of 10 July 2010. the aircraft was on display in the Presidential Hangar.
46-524 is on display at the Strategic Air and Space Museum in Ashland, Nebraska.

Specifications (XF-85)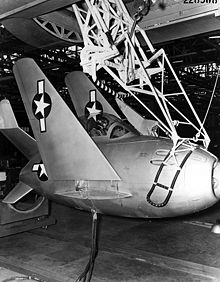 Picture - Hangar test of recovery trapeze, with wings folded in stowed configuration.
General characteristics
Crew: 1
Length: 14 ft 10 in (4.5 m)
Wingspan: 21 ft 1 in (6.4 m)
Height: 8 ft 3 in (2.5 m)
Wing area: 90 ft² (8.3 m²)
Empty weight: 3,740 lb (1,700 kg)
Loaded weight: 4,550 lb (2,050 kg)
Max takeoff weight: lb (kg)
Powerplant: 1x— Westinghouse XJ34-WE-22 turbojet, 3,000 lbf (13.3 kN)

Performance
Maximum speed: 664 mph (1,069 km/h)
Service ceiling: 48,000 ft (14,600 m)
Rate of climb: 12,500 ft/min (3,800 m/min)
Wing loading: 51 lb/ft² (247 kg/m²)
Thrust/weight: 0.66

Armament
4 x— 0.50 in (12.7 mm) M2 Browning machine guns

Related lists
List of military aircraft of the United States
List of fighter aircraft

Media References
The XF-85 Goblin was featured in episode 11, "Fly" of Pinky and the Brain where it is stolen from the National Air and Space Museum and flown to Cape Canaveral. In the episode it is referred to as the experimental G-4 Ziggy.
Bibliography
Yeager, Chuck and Leo Janos. Yeager: An Autobiography. New York: Bantam Books, 1986. ISBN 0-553-25674-2.
United States Air Force Museum booklet. Dayton. Ohio: Wright-Patterson Air Force Base, 1975 edition.

McDonnell XF-85 Goblin Pictures and McDonnell XF-85 Goblin for Sale.
Living Warbirds: The best warbirds DVD series.
Source: WikiPedia