Yakovlev Yak-11 Video - Landing, taxi and walkaround
Yakovlev Yak-11 Aircraft Information
Yakovlev Yak-11
Yak-11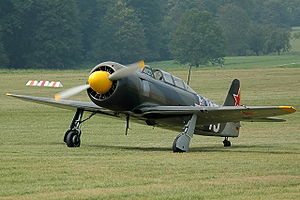 Role: Training aircraft
Manufacturer: Yakovlev, Let
First flight: 10 November 1945
Introduced: 1946
Retired: 1962
Primary user: Soviet Air Force
Number built: 4,566

The Yakovlev Yak-11 (NATO reporting name: "Moose", Russian: Як-11) was a trainer aircraft used by the Soviet Air Force and other Soviet-influenced air forces from 1947 until 1962. On 27 June 1950 a North Korean Yak-11 became the first aerial "kill" of the Korean War when it was shot down by a U.S. Air Force F-82 Twin Mustang.
History
The Yak-11 design was based in large part on the successful Yak-3 fighter, and became the Soviet Air Force's most widely used trainer aircraft. It has sometimes been equated in importance with the T-6 Texan.
The first prototype Yak-UTI (in some documents Yak-3UTI) was designed by chief engineer V A Shavrin. It was test flown by OKB test pilot G S Klimushkin on 10 November 1945. The airframe was based on the Yak-3U, with a 9.4m all-metal two-spar wing and mixed construction fuselage. The aircraft differed from the Yak-3U in having a less powerful 570 hp ASh-21 seven-cylinder air-cooled radial engine. This engine was essentially half of an ASh-82 engine. The powerplant drove a 3m VISh-111V-20 two-blade constant speed propeller. A second cockpit was added, with a second sliding canopy. Neither cockpit was located in the same position as on the original Yak-3U, further separating the designs. The airframe was stressed to the impressive load factor of 15.4G. The aircraft was armed with a single UBS machine gun mounted on the left side of the nose and equipped with 100 rounds of ammunition, plus two racks for two FAB-100 bombs or other stores.
Following factory testing the prototype was turned over to NII-VVS for additional testing, which was completed in October 1946. Production was authorized at Saratov and Leningrad, with deliveries beginning in mid-1947.
Production Yak-11s differed from the prototype in being slightly heavier, largely due to extra equipment, and had non-retractable tail wheels. In addition, production aircraft often used a VISh-111D-15 propeller, and a ShKAS machine gun instead of the UBS. Some were fitted with rear-view periscopes above the windscreen. In total, 3,859 aircraft were produced between 1947 and 1955. From 1953, an additional 707 were licence-built by Let in Czechoslovakia under the name C-11 (LET C-11 in some documentation). The Yak-11 set five world-class records. Both Yak-11 and C-11 were used in all Warsaw Pact countries and were exported to eighteen countries, including many African, Middle Eastern and Asian countries, such as Afghanistan, Albania, Algeria, Bulgaria, China, Czechoslovakia, East Germany, Egypt, Indonesia, Iraq, Hungary, Poland, North Korea, Romania, Somalia, Soviet Union, Syria, Vietnam, Yemen and Austria.
Yak-11U
The Yak-11U was designed specifically to train jet pilots. It differed from the conventional Yak-11 in having a tricycle landing gear, with a freely castoring nose wheel that retracted backwards into a bay with twin doors. The spinner was also usually eliminated. In addition, the fuel capacity was greatly reduced to accommodate the repositioned main landing gear. The aircraft entered production in 1951, with the Czechoslovak version having the designation C-11U. Though cited as a replacement for the Yak-11, this aircraft was never produced in quantify, and the Yak-11 remained in service with the VVS until 1962.
Korean War
On 27 June 1950 a formation of U.S. Air Force F-82 Twin Mustang fighters were providing air cover for a group of C-54 Skymaster transports departing Kimpo Airfield that were transporting the last U.S. civilians out of North Korea. Suddenly, at 1150 hours, a mixed lot of five North Korean fighters (Soviet-built Yak-9s, Yak-11s and La-7s) appeared, heading for the airfield. One of the Yak-11s immediately scored several hits on 68th F(AW)S pilot Lt. Charles Moran's vertical stabilizer. Moments later, Lt. William G. "Skeeter" Hudson, also of the 68th F(AW)S, initiated a high-G turn to engage the Yak. Soon Hudson was closing in on the Yak's tail. He then fired a short burst at close range, scoring hits with his six .50 in (12.7 mm) machine guns. The Yak banked hard to the right, with the F-82G in close pursuit. A second burst hit the Yak's right wing, setting the gas tank on fire and knocking off the right flap and aileron. The North Korean pilot bailed out, but his observer, who was either dead or badly wounded, remained in the doomed aircraft. Parachuting down to Kimpo Airfield, the North Korean pilot was immediately surrounded by South Korean soldiers. Surprisingly, he pulled out a pistol and began firing at them. The South Korean soldiers returned fire, killing the pilot. Moments later, Lt. Moran shot down an La-7 over the airfield, while a few miles away, Major James W. Little, commanding officer of the 339th F(AW)S, shot down another La-7. The C-54 was able to escape safely. Of the five North Korean aircraft dispatched, only two returned to their base. In the process, Lt. William G. "Skeeter" Hudson, with his radar operator Lt. Carl Fraiser had scored the first aerial "kill" of the Korean War.
Survivors
Due to its Yak-3 lineage, the Yak-11 has recently seen widespread popularity among warbird enthusiasts. Souped-up versions of the Yak-11 can be frequently seen at air races. About 120 Yak-11s remain in airworthy condition.
Compared to the AT-6 Texan
Like the T-6 of the U.S. military, the Yak-11 was the principal trainer aircraft for the Soviet Air Force. Both aircraft remained in service for over a decade, and were similar in design, though the Yak-11 had superior performance due to its fighter heritage.
Though the Yak-11 was smaller than the T-6, both aircraft weighed about the same.
The Yak-11 had a 700 hp engine while the engine of the T-6 was rated at 600 hp.
The Yak-11 had an operational range of 795 miles while the T-6 had a range of 730 miles on internal fuel.
The Yak-11 was a much faster aircraft with a maximum speed of 289 mph and a cruise speed of 230 mph. The T-6 had a maximum speed of 208 mph and a cruise speed of 145 mph, making it nearly 100 mph slower.
The Yak-11 had a maximum ceiling of 23,289 ft., while the T-6 had a slightly higher ceiling of 24,000 ft.
A total of 4,566 Yak-11s were constructed, while a total of 15,495 T-6s of all variants were built, making T-6 production nearly four times greater.

Operators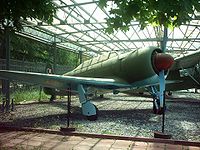 Picture - Preserved Yak-11 of Polish Air Force
Afghanistan
Royal Afghan Air Force received 14 aircraft from 1958. None remain in service since 1999.

Albania
Albanian Air Force received four aircraft.

Algeria
Algerian Air Force

Austria
Austrian Air Force

Bulgaria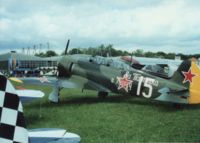 Picture - Yakovlev Yak-11 disguised in a wartime fighter camouflage
Bulgarian Air Force

China
People's Liberation Army Air Force

Czechoslovakia
Czechoslovakian Air Force

East Germany
East German Air Force

Egypt
Egyptian Air Force

Iraq
Iraqi Air Force

Hungary
Hungarian Air Force

Mongolia
Mongolian People's Air Force

North Korea
North Korean Air Force

Poland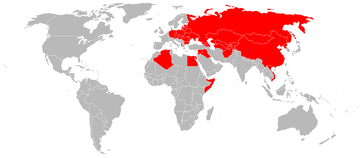 Picture - Yak-11 operators
Polish Air Force used 101 Soviet Yak-11s and 37 Czech-built C-11s

Romania
Romanian Air Force 90

Somalia
Somali Air Corps

Soviet Union
Soviet Air Force

Syria
Syrian Air Force

Vietnam
Vietnam People's Air Force

Yemen
Yemen Air Force

Description
Mixed construction (metal and wood) trainer plane. 7 cylinder radial engine with two-blade fixed propeller. Conventional retractable landing gear with fixed tailwheel.
Specifications (Yak-11)
General characteristics
Crew: Two - student and instructor
Length: 8.20 m (26 ft 10 1/2 in)
Wingspan: 9.4 m (30 ft 10 in)
Height: 3.28 m (10 ft 5 in)
Wing area: 15.40 m² (166 ft²)
Empty weight: 1,900 kg (4,189 lb)
Loaded weight: kg (lb)
Max takeoff weight: 2,440 kg (5,379 lb)
Powerplant: 1x— Shvetsov ASh-21 air-cooled radial piston engine, 521 kW (700 hp)

Performance
Maximum speed: 460 km/h (289 mph)
Cruise speed: 370 km/h (230 mph)
Range: 1250 km (795 miles)
Service ceiling: 7,100 m (23,295 ft)
Rate of climb: 8.1 m/s (1,600 ft/min)
Wing loading: 161 kg/m² (32.9 lb/ft²)
Power/mass: 0.17 kW/kg (0.10 hp/lb)

Armament
1x nose-mounted machine gun, either 12.7 mm UBS or 7.62 mm ShKAS
up to 200 kg (440 lb) of bombs on two underwing racks

Related development
Yakovlev Yak-3

Comparable aircraft
T-6 Texan
PZL TS-8 Bies

Gunston, Bill. Yakovlev Aircraft since 1924. London, UK: Putnam Aeronautical Books, 1997. ISBN 1-55750-978-6.
Thompson, Warren. "Double Trouble, The F-82 Twin Mustang In Korea." Air Enthusiast, March 2001.

Living Warbirds: The best warbirds DVD series.
Source: WikiPedia