Yakovlev Yak-19 Video - Picture
Yakovlev Yak-19 Aircraft Information
Yakovlev Yak-19
Yak-19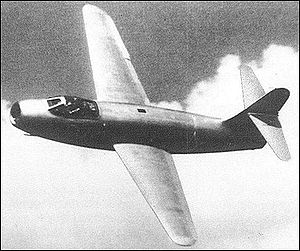 Picture - A Yak-19 in flight
Role: Fighter aircraft
Manufacturer: Yakovlev
First flight: 8 January 1947
Status: Prototypes
Number built: 2

The Yakovlev Yak-19 was a prototype Soviet fighter aircraft built in 1947. It was the second Yakovlev jet fighter after the Yak-15, and the first OKB aircraft designed from the onset to have an all-metal stressed skin, and a hydraulic system. The Yak-19 was the second Soviet aircraft to use an afterburning turbojet, the Klimov RD-10F, and the last Yakovlev Aircraft to use a version of the German Jumo 004-derived RD-10 jet engine. Only two examples were built. USAF/DoD reporting name - "Type 7".
Design and development
In the spring of 1946 OKB-115 set about designing the Yak-19. The aircraft was to have mid set, all-metal, straight wings and levered-suspension tricycle undercarriage, which would become the datum for future Fighter development in the USSR. It also was the first to have a flush-rivetted skin, and the first to have a hydraulic system. It was the second Soviet aircraft to fly with an afterburning turbojet engine (the Lavochkin Aircraft 156 being the first). This afterburner was developed mainly at the Central Institute of Aviation Motors. It consisted of a swollen jet pipe containing rings of fuel injectors. The nozzle area and profile were varied by two hydraulically-operated rams. With maximum afterburner in operation the thrust was increased to 1,100kg (2,425lbs) at sea level.
The design of the Yak-19 was a radical departure from the "step" layout of the earlier Yak-15 and Yak-17. More importantly, it also departed from Yakolev's preferred Clark YH profile, instead using CAHI "laminar" sections of 12% thickness. The wing was constructed in one piece with two spars and a skin 1.2-1.8mm thick. It was mounted in the mid-low wing position with a 3.5 degree dihedral. The control surfaces consisted of one-piece metal skinned Frise ailerons operated manually by rods and levers, and hydraulically- operated slotted CAHI flaps.
The barrel-shaped fuselage was of simple semi-monocoque construction, with a skin varying from 0.8-1.8mm thick. The engine intake was bifurcated, to allow air to pass around either side of the cockpit, which was in the nose for the first time. The rear was a double frame which could be unbolted allowing the rear section to be removed for easy access to the engine. All tail surfaces were of metal construction, though only the elevators had tabs.
The tricycle landing gear were pneumatically operated, and had three nitrogen/oleo struts. The nosewheel was castoring, and retracted forward behind the engine ducts, faired by two doors. Fuel capacity was 815 liters (179.3 gallons) in two fuselage tanks, plus an additional 11 liters stored in the starter engine to assist ignition of the afterburner, which was fueled by a separate electrically driven pump.
The cockpit was unpressurized, but was fitted with a primitive cordite-powered ejection seat. It had a bullet-proof windscreen, and a one piece canopy which slid to the rear. A RSIU-6 radio was standard. Armament consisted of two Nudelman-Suranov NS-23 cannons, with 70-75 rounds each.
Testing
Two prototypes were built. Each remained unpainted. They were found to be only slightly heavier than the earlier Yak-15 and Yak-17. The first prototype, (Yak-19-I), had callsign "Yellow 24", and a number "5" on the lower rudder. It first flew on the 8 January 1947 with test pilot M I Ivanov at the controls. In flight the aircraft was found to have pleasant and predictable characteristics. Its worst aspect was the afterburner, which slightly lowered the aircraft's dry thrust. Worse yet, it was ignited by a complicated and totally unreliable procedure which would have been useless in combat. This prototype was later modified with a square-tipped rudder.
The second prototype (Yak-19-II), had callsign "Yellow 25", and the number "2" on the lower rudder. It was seen at the 3 August 1947 Tushino flypast. Differing in minor details, the Yak-19-II had a 4 degree dihedral on the horizontal stabiliser and underslung tip tanks, as on the Yak-17.
S N Anokhin was the test pilot during the NII-VVS testing, which was completed on 21 August 1947. He agreed that the aircraft possessed good handling qualities, but felt that the engine was outdated, weak and unreliable.
After failing State acceptance tests (for reasons including high stick forces, no heating or ventilation, and inadequate armour) further development was abandoned. The death knell of the Yak-19 was also sounded by the arrival of the Rolls-Royce Derwent-derived, Klimov RD-500, which gave quantum leaps forward in thrust, reliability, longevity, and ease of maintenance.
No ASCC reporting name was ever allotted, as the aircraft remained unknown to the west until the late 1970s.
Variants
Yak-19-I First prototype. Yak-19-II Second prototype with some improvements.
Specifications (Yak-19)
General characteristics
Crew: One
Length: 8.36 m (27 ft 5 in)
Wingspan: 8.70 m (28 ft 7 in)
Height: ()
Wing area: 13.56 m² (145.96 ft²)
Empty weight: 2,192 kg (4,832 lb)
Loaded weight: 3,050 kg (6,724 lb)
Max takeoff weight: 3400kg ((7495lb))
Powerplant: 1x— Klimov RD-10F turbojet, 10.7 kN (2,405 lbf)

Performance
Maximum speed: 907 km/h at 5,250 m, 875 km/h at sea level (490 knots, 563 mph at 17,225 ft; 472 knots, 543 mph at sea level)
Range: 550 km (340 miles)
Ferry range: 895 km with drop tanks (555 miles)
Service ceiling: 12,100 m (39,700 ft)
Rate of climb: 20.8 m/s (4,094 ft/min)
Wing loading: 226kg/m² ((46.33lb/ft²))
Thrust/weight: 0.365

Armament
2x Nudelman-Suranov NS-23 cannon, 150 rounds each

Related development
Yakovlev Yak-15
Yakovlev Yak-17
Yakovlev Yak-23
Yakovlev Yak-25

Comparable aircraft
Republic XP-84
Bell XP-83
Chance-Vought F6U Pirate
Supermarine Attacker

Bibliography
Gordon, Yefim; Komissariov, Dmitry and Sergey (2005). OKB Yakovlev: A History of the Design Bureau and its Aircraft. Hinckley, England: Midland Publishing. ISBN 1-85780-203-9.
Gunston, Bill (1995). The Osprey Encyclopedia of Russian Aircraft 1875-1995. London: Osprey. ISBN 1-85532-405-9.
Gunston, Bill. Yakovlev Aircraft since 1924. London, UK: Putnam Aeronautical Books, 1997. ISBN 1-55750-978-6.

Living Warbirds: The best warbirds DVD series.
Source: WikiPedia