Yakovlev Yak-24 Video - Overview - Discovery Channel - Wings
Yakovlev Yak-24 Video - Overview - Russian film
Yakovlev Yak-24 Aircraft Information
Yakovlev Yak-24
Yak-24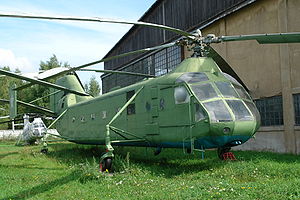 Picture - A Yak-24 at Monino Central Air Force Museum
Role: Transport helicopter
Manufacturer: Yakovlev
First flight: 3 July 1952
Introduced: 1955
Status: Retired
Primary users: Soviet Air Force Aeroflot
Number built: 40-100

The Yakovlev Yak-24 (NATO reporting name Horse) was a twin engine, tandem rotor transport helicopter developed in the USSR.
Design and development
The Yak-24 was designed in the construction bureau of Alexander Sergeyevich Yakovlev, which had not really had any design experience on helicopters prior to the Yak-24, to meet a demand for a heavy transport helicopter to supplement the medium Mil Mi-4. The first prototype was flown on 3 July 1952. It was powered with two 1,268 kW (1,700 hp) Shvetsov ASh-82V radial engines and was built in a tandem rotor layout, which was not typical for Soviet helicopters, which soon brought it nickname Letayushchiy Vagon (Летающий вагон) - 'the Flying Railroad Car'. The engines and transmission system were identical to the already-proven single-engine Mi-4, but the Yak-24 appeared to be not as successful. Its engines were linked together so each could drive one or both rotors, but such arrangement caused strong vibrations in the airframe. After problems were partially solved, the new helicopter was order for production, which started in 1955. In July 1955, it was first presented to the public, and on 17 December 1955 it set two new world payload records, lifting a 2,000 kg (4,409 lb) load to 5,082 m (16,673 ft) and 4,000 kg (8,818 lb) to 2,902 m (9,521 ft).
The initial variant was the Yak-24 - Army transport helicopter, that could carry up to 30 airborne troops, 18 stretchers or 3,000 kg (6,614 lb) of cargo. From 1958, the improved model Yak-24U was produced, with all-metal rotors of bigger diameter (21 m/69 ft) and all-metal fuselage. It could carry 40 soldiers or 3,500 kg (7,716 lb) of cargo, including 2 GAZ-69 jeeps or anti-tank guns. A civilian variant for 30 passengers was the Yak-24A, produced from 1960 in a small series. It was also used as a flying crane, lifting an external load of 5,000 kg (11,023 lb). There were two proposed models: the Yak-24K 9-seat VIP salon with shorter fuselage and civilian Yak-24P for 39 passengers with stronger 2,013 kW (2,700 hp) turboshaft engines, but they were not built.
The exact number of produced Yak-24 helicopters is not sure, but due to technical problems the series was very small. The need for a heavy transport helicopter was satisfied with the successful Mil Mi-6 by then. Most of the time, a number of about 100 produced Yak-24 helicopters is given, though some sources state about 40. According to some sources, the passenger Yak-24A was not actually produced.
Operators
Soviet Union
Aeroflot
Soviet Air Force

Specifications (Yak-24U)
Data from Soviet Transport Aircraft since 1945
General characteristics
Crew: Four (two pilots, flight engineer and radio operator)
Capacity: 40 soldiers, 18 stretchers, or 3,500 kg (7,716 lb) of cargo
Length: 21.34 m (70 ft 0 in)
Rotor diameter: 21.0 m (68 ft 3 in)
Height: 6.50 m (24 ft 4 in)
Disc area: 693 m² (7,454 ft²)
Empty weight: 11,000 kg (24,251 b)
Max takeoff weight: 15,830 kg (34,898 lb)
Powerplant: 2x— Shvetsov ASh-82V 14-cylinder two-row air-cooled radial engines, 1,268 kW (1,700 hp each) each

Performance
Maximum speed: 175 km/h (94 knots, 109 mph)
Range: 265 km (143 nmi, 165 mi)
Service ceiling: 2,700 m (8,900 ft)

Comparable aircraft
Piasecki H-16
Boeing CH-47 Chinook

Gunston, Bill. The Osprey Encyclopedia of Russian Aircraft 1875-1995. London:Osprey, 1995. ISBN 1 85532 405 9.
Stroud, John. Soviet Transport Aircraft since 1945. London:Putnam, 1968. ISBN 0 370 00126 5.

Living Warbirds: The best warbirds DVD series.
Source: WikiPedia