Yakovlev Yak-27 Video - Picture
Yakovlev Yak-27 Aircraft Information
Yakovlev Yak-27
Yak-27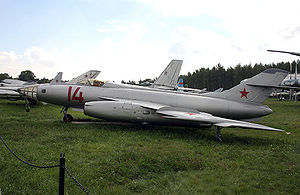 Picture - Yak-27R at Monino
Role: Reconnaissance aircraft
Manufacturer: Yakovlev
Introduction: 1960
Retired: Late 1970s (Soviet Union)
Primary user: Soviet Air Force
Produced: 1958-1962
Number built: Prototypes + 165 serial built
Developed from: Yakovlev Yak-25

The Yakovlev Yak-27 was a family of supersonic aircraft, (NATO reporting name "Flashlight-C"), developed in 1958 from the Yak-121 prototype, including the Yak-27R, (NATO reporting name "Mangrove"), tactical reconnaissance aircraft.
Design and development
The Yak-121 prototype was to form the basis of the Yak-27 family of supersonic interceptor and tactical reconnaissance aircraft intended to replace the Yak-25 and its variants. The Yak-27 and Yak-27K interceptors, with gun and K-8 missile armament respectively, reached or exceeded their requirements but were overtaken in performance by the Sukhoi Su-9, and so production was not authorised. A high-altitude interceptor version, the Yak-27V, was converted from the Yak-121 prototype fitted with a 1,300 kgf (2,866 lbf) Dushkin S-155 rocket booster in the rear fuselage, and afterburning RD-9AKYe turbojets, although performance was very good, reaching 23,000 m (75,400 ft)during trials, development was halted due to support and maintenance issues with the Dushkin S-155 rocket engine.
The dedicated high altitude photo-reconnaissance development of the Yak-27 interceptor was named Yak-27R (NATO designation 'Mangrove'). The Radome and radar were replaced with a glazed nose for an observer/navigator, the starboard Nudelman-Rikhter NR-23 cannon was retained but the port gun was deleted and two recce cameras added. It had a longer wing with a span of 11.82 m (38 ft 9 in), with two Tumansky RD-9AF turbojet engines and had a top speed of about 1,285 km/h (798 mph) at high altitude, with a service ceiling of 16,500 m (54,000 ft) and a range of 2,380 km (1,480 mi) with two wing tanks. About 180 were produced in Plant No.292 in Saratov.
Operational history
The Yak-27R entered service with the VVS in 1960 and was retired in the late 1970s.
Variants
Yak-27 Supersonic interceptor derived from Yak-121 , armed with two 30 mm cannons, did not enter service.
Yak-27F Conversion of one Yak-27R with downward pointing TV cameras in the rear fuselage.
Yak-27K(Yak-27K-8) Interceptor version of Yak-27, armed with two K-8 missiles, did not enter service.
Yak-27R Tactical reconnaissance version of Yak-27, about 180 built.
Yak-27LSh ,( lyzhnoye shasee - ski undercarriage ) conversuion of a Yak-27R, with a single retractable ski under the centre fuselage and enlarge nosewheels.
Yak-27RN Reconnaissance version of Yak-27 underwent flight testing, nothing further known.
Yak-27V High-altitude interceptor version of Yak-27, with auxiliary rocket engine, prototype only converted from the Yak-121.
Yak-121 Prototype of Yak-27 family
Operators
Soviet Union
Soviet Air Force
47th Independent Guard Reconnaissance Regiment received first Yak-27R in May 1959. Last aircraft were retired in mid-1970s and replaced by MiG-25RBs.
48th Nizhegorodsky Reconnaissance Regiment
98th Special Reconnaissance Regiment
164th Kerchensky Independent Reconnaissance Regiment
511th Reconnaissance Regiment

Specifications (Yak-27R)
General characteristics
Crew: one, pilot
Length: 18.55 m (60 ft 10 in)
Wingspan: 11.82 m (38 ft 9 in)
Height: m (ft)
Wing area: m² (ft²)
Empty weight: kg (lb)
Loaded weight: kg (lb)
Max takeoff weight: 13,600 kg (30,000 lb)
Powerplant: 2x— Tumansky RD-9F , 37.2 kN (8,360 lbf) each

Performance
Maximum speed: 1,285 km/h (803 mph)
Range: 2,380 km (1,488 miles)
Service ceiling: 16,550 m (54,284 ft)
Rate of climb: m/s (ft/min)
Wing loading: kg/m² (lb/ft²)

Armament
1x 23 mm Nudelman-Rikhter NR-23 cannon

Related development
Yakovlev Yak-25
Yakovlev Yak-26
Yakovlev Yak-28

Gordon, Yefim (2005). OKB Yakovlev: A History of the Design Bureau and its Aircraft. Hinkley: Midland.

Living Warbirds: The best warbirds DVD series.
Source: WikiPedia