Yakovlev Yak-32 Video - Wings of Russia - Training and Sports Aircraft - A Road into the Sky
Yakovlev Yak-32 Video - Tushino Air Show 1961
Yakovlev Yak-32 Aircraft Information
Yakovlev Yak-32
Yak-32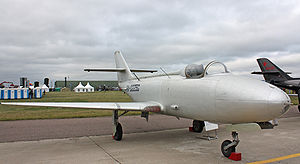 Picture - Yak-32 on the MAKS airshow 2009
Role: Sport Aircraft
Manufacturer: Yakovlev
First flight: 1960
Primary user: Soviet Air Forces
Number built: 2
Variants: Yakovlev Yak-30 (1960)

The Yakovlev Yak-32 (NATO reporting name Mantis) was a single-seat version of the Yakovlev Yak-30 (1960), and was claimed by the OKB to be the world's first sporting aircraft with an ejection seat. The military version was designated the Yak-104. Neither the Yak-30 or the Yak-32 entered production.
Design and development
Developed concurrently with the Yak-30, the Yak-32 was a single-seat aircraft designed as both a sporting jet, and a light military ground attack aircraft.
The airframe of the Yak-32 was that of the Yak-30, but modified to include only a single seat. Yakovlev had intended to market the aircraft as a sporting jet at a time when no other single-seat jet aircraft was being market for civilian use. In fact, it would not be until the introduction of the jet version of the Bede BD-5 in the 1970s that another sport aircraft like the Yak-32 was offered. Even in the twenty first century single-seat sporting jets are rarely offered by manufactures.
The military version of the Yak-32 was designated the Yak-104, and was planned to include more sophisticated avionics than the Yak-32. It could also carry external fuel and weapons loads, including a ZB-500 or ZB-360 external fuel tank, bombs of up to 500 kg, up to four rocket launchers (the largest being the UB-32/S-5), up to four K-13/R-3S missiles, four ARS-240 rockets, or four AOI-9 or UKP-23 gun pods, each with 250 rounds.
Operational history
Two Yak-32 prototypes were built in late 1960 at the same time as the four prototype Yak-30s trainers. They had callsigns 32 and 70. Both aircraft gave aerobatic demonstrations at that 1961 Aviation Day at Tushino. They went on to set several world class records (their thrust being misreported to the FAI as 800 kg).
The ASCC allocated the name "Mantis" to the Yak-32/Yak-104.
Survivors
One Yak-32 was preserved by Yakovlev and is on display at Khodinka, displayed in the OKB's house colors of red and white.

Specifications (Yak-32)
Data from
General characteristics
Crew: 1
Length: 10.14 m (33 ft 3 1/4 in)
Wingspan: 9.38 m (30 ft 9 1/4 in)
Height: 3.4 m (11.1 ft)
Wing area: 14.3 m² (153.7 ft²)
Empty weight: 1,435 kg (3,164 lb)
Loaded weight: 1,930 kg (4,255 lb)
Useful load: 991 kg (2,185 lb)
Powerplant: 1x— Tumansky RU19-300 turbofan, 1,070 kgp (2,363 lb; 900kgf)
* Basic fuel capacity: 500 kg (1,102 lb)
Maximum fuel capacity: 805 kg (1,775 lb)
Max wing loading: 154 kg/m² (31.6 lb/ft²)
Max power loading: 0.41 kg/kgp (0.9 lb/lbp)

Performance
Maximum speed: 755 km/h (469 mph)
Range: 965 km (600 miles)
Service ceiling: 11,500 m (but record set at 14,283m, 46,860ft) (37,730 ft)
Rate of climb: 18 m/s (3,540 ft/min)
Thrust/weight: 0.36
Maximum endurance: 2.05 hr

Take off run: 425 m (1,394 ft)
Landing run: 450 m (1,476 ft)
Maximum load factor: +7/-5 g

Armament
Various
Related development
Yakovlev Yak-30 (1960)

Comparable aircraft
F-80 Shooting Star
Bede BD-5

Gunston, Bill. Yakovlev Aircraft since 1924. London, UK: Putnam Aeronautical Books, 1997. ISBN 1-55750-978-6.
Jakubovich, Nikolay, "Wings of Motherland. Aviation and politics, or how "Dolphin" destroyed Yak-30"

Living Warbirds: The best warbirds DVD series.
Source: WikiPedia