Yakovlev Yak-36 Video - Overview
Yakovlev Yak-36 Video - Airplane Mishap
Yakovlev Yak-36 Aircraft Information
Yakovlev Yak-36
Yak-36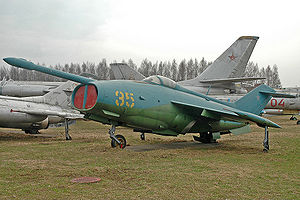 Picture - Yak-36 at Monino
Role: Experimental VSTOL aircraft
National origin: Soviet Union
Manufacturer: Yakovlev
First flight: 9 January 1963
Primary user: Soviet Air Force
Number built: 12

The Yakovlev Yak-36 (NATO reporting name 'Freehand') was a Soviet technology demonstrator for a VTOL combat aircraft.
Design and development
The Yak-36 made its first hover on 9 January 1963, the first transition from vertical take-off to forward flight and back to vertical landing on 16 September 1963.
The aircraft had two vectored thrust engines mounted side-by-side in the forward fuselage. The exhaust exited through vectoring nozzles in the center of gravity which were vectorable through about 90°.
The next development step was the Yak-36M which flew for the first time in 1971.
Operators
Soviet Union
Soviet Air Force

Specifications (Yakovlev Yak-36)
Data from Air Vectors ,
General characteristics
Crew: one: pilot
Length: 17 m (55 ft 9 in)
Wingspan: 10.5 m (34 ft 5 in)
Height: 4.5 m (14 ft 9 in)
Max takeoff weight: 8,900 kg (19,625 lb)

Performance
Maximum speed: 1,000 km/h (620 mph)
Service ceiling: 12,000 m (39,350 ft)

Armament
Guns: 2X 30mm of unknown type
Hardpoints: 4 with a capacity of Gun pods, air to air missile, air to ground missile and ECM pods.

Related development
Yakovlev Yak-38

Comparable aircraft
Hawker Siddeley P.1127

Living Warbirds: The best warbirds DVD series.
Source: WikiPedia