Yakovlev Yak-40 Video - Airplane landing
Yakovlev Yak-40 Aircraft Information
Yakovlev Yak-40
Yak-40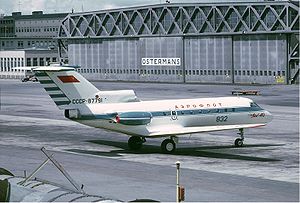 Picture - Aeroflot Yak-40 at Bromma Airport in 1971
Role: Regional jet/ VIP transport
National origin: Soviet Union
Manufacturer: Yakovlev
First flight: October 21, 1966
Introduction: September 1968 (Aeroflot)
Primary user: Aeroflot
Produced: 1967-1981
Number built: 1010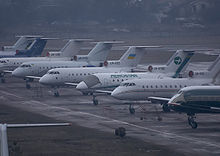 Picture - A lineup of Yak-40s at Zhulyany Airport in Kiev.
The Yakovlev Yak-40 (NATO reporting name: Codling) is a small, three-engined airliner that is often called the first regional jet transport aircraft. It was introduced in September 1968 with Aeroflot.
History
The Yak-40 was developed to meet a desire by Aeroflot to replace the Ilyushin Il-12, Il-14 and Lisunov Li-2, which, along with the An-2 biplane, served Aeroflot's regional and local routes. By the 1960s all these aircraft had become obsolete, and Aeroflot desired a single modern replacement aircraft for all of them to ease operating costs and maintenance. Aeroflot believed that a turboprop aircraft would best serve this need, and Yakovlev produced various studies using a variety of turboprop arrangements. In 1964 Yakovlev came to the conclusion that a STOL jet would better suit Aeroflot's needs, despite the fact that there was no desire for high speed, the emphasis instead being on reliability and the ability to operate in ICAO Category II weather conditions and from Class 5 airfields (unpaved strips shorter than 700 m, 2,300 ft).
Development
In order to achieve the STOL capability desired Yakovlev initially spent considerable effort exploring a VTOL arrangement (Yak-40 VTOL). Designs were studied that incorporated dedicated lift jets in pods mounted mid-wing, as well as designs incorporating the lift jets within the fuselage. Ultimately the concept of a VTOL aircraft was abandoned, being judged impractical.
In 1964 the OKB received a GVF (civil air fleet) agreement to build a conventional 20/25 seat regional jet with unswept wings, powered by three new turbofans being developed by A I Ivchenko at Zaporozhye in Ukraine. R S Petrov and M A Shcherbina were appointed chief engineers along with the founder's elder son, Sergei A Yakovlev, who was given his first major responsibility as a chief designer.
The design evolved into a relatively slow jet transport, though this idea seemed to offer the best merger of simplicity, reliability, and low purchase and operating costs. Among the designs features was a 30,000-hour operating life, independence of sophisticated airport facilities, and the ability to meet foreign certification requirements.
The final design was unusual in that the passenger compartment was ahead of the wing. Behind the wing was a short rear fuselage housing the three engines. The large tail features a leading edge sweep of 50 degrees, not for high-speed, but rather to move the high tailplane further back. Indeed, the tailplane does not extend to the fin's leading edge, but is mounted about one fifth the way back. Because of its short movement arm the fin itself had to be somewhat huge.
The wing was made of left and right halves joined at the centerline, with the main spar running from wingtip to wingtip, and auxiliary spars front and rear. Virtually the entire wing between the main and front spars formed internal fuel tanks with a capacity of 3,800 liters (839.9 gallons).
The fuselage was a simple ring frame with stringers and measured 2.4 m (94.5 in) in diameter. The nose section was made separately, with a cockpit floor slightly higher than the cabin floor. The cockpit was arranged for two pilots, with a wide center console. The cabin was fully pressurized, and initially measured 6.7 m long on the prototype, but was later extended aft with an extra window being added on each side, to a length of 7.07 m (23 ft 2 3/8 in). Seating was for twenty-four passengers in a two-plus-two configuration, with a luggage bay and toilet at the rear. A shelf for carry-on bags was located along the right side. An outward opening service door was located in front on the left, and eight circular windows were installed on each side, the rearmost being escape hatches. The main passenger door was located in the rear pressure bulkhead, allowing passengers to board and exit the aircraft from the rear down a hydraulically operated rear stairway.
The three AI-25 engines were especially designed for the aircraft, and featured a two-shaft turbofan with an eight-stage compressor and a bypass ratio of 2.15. Takeoff thrust was rated at a mere 1,500 kg (3,307 lbs), a very low thrust figure for a commercial airliner. Dry weight was 320 kg (705 lb). The engines had no jetpipes, and initially no thrust reversers.
The undercarriage was a conventional tricycle arrangement. Each wheel had a multi-disc brake with the latest anti-skid control systems, while the tires were wide, low pressure units for operations on unpaved runways. The wheels had no fairings when retracted, and almost met at the centerline.
Testing
The first of five prototypes (SSSR-1966) was first flown on 21 October 1966 by Yakovlev test pilots A I Kolossov and Yu B Petrov. This aircraft was followed by 19661, 1967, 19671 and 19672. With so many flying prototypes it was possible to achieve certification by 1968. One year earlier, in 1967, large orders were place at the factory at Saratov, supported by Smolensk producing specific parts. Initial series production aircraft differed from the prototypes mainly in having the longer cabin and a back-sloping inlet to the number 2 engine.
The ASCC reporting name is "Codling".
Second series
The second series was introduced in 1969 and featured clamshell thrust reversers on engine #2. The main undercarriage was strengthened, and a ninth row of seats was installed, bringing the seating capacity to twenty-seven. The fuel tank capacity was also increased to 3,910 liters (860 gallons).
Third series
Introduced in 1973, the third series was cleared to significantly higher weights, giving customers the option of an interior for thirty-two passenger. The upper tailplane bullet fairing was removed from this and all subsequent models.
Fourth series
The final series was introduced in 1975. Payload was increased to 3,200 kg (7,055 lb), and the interior could be arranged into two classes of seating, or for rapid conversion from passengers to cargo.
Yak-40K
A few of the fourth series were built as a special cargo version with a door measuring 1.6 by 1.5 m (63 by 59 in) on the left side behind the service door.
Operational history
Passenger service began on 30 September 1968.
By the time production ended in 1981 the factory at Saratov had produced 1,011 aircraft. By 1993 Yak-40s had carried 354 million passengers. Between 1967 and 1976 the OKB had demonstrated the aircraft for sale in seventy-five countries. In 1972 it was certified in Italy and West Germany. Certification was completed in the United Kingdom but the document was not issued. A total of 130 aircraft were exported to Afghanistan, Angola, Bulgaria, Cambodia, Cuba, Czechoslovakia, Equatorial Guinea, Ethiopia, Germany, Hungary, Italy, Laos, Madagascar, Poland, Syria, Vietnam, Yugoslavia and Zambia.
Czechoslovak pilots flying a Yak-40 set twelve world class records.
Since the demise of the old Aeroflot, many have been converted from passenger service layout to more luxurious corporate layouts and are in use as corporate and private aircraft.
Most of the Yak-40s in active service fly in the former Soviet Union. Some are flying in Europe, but are rare because of noise restrictions.
Notable accidents and incidents
on May 4, 1972 an Aeroflot/East Siberia Yak-40 with 18 passengers and crew on approach to Bratsk Airport, Russia (then USSR) crashed due to wind shear. All aboard perished.
on February 28, 1973 an Aeroflot/Kazakhstan flight from Semipalatinsk Airport, Kazakhstan (then USSR) to Ust-Kamenogorsk Airport, Kazakhstan fell back onto the runway after take-off. All 28 passengers and 4 crew died.
on July 15, 1975 an Aeroflot/Armenia passenger flight from Zvartnots International Airport, Armenia to Batumi-Chorokh Airport Georgia on go-around crashed into Mount Mtirala (in the Caucasus) killing all 41 on board.
on August 15, 1975 an Aeroflot/Azerbaijan aircraft from Baku Airport, Azerbaijan (then USSR) to Krasnovodsk Airport (now the airport of Tx¼rkmenbaÅŸy), Turkmenistan (then USSR) stalled and subsequently crashed during approach due to pilot error and unfavourable weather conditions killing 23 of the 28 on board.
on September 9, 1976 an Aeroflot/North Kavkaz flight from Rostov Airport, Russia (then USSR) to Kerch Airport, Ukraine (then also USSR) collided with an Antonov An-24 passenger flight over the Black Sea 37 km/23 miles off Anapa due to violation of separation rules and error of both aircrafts crew and probably ground ATC. All 18 occupants of the Yak-40 and 46 people on board the An-24 died.
on October 7, 1978 an Aeroflot/Kazakhstan flight with 38 people on board departed Sverdlovsk-Koltsovo Airport, Russia for Kostanay-Narimanovka Airport, Kazakhstan but the left engine failed about 30 seconds after take off due to icing. The aircraft lost height and collided with a hill killing all occupants.
On June 8, 1980, a TAAG Angola Airlines Yak transporting civilians was shot down by a MiG-19 (origin unclear) near Matala, Angola killing all 19 occupants
On June 12, 1980, an Aeroflot/Tajikistan on a passenger flight from Leninabad, since 1991 called Khujand, Tajikistan (then USSR) to Dushanbe Airport, Tajikistan with 29 on board crashed into a mountain 44 km/27m north-west of the airport due to navigational errors by the crew killing all occupants
On September 18, 1981, an Aeroflot/East Siberia flight from Irkutsk Airport, Russia to Zheleznogorsk-Ilimskiy Airport, Russia collided with a Mi-8 helicopter on a training flight while approaching its destination airport. The supposed site of the collision occurred in the clouds. All 33 on board the Yak-40 and 7 occupants of the Mi-8 were killed, resulting in 40 fatalities, making it the deadliest Yak-40 incident.
On January 24, 1988, an Aeroflot/Privolzhsk aircraft experienced failure of engine No.1 and No.3 during take-off from Nizhnevartovsk Airport, Russia. Engine No.2 also experienced some problems, but recovered while engines No.1 and No.3 eventually failed. The plane stalled, crashed and broke up killing 27 of 31 on board. Cause was possible crew error.
On August 2, 1988, at Sofia Airport, the Balkan Yak-40 LZ-DOK crashed on take-off. All civil traffic had been halted minutes before because of the departure of the Bulgarian "Air Force One" Tupolev Tu-154, carrying Bulgarian leader Todor Zhivkov. Because of a delay of this flight, the air traffic controller cleared LZ-DOK for take-off to Varna, asking the crew to expedite their departure. Trying to leave in a hurry, the crew forgot to set the trim correctly and initiated the start from the middle of the 3000 m runaway. Consequently, the aircraft failed to become airborne. It overran the runway into a ravine and got into fire. Fatalities 28 from 37 occupants.
On August 1, 1990, an Aeroflot/Armenia Yak-40 traveling from Zvartnots International Airport, Armenia to Stepanakert Airport, Azerbaijan carrying 47 passengers, crashed when the crew suddenly hit a mountain 22 km (14 mi) away from its destination killing all on board. The cause was most likely pilot error (premature descent)
On November 14, 1992, Vietnam Airlines flight 474 with 31 passengers and crew flying from Ho Chi Minh City-Tan Son Nhat International Airport, Vietnam to the previously civilian Nha Trang Airport, Vietnam impacted obstacles on landing approach killing all but one passenger. Adverse weather conditions might have been involved (unclear at investigation).
On August 28, 1993 a Tajikistan Airlines non-scheduled flight that was grossly overloaded with 86 passengers overran the runway at Khorog Airport, Tajikistan and fell into the Panj River. Three passengers survived. The crew was forced at gunpoint to overload the aircraft. This was the worst accident involving a Yak-40
On September 26, 1994, a Cheremshanka Airlines flight from Krasnoyarsk Airport, Russia to Tura ran out of fuel due to crew and ATC errors and crashed, killing all 28 on board.
On May 25, 1998, a Lao Aviation Yak-40 transporting 26 Vietnamese military personnel and crew coming from Wattay International Airport, Laos to Xieng Khouang Airport, Laos crashed into the jungle
On May 17, 2001, a Faraz Qeshm Airlines flight departed Tehran, Iran heading for Gorgan Airport, Iran carrying 30 people, amongst those the Iranian Transport Minister Rahman Dadman, two deputy ministers and seven more members of parliament was forced to divert due to bad weather conditions and was later discovered crashed into the Elburz mountains, Iran. All on board perished
On January 13, 2004, Uzbekistan Airways flight 1154 from Termez Airport, Uzbekistan to Tashkent International Airport, Uzbekistan, carrying 37 passengers, crashed the crew failed to descend for approach on time. Finding the runway too short to land an attempted go-around was initiated but ultimately failed, resulting in the left wing striking a concrete building, leading to a crash, with the subsequent fire killing all on board.
On 31 January 2010, a Guicango Yak-40, registered D2-FES, suffered the collapse of all landing gears on landing at Quatro de Fevereiro Airport, Luanda, Angola on a flight from Cabinda.

Summary
The Yak-40 in many ways was a pioneering airliner not least because it introduced the concept of a regional jet, now ubiquitous. Testament to their ruggedness and durability is the fact that three decades after introduction, 40% of all Yak-40s ever built are still in operation, often in difficult conditions - underdeveloped markets, lack of parts and maintenance know how. Notwithstanding these achievements, the Yak-40 found little acceptance in western markets -- mostly, probably, due to the political climate of the period. Some contribution to the result could also be assigned to minor technological shortcomings - relatively simple avionics and a cruising speed below that of many contemporary turboprops.
Variants
Yak-40 - The first production model.
Yak-40-25 Military conversion with the nose of a MiG-25R and SRS-4A Elint installation.
Yak-40 Akva (Aqua) - Military conversion with nose probe, pylon-mounted sensors, a fuselage dispenser and underwing active jammer pods.
Yak-40DTS - Only known by the designation. Possibly a long-range cargo version.
Yak-40EC - Export version.
Yak-40 Fobos (Phobos) - Military conversion with two dorsal viewing domes and a removable window on each side.
Yak-40K - cargo / convertible / combi version with a large freight door.
Yak-40 Kalibrovshchik - Military Elint conversion with a "farm" of blade, dipole and planar antennas.
Yak-40L - Proposed version with two Lycoming LF507-1N turbofans, a joint program between Skorost and Textron (now Allied-Signal) Lycoming. The original design would have had a slightly swept wing.
Yak-40 Liros - Military conversion with nose probe carrying air and air-data sensors.
Yak-40M - Proposed 40-seat stretched passenger version.
Yak-40 M-602 - Flying testbed with a Czechoslovak M 602 turboprop installed in the nose.
Yak-40 Meteo - Military conversion with multipole dipole antennas and fuselage dispenser.
Yak-40P - Yak-40L with large nacelles projecting ahead of the wings.
Yak-40REO - Military conversion with large ventral canoe for IR linescan. Lateral observation blister on right side.
Yak-40 Shtorm - Military conversion with multiple probes and sensors on the forward sidewalls.
Yak-40TL - Proposed American version, to be powered by three Lycoming LF 507 turbofan engines.
Yak-40V - Export version powered by three AI-25T turbofan engines.
Yak-40VTOL - Two designs proposed capable of vertical takeoff and landing.

Operators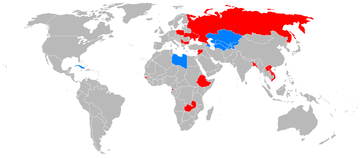 Picture - Yak-40 operators (exclusively civil operators in blue)
Civilian Operators
In September 2009 a total of 411 out of 1,011 Yakovlev Yak-40 aircraft remain in airline service. Major operators include:
Afghanistan
Ariana Afghan Airlines - Former operator.
Bakhtar Afghan Airlines - Former operator.

Azerbaijan
Azerbaijan Airlines - Former operator.

Bolivia
Lloyd Aereo Boliviano - Former operator.

Bulgaria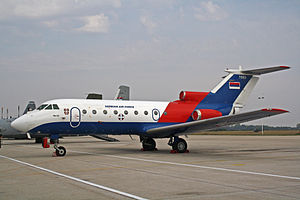 Picture - Serbian Air Force Yak-40
Hemus Air - Former operator.
Cuba
Aerocaribbean (6)
Cubana - Former operator.

Czechoslovakia
CSA Czech Airlines - Former operator.
Slov-Air - Former operator.

Egypt
Egyptair - Former operator.

West Germany
General Air - Former operator.

Honduras
Rollins Air (2)

Hungary
MALx‰V - Former operator.

Kazakhstan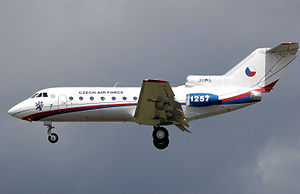 Picture - Czech Air Force Yak-40 landing
Balkan Bulgarian Airlines - Former operator.

Air Kokshetau (5)
Tulpar Air Service (7)

Kyrgyzstan
Kyrgyzstan Airlines (2)

Libya
Air Libya Tibesti (5)

Lithuania
Air Lithuania - Former operator.

Moldova
Air Moldova (1)

Philippines
Interisland Airlines (1)

Russia
2nd Sverdlovsk Air Enterprise (6)
Belgorod Air Enterprise (6)
Bugulma Air Enterprise (11)
Euro-Asia Air (2)
Gazpromavia (6)
Rossiya (6)
RusLine (1)
Severstal Air Company (1)
Tomskavia (4)
UTair Aviation (11)
Vladivostok Avia (5)
Volga-Dnepr (7)
Vologda Aviation Enterprise (8)
Yak Service (3)
Yakutia Airlines (4)
Yamal Airlines (4)

Soviet Union
Aeroflot - Former operator.

Syria
Syrian Arab Airlines - Former operator.

Tajikistan
Tajik Air (4)
Tajikistan Airlines - Former operator.

Turkmenistan
Turkmenistan Airlines - Former operator.

Ukraine
Aerostar Airlines (3)
Constanta Airline (7)
ChallengeAero (6)

Uzbekistan
Uzbekistan Airways

Venezuela
Oriental de Aviacix³n

Vietnam
Vietnam Airlines - Former operator.

Specifications (Yak-40)
Data from Jane's All The World's Aircraft 1976-77
General characteristics
Crew: 2
Capacity: 32 passengers
Length: 20.36 m (66 ft 9½ in)
Wingspan: 25.00 m (82 ft 0¼ in)
Height: 6.50 m (21 ft 4 in)
Wing area: 70.00 m² (753.5 ft²)
Empty weight: 9,400 kg (20,725 lb)
Max takeoff weight: 15,500 kg (34,170 lb)
Powerplant: 3x— Ivchenko AI-25 turbofans, 14.7 kN (3,300 lbf) each

Performance
Maximum speed: 550 km/h (297 knots, 342 mph) at 7,000 m (23,000 ft) (max cruise)
Range: 1,800 km (971 nmi, 1,118 mi)
Service ceiling: 8,000 m (26,240 ft)
Rate of climb: 8.0 m/s (1,575 ft/min)

Airstair
Business jet

Related development
Yakovlev Yak-42

Bibliography
Gunston, Bill. The Osprey Encyclopedia of Russian Aircraft 1875-1995. London:Osprey, 1995. ISBN 1 85532 405 9.
Gunston, Bill. Yakovlev Aircraft since 1924. London, UK: Putnam Aeronautical Books, 1997. ISBN 1-55750-978-6.
Taylor, John W. R. Jane's All The World's Aircraft 1976-77. London:Jane's Yearbooks, 1976. ISBN 0 354 00538 3.

Living Warbirds: The best warbirds DVD series.
Source: WikiPedia