Yokosuka K5Y Video - Picture
Yokosuka K5Y Warbird Information
Yokosuka K5Y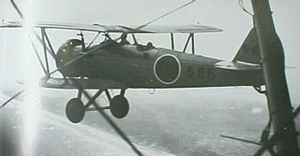 Aircraft Picture - K5Y1
Role: Intermediate trainer
Manufacturer: Various, see text
First flight: 1933
Introduction: 1934
Primary user: Imperial Japanese Navy Air Service
Produced: 1934-1945
Number built: 5,770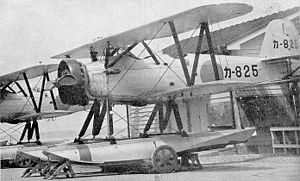 Airplane Picture - K5Y2
The Yokosuka K5Y was a two-seat unequal-span biplane trainer (Allied reporting name: "Willow") that served in the Imperial Japanese Navy during the World War II. Due to its bright orange paint scheme (applied to all Japanese military trainers for visibility), it earned the nickname "aka-tombo", or "red dragonfly", after a type of insect common throughout Japan.
Design and development
The aircraft was based on the Yokosuka Navy Type 91 Intermediate Trainer, but stability problems led to a redesign by Kawanishi in 1933. It entered service in 1934 as Navy Type 93 Intermediate Trainer K5Y1 with fixed tail-skid landing gear, and remained in use throughout the war. Floatplane types K5Y2 and K5Y3 were also produced. After the initial 60 examples by Kawanishi, production was continued by Watanabe (556 aircraft built), Mitsubishi (60), Hitachi (1,393), First Naval Air Technical Arsenal (75), Nakajima (24), Nippon (2,733), and Fuji (896), for a total of 5,770. These aircraft were the mainstay of Imperial Japanese Navy Air Service's flight training, and as intermediate trainers, they were capable of performing demanding aerobatic maneuvers. Two further land-based versions, the K5Y4 with a 358 kW (480 hp) Amakaze 21A engine and the K5Y5 with a 384 kW (515 hp) Amakaze 15, were projected but never built.
Variants
K5Y1
Two-seat intermediate trainer for the Imperial Japanese Navy.

K5Y2
Floatplane version, with Amakaze 11 engine.

K5Y3
Floatplane, with 384 kW (515 hp) Amakaze 21.

K5Y4
Projected land-based version with 358 kW (480 hp) Amakaze 21A. Never built.

K5Y5
Projected land-based version with 384 kW (515 hp) Amakaze 15. Never built.

Operators
Japan
Imperial Japanese Navy

Specifications (K5Y1)
Data from Japanese Aircraft of the Pacific War
General characteristics
Crew: Two
Length: 8.05 m (26 ft 5 in)
Wingspan: 11.00 m (36 ft 1 in)
Height: 3.20 m (10 ft 6 in)
Wing area: 27.7 m² (298.2 ft²)
Empty weight: 1,000 kg (2,205 lb)
Max takeoff weight: 1,500 kg (3,307 lb)
Powerplant: 1 x— Hitachi Amakaze 11 nine-cylinder air-cooled radial engine, 224 kW (300 hp)

Performance
Maximum speed: 212 km/h (115 knots, 132 mph)
Cruise speed: 138 km/h (75 knots, 86 mph)
Range: 1,019 km (550 nmi, 633 mi)
Service ceiling: 5,700 m (18,700 ft)
Climb to 3,000 m (9,845 ft): 13 min 32 sec

Armament
Guns: 1x— fixed, forward-firing 7.7 mm (.303 in) Type 89 machine gun and 1x— flexible, rearward-firing 7.7 mm (.303 in) Type 92 machine gun
Bombs: Up to 100 kg (220 lb) of bombs on external racks

Comparable aircraft
Arado Ar 66
Avro 626
Breda Ba.25

Bibliography
Collier, Basil. Japanese Aircraft of World War II. London: Sidgwick & Jackson, 1979. ISBN 0-283-98399-X.
Francillon, R.J. Japanese Aircraft of the Pacific War. London: Putnam & Company Ltd., 1970 (2nd edition 1979). ISBN 0-370-30251-6.
Mondey, David. The Concise Guide to Axis Aircraft of World War II. London: Chancellor Press, 1996. ISBN 1-85152-966-7.
Tagaya, Osamu. Imperial Japanese Naval Aviator, 1937-45. Botley, Oxfordshire, UK: Osprey Publishing, 2003. ISBN 1-84176-385-3.

Yokosuka K5Y Pictures
More airplane video.
Source: WikiPedia