Yokosuka P1Y Video - Picture
Yokosuka P1Y Warbird Information
Yokosuka P1Y Ginga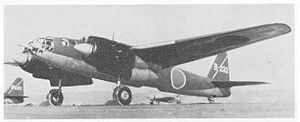 Role: Bomber
National origin: Japan
Manufacturer: Yokosuka
First flight: August 1943
Introduction: October 1944
Retired: 1945
Primary user: Imperial Japanese Navy Air Service
Number built: 1,098

The Yokosuka P1Y Ginga (銀河, "Galaxy") was a twin-engine, land-based bomber developed for the Japanese Imperial Navy in World War II. It was the successor to the Mitsubishi G4M and given the Allied reporting name "Frances".
Design and development
The P1Y was designed by the Yokosuka Naval Air Technical Arsenal to Navy specification 15-Shi, calling for a fast bomber with speed matching the Zero, range matching the G4M, a 907 kg (2,000 lb) bombload, and the ability to dive-bomb as well as carry torpedoes. As the result, the construction suffered from excess complexity, difficulty of manufacture, and poor serviceability. Problems with the availability of enough reliable Nakajima Homare engines led to their replacement by the Mitsubishi Kasei in the P1Y2-S night-fighter version.
The streamlined design of the Ginga is attributed to Miki Tadanao, an engineer who, after World War II, went on to create a similar aerodynamic design for Japan's earliest `bullet trains` (Shinkansen), while working with the Japan National Railways(JNR).
Operational history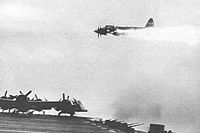 Airplane Picture - Yokosuka P1Y "Frances" shot down next to USS Ommaney Bay (CVE-79) by 0945 on December 15, 1944.[4]
The first flight was in August 1943. Nakajima manufactured 1,002 examples, which were operated by five Kokutais (Air Groups), and acted as land-based medium and torpedo bombers from airfields in China, Taiwan, Marianas, Philippines, Ryukyu, Shikoku, and Kyūshū. During the last stages of the war the P1Y was utilized as a kamikaze aircraft against the United States Navy during the Okinawa Campaign in Operation Tan No. 2.
A night fighter version, the P1Y2-S Kyokko (極光, "Aurora"), with Mitsubishi Kasei engines, was equipped with radar and Schrx¤ge Musik-style upward-firing -- as well as forward-firing -- 20 mm cannon. A total of 96 were produced by Kawanishi, but due to inadequate high-altitude performance against B-29s, many were converted back to Ginga bombers.
Variants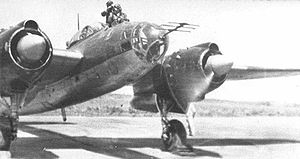 Airplane Picture - Radar equipped P1Y
;Prototypes: six examples with 1,357 kW (1,820 hp) NK9C Nakajima NK9B Homare 11 engines.
P1Y1 Ginga ("Milky Way") Japanese Navy bomber Model 11 first model of the series. P1Y1 Ginga Kai Model 11 Special modified version capable of transporting 1x— Yokosuka MXY7 Ohka "Baka" (model 22). P1Y1-S Byakko ("White Light"), Japanese Navy Night Fighter night fighter version armed with 4 x— 20 mm Type 99 cannons firing obliquely forward, and 1 x— 13 mm (.51 in) Type 2 machine gun in the back defensive position.

Airplane Picture - Version P1Y1a/P1Y2a, since it has a single forward cannon, and no dorsal turret
P1Y2-S Kyokko ("Aurora") Japanese Navy Night Fighter
other night fighter version with new 1,380 kW (1,850 hp) Mitsubishi MK4T-A Kasei 25a engines. Armed with 2 x— 20 mm Type 99s firing obliquely forward, and 1 x— 13 mm (.51 in) Type 2 in the back defensive position.
P1Y2 Japanese Navy bomber Model 16
conversions of previous night fighter version.
P1Y1a/P1Y2a
similar to P1Y1/P1Y2 with 1 x— 20 mm Type 99 in nose cabin and 1 x— 13 mm (.51 in) Type 2 in back defensive position.
P1Y1b/P1Y2b
version armed with dorsal turret with 2 x— 13 mm (.51 in) Type 2s and 1 x— 20 mm Type 99 in nose cabin.
P1Y1c/P1Y2c
similar to P1Y1b/P1Y2b, but the front nose cabin cannon is replaced with 1 x— 13 mm (.51 in) Type 2.
P1Y3 Model 33
specialised version to carry a rocket-powered Yokosuka MXY7 Ohka Model 21 or a jet-powered Yokosuka MXY7 Ohka Model 22 suicide aircraft. Project only.
P1Y4 Model 12
projected version with 2,000 hp Nakajima NK9H-S "Homare" 23 radial engines.
P1Y5 Model 14
projected version with 2,200 hp Mitsubishi Ha-43 (MK9A) radial engines.
P1Y6 Model 17
projected version with Mitsubishi MK4T-C Kasei 25c radial engines.
MXY10 Yokosuka Navy Bomber Ginga
Ground decoy non-flying replica of Yokosuka P1Y1
Operators
Japan
Imperial Japanese Navy Air Service
522nd Kokutai
752nd Kokutai
762nd Kokutai
Yokosuka Kokutai

Specifications (P1Y1a)
Data from Japanese Aircraft of the Pacific War
General characteristics
Crew: 3
Length: 15.00 m (49 ft 2⅜ in)
Wingspan: 20.00 m (65 ft 7¼ in)
Height: 4.30 m (14 ft 1¼ in)
Wing area: 55 m² (592 ft²)
Empty weight: 7,265 kg (16,020 lb)
Loaded weight: 10,500 kg (23,149 lb)
Max takeoff weight: 13,500 kg (29,762 lb)
Powerplant: 2 x— Nakajima NK9C Homare 12 18-cylinder radial engines, 1,361 kW (1,825 hp) (take-off) each

Performance
Maximum speed: 547 km/h (295 knot, 340 mph) at 5,900 m (19,400 ft)
Cruise speed: 370 km/h (200 knots, 230 mph) at 4,000 m (13,125 ft)
Range: 5,370 km (2,900 nmi, 3,337 mi)
Service ceiling: 9,400 m (30,840 ft)
Wing loading: 191 kg/m² (39.1 lb/ft²)
Power/mass: 0.20 kW/kg (0.16 hp/lb)

Armament
Guns:
1x— flexible, nose-mounted 20 mm Type 99 cannon
1x— flexible rear-firing 13 mm Type 2 machine gun
Bombs: up to 1,000 kg (2,205 lb) of bombs or 1x— 800 kg (1,800 lb) torpedo

Related development
Yokosuka Tenga

Comparable aircraft
Junkers Ju 88
Petlyakov Pe-2
Saab 18

Bibliography
Francillon, Ph.D., René J. Japanese Aircraft of the Pacific War. London: Putnam 7 Company Ltd., 1970. ISBN 0-370-00033-1 (2nd edition 1979, ISBN 0-370-30251-6).

Yokosuka P1Y Pictures
More airplane video.
Source: WikiPedia