Avia B-534 Video - Pictures, posters, video of Ceskoslovenska Armada
Avia B-534 Aircraft Information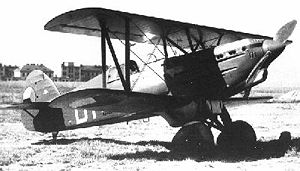 Picture - Avia B-534, 42nd letka
Role: Fighter aircraft
Manufacturer: Avia
Designed by: František Novotný
First flight: 25 May 1933
Introduced: 1935
Status: Retired
Primary user: Czechoslovakian Air Force
Number built: 445

The Avia B-534 is a Czechoslovakian biplane produced during the period between the Great War and World War II. The B-534 is considered one of the last aircraft built with a classic biplane design.
Design and development
The B-534 was designed as a single-engine biplane fighter with a license-built Hispano-Suiza inline powerplant, and fixed landing gear. Four 7.92 mm (0.312 in) machine guns were located in the sides of the fuselage, firing through the propeller. The air forces of the 1930s were reluctant to abandon the maneuverability and climb rates of biplanes for the speed of monoplanes, even in the face of new and better technology. The success of the Soviet pilots with biplanes may have contributed to this reluctance; they were known to strip their aircraft of sliding canopies, preferring to have the wind in their faces. Aircraft with two fabric-covered wings and fixed landing gear were also less expensive to manufacture.
The first B-534 prototype flew in late May 1933. More work followed and the first order for the Czechoslovakian Air Force was placed in mid-1934. At that time, the B-534 was well ahead of its contemporaries. The United Kingdom was still dependent on Hawker Furies, with the first Gloster Gladiators being produced at this time. The Soviet Union was placing its hope on its Polikarpov aircraft designs. The United States was still using descendants of the Curtiss Hawk series, with the Seversky P-35 and Curtiss P-36 just about to fly prototypes. First deliveries of the B-534 to the Czechoslovakian air force began in late 1935, and 445 or so had been completed by 1938.
The abrupt partition of Czechoslovakia in 1939 prevented the use of the B-534 in combat by the nation that had produced it. By then, high performance monoplanes such as the German Messerschmitt Bf 109, Hawker Hurricane and Supermarine Spitfire were raising the bar of fighter/interceptor standards. Four sub-types were produced during the B-534's production run, all with mostly minor improvements.
One major variation was introduced in this production run. The B-534 was designed to carry one 20 mm (0.79 in) cannon firing through the nose and only two 7.92 mm (0.312 in) machine guns to the sides. Developmental problems prevented the cannon from ever being used and, desperate to get more aircraft in the air, Avia decided to use a third machine gun in the nose only weeks before the German annexation of Czechoslovakia. Only three machines with this configuration were completed for the Czech air force, and the remaining production block was finished for the Germans.
Operational history
The B-534 was first used in combat by the Slovenské vzdušné zbrane (Slovak Air Force). Germany took control of the "Czech" part of Czechoslovakia as Protectorate of Bohemia and Moravia, leaving the "Slovak" part, Slovakia, as a minor ally. Slovakia acquired some 80 B-534s and Bk-534s from the Czech air force and quickly had to use them against Hungary during the border war of 1939. Later, two squadrons of B-534s assisted the German Luftwaffe during the Invasion of Poland in September 1939. The same squadrons served with the Germans in Ukraine during summer 1941, with one squadron returning in 1942 for anti-partisan duty. Obsolescence, lack of spare parts and the old Czechoslovak air force's curious fuel mixture (BiBoLi, or some other mix of alcohol, benzol and petrol) finally relegated the surviving B-534s to training duties.
This would have been the last of the B-534s in Slovak colors if not for the Slovak National Uprising of September-October 1944. The rest of the Slovak air assets did not turn-coat as expected and the leaders of the uprising were faced with using a rag-tag collection of leftover aircraft, including several B-534s at Tri Duby airfield. On 2 September 1944, Master Sergeant František Cyprich, just after testing a repaired B-534, downed a Junkers Ju 52 transport under Hungarian colors on its way to a base in occupied Poland. This was at once the first aerial victory for the Uprising and the last recorded biplane air-to-air victory. As the Slovak National Uprising was desperate for available aircraft, Sergeant Cyprich was derided by his colonel for not trying to force the Junkers Ju 52 to land and be captured instead. The last two B-534s at Tri Duby were burned as the base was evacuated on 25 October 1944.
Bulgaria bought 78 B-534s in 1939, well after the partition. The last batch of these aircraft arrived in March 1942. On 1 August 1943, seven of these aircraft were able to make two passes at American B-24 Liberator bombers returning from the raid on PloieĹźti. Hits were scored but no B-24s were shot down and some of the B-534s that received damage in the combat, cracked up on landing. After the anti-German coup of 9 September 1944, Bulgaria switched sides overnight and its B-534s were often used in ground attacks against German units. On 10 September 1944, six B-534s were involved in a brief melee with six German Bf 109s at low altitude. One B-534 was lost, but the Germans quickly broke off, wary of the low altitude and the B-534's maneuverability.
Variants
B-534/1 : First prototype.
B-534/2 : Second prototype.
B-534-I : First production version.
B-534-II :
B-534-III :
B-534-IV : Closed canopy
Bk-534 :

Survivors
One B-534 replica is on display in Aviation Museum Prague-Kbely. A second very convincing replica using some original parts (like the Kbely example) is displayed at the aviation museum at Kosice airport, Slovakia.
Operators
Bulgaria Bulgarian Air Force operated between 48 and 100 aircraft (though mostly the number 78 is named), which they called "Dogan" (Hunting Hawk).
Croatia An unknown number of Avia B-534 aircraft were supplied by the Germans.
Czechoslovakia
Germany The German Luftwaffe used most of the airframes confiscated from the Czechs. These aircraft served through the early years of the war as trainers, night fighters, glider tugs, and three were used to test carrier landing operations for the aborted German aircraft carrier Graf Zeppelin.. The Germans had another use as well: B-534s also starred disguised as Polish fighters in a German propaganda film, "Kampfgeschwader LxĽtzow".
Greece A Greek businessman bought two B-534s and presented them to the Greek government. They were lost in the chaos of 1941.
Hungary One B-534 was captured by the Hungarians during the border war in 1939 and tested for a period, carrying the code HA-VAB, later serialled G.192.
Romania Together with three DFS 230 gliders, Romania received an unknown number of Avia B-534 tugs according to one source.
Slovakia Slovenské vzdušné zbrane (Slovak Air Force) operated several B-534s from Czechoslovakia.
Soviet Union A number (eight is given in some sources) of B-534s were allegedly used by the Soviets in a secret NKVD squadron to shadow flights of German aircraft.
Specifications (B-534 IV)
Data from The Great Planes The Avia B.534
General characteristics
Crew: 1
Length: 8.2 m (27 ft)
Wingspan: 9.4 m (31 ft)
Height: 3.1 m (10.2 ft)
Wing area: 23.5 m˛ (253 ft˛)
Empty weight: 1,460 kg (3,220 lb)
Loaded weight: 1,985 kg (4,376 lb)
Max takeoff weight: 2,120 kg (4,680 lb)
Powerplant: 1x— Hispano-Suiza 12Ycrs liquid-cooled V12, 620 kW (830 hp)

Performance
Maximum speed: 394 km/h (212 kn, 245 mph)
Range: 580 km (310 nmi, 360 mi)
Service ceiling: 10,600 m (34,800 ft)
Max wing loading: 90.2 kg/m˛ (18.5 lb/ft˛)
Minimum power/mass: 292 W/kg (0.178 hp/lb)

Armament
Guns: 4x— 7.92 mm (0.312 in) machine guns
Bombs: 6x— 20 kg (44 lb) bombs

Related development
Avia B-34

Comparable aircraft
Fiat CR.32
Fiat CR.42
Gloster Gladiator
Grumman F3F
Polikarpov I-15
Polikarpov I-153, a further developed I-15 with a retractable undercarriage
PZL P.11, a Polish high-wing monoplane

Bibliography
Bx­lý, Miroslav and JiĹ™x­ Vraný. Avia B-534: Czechoslovak Fighter, 3rd and 4th Version (Model File). Praha, Czech Republic: MBI, 2008. ISBN 80-8652415-9. With 71 pages the most comprehensive detail publication about the B-534 to date.
Cieślak, Krzysztof. Samolot Mysliwski Avia B.534 (Typy Broni i Uzbrojenia 34) (in Polish). Warszawa, Poland: Wydawnictwo Ministerstwa Obrony Narodowej, 1975.
Green, William. War Planes of the Second World War, Fighters, Volume One. London: Macdonald & Co.(Publishers) Ltd., 1960. ISBN 0-356-01445-2.
Krybus, Josef. The Avia B.534 (Aircraft in Profile number 152). Leatherhead, Surrey, UK: Profile Publications Ltd., 1967. ISBN B000-7K11J-M.
KudliÄŤka, Bohumil. Avia B.534 Czechoslovakian Fighter 1933-45. Praha, Czechia: CMK, 2006. ISBN 80-903778-0-7.
Ĺ umicrast, Peter. "Avia B.34, B.534 a Bk.534, Slovenských Pilotov 1939-1944." HT model špecixˇl 905. Poprad, Slovakia: HT Model, 2003, ISSN 1335-3667.
Titz, Zdenek. Czechoslovakian Air Force, 1918-1970. Reading, Berkshire, UK: Osprey Publications Ltd., 1971. ISBN 0-85045-021-7.
Vraný, JiĹ™x­. Avia B.534 (in Czech). Praha, Czechoslovakia: AeroArchiv, 1991. ISBN 80-7030-114-7.
Vraný, JiĹ™x­. Avia B.534. Praha, Czech Republic: MBI, 1994. ISBN 80-901263-6-7.

Living Warbirds: The best warbirds DVD series.
Source: WikiPedia