Avro Manchester Video - Avro Manchester Video - Featured in "Allied Bombers" Documentary
Newsreel Film - 1000 Plane Raid - Features Lancasters, Halifaxes, and Manchester
Avro Manchester Aircraft Information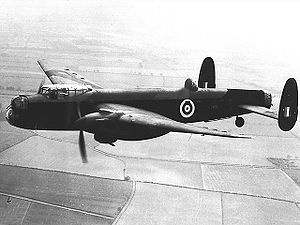 Role - Heavy bomber
Manufacturer - Avro
First flight - 25 July 1939
Introduced - November 1940
Retired - 1942
Primary users - Royal Air Force
Royal Canadian Air Force
Produced - 1940-1941
Number built - 209
Variants - Avro Lancaster
The Avro 679 Manchester was a British twin-engine heavy bomber developed during the Second World War by the Avro aircraft company in the United Kingdom. The Manchester was a failure due to its under-developed, under-powered, and unreliable engines, but was the forerunner to the famous Avro Lancaster, one of the most successful bombers of the war.
Design and development

Picture: Avro Manchester Mk IA
The Manchester was originally designed to the Air Ministry Specification P.13/36 which was the same specification that Handley Page followed in their design of the Halifax bomber. The specification called for a twin-engine "medium bomber" for "worldwide use", which was to be capable of carrying out shallow (30°) dive bombing attacks, and carry heavy bombloads (8,000 lb/3,630 kg) or tw-18 in (457 mm) torpedoes.[1] The design used the Rolls-Royce Vulture 24-cylinder X-block engine, which was essentially tw-Rolls-Royce Peregrine Vee cylinder blocks mounted one on top of the other, the bottom one inverted to give the "X" shape. When developed in 1935, the engine had promise — it was rated at 1,760 hp (1,310 kW) - but it proved woefully unreliable and had to be derated to 1,480-1,500 hp (1,100-1,120 kW). Avro's prototype Manchester L7246 first flew at Manchester's Ringway Airport on 25 July 1939, with the second aircraft following on 26 May 1940.[1] The Rolls-Royce engine was chosen by Vickers and not stipulated by the Air Ministry as is sometimes said.[2]
While the Manchester was designed with twin tails, the first production aircraft, designated the Mk I, had a central fin added and a total of 20 aircraft with this configuration were completed. They were succeeded by the Mk IA which reverted to the twin-fin system but used enlarged, taller fin and rudders mounted on a new tailplane with span increased from 22 ft (6.71 m) to 33 ft (10.06 m). This configuration was carried over to the Lancaster, except for the first prototype, which also used a central fin.
Operational service
Handley Page's response to the engine's faults was to switch the Halifax to four of the less powerful but more reliable Rolls-Royce Merlin X engines. Avro however persisted with the Vulture and the Manchester went into production, entering service with No. 207 Squadron of RAF Bomber Command in November 1940, flying its first operational mission on 24 February 1941 in a raid on the French port of Brest.[3] Eventually 209 Manchesters entered service, before production finished in November 1941[3] equipping eight bomber squadrons, serving with tw-others and also being used by Coastal Command.
The Mk III Manchester, BT308, which first flew on 9 January 1941, was essentially the first Lancaster, being powered by four Merlin engines and with increased wingspan, although initially retaining the three fins and twin outboard rudders (the central fin had n-movable control surface) of the Manchester I. BT308 received the "Lancaster" name immediately after its first flight. The second prototype Lancaster DG595 featured the twin, enlarged fins and rudders of the Manchester IA. Manchester production continued until November of that year but some aircraft still in production were completed as Lancasters.
The 193 operational Manchesters flew 1,269 operations with Bomber Command, dropping 1,826 tons (1,657 tonnes) of bombs and losing 63 aircraft in action, flying its last operation against Bremen on 25 June 1942.[4] Of the 78 aircraft lost, 45 were non-operational losses of which 30 involved engine failure.[5]
Variants
Manchester L7246
First prototype originally with twin tail. Due to lack of directional stability, it had a third fin added.
Manchester I
First production version with twin tail and additional central fin added; 20 of this type were built.
Manchester IA
Main production version with twin tail with enlarged tailplane. It also had taller fins and rudders.
Manchester II
Projected version re-engined with a pair of Napier Sabre or Bristol Centaurus engines. None were ever built.
Manchester III BT308
This version was powered by four Merlin engines with increased wingspan. Also, the three fins and rudders of the Manchester I were kept. It was the first prototype of the later Avro Lancaster.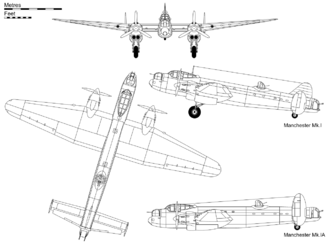 Picture: Orthographic projection of the Avro Manchester Mk I, with profile detail of Mk.IA
Specifications (Manchester Mk I)
Data from [3],[4]
General characteristics
-Crew: 7
-Length: 70 ft (21.34 m)
-Wingspan: 90 ft 1 in (27.46 m)
-Height: 19 ft 6 in (5.94 m)
-Wing area: 1,131 ft² (105.1 m²)
-Empty weight: 31,200 lb (14,152 kg)
-Max takeoff weight: 50,000 lb (22,680 kg)
-Powerplant: 2× Rolls-Royce Vulture I 24-cylinder X-type, 1,760 hp (1,310 kW) each
Performance
-Maximum speed: 265 mph (230 kn, 402 km/h) at 17,000 ft (5,180 m)
-Range: 1,200 miles (1,930 km) with maximum bomb load of 10,350 lb (4,695 kg)
-Service ceiling: 19,500 ft (5,852 m)
Armament
-Guns: 8 × 0.303 in (7.7 mm) Browning machine guns, (in Nash & Thomson nose (2), dorsal (2) and tail (4) turrets)
-Bombs: 10,350 lb (4,695 kg) bomb load
Related development
-Avro Lancaster
Comparable aircraft
-Handley Page Halifax
-Vickers Warwick
-Heinkel He 177
References
Notes
1. a b Mason, Francis K (1994). The British Bomber since 1914. London: Putnam Aeronautical Books. ISBN 0 85177 861 5.
2. Mason makes such a claim, but this is positively refuted by Buttler and by Sinnott. Buttler, Tony (2004), British Secret Projects: Fighters and Bombers 1935–1950, Hickley: Midland, pp. 100–107, ISBN 1-85780-179-2Sinnott, Colin (2001), The RAF and Aircraft Design 1923–1939: Air Staff Operational Requirements, London: Frank Cass, pp. 165–171, ISBN 0-7146-5158-3
3. a b c Thetford, Owen (1957). Aircraft of the Royal Air Force 1918-57 (1st ed.). London: Putnam.
4. a b Jackson, A J (1990). Avro Aircraft since 1908 (2nd ed.). London: Putnam Aeronautical Books. ISBN 0-85177-834-8.
5. Manchesters 1990, page 32
Bibliography
-Chant, Christopher. Lancaster: The History of Britain's Most Famous World War II Bomber. Bath, UK: Parragon, 2003. ISBN 0-75258-769-2.
-Holmes, Harry. Avro - the History of an Aircraft Company. Marlborough, UK, Crowood Press Ltd, 1994 and 2004. ISBN 1-86126-651-0.
-Holmes, Harry. Avro Lancaster (Combat Legend series). Shrewsbury, UK: Airlife Publishing Ltd., 2002. ISBN 1-84037-376-8.
-Jackson, A.J. Avro Aircraft since 1908, 2nd edition. London: Putnam Aeronautical Books, 1990. ISBN 0-85177-834-8.
-Jackson, Robert. Aircraft of World War II. Enderby, UK: Silverdale Books, 2006. ISBN 1-85605-751-8.
-Kirby, Robert. Avro Manchester: The Legend Behind the Manchester. Leicester, UK: Midland Publishing, 1995. ISBN 1-85780-028-1.
-Mackay, R.S.G. Lancaster in action. Carrollton, Texas: Squadron/Signal Publications Inc., 1982. ISBN 0-89747-130-X.
-"Manchesters". Aeromilitaria No. 2. Tunbridge Wells, Kent, UK: Air-Britain (Historians) Ltd., 1990.
Page best for: avro airplane, avro aviation, avro plane, dvd the dam busters, film the dam busters, avro aircraft, avro bomber
Living Warbirds: The best warbirds DVD series.
Source: WikiPedia