Blackburn B-24 Skua Video -
Blackburn B-24 Skua Aircraft Information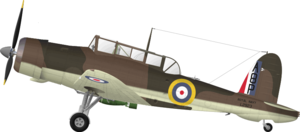 Picture: Skua L2923, Red-1 of 803 NAS. One of 16 Skuas from RNAS Hatston to attack and successfully sink the Königsberg in Bergen on 10 April 1940. This aircraft spun out on the return flight and crashed, the only aircraft lost on that day
Role - Dive bomber / Fighter
Manufacturer - Blackburn Aircraft
Designed by - G.E.Petty
First flight - 9 February 1937
Introduced - November 1938
Retired - 1941 (withdrawn from front line)
March 1945 (withdrawn from other duties)[1]
Primary user - Fleet Air Arm
Number built - 192
Variants - Blackburn Roc
The Blackburn B-24 Skua was a carrier-based low-wing, 2-seater, single piston engine aircraft operated by the British Fleet Air Arm which combined the functions of a dive bomber and fighter. It was designed in the mid-1930s, and saw service in the early part of the Second World War. It took its name from the seabird.
Design and development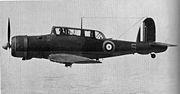 Picture: Production Skua Mk.II, L2928 "S" of 759 sqn.. This aircraft also served with 801 sqn. in the Norway Campaign and, flying from RAF Detling, was present at Dunkirk.
Built to Air Ministry specification O.27/34, it was a low-wing monoplane of all-metal (duralumin) construction with a retractable undercarriage and enclosed cockpit. It was the Fleet Air Arm's first service monoplane, and was a radical departure for a service that was primarily equipped with open-cockpit biplanes such as the Fairey Swordfish.
Performance for the fighter role was compromised by the aircraft's bulk and lack of power, resulting in a relatively low speed; the contemporary marks of Messerschmitt Bf 109[2] made 290 mph (467 km/h) at sea level over the Skua's 225 mph (362 km/h). However, the aircraft's armament of four fixed, forward-firing 0.303 in (7.7 mm) Browning machine guns in the wings and a single flexible, rearward-firing .303 in (7.7 mm) Vickers K machine gun was effective for the time. For the dive-bombing role, a single 250 lb (110 kg) or 500 lb (230 kg) bomb was carried on a special swinging crutch under the fuselage, which enabled the bomb to clear the propeller arc on release. Four 40 lb (20 kg) bombs or eight 20 lb (9 kg) Cooper bombs could also be carried in racks under each wing. It had large Zap-type air brakes/flaps which helped both in dive bombing and landing on aircraft carriers at sea.
Operational history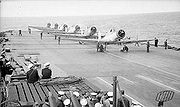 Picture: Skuas of 800 Naval Air Squadron on the flight deck of HMS Ark Royal
Skuas are credited with the first confirmed "kill" by British aircraft during the Second World War: a Dornier D-18 flying boat was downed over the North Sea on 26 September 1939 by three Skuas of 803 Naval Air Squadron, flying from the aircraft carrier HMS Ark Royal. On 10 April 1940, 16 Skuas of 800 and 803 NAS led by Lieutenant Commander William Lucy, flying from RNAS Hatston in Orkney Islands sank the German cruiser Königsberg in Bergen harbour during the German invasion of Norway.[3] This was the first major warship ever to be sunk by dive bombing, indeed the first major warship ever sunk in war by air attack.[4] Lucy later also became a fighter ace flying the Skua. However, these tw-mostly Skua squadrons suffered heavy losses during an attempt to bomb the German battlecruiser Scharnhorst at Trondheim on 13 June 1940; of 15 aircraft in the raid, eight were shot down and the crews killed or taken prisoner. Among the latter were both squadron commanders, Captain R. T. Partridge (RM) and Lieutenant Commander John Casson (RN). [5][6]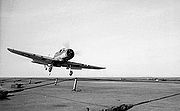 Picture: A Skua landing on Ark Royal
Though it fared reasonably well against Axis bombers over Norway and in the Mediterranean, the Skua suffered heavy losses when confronted with modern fighters - particularly the Bf 109 - and they were withdrawn from fronto line service in 1941. The aircraft was largely replaced by another two-seater, the Fairey Fulmar, which doubled the Skua's forward armament and also had a speed advantage of some 50 mph (80 km/h). A number of aircraft were converted to target tugs following withdrawal from fronto line service. Others were in fact completed as target tugs from the factory and used by the RAF and Fleet Air Arm in this role ('Fleet Requirements'). They were also used as advanced trainers for the Fleet Air Arm. The last Skua in service was struck off charge in March 1945. [7]

Picture: Skua L3007 in target tug markings, 1941
The Roc was a very similar aircraft developed as a "turret fighter" with all its armament in a dorsal turret. The Roc was expected to serve alongside the Skua. Rocs were attached to Skua squadrons to protect the fleet anchorage at Scapa Flow in early 1940, briefly from HMS Glorious and Ark Royal during the Norwegian campaign and also over the English Channel during Operation Dynamo, the evacuation of Allied forces from Dunkirk.
Variants
-Skua Mk.I : 2 prototypes. Powered by the Bristol Mercury, it had distinctive fairings to the engine cowling over the tappet valves of the Mercury. The first prototype, K5178, had a much shorter nose while K5179, the second prototype, had a lengthened nose to improve longitudinal stability.
-Skua Mk.II : Production aircraft powered by the sleeve valved Bristol Perseus. Long nose as per K5179 but with a shorter, smooth cowling. Two-seat fighter and dive bomber for the Royal Navy - 190 built by Blackburn at Brough Aerodrome
Recovery of L2896
In April 2007, the only known nearly complete Blackburn Skua was discovered in Orkdalsfjorden in Norway at 242 metres depth. [8] Due to an engine failure, the Skua, flown by John Casson, leader of 803 squadron, had to make an emergency water landing in the fjord. [9]Both crew members survived but went through five years as prisoners of war. Despite efforts to get the aircraft to the surface as gently as possible, the tail broke off. The engine had become detached in the original ditching. The fuselage, cockpit and wings were salvaged. The Skua will be restored at Norway's aviation museum in Bodø. [10] [11]
Specifications (Skua Mk. II)
Data from Fleet Air Arm Archive[1]
General characteristics
-Crew: 2
-Length: 35 ft 7 in (10.8 m)
-Wingspan: 46 ft 2 in (14.1 m)
-Height: 14 ft 2 in (4.3 m)
-Wing area: 312 ft² (29.0 m²)
-Empty weight: 5,490 lb (2,490 kg)
-Loaded weight: 8,228 lb (3,730 kg)
-Powerplant: 1× Bristol Perseus XII radial engine, 905 hp (675 kW)
Performance
-Maximum speed: 225 mph (195 kn, 360 km/h) at 6,500 ft (2,000 m)
-Range: 800 mi (700 nmi, 1,300 km)
-Service ceiling: 20,200 ft (6,150 m)
-Wing loading: 26.4 lb/ft² (128 kg/m²)
-Power/mass: 0.11 hp/lb (180 W/kg)
Armament
-Guns:
-4 × 0.303 in (7.7 mm) forward-firing Browning machine guns
-1 × 0.303 in (7.7 mm) Lewis or Vickers K machine gun on flexible mount in rear cockpit
-Bombs: 1 × 500 lb (227 kg) semi-armour piercing bomb or 1 × 250 lb (113 kg) semi-armour piercing/ General Purpose bomb and 4 × 40 lb (18 kg) bombs or 8 × 20 lb (9 kg) bombs
Related development
-Blackburn Roc
Comparable aircraft
-Aichi D3A
-Douglas Dauntless
-Fairey Fulmar
References
Notes
1. a b "Blackburn Skua aircraft profile" (HTML). Fleet Air Arm Archive. http://www.fleetairarmarchive.net/Aircraft/Skua.htm. Retrieved 2008-03-24.
2. Messerschmitt Bf109E with DB601A engine
3. Mondey 1994, p. 36.
4. Dell, John. "The Sinking of the Königsberg." Dinger's Aviation Pages. Retrieved: 5 May 2009.
5. Dell, John. "Skuas Over Norway." Dinger's Aviation Pages. Retrieved: 5 May 2009.
6. Willis and Partridge 2007, p. 26.
7. Willis Aeroplane December 2007, p. 68.
8. "Skua 31 May 2007." Aeroplane, July 2007. Retrieved: 13 April 2008.
9. Operation Skua
10. Article in Dagbladet, Norway
11. Norway's Aviation Museum
Bibliography
-Brown, Eric, CBE, DCS, AFC, RN., William Green and Gordon Swanborough. "Blackburn Skua and Roc." Wings of the Navy, Flying Allied Carrier Aircraft of World War Two. London: Jane's Publishing Company, 1980, pp. 29–40. ISBN 0-7106-0002-X.
-Jackson, A.J. Blackburn Aircraft since 1909. London: Putnam & Company Ltd., ISBN 0-37000-053-6.
-Mondey, David. The Hamlyn Concise Guide to British Aircraft of World War II. London: Chancellor Press, 1994. ISBN 1-85152-668-4.
-Partridge, Major R.T., DSO, RM. Operation Skua. Ilchester, Somerset, UK: Society of the Friends of the Fleet Air Arm Museum, RNAS Yeovilton, 1983. ISBN 0-90263-386-4.
-Smith, Peter C. History of Dive-Bombing: A Comprehensive History from 1911 Onward . Barnsley, South Yorkshire, UK: Pen and Sword, 2007. ISBN 1-84415-592-7.
-Smith, Peter C. Skua! the Royal Navy's Dive-Bomber. Barnsley, South Yorkshire, UK: Pen and Sword, 2006. ISBN 1-84415-455-6.
-Willis, Matthew. Blackburn Skua and Roc. Sandomierz, Poland/Redbourn, UK: Mushroom Model Publications, 2007. ISBN 83-8945-044-5.
-Willis, Matthew. "Database: The Blackburn Skua & Roc". Aeroplane, December 2007, Vol. 35, No. 12, pp. 52–69.
-Willis, Matthew and Simon Partridge. "Into the Fjord of Death". Aeroplane, August 2007, Vol. 35, No. 8, pp. 22–27.
Living Warbirds: The best warbirds DVD series.
Source: WikiPedia