CAC CA-15 "Kangaroo" Video - Picture
More CAC CA-15 "Kangaroo" Videos 1
CAC CA-15 "Kangaroo" Aircraft Information
Role: Fighter
Manufacturer: Commonwealth Aircraft Corporation
First flight: 4 March 1946
Retired: 1950
Status: Scrapped
Primary user: Royal Australian Air Force
Number built: 1
The CAC CA-15, also known unofficially as the CAC Kangaroo, was an Australian propeller-driven fighter plane designed by the Commonwealth Aircraft Corporation (CAC) during World War II.
History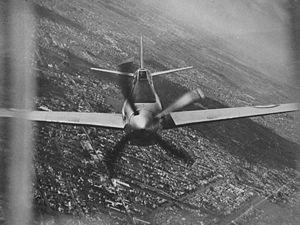 During 1943, following the success of CAC and chief designer Fred David, in rapidly designing and mass producing the small Boomerang fighter, development began on a fully fledged interceptor and bomber escort.
(Image: The CA-15 piloted by Flt Lt J.A.L. Archer. Photographed from the rear turret of a Lincoln bomber over Melbourne)
Although the CA-15 bore a superficial resemblance to the North American Mustang (P-51), the CAC design was not based on directly on the US aircraft and had quite different performance objectives and dimensions.[1] For instance, David had been impressed by assessments of captured Focke-Wulf Fw 190s [2] and intended using a radial engine (see below), rather than the straight engines used in fighters like the Mustang. In fact, development of the CA-15 was slowed by a recommendation from CAC head Lawrence Wackett, that the company build Mustangs under licence, rather than bear the cost of developing a unique design. By the later stages of its development, it was believed that the CA-15 would have capabilities enabling it to replace the P-51.[1]
At first, the CAC designers planned to use the 2,300 hp (1,715 kW) radial Pratt & Whitney R-2800, with a turbocharger. However, that engine became unavailable — causing further delays in development — and it was decided to fit an in-line Rolls-Royce Griffon Mk 61 (2035 hp/1517 kW). Engines for a prototype were leased from Rolls-Royce.[1] It was intended that any production engines would have a three speed supercharger.
The sole prototype did not fly until March 4, 1946.[1] The CA-15's overall performance was clearly superior to existing single-engine, propeller-driven fighters. It was also faster than most first generation jet fighters. The prototype was handed over to the Royal Australian Air Force (RAAF) for tests, and the type received the RAAF designation A-62. According to aviation historian Darren Crick, it achieved a calibrated level flight speed of 448 mph (721 km/h) at 26,400 ft (8,046 m).[1] On May 25, 1948, Flt Lt J. A. L. Archer reportedly achieved a speed of 502.2 mph (803 km/h) over Melbourne, in a shallow dive of 4,000 ft (1,200 m).
By this time, it was clear that jet aircraft had superior performance and no further examples of the CA-15 were built. The prototype was scrapped in 1950, and the engines were returned to Rolls Royce.[1]
Specifications
General characteristics
Crew: one
Length: 36 ft 6 in (11.05 m)
Wingspan: 36 ft (10.97 m)
Height: 12 ft 2 in (3.71 m)
Empty weight: 7,540 lb (3427 kg)
Loaded weight: 12,340 lb (5,609 kg)
Powerplant: 1× Rolls-Royce Griffon supercharged V-12, 2,035 hp (1,517 kW)
Performance
Maximum speed: 448 mph (721 km/h)
Range: 2,450 mi (3,920 km)
Service ceiling: 39,000 ft (12,870 m)
Rate of climb: 4,900 ft/min (1,531 m/min)
Armament
6 x 12.7 mm machine guns (250 rounds each)
Comparable aircraft
F8F Bearcat
Hawker Sea Fury
Kawanishi N1K-J
Kawasaki Ki-100
Lavochkin La-7
Martin-Baker MB5
Nakajima Ki-84
Supermarine Spiteful
Notes
1. a b c d e f Crick, 2003
2. Ross p. 321
Bibliography
Francillon, René J. The Royal Australian Air Force & Royal New Zealand Air Force in the Pacific. Fallbrook, California: Aero Publishers Inc., 1970. ISBN 0-8168-0308-0.
Ross, A.T. Armed and Ready: The Industrial Development and Defence of Australia 1900-1945. Wahroonga, New South Wales, Australia: Turton & Armstrong, 1995. ISBN 0-908031-63-7.
Wilson, Stewart. Wirraway, Boomerang & CA-15 in Australian Service. Aerospace Publications Pty. Ltd., 1991. ISBN 0-958797-88-9.
Source: Wikipedia