Consolidated P-30 (PB-2) Video - A-11, an attack version of P-30 fighter aircraft
More Consolidated P-30 (PB-2) Videos 1
Consolidated P-30 (PB-2) Aircraft Information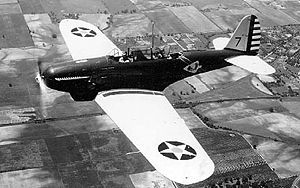 Picture: Consolidated P-30 (US Air Force Photo)
Role - Fighter aircraft
Manufacturer - Consolidated Aircraft
Designed by - Robert J. Woods
First flight - January 1934
Status - Retired
Primary user - United States Army Air Corps
Number built - 60
The Consolidated P-30 (PB-2) was a 1930s United States two-seat fighter aircraft. An attack version called the A-11 was also built, along with two Y1P-25 prototypes and YP-27, Y1P-28, and P-33 proposals. The P-30 is significant for being the first fighter in United States Army Air Corps service to have retractable landing gear, an enclosed and heated cockpit for the pilot, and an ehaust-driven turbosupercharger for altitude operation.
Design and development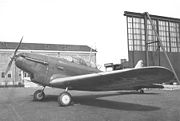 Picture: Consolidated A-11 (S/N 33-211, the last A-11 built) - National Museum of the USAF
The P-30 had its origins in the canceled Detroit-Lockheed YP-24/A-9. After collapse of the Detroit Aircraft Corporation in 1931, the chief YP-24 designer Robert J. Woods went to work for Consolidated Aircraft. Since the YP-24 was a victim of the Great Depression and not flawed design and the Army Air Corps was still interested in the type, Woods continued his work, producing the Y1P-25. The new aircraft differed from the YP-24 in being somewhat larger and having an all-metal wing and a turbosupercharged engine. The Y1P-25 and its sister attack version, the Y1A-11 armed with four forward-firing machine guns and racks for 400 lb (182 kg) of bombs, were ready for testing in December 1932. Although both prototypes were lost in crashes a week apart in January 1933, USAAC was pleased enough to order production of four P-30 fighters and four A-11 attack aircraft. Production versions differed from prototypes in having more powerful engines and revised landing gear and cockpit canopies.
Operational history
US Army Air Corps testing in January 1934 revealed good performance, especially at altitude. However, pilots questioned utility of the gunner who had a limited field of fire and was vulnerable to blackouts during hard maneuvering. Three P-30s were delivered to the 94th Pursuit Squadron at Selfridge Field. In December 1934, Army Air Corps ordered an additional 50 P-30A, redesignated PB-2A (Pursuit, Biplace), with further upgraded engines and onboard oygen equipment for high altitude flying. On 17 October 1936, Lt. John M. Sterling flying a PB-2A won the Mitchell Trophy race with a speed of 217.5 mph (350.2 km/h). Although high-altitude flights were rare at the time, in March 1937, a PB-2A flew for 20 minutes at 39,300 feet (11,980 m). Since the PB-2A was one of the few aircraft at the time to have retractable landing gear, several were damaged in unintentional "wheels up" landings.
Consolidated attempted to further refine the design by proposing further variants:
- YP-27 with a Pratt & Whitney R-1340-21G Wasp engine of 550 hp (410 kW).
- YP-28 with a Pratt & Whitney R-1340-19F Wasp of 600 hp (448 kW).
- P-33 with a Pratt & Whitney R-1830-1 Twin Wasp of 800 hp (597 kW).
None of these proposals advanced to prototype stage.
One PB-2A was converted to a single-seat configuration, proposed as a replacement for the USAAC's P-26 Peashooter fighter aircraft. However, this conversion was still too heavy for the role, and the sole aircraft crashed during early flight testing.
While generally trouble-free, the PB-2A was slow and heavy, and by 1939 all had been replaced in frontline service by Seversky P-35 and Curtiss P-36 Hawk aircraft.
The A-11 attack version failed to win a production order beyond the original four aircraft in spite of good performance because the USAAC wanted more durable radial engines for its attack aircraft. One was converted to the A-11A testbed with the new Allison V-1710-7 inline engine with 1,000 hp (746 kW).
Variants
- Y1P-25 - further development of Lockheed YP-24, all-metal wing, Curtiss V-1570-27 Conqueror engine with 600 hp (448 kW) and turbosupercharger, 1 built
- YP-27 - Pratt & Whitney R-1340-21G Wasp radial engine with 550 hp (410 kW), none built
- Y1P-28 - Pratt & Whitney R-1340-19F Wasp with 600 hp (448 kW), none built
- P-30 (PB-2) - first production version of Y1P-25, V-1570-57 engine with 675 hp (504 kW) and turbosupercharger, 4 built
- P-30A (PB-2A) - V-1570-61 engine with 700 hp (522 kW) and turbosupercharger, 50 built
- P-33 - Pratt & Whitney R-1830-1 Twin Wasp with 800 hp (597 kW), none built
- Y1A-11 - ground attack version of Y1P-25 with 4 0.30 in (7.62 mm) forward-firing machine guns and up to 400 lb (182 kg) of bombs, non-supercharged engine, 1 built
- A-11 - trial run of the ground attack version, V-1570-59 engine without turbosupercharger, 4 built
- A-11A - Allison V-1710-7 with 1,000 hp (746 kW), one A-11 converted by Bell Aircraft
Specifications (PB-2A)
General characteristics
- Crew: 2
- Length: 29 ft 10 in (9.1 m)
- Wingspan: 43 ft 11 in (13.4 m)
- Height: 8 ft 2 in (2.5 m)
- Wing area: 297 ft (27.6 m)
- Empty weight: 4,297 lb (1,949 kg)
- Loaded weight: 5,632 lb (2,555 kg)
Performance
- Maimum speed: 274 mph (238 knots, 441 km/h)
- Cruise speed: 215 mph (187 knots, 346 km/h)
- Range: 510 mi (440 nm, 820 km)
- Service ceiling: 28,000 ft (8,500 m)
- Rate of climb: 1,925 ft/min (9.8 m/s)
- Wing loading: 19 lb/ft (93 kg/m)
Armament
- Guns:
- 2 0.30 in (7.62 mm) machine guns firing through the propeller
- 1 0.30 in machine gun in the rear cockpit
Related development
- Lockheed YP-24
Comparable aircraft
- Fairey Battle
References
- Bowers, Peter M. and Angellucci, Enzo. The American Fighter. New York: Orion Books, 1987. ISBN 0-517-56588-9.
- Swanborough, Gordon and Bowers, Peter M. United States Military Aircraft Since 1909. Washington, DC: Smithsonian, 1989. ISBN 0-87474-880-1.
Living Warbirds: The best warbirds DVD series.
Source: WikiPedia