Fairey Fulmar Video - In museum
Fairey Fulmar Video - Walkaround at Fleet Air Arm Museum
| | |
| --- | --- |
| | Picture: Fairey Fulmar N4062 |
Fairey Fulmar Aircraft Information
Role - Carrier Fighter
National origin - United Kingdom
Manufacturer - Fairey Aviation Company
Designed by - Marcel Lobelle
First flight - 4 January 1940
Introduced - 10 May 1940
Retired - 1945
Primary user - Royal Navy
Produced - 1940-1943
Number built - 600
Developed from - Fairey P.4/34
The Fairey Fulmar was a British carrier-borne fighter aircraft that served with the Fleet Air Arm (FAA) during the Second World War. A total of 600 were built by Fairey Aviation at their Stockport factory between January 1940 and December 1942. The Fulmar's design was based on that of the earlier Fairey P.4/34 that was in turn developed in 1936 as a replacement for the Fairey Battle light bomber. Although its performance (like that of its Battle antecedent) was lacking, the Fulmar was a reliable, sturdy aircraft with long range and an effective eight machine gun armament.
Design and development
The Fairey P.4/34 was built to Specification P.4/34 as a light bomber capable of being used as a dive bomber, in competition with the Hawker Henley and an unbuilt Gloster design.[1] Its performance was disappointing and it lost out to the Henley (which was eventually ordered as a target tug).
The Fulmar, a navalised version of the P.4/34 was submitted to meet Specification O.8/38 for a two-crew fleet defence fighter. As it was not expected to encounter fighter opposition, high performance or maneuverability was not considered important but long range and heavy armament were. The provision of a navigator/wireless operator was considered essential for the long, over-ocean flights which would be required.
Looking much like its sister, the Battle, the Fulmar prototype was aerodynamically cleaner and featured a folding wing that was 16 in (41 cm) shorter than its bomber lookalike.[2] The prototype P.4/34 K5099 first flew on 13 January 1937 at Fairey Aviation's Great West Aerodrome (now London Heathrow Airport) with Fairey test pilot Chris Staniland at the controls.[3][4] After the first flight tests, the tail was revised, being raised 8 in (20 cm).
The first prototype Fulmar acting as "flying mock-up" [4] was powered by a 1,080 hp (810 kW) Rolls Royce Merlin III engine. With this engine, performance was poor, the prototype only reaching 230 mph (370 km/h). With the Merlin VIII engine - a variant unique to the Fulmar and with supercharging optimised for low-level flight - and aerodynamic improvements, speed was improved to 255 mph (410 km/h), which, owing to the desperate need for modern fighters, was considered adequate. As a simple derivative of an existing prototype, the Fulmar promised to be available quickly and an initial order for 127 production aircraft was placed in mid-1938 [3] and the first example flew from Fairey's facility at RAF Ringway near Manchester on 4 January 1940 and the last of 600 Fulmars was delivered from Ringway on 11 December 1942. [5]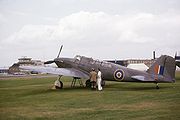 (Picture: N1854, the first production Fulmar at Farnborough at the SBAC show on 8 September 1962)
N1854, the first production Fulmar to be flown on 4 January 1940, was later modified to Mk II standard and then "civilianised" as Fairey's hack, G-AIBE. In June 1959, it reverted to service markings and was seen at Farnborough at the SBAC show on 8 September 1962; its last flight was three months later on 18 December 1962. It is now in the FAA museum, Yeovilton.
During testing, Fulmars were launched from catapults on merchant ships, a convoy defensive plan that was being evaluated at the time.[6]
Operational history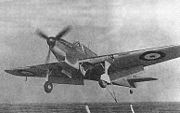 (Picture: Fulmar Mk I landing on an aircraft carrier in the Mediterranean, 1941)
The first squadron to be equipped with the Fulmar was No. 806 Squadron FAA in July 1940 and this squadron began operating from HMS Illustrious shortly afterwards. The Fulmar was not well matched with land-based fighters. The Navy had specified a two-seat machine, feeling that a navigator was needed to cope with the challenges of navigating over the open ocean. As a result, the Fulmar was far too large and unwieldy when it came into contact with single-seat, land-based opposition, as it did in the Mediterranean Theatre. Yet its long range was useful at times as evidenced in the 1941 chase of the German battleship Bismarck where Fulmars acted as carrier-borne spotters, tracking and trailing the fleeing battleship.[6]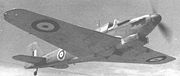 (Picture: Fulmar Mk II, identified by the small additional air inlets on either side of the chin)
First seeing action on Malta convoy protection patrols in September 1940, the sturdy Fulmar was able to achieve victories against its far more agile Italian and German adversaries. By the autumn, Fulmars had shot down ten Italian bombers and six enemy fighters, while giving top cover to the Swordfish raid on Taranto.
By 1942, the Fulmar was being replaced by single-seat aircraft adapted from land fighters such as the Supermarine Seafire or by American single seat fighters such as the Grumman Martlet. It saw useful service in nighttime roles as a convoy escort and intruder and was used to train crews for the Fairey Barracuda. On the other hand, its flight characteristics were considered pleasant, its wide undercarriage provided good deck handling capacities and it had excellent fuel capacity and range. Fulmars were used in long-range reconnaissance after they were withdrawn as fighters. Most Fleet Air Arm fighter aces scored at least part of their victories in Fulmars, for example, Sub Lieutenant S.G. Orr, finished the war with 12 confirmed air victories, as the third-highest scoring pilot in the FAA.
At one time, 20 squadrons of the FAA were equipped with the Fulmar. It flew from eight fleet aircraft carriers and five escort carriers. No. 273 Squadron RAF operated them for a while though the crews were FAA. Fulmars destroyed 112 enemy aircraft, which made it the leading fighter type, by aircraft shot down, in the Fleet Air Arm during the Second World War. The Fulmar ended its front line operational career on 8 February 1945, when a Fulmar MK II night-fighter from No. 813 Squadron had a landing accident at the safety barrier on HMS Campania and was written off [7].
Approximately 100 Fulmars were converted to a night fighter variant, but had limited success in this role.[6]
The Vichy French captured some examples of Fulmar Mk II during wartime for propaganda and evaluation use, and later these were taken over by the Germans.
Some of the early marks of the aircraft were operated from CAM ships.[8]
Variants
Mk I
First production variant powered by a 1,035 hp (772 kW) Rolls-Royce Merlin VIII, 250 built.
Mk II
Updated variant powered by a 1,300 hp (970 kW) Merlin XXX with a new propeller and the addition of tropical equipment, some finished as night fighters, one prototype converted from a Mk I and 350 built.
Operators
United Kingdom
- Royal Air Force
- No. 273 Squadron RAF
- Fleet Air Arm
- 748 Naval Air Squadron (Naval Fighter Pool)
- 759 Naval Air Squadron (RNAS Fighter School)
- 761 Naval Air Squadron (RNAS Fighter School)
- 772 Naval Air Squadron (Fleet Requirements Unit)
- 775 Naval Air Squadron (Fleet Requirements Unit)
- 777 Naval Air Squadron (Fleet Requirements Unit)
- 778 Naval Air Squadron
- 784 Naval Air Squadron (Night Fighter Training Unit)
- 787 Naval Air Squadron (Fighter Development Unit)
- 795 Naval Air Squadron (East African Fighter Pool)
- 800 Naval Air Squadron
- 803 Naval Air Squadron
- 804 Naval Air Squadron
- 805 Naval Air Squadron
- 806 Naval Air Squadron
- 807 Naval Air Squadron
- 808 Naval Air Squadron
- 809 Naval Air Squadron
- 813 Naval Air Squadron (Night Sqn.)
- 884 Naval Air Squadron
- 886 Naval Air Squadron
- 887 Naval Air Squadron
- 889 Naval Air Squadron
Survivors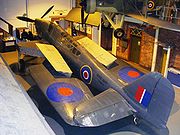 Picture: Fairey Fulmar at the Fleet Air Arm Museum
The only known survivor is N1854, the Fulmar prototype (and first production Mk I) at the Fleet Air Arm Museum.
Specifications (Mk II)
General characteristics
- Crew: Two
- Length: 40 ft 2 in (12.25 m)
- Wingspan: 46 ft 4¼ in (14.13 m)
- Height: 14 ft 0 in (4.27 m)
- Wing area: 342 ft² (32 m²)
- Empty weight: 7,015 lb (3,182 kg)
- Loaded weight: 9,672 lb (4,387 kg)
- Max takeoff weight: 10,200 lb (4,627 kg)
- Powerplant: 1× Rolls-Royce Merlin 30 liquid-cooled inline V-12, 1,300 hp (970 kW)
Performance
- Maximum speed: 272 mph at 7,250 ft (438 km/h at 2,200 m)
- Range: 780 mi (1,255 km)
- Service ceiling: 27,200 ft (8,300 m)
- Wing loading: 28 lb/ft² (137 kg/m²)
Armament
- 8 × 0.303 in (7.7 mm) Browning machine guns wing-mounted, and occasionally 1 × .303 in (7.7 mm) Vickers K machine gun in rear cabin
- 2 × 100 lb (45 kg) or 250 lb (110 kg) bombs
Related development
- Fairey Battle
- Fairey P.4/34
Comparable aircraft
- Blackburn Skua
- Fairey Firefly
References
Notes
1. Mason 1994, p. 306.
2. Winchester 2004, p. 85.
3. a b Mason 1992, p. 287.
4. a b Lumsden 1990, p. 354.
5. Scholefield 1998, p. 35.
6. a b c Winchester 2004, p. 84.
7. Brown 1973, p. 41.
8. Ireland 2007, p. 75.
Bibliography
- Brown, Eric, CBE, DCS, AFC, RN., William Green and Gordon Swanborough. "Fairey Fulmar". Wings of the Navy, Flying Allied Carrier Aircraft of World War Two. London: Jane's Publishing Company, 1980, pp. 69–78. ISBN 0-7106-0002-X.
- Brown, David. Fairey Fulmar Mks I & II, Aircraft Number 254. London: Profile Publications, 1973. No ISBN.
- Bussy, Geoffrey. Fairey Fulmar, Warpaint Series No.41. Luton, Bedfordshire, UK: Warpaint Books Ltd., 2004. No ISBN.
- Ireland, Bernard. Aircraft Carriers of the World: An Illustrated A-Z Guide To Over 150 Ships. London: Southwater, 2007. ISBN 978-1844763634.
- Lumsden, Alec. "Number Three: Fairey Fulmar." Aeroplane Monthly, June 1990.
- March, Daniel J. British Warplanes of World War II: Combat Aircraft of the RAF and the Fleet Air Arm, 1939-1945. Rochester, Kent, UK: Grange Books, 2000. ISBN 1-84013-391-0.
- Mason, Francis K. The British Bomber since 1914. London: Putnam Aeronautical Books, 1994. ISBN 0-85177-861-5.
- Mason, Francis K. The British Fighter since 1912. Annapolis, Maryland: Naval Institute Press, 1992. ISBN 1-55750-082-7.
- Ov?á?ík, Michal and Karel Susa. Fairey Fulmar Mks. I, II, NF Mk. II, TT Mk. II. Prague, Czech Republic: Mark 1 Ltd., 2001. ISBN 80-902559-5-7.
- Scholefield, R.A. Manchester Airport. Stroud: Sutton Publishing, 1998, p. 35. ISBN 0-7509-1954-X.
- Taylor, John W.R. "Fairey Fulmar." Combat Aircraft of the World from 1909 to the present. New York: G. P. Putnam's Sons, 1969. ISBN 0-425-03633-2.
- Winchester, Jim. "Fairey Fulmar." Aircraft of World War II: The Aviation Factfile. Kent, UK: Grange Books plc, 2004. ISBN 1-84013-639-1.
Living Warbirds: The best warbirds DVD series.
Source: WikiPedia