Gloster Meteor Video - Story of Its Development - From Classic Aircraft
Gloster Meteor Video - Documentary
Gloster Meteor Aircraft Information
Video - Story of the Gloster Aircraft Company
Role - Fighter
Manufacturer - Gloster Aircraft Company
Armstrong-Whitworth
Designed by - George Carter
First flight - 5 March 1943
Introduced - 27 July 1944
Retired - 1980s (RAF target tugs/Ecuador combat roles)
Primary users - Royal Air Force
Royal Australian Air Force
Belgian Air Force
Israeli Air Force
Number built - 3,947
The Gloster Meteor was the first British jet fighter and the Allies' first operational jet. Designed by George Carter, it first flew in 1943 and commenced operations on 27 July 1944 with 616 Squadron of the Royal Air Force (RAF). The Gloster Meteor was not an aerodynamically advanced aircraft but the Gloster design team succeeded in producing an effective jet fighter that served the RAF and other air forces for decades. Meteors saw action with the Royal Australian Air Force (RAAF) in the Korean War and remained in service with numerous air forces until the 1970s. Tw-Meteors, WL419 and WA638, remain in service with the Martin-Baker company as ejection seat testbeds.
Design and development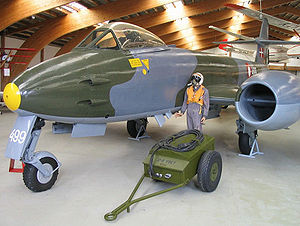 Picture - Royal Danish Air Force Gloster Meteor
Development of a turbojeto powered fighter by Sir Frank Whittle's firm, Power Jets Ltd., and the Gloster Aircraft Company began in November 1940. The first British jet powered aircraft, the single-engined Gloster E28/39 prototype, had its maiden flight on 15 May 1941. The Air Ministry subsequently contracted for the development of a twin-engined jet fighter under Specification F9/40. The aircraft was to have been named Thunderbolt, but to avoid confusion with the USAAF P-47 Thunderbolt the name was changed to Meteor.
The Meteor's construction was all-metal with a tricycle undercarriage and conventional low, straight wings, featuring turbojets mid-mounted in the wings with a high-mounted tailplane to keep it clear of the jet exhaust.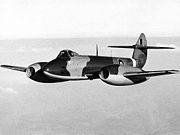 Picture - Gloster Meteor F.3
Eight prototypes were produced. Delays with getting type approval for the engines meant that although taxiing trials were carried out it was not until the following year (1942) that flights took place. The fifth prototype, DG206, powered by tw-de Havilland Halford H.1 engines due to problems with the intended Whittle W.2 engines, was the first to become airborne on 5 March 1943 from RAF Cranwell, piloted by Michael Daunt[1] Development then moved to Newmarket Heath and, later, a Gloster-owned site at Moreton Valence. The first Whittle-engined aircraft, DG205/G, flew on 17 June 1943 (it crashed shortly after takeoff on 27 April 1944) and was followed by DG202/G in July. DG202/G was later used for deck-handling tests aboard aircraft carrier HMS Pretoria Castle. DG203/G made its first flight on 9 November 1943 but was soon relegated to a ground instructional role. DG204/G (powered by Metrovick F.2 engines) first flew on 13 November 1943 and crashed on 1 April 1944. DG208/G made its debut on 20 January 1944, by which time the majority of design problems had been overcome and a production design approved.
The two remaining prototypes never flew. DG209/G was used as an engine testo bed by Rolls-Royce. DG207/G was intended to be the basis for the Meteor F.2 with de Havilland engines, but when the engines were diverted to the de Havilland Vampire the idea was quietly forgotten.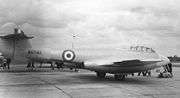 Picture - Gloster Meteor F.3
On 12 January 1944, the first Meteor F 1, serial EE210/G, took to the air from Moreton Valence. It was essentially identical to the F9/40 prototypes except for the addition of four 20 mm (.79 in) nose-mounted Hispan-Mk V cannons and some changes to the canopy to improve all-round visibility. For the production Meteor F.1, the engine was switched to the Whittle W.2 design, by then taken over by Rolls-Royce. The W.2B/23C turbojet engines produced 7.56 kN of thrust each, giving the aircraft a maximum speed of 417 mph (670 km/h) at 3,000 m and a range of 1,610 km. The Meteor Mk.I was 12.5 m long with a span of 13.1 m, with an empty weight of 3,690 kg and a maximum takeoff weight of 6,260 kg.
Typical of early jet aircraft, the Meteor F 1 suffered from stability problems at high transonic speeds, experiencing large trim changes, high stick forces and self-sustained yaw instability (snaking) due to airflow separation over the thick tail surfaces [2].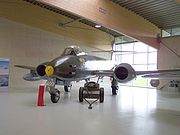 Picture - Gloster Meteor F 8
Operational service
The first 20 aircraft were delivered to the Royal Air Force on 1 June 1944 with one example also sent to the U.S. in exchange for a Bell YP-59A Airacomet for comparative evaluation.
No. 616 Squadron RAF was the first to receive operational Meteors, 14 of them. The squadron was based at RAF Culmhead, Somerset and had been previously equipped with the Spitfire VII. After a conversion course at Farnborough for the six leading pilots, the first aircraft were delivered in July. [1] The squadron was soon moved to RAF Manston on the east Kent coast and, within a week, 30 pilots were converted.
The RAF initially reserved the aircraft to counter the V-1 flying bomb threat with No. 616's Meteors seeing action for the first time on 27 July 1944 with three aircraft active over Kent. After some problems, especially with jamming guns, the first tw-V1 "kills" occurred on 4 August. The Meteor accounted for 14 flying bombs. The anti-V1 missions of 27 July 1944 were the Meteor's (and the Royal Air Force's) first operational jet combat missions.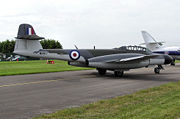 Picture - Privately-owned Gloster Meteor NF11 in 2005. Built by Armstrong Whitworth in 1952 at their Baginton (Coventry) factory.
After the end of the V-1 threat, and the introduction of the supersonic V-2, the Meteor F 1 was not deployed further in combat against the Luftwaffe. The RAF was at this time forbidden to fly Meteor missions over German-held territory for intelligence security reasons, and in any case the greatly improved F 3 was in prospect. No. 616 Squadron briefly moved to RAF Debden to allow USAAF bomber crews to gain experience in facing jeto engine foes before moving to Colerne, Wiltshire.
Gloster Meteor F.3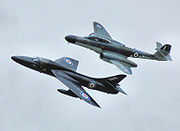 Picture - Gloster Meteor NF 11 flies with a Hawker Hunter T7A at Kemble Air Show 2009
No. 616 Squadron exchanged its F 1s for the first Meteor F 3s on 18 December 1944. This was a substantial improvement over the earlier mark, although the basic design still had not reached its potential. Wind tunnel and flight tests demonstrated that the original short nacelles, which extended fore and aft of the wing, contributed heavily to compressibility buffeting at high speed. New, longer nacelles not only cured some of the compressibility problems but added 120 km/h (75 mph) at altitude, even without upgraded powerplants. The last batch of Meteor F 3s featured the longer nacelles while other F 3s were retrofitted in the field with the new nacelles. The F 3 also had the new Rolls-Royce Derwent engines, increased fuel capacity, and a new larger, more strongly raked bubble canopy.
On 20 January 1945, four Meteors were moved to Melsbroek in Belgium. In March, the entire squadron was moved to Gilze-Rijen and, then in April, to Nijmegen. The Meteors flew armed reconnaissance and ground attack operations without encountering any German jet fighters. By late April, the squadron was based at Faßberg, Germany and suffered its first losses when tw-pilots collided in poor visibility. The war ended with the Meteors having destroyed 46 German aircraft through ground attack and having faced more problems through misidentification as the Me 262 by Allied aircraft and flak than from the Luftwaffe. to counter this, continental-based Meteors were given an all-white finish as a recognition aid.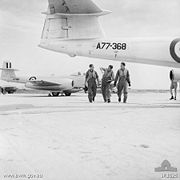 Picture - No. 77 Squadron RAAF pilots and Meteor aircraft in Korea
The next major change was the Meteor F 4 that went into production in 1946, by which time there were 16 RAF squadrons equipped with Meteors. The first F 4 prototype flew on 17 May 1945. The F 4 had the Rolls-Royce Derwent 5 engines (a smaller version of the famous Nene), the wings were 86.4 cm shorter than the F 3 and had blunter tips (derived from the world speed record prototypes), a stronger airframe, fully pressurized cockpit, lighter ailerons (to improve maneuverability) and rudder trim adjustments to reduce snaking. The F 4 could also be fitted with a drop tank under each wing while experiments were performed with carriage of underwing stores and also in lengthened fuselage models. The F 4 was 170 mph faster than the F 1 at sea level (585 against 415), although the reduced wings impaired its rate of climb.
Because of the increased demand, F 4 production was divided between Gloster and the Armstrong Whitworth factory at Bagington. The majority of early F 4s did not g-directly to the RAF: 100 were exported to Argentina (and saw action in the 1955 revolution, one being shot down on 16 September 1955 near Ri-de Santiago) while in 1947, only RAF Nos. 74 and 222 Squadrons were fully equipped with the F 4. Nine further RAF squadrons were upgraded over 1948. From 1948, 38 F 4s were exported to the Dutch, equipping four squadrons (322, 323, 326 and 327) split between bases in Soesterberg and Leeuwarden until the mid-1950s. In 1949, only tw-RAF squadrons were converted to the F 4, Belgium was sold 48 aircraft in the same year (going to 349 and 350 Squadrons at Beauvechain) and Denmark received 20 over 1949–50. In 1950, three more RAF squadrons were upgraded, including No. 616 and, in 1951, six more. In 1950, a single order of 20 F 4s was delivered to Egypt.
A modified two-seater F 4 for jeto conversion and advanced training was tested in 1949 as the T 7. It was accepted by the RAF and the Fleet Air Arm and became a common addition to the various export packages (for example 43 to Belgium 1948-57, a similar number to the Netherlands over the same period, tw-to Syria in 1952, six to Israel in 1953, etc.). Despite its limitations - unpressurized cockpit, n-armament, limited instructor instrumentation - over 650 T 7s were manufactured.
As improved jet fighters began to emerge, Gloster decided to perform a redesign of the F 4 to keep it up to date, while retaining as much of the manufacturing tooling of the F 4 as possible. The result was the Meteor F 8 (G-41K) which was to be the definitive production model, serving as a major Royal Air Force single-seat fighter until the introduction of the Hawker Hunter and the Supermarine Swift.
The first prototype F 8 was a modified F 4, followed by a true prototype, VT150, that flew on 12 October 1948 at Moreton Valence. [3] Flight testing of the F 8 prototype led to the discovery of an aerodynamic problem: when ammunition was expended, the aircraft became tail-heavy and unstable around the pitch axis due to the weight of fuel retained in fuselage tanks n-longer being balanced by the ammunition. Gloster designers solved the problem by substituting the tail of the abortive "G 42" single-engine jet fighter. The F 8 and other production variants were to successfully use the new tail design; the new tail gave the later Meteors a distinctive appearance, with taller straighter edges compared to the rounded tail of the F 4s and earlier marks.
Gloster Meteor F 8
The F 8 also featured a fuselage stretch of 76 centimetres (30 inches), intended to shift the aircraft's centre of gravity and also eliminate the use of ballast that had been necessary in earlier marks. The F 8 incorporated uprated engines, Derwent 8s, with 16 kN (1,633 kgp / 3,600 lbf) thrust each combined with structural strengthening, a Martin Baker ejection seat and a "blown" teardrop cockpit canopy that provided improved pilot visibility. Between 1950 and 1955, the Meteor F 8 was the mainstay of RAF Fighter Command, and served with distinction in combat in Korea with the RAAF as well as operating with many air forces worldwide, although it was clear that the original design was obsolescent compared to contemporary swepto wing fighters such as the North American F-86 Sabre and the Soviet MiG-15.
Initial deliveries of the F 8 to the RAF were in August 1949, with the first squadron receiving its fighters in late 1950. Like the F 4, there were strong export sales of the F 8. Belgium ordered 240 aircraft, the majority assembled in Belgium. The Netherlands had 160 F 8s, equipping seven squadrons until 1955. Denmark had 20, ordered in 1951; they were to be the last F 8s in fronto line service in Europe. The RAAF ordered 94 F 8s, which served in Korea - see below. Despite arms embargoes, both Syria and Egypt received F 8s from 1952, as did Israel (where they served until 1961). On 1 September 1955, tw-Israeli F 8s shot down tw-Egyptian Vampires and in the 1956 Suez Crisis, F 8s were employed by both Egypt and Israel in ground-attack roles. After the crisis, both Egypt and Syria disposed of their Meteors in favour of various MiG variants. In a later order, Brazil received around 60 ex-RAF F 8s in 1963.
In the 1950s, Meteors also were developed into effective photo-reconnaissance, training and night fighter versions. The fighter-reconnaissance (FR) versions were the first to be built, replacing the ageing Spitfires and Mosquitos then in use. Tw-FR 5s were built on the F 4 body, one was used for nose section camera tests, the other broke-up in midair while in testing over Moreton Valence. On 23 March 1950, the first FR 9 flew. Based on the F 8, it was 20 cm longer with a new nose incorporating a remote-control camera and window and was also fitted with additional external ventral and wing fuel tanks. Production of the FR9 began in July. No. 208 Squadron, then based at Fayid, Egypt was the first to be upgraded followed by the 2nd Tactical Air Force in West Germany, No. 2 Squadron RAF at Bückeburg and No. 79 Squadron RAF at RAF Gutersloh flew the FR 9 from 1951 until 1956. In Aden, No. 8 Squadron RAF was given the FR 9 in November 1958 and used them until 1961.[4] Ecuador (12), Israel (7) and Syria (2) were the only foreign customers for the FR 9.[5]
In addition to the armed, low-altitude operation, tactical FR 9 variant, Gloster also developed the PR10 for high-altitude missions. The first prototype flew on 29 March 1950 and was actually converted into the first production aircraft. Based on the F 4, it had the F 4-style tail and the longer wings of the earlier variant. All the cannons were removed and a single camera placed in the nose with tw-more in the rear fuselage; the canopy was also changed. The PR 10 was delivered to the RAF in December 1950 and were given to No.2 and No. 541 Squadrons in Germany and No. 13 Squadron RAF in Cyprus. The PR 10 was rapidly phased out from 1956 with improving surface to air missile technology and newer, faster aircraft rendering it obsolete.
Night fighter
As a night fighter, the Meteor again replaced the Mosquito; however, it was never more than an interim measure. The Mosquito night fighter had remained in use even though it was largely obsolete. Gloster proposed a night fighter design to meet the Air Ministry specification for the Mosquito replacement. Based on the tw-seater trainer, the pilot in the front seat and the Navigator in the rear. Once accepted however, the work passed to Armstrong Whitworth for both the detail design and production; the first prototype flying on 31 May 1950. Although based on the T.7 twin seater, it used the fuselage and tail of the F 8, and the longer wings of the F 3. An extended nose contained the US built Air Intercept radar. As a consequence the 20 mm cannons were moved into the wings, outboard of the engines. A ventral fuel tank and wing mounted drop tanks completed the "Armstrong Whitworth Meteor" NF 11.
Nos. 29, 141 and 85 Squadrons were given the NF 11 in 1951 and the aircraft was rolled out across the RAF until the final deliveries in 1955. A "tropicalised" version of the NF 11 for Middle East service was developed; first flying on 23 December 1952 as the NF 13. The aircraft equipped No. 219 Squadron RAF at Kabrit and No. 39 Squadron at Fayid, both in Egypt. The aircraft served during the Suez crisis and remained with No. 39 Squadron when they were withdrawn to Malta until 1958. The aircraft had a number of problems, notably the limited visibility through the heavily framed T 7 canopy made landings tricky and the external fuel tanks under the wings tended to break up when the wing cannon were fired. Gun harmonisation, normally set to about 400 yards, was poor due to flexing of the wings in flight. Belgium (24), Denmark (20), Australia (one) and France (41) were the foreign customers for the NF 11. Ex-RAF NF 13s were sold to Syria (six), Egypt (six) and Israel (six). Some of the French aircraft remained in operation as test beds into the 1980s.
As radar technology developed, a new Meteor nighto fighter was developed to use the APS-21 system. The NF 12 first flew on 21 April 1953. It was similar to the NF 11 but had a nose section 43.2 cm longer; this altered the centre of gravity and the tailplane was enlarged to compensate. The NF 12 also had the new Rolls-Royce Derwent 9 engines and the wings were reinforced to handle the new engine. The RAF operated the NF 12 from August 1953 with seven squadrons equipped up to 1956 (No.s 85, 25, 152, 46, 72, 153 and 65); the aircraft was replaced over 1958–59. Because of the "sensitive" nature of the radar system, n-NF 12s were offered for export.
The final Meteor night fighter was the NF 14. First flown on 23 October 1953, the NF 14 was based on the NF 12 but had an even longer nose to accommodate new equipment pushing total length to 15.5 metres and a larger bubble canopy to replace the framed T 7 version. Just 100 NF 14s were built; they first entered service in February 1954 beginning with No. 25 Squadron and were being replaced as early as 1956 with the Gloster Javelin. Overseas, they remained in service a little longer, serving with No. 60 Squadron at Tengah, Singapore until 1961. As the NF 14 was replaced, some 14 were converted to training aircraft as the NF(T) 14 and given to No. 2 Air Navigation School on Thorney Island where they served until 1965.
Service during the Korean War
The Royal Australian Air Force acquired 113 Meteors between 1946 and 1952, 94 of which were the F 8 variant.[6] F 8 Meteors saw extensive service during the Korean War with No. 77 Squadron RAAF, which was part of British Commonwealth Forces Korea, and had personnel from other Commonwealth air forces attached to it. The squadron arrived in Korea equipped with P-51D Mustangs. It did jet conversion training at Iwakuni, Japan, and returned to Korea in April 1951 with about 30 Meteor F 8s and T 7s. The squadron moved to Kimp-in June, and was declared combato ready the following month. There was some apprehension, as the F 8 was clearly inferior in most respects to the communist forces' MiG-15, and was superior to the F-86 Sabre only in rate-of-climb and acceleration.
No. 77 squadron first flew Meteors in a combat mission on 30 July 1951. The squadron had mainly been trained in the ground attack role, and had difficulties when assigned to bomber escort duty at sub-optimum altitudes. On 29 August 1951, eight Meteors were on escort duty in "MiG Alley" when they were engaged by six MiG-15s; one Meteor was lost and tw-damaged, and 77 Squadron did not officially destroy any enemy aircraft on this occasion [7] On 27 October, the squadron achieved its first probable followed by tw-probables six days later.[8] On 1 December, during a clash between 12 Meteors and some 40 MiG-15s, the squadron had its first tw-confirmed victories: Flying Officer Bruce Gogerly made the first kill. However, this occurred at the cost of four Meteors destroyed. As a result, bomber escort was taken over by the USAF and 77 Squadron returned to ground-attack duties. The Meteor performed well but proved vulnerable to ground fire, as the rocket sights required a long level run to operate effectively.
By the end of the conflict, the squadron had flown 4,836 missions, destroying six MiG-15s, over 3,500 structures and some 1,500 vehicles. About 30 Meteors were lost to enemy action in Korea — the vast majority of these were shot down by anti-aircraft fire while serving in a ground-attack capacity.[6]
Record setting
Late in 1945, tw-F Mk 3 Meteors were modified for an attempt on the world air speed record. On 7 November 1945 at Herne Bay in Kent, UK, Group Captain H.J. (Willy) Wilson set the first air speed record by a jet aircraft of 606 mph (975 km/h) TAS. A small plaque commemorating this achievement can be found in Macari's Cafe, Herne Bay.
In 1946, Group Captain Edward "Teddy" Donaldson broke this record with a speed of 616 mph (991 km/h) TAS, in EE549, a Meteor F 4. Test pilot Roland Beamont had previously taken the same aircraft to its compressibility limit at 632 mph, but not under official record conditions, and outside its official safety limits.
In 1947, S/L Janusz ?urakowski set an international speed record: London-Copenhagen-London, 4-5 April 1950 in a production standard F 8 (VZ468). The Danes were suitably impressed and purchased the type soon after. [9]
Another "claim to fame" was the Meteor's ability to perform the "?urabatic Cartwheel", a new aerobatics manoeuvre, named after the Gloster acting Chief Test Pilot, first accomplished in the Gloster Meteor G-7-1 prototype at the 1951 Farnbrough Air Show where the Meteor, due to its unique location of widely-set engines could have individual engines throttled back and forward to achieve a seemingly stationary vertical cartwheel. Many Meteor pilots would g-on to "prove their mettle" by attempting the same feat. [10]
Other uses
Production of the Meteor continued until 1954 with almost 3,900 made, mainly the F 8 variant. As the Meteor was progressively relegated to secondary duties in later years, target tug, drone and specialized test vehicles were added to the diverse roles that this firsto generation jet fighter took on.
Safety record
A total of 890 Meteors were lost in service with the RAF (145 crashes in 1953 alone), resulting in the death of 450 pilots.
Contributory factors in the number of crashes were the high fuel consumption and therefore short endurance (less than one hour) causing pilots to run out of fuel, and difficult handling with one engine out due to the widely-set engines. The casualty rate was exacerbated by the lack of ejection seats except in the F 8, especially in the training version T 7 and F 4 fighters relegated to training/conversion duties.[11]
Variants
Meteor F 1
First production aircraft built between 1943 and 1944.
Meteor F 1, Trent turboprop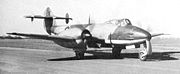 Picture - The sole Trent Meteor
One-off engine test bed, built 1945, designated EE227, for the new and highly successful Rolls-Royce Trent turboprop engine making it the world's first turboprop-powered aircraft.
Meteor F 2
Alternative engined version - only one built.
Meteor F 3
Derwent I powered with sliding canopy.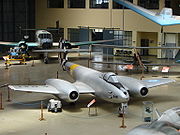 Picture - F Mk4, previously used by the Argentinian Air Force
Meteor F 4
Derwent 5 powered with strengthened fuselage.
Meteor FR 5
One-off fighter reconnaissance version of the F 4.
Meteor T 7
Two-seat trainer.
Meteor F 8
Greatly improved from the F 4. Longer fuselage, greater fuel capacity, standard ejection seat and modified tail (derived from the E.1/44). This variant was a prolific frontline fighter in RAF squadron service, 1950-54.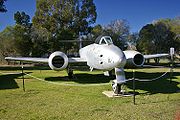 Picture - A77-871 (WK791) F 8, used by the Royal Australian Air Force
Meteor F 8 Prone Pilot
One-off experimental prone pilot F8, WK935 modified by Armstrong Whitworth.
Meteor FR 9
Fighter reconnaissance version of the F 8.
Meteor PR 10
Photo reconnaissance version of the F 8.
Meteor NF 11
Night Fighter variant with Airborne Intercept radar.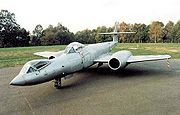 Picture - The sole "prone pilot" experimental testbed
Meteor NF 12
Longer nosed version of the NF 11 with American radar.
Meteor NF 13
Tropicalised version of the NF 11 for overseas service.
Meteor NF 14
NF 11 with new two-piece canopy.
Meteor U 15
Drone conversion of the F 4.
Meteor U 16
Drone conversion of the F 8.
Meteor TT 20
High speed target towing conversion of the NF 11.
Meteor U 21
Drone conversion of the F 8.
Survivors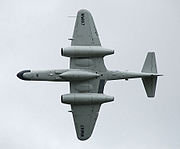 Picture - Preserved Meteor NF11 displays at Kemble, England, in 2009
Although many Meteors survive in museums and collections, only five remain airworthy, four in the United Kingdom and an F 8 fighter (VH-MBX, Military S/N: VZ467) which was exported to Australia in 2001. The Temora Aviation Museum flies VH-MBX, currently in the colours of RAAF 77 Squadron, flown by Sgt. George Hale in Korea as "Halestorm."
A sixth airframe WA591 is under restoration to airworthiness by the UK based Meteor Flight at Yatesbury.
Tw-remain in service with Martin-Baker at Chalgrove Airfield as flying testbeds for the development of ejection seats. The company ran its first airborne ejection test using a F 3 on 14 June 1946 and received three T 7s in 1952 of which it retains WA638 and WL419.
Other Meteors on display:
-Meteor F 4 EE531, Midland Air Museum, Coventry. Second oldest Meteor in existence
-Meteor F 8 VZ477, Midland Air Museum, Coventry. Cockpit section open for viewing
-Meteor NF 14 WS838 Midland Air Museum, Coventry. Manufactured under licence by Armstrong Whitworth Aircraft. On loan from RAF museum.
-Meteor F 8 FAB (Brazilian Air Force), Canoas, Ri-Grande d-Sul, Brazil
-Meteor F 8 F84409 #Cultura Museu Eduard-André Matarazzo] , Botucatu, Sã-Paulo, Brazil[15]
-Meteor F 8 F84442 , Botucatu, Sã-Paulo, Brazil [16]
-Meteor F 8 F84452 FAB (Brazilian Air Force), CINDACTA II, Curitiba, Paraná, Brazil. Displayed at the entrance of the complex.
-Meteor F 8 F84460, FAB,(Brazilian Air Force), Musal], Ri-de Janeiro, Brazil
-Meteor TF 7 TF74309, FAB,(Brazilian Air Force)
-Meteor F 8, WK685 / A77-867 Classic Jets Fighter Museum Parafield Airport, Parafield, South Australia. Upon cessation of hostilities in Korea returned to Australia and joined the newly reformed 77 Sqn. in December 1955 before later conversion to instructional airframe status.
-Meteor F 8, 1st wing historical Center, Beauvechain, Belgium
-Meteor NF11, WM261, modified to NF14 specification; registered as G-ARCX, National Museum of Flight, East Lothian, Scotland. Used by Ferranti as a testo bed for radar development.
Comparable aircraft
-P-80 Shooting Star
-Messerschmitt Me 262
-Arad-Ar 234
-de Havilland Vampire
-Nakajima J9Y

Specifications (Meteor F Mk I)
Data from The Great Book of Fighters[17] and Quest for Performance[2]
General characteristics
-Crew: 1
-Length: 41.24 ft (12.57 m)
-Wingspan: 43.01 ft (13.11 m)
-Height: 12.99 ft (3.96 m)
-Wing area: 350 ft² (32.52 m²)
-Empty weight: 8,139 lb (3,692 kg)
-Loaded weight: 13,819 lb (6,268 kg)
-Powerplant: 2× Rolls-Royce W.2B/23 Welland turbojets, 1,700 lbf (7.6 kN) each
Performance
-Maximum speed: 410 mph (660 km/h, Mach 0.55) at 10,000 ft (3,050 m)
-Range: 500 mi (800 km)
-Service ceiling: 34,000 ft (11,500 m)
-Rate of climb: 2,155 ft/min (24.6 m/s)
-Wing loading: 44.9 lb/ft² (149 kg/m²)
-Thrust/weight: 0.45
-Time to altitude: 9.0 min to 30,000 ft (9,145 m)
Armament
-Guns: 4 × 20 mm British Hispan-cannons
-Rockets: Provision for up to 16 × "60lb" 3 in rockets under outer wings
References
Notes
1. a b Mason 1992, p. 339.
2. a b Loftin, L.K. Jr. Quest for Performance: The Evolution of Modern Aircraft, NASA SP-468. Retrieved: 24 April 2006.
3. Mason 1992, p. 341.
4. Harrison 2001, p. 31.
5. Harrison 2001, p. 28.
6. a b ADF Aircraft Serial Numbers: RAAF A77 Gloster Meteor F 8
7. According to anecdotal accounts, Warrant Officer Ron Guthrie did destroy a MiG-15 in this engagement. He was shot down during the same dogfight and captured by communist ground forces. It has been reported that, during interrogation, tw-Soviet pilots, through an interpreter, told Guthrie that he had downed a MiG-15. He survived internment and was released on 3 September 1953.
8. RAAF Airpower
9. Zuk 2004, p. 145.
10. Janusz ?urakowski"Zura" 1914-2004, Biography of the World Famous Pilot
11. Kenyon, Dennis. "The Night It Rained Meteors".Loop aviation newspaper, June 2008. Note: the article is written by former RAF pilot and world helicopter aerobatic champion Dennis Kenyon.
12. Jefford 2001, p. 175.
13. Caruana and Franks 2004, pp. 124–125.
14. Sturtivant, Ray and The-Ballance. The Squadrons of the Fleet Air Arm. Tonbridge Wells, Kent, UK: Air-Britain (Historians) Ltd, 1994. ISBN 0-85130-223-8.
15. Meteor F 8
16. Meteor F 8
17. Green 2001
Bibliography
-Andrews, C.F. "The Gloster Meteor F.8" Aircraft in Profile, Volume 1/Part1. Windsor, Berkshire, UK: Profile Publications Ltd., 4th revised edition 1975 (first published in 1965). ISBN 0-85383-410-5.
-Ashley, Glenn. Meteor in Action. Carrollton, Texas: Squadron/Signal Publications Inc., 1995. ISBN 0-89747-332-9.
-Bowyer, Chaz. Postwar Military Aircraft 2: Gloster Meteor. Shepperton, Surrey, UK: Ian Allen Ltd., 1985. ISBN 0-7110-1477-9.
-Butler, Phil and Tony Buttler. Gloster Meteor: Britain's Celebrated Firsto Generation Jet. Hersham, Surrey, United Kingdom: Midland Publishing, 2007. ISBN 1-85780-230-6.
-Caruana, Richard J. and Richard A. Franks. The Gloster & AW Meteor. Kingsway, Bedford, United Kingdom: SAM Publications, 2004. ISBN 0-9533465-8-7.
-Green, William and Gordon Swanborough. The Great Book of Fighters. St. Paul, Minnesota: MBI Publishing, 2001. ISBN 0-7603-1194-3.
-Harrison, W.A. "Forgotten Breed... The RAF's Last 'Shufti' Meteors". Air Enthusiast. N-93, May/June 2001, pp. 26–33. Stamford, UK: Key Publishing. ISSN 0143 5450.
-Jefford, Wing Commander C.G., MBE,BA,RAF (Retd). RAF Squadrons, A Comprehensive Record of the Movement and Equipment of all RAF Squadrons and their Antecedents since 1912. Shrewsbury, Shropshire, UK: Airlife Publishing, 2001. ISBN 1-84037-141-2.
-Jones, Barry. Gloster Meteor. Ramsbury, Marlborough, Wiltshire, United Kingdom: The Crowood Press Ltd., 1998. ISBN 1-86126-162-4.
-Loftin, L.K. Jr. Quest for Performance: The Evolution of Modern Aircraft. NASA SP-468. Retrieved: 22 April 2006.
-Mason, Francis K. The British Fighter Since 1912. Annapolis, Maryland: Naval Institute Press. 1992. ISBN 1-55750-082-7.
-Partridge, J.J. "The Gloster Meteor F.IV" Aircraft in Profile, Volume 4. Windsor, Berkshire, UK: Profile Publications Ltd., 2nd revised edition 1970 (original in 1966). ISBN 0-85383-013-4.
-Shacklady, Edward. The Gloster Meteor. London: Macdonald & Co. (Publishers) Ltd., 1962.
-Zuk, Bill. Janusz Zurakowski: Legends in the Sky. St. Catharine's, Ontario: Vanwell, 2004. ISBN 1-55125-083-7.
Living Warbirds: The best warbirds DVD series.
Source: WikiPedia