General Motors P-75 Eagle Video - Documentary clip
More General Motors P-75 Eagle Videos 1
General Motors P-75 Eagle Aircraft Information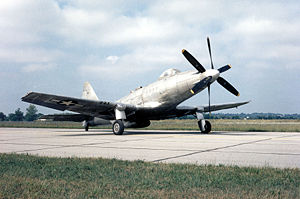 Picture: The last production P-75A (serial number 44-44553), now in the USAF Museum in Dayton, OH
Role - Fighter
Manufacturer - General Motors Corporation
First flight - 17 November 1943
Status - Cancelled 6 October 1944
Number built - 14
The General Motors P-75 Eagle was a fighter aircraft for which the Fisher Body Division of General Motors Corporation in September 1942 submitted a proposal to meet a United States Army Air Forces requirement for a fighter possessing an etremely high rate of climb. The proposal was for an aircraft that used the most powerful liquid-cooled engine then available, the Allison V-3420 (essentially a pair of 12 cylinder Allison V-1710 engines mated to a common crankcase), and components from eisting aircraft. The program was cancelled with only a small number of prototypes and production aircraft completed.
Design and development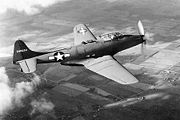 Picture: The first XP-75-GM in flight (S/N 43-46950)
In October 1942, the contract for two prototypes, designated P-75, was signed with the Fisher Body Division of GM. The design concept was to use the outer wing panels from the P-51 Mustang, the tail assembly from the Douglas A-24 (SBD), and the undercarriage from the F4U Corsair in a general layout much as in the P-39 Airacobra with the engine located amidships with the propeller driven through an etension shaft. At an early design stage, however, P-40 Warhawk outer wing panels were substituted for the P-51 panels.
In mid-1943, the need for long-range escort fighters became more urgent than fast climbing interceptors so a decision was made to order si more P-75 airplanes modified for the long-range role. At this time an order for 2,500 production aircraft was also let, but with the stipulation that if the first P-75A was not satisfactory the complete order might be canceled.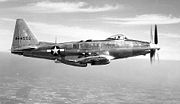 Picture: Fisher P-75A in flight, side view
At the time, General Motors was busy in several projects towards the war effort, including the mass production of several different aircraft types, including the Grumman TBF Avenger. Some sources[1] claim that the P-75 was the result of a scheme to get General Motors out of being forced to build Boeing B-29 Superfortresses; the P-75 project being a "high-priority" project to help GM avoid the added strain of Superfortress production. Bearing the name, "P-75 Eagle" was significant as the designation harkened back to the French 75 gun in World War I, considered a symbol of defeating the Germans. The "Eagle" was given etensive media coverage prior to its first flight, being trumpeted as a "wonder plane". [2]
Operational history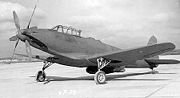 Picture: Fisher XP-75 3/4 front view (S/N 43-46950)
Powered by a V-3420-19 24-cylinder engine rated at 2,600 hp driving co-aial contra-rotating propellers, the P-75 flew for the first time on 17 November 1943. The second P-75 flew shortly thereafter, with all si long-range P-75s entering the test program by the spring 1944. The test program brought up a number of deficiencies, including miscalculation of the fighter's center of mass, failure of the engine to produce its epected power, inadequate engine cooling, high aileron forces at high speed, and poor spin characteristics. Redesigns were introduced into the long-range P-75s including a modified tail assembly, new "bubble" canopy, and a V-3420-23 engine that corrected most of the problems by the time the first P-75A Eagles entered flight test in September 1944.
By this time, the Army Air Force decided to limit the number of combat aircraft types in production and not enter into large-scale production of new types that might not be available before the war ended. As the twin-engine P-38 Lightning, and the single-engine P-47N Thunderbolt and P-51D Mustang demonstrated ecellent long-range capabilities, the production run of the P-75A Eagle was substantially terminated on 6 October 1944. It was decided to use the si completed production aircraft for eperimental work and development of the V-3420 engine. As a result of those events, the P-75A did not complete formal performance trials due to termination of the production contract. Ultimately, only eight P-75s and si P-75As were built.
Survivors
- P-75A (s/n 44-44553) is located at the National Museum of the United States Air Force in Dayton, Ohio.[3] For many years this aircraft was on display in the museum's Eperimental Aircraft Gallery. Etensive deterioration of the airframe was discovered by the staff in 1999, which forced the Museum to undertake a full restoration of the aircraft. The aircraft has been completed and returned to display in the museum's Eperimental Aircraft Gallery.
Specifications (P-75)
Data from [4] and [5]
General characteristics
- Crew: One
- Length: 40 ft 5 in (12.32 m)
- Wingspan: 49 ft 4 in (15.04 m)
- Height: 15 ft 6 in (4.72 m)
- Wing area: 347 ft² (32.24 m²)
- Empty weight: 11,495 lb (5,214 kg)
- Loaded weight: 19,420 lb[6] (8808 kg)
- Ma takeoff weight: 18,210 lb (8,260 kg)
- Powerplant: 1× Allison V-3420-23 liquid-cooled 24-cylinder double-Vee, 2,885 hp (2,150 kW)
Performance
- Maimum speed: 433 mph (697 km/h) at 20,000 (6,100 m)
- Range: 2,050 mi (3,300 km)
- Service ceiling: 36,400 ft (11,100 m)
- Rate of climb: 4,200 ft/min (21.3 m/s)
- Wing loading: 39.8 lb/ft² (194.3 kg/m²)
- Power/mass: 0.21 hp/lb (0.34 kW/kg)
Armament
- 6 0.5 in (12.7 mm) wing mounted machine guns
- 4 0.5 in (12.7 mm) fuselage mounted machine guns
- 2 500 lb (227 kg) bombs
- P-81
References
Notes
1. Winchester 2005
2. O'Leary 1994, p. 81.
3. Pictures USAF Museum Dayton, OH
4. Green 1961, p. 87.
5. Green and Swanborough 1978, p. 7.
6. O'Leary 1994, p. 85.
Bibliography
- Green, William. War Planes of the Second World War - Fighters (Vol 4). London: Macdonald & Co. (Publishers), 1961 (Sith impression December 1969). ISBN 0-356-01448-7.
- Green, William and Gordon Swanborough. WW2 Aircraft Fact Files: US Army Air Force Fighters, Part 2. London: Macdonald and Jane's Publishers Ltd., 1978. ISBN 0-354-01072-7.
- O'Leary, Michael, ed. "P-75: Spare Parts Fighter." America's Forgotten Wings, Volume 1, 1994.
- Winchester, Jim. The World's Worst Aircraft: From Pioneering Failures to Multimillion Dollar Disasters. London: Amber Books Ltd., 2005. ISBN 1-904687-34-2.
Living Warbirds: The best warbirds DVD series.
Source: WikiPedia