Grumman F2F Aircraft Information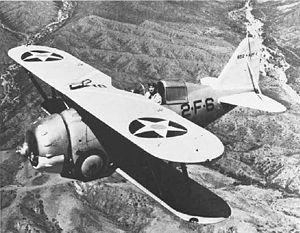 Picture - A F2F-1 of fighter squadron VF-2B, USS Lexington (CV-2)
Role - Naval fighter
Manufacturer - Grumman
Designed by - Leroy Grumman
First flight - 31 October 1933
Introduced - 1935
Retired - 1940
Primary user - United States Navy
Produced - 1934-1935
Number built - 55
Unit cost - $12,000 (as of 1935)[1]
Developed from - Grumman FF
Variants - Grumman F3F
The Grumman F2F was a single-engine, biplane fighter aircraft with retractable undercarriage, serving as the standard fighter for the United States Navy between 1936 and 1940. It was designed for both carrier- and land-based operations.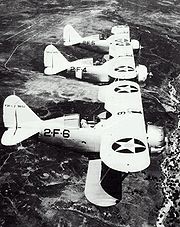 Picture - Three F2F-1s in service with fighter squadron VF-2B
Development
Grumman's success with the two-seat FF-1, which was significantly faster than even the single-seat fighters of its time, resulted in a contract for the single-seat XF2F-1. Armed with two .30 caliber (7.62 mm) machine guns above the cowl, the new design also incorporated watertight compartments to reduce weight and improve survivability in the event of a water landing.[1] The prototype first flew on 18 October 1933, equipped with the experimental 625 hp (466 kW) XR-1534-44 Twin Wasp Junior radial engine, and reached a top speed of 229 mph (369 km/h) at 8,400 ft (2,600 m) - 22 mph (35 km/h) faster than the FF-1 at the same altitude.[1] Maneuverability also proved superior to the earlier two-seat aircraft.
Three F2F-1s in service with fighter squadron VF-2B
The Navy ordered 54 F2F-1 fighters on 17 May 1934, with the first aircraft delivered on 1935-01-19. An additional aircraft was ordered to replace one which crashed on 16 March 1935,[1] bringing the total to 55, and the final F2F-1 was delivered on 2 August 1935.
Service
The F2F-1 had a relatively long service life for the time, serving in front-line squadrons from 1935 to late 1939, when squadrons began to receive the F3F-3 as a replacement.[1] By September 1940, the F2F had been completely replaced in fighter squadrons and was relegated to training and utility duties.
Operators
United States
- United States Navy
Specifications (Grumman F2F-1)
Three-side drawing of a Grumman F2F-1
Aero-stub img.svg - This aircraft article is missing some (or all) of its specifications. If you have a source, you can help Wikipedia by adding them.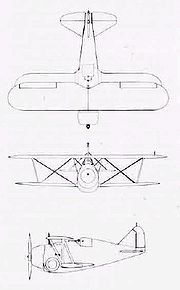 General characteristics
- Crew: One
- Length: 21 ft 5 in (6.53 m)
- Wingspan: 28 ft 6 in (8.69 m)
- Height: 9 ft 1 in (2.77 m)
- Wing area: 230 ft² (21.4 m²)
- Empty weight: 2,691 lb (1,221 kg)
- Max takeoff weight: 3,847 lb (1,745 kg)
- Powerplant: 1× Pratt & Whitney R-1535-72 Twin Wasp Jr radial engine, 650 hp (485 kW)
Performance
- Maximum speed: 238 mph (383 km/h)
- Range: 985 mi (1,585 km)
- Service ceiling: 27,500 ft (8,384 m)
- Rate of climb: ft/min (m/s)
- Wing loading: lb/ft² (kg/m²)
- Power/mass: hp/lb (kW/kg)
Related development
- Grumman F3F
References
1. a b c d e Cacutt, Len, ed. "Grumman Single-Seat Biplane Fighters." Great Aircraft of the World. London: Marshall Cavendish, 1989. p. 155-162. ISBN 1-85435-250-4.
Living Warbirds: The best warbirds DVD series.
Source: WikiPedia