Grumman F9F Panther Video - Short documentary clip
Grumman F9F Panther Video - Flown by Art Wolk at the Scranton Pa Airshow
Grumman F9F Panther Aircraft Information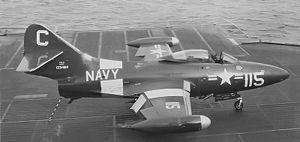 Picture - An F9F-2 of VF-21 on the USS Midway in 1952
Role - Fighter-bomber
Manufacturer - Grumman
First flight - 24 November 1947
Retired - 1958, U.S. Navy
1969, Argentina
Primary users - United States Navy
United States Marine Corps
Argentine Navy
Number built - 1,382
Variants - F-9 Cougar
The Grumman F9F Panther was the manufacturer's first jet fighter and the U.S. Navy's second carrier jet fighter. The Panther was the most widely used U.S. Navy jet fighter of the Korean War. It flew 78,000 sorties and was responsible for the first air kill by the US Navy in the war—the downing of a North Korean Yakovlev Yak-9 fighter. Total F9F production was 1,382, with several variants being exported to Argentina.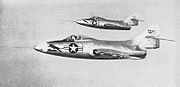 Picture - The XF9F-2 and XF9F-3 prototypes in 1948
Design and development
Development studies at the Grumman company began near the end of the World War II as the first jet engines emerged. The prototype Panther, piloted by test pilot Corky Meyer, first flew on 24 November 1947.[1] Propulsion was a Rolls-Royce Nene turbojet built under license by Pratt & Whitney as the J42. Since there was insufficient space within the wings and fuselage for fuel for the thirsty jet, permanently-mounted wingtip fuel tanks were added which incidentally improved the fighter's rate of roll.[2] It was cleared for flight from aircraft carriers in September 1949. During the development phase, Grumman decided to change the Panther's engine, selecting the Pratt & Whitney J48-P-2, a license built version of the Rolls-Royce Tay. The other engine that had been tested was the Allison J33-A-16, a development of the Rolls-Royce Derwent.[3]
From 1946, a swepto wing version was considered and after concerns about the Panther's inferiority to its MiG opponents in Korea, a conversion of the Panther (Design 93) resulted in a swepto wing derivative of the Panther, the Grumman F9F Cougar, which retained the Panther's designation number.[3]
Operational history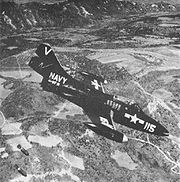 Picture - A VF-111 F9F-2 dropping bombs in Korea, 1951/52
US Navy
F9F-2s, F9F-3s and F9F-5s served with distinction in the Korean War, downing tw-Yak-9s and five Mikoyan-Gurevich MiG-15s with a loss of one F9F. On 3 July 1950, Lieutenant, junior grade Leonard H. Plog of U.S. Navy's VF-51 flying an F9F-3 scored the first air victory of the war by shooting down a Yak-9. The first MiG-15 downed was on 9 November 1950 by U.S. Navy Lieutenant Commander William (Bill) Amen of VF-111 "Sundowners" Squadron flying an F9F-2B. Tw-more were downed on 18 November 1950, and the other tw-were downed on the 18 November 1952.[4] The type was the primary Navy jet fighter and ground-attack aircraft in the Korean conflict. Astronaut Neil Armstrong flew the F9F extensively during the war, even ejecting from one of the aircraft when it was brought down by a wire strung across a valley.
Panthers were withdrawn from fronto line service in 1956, but remained in training roles and with Reserve units until 1958, some continuing to serve in small numbers into the 1960s.[5]
Argentine Navy
The only foreign buyer of the Panther was the Argentine Navy, wh-bought 24 ex-USN aircraft in 1958. The catapults on the then only Argentine carrier, ARA Independencia (V-1), were considered not powerful enough to launch the F9F, s-the aircraft were land-based.
The Argentine Panthers were involved in the general mobilization during the 1965 border clash between Argentina and Chile but n-combat occurred. They were taken out of service in 1969 due to the lack of spare parts and replaced with A-4Q Skyhawks.[6]
Variants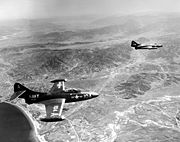 Picture - Two F9F-2Bs of VF-721 over Korea.
XF9F-2
The first tw-prototypes
XF9F-3
The third prototype
F9F-2
First production version, powered by J42 engine.
F9F-2B
Version fitted with underwing racks for bombs and rockets. All F9F-2s were eventually s-modified, and the B designation was dropped.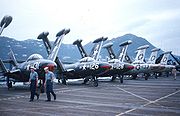 Picture - F9F-5s of VF-111 on the USS Lake Champlain in 1953.
F9F-2P
Unarmed photographic reconnaissance version used in Korea.
F9F-3
Allison J33 powered version produced as insurance against the failure of the J42, 54 built. All converted to J42 power later.
XF9F-4
Prototype used in the development of the F9F-4.
Picture - F9F-5P reconnaissance aircraft
F9F-4
Version with longer fuselage with greater fuel load and powered by J33 engine. Most re-engined with J42s. F9F-4s were the first aircraft to successfully employ blown air, extracted from between the engine's compressor and combustion chambers, to energize the slot flaps, thus achieving a decrease in stalling speed of 9 kn for takeoff and 7 kn on power approach for landing.
F9F-5
Variant of F9F-4, but powered by Pratt & Whitney J48 engine, 616 built.
F9F-5P
Unarmed photo-reconnaissance version, 36 built, longer nose.

Picture - F9F and AJ Savage of the NATC during in-flight refueling tests in 1953
F9F-5K
After the F9F Panther was withdrawn operational service, a number of F9F-5s were converted into unmanned target drone aircraft.
F9F-5KD
As drone directors for the F9F-5K drones. Redesignated DF-9E in 1962.
Related development
-F-9 Cougar
Comparable aircraft
-F2H Banshee
-Hawker Sea Hawk
Data from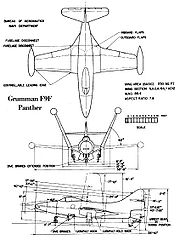 Picture - 3-side view of an F9F Panther.
General characteristics
-Crew: 1
-Length: 37 ft 5 in (11.3 m)
-Wingspan: 38 ft 0 in (11.6 m)
-Height: 11 ft 4 in (3.8 m)
-Wing area: 250 ft² (23 m²)
-Empty weight: 9,303 lb (4,220 kg)
-Loaded weight: 14,235 lb (6,456 kg)
-Max takeoff weight: 16,450 lb (7,462 kg)
-Powerplant: 1× Pratt & Whitney J42-P-6/P-8 turbojet, 5,950 lbf (26.5 kN) with water injection
Performance
-Maximum speed: 500 kn (575 mph, 925 km/h)
-Range: 1,300 mi (1,100 nmi, 2,100 km)
-Service ceiling: 44,600 ft (13,600 m)
-Rate of climb: 5,140 ft/min (26.1 m/s)
-Wing loading: 71 lb/ft² (350 kg/m²)
-Thrust/weight: 0.42
Armament
-Guns: 4 × 20 mm (0.79 in) M2 cannon, 190 rpg
-Hardpoints: Underwing hardpoints with provisions to carry combinations of:
-Rockets: 6 × 5 in (127 mm) rockets on underwing hardpoints
-Bombs: 2,000 lb (907 kg) of bombs
Popular culture
The Panther played a prominent role in the 1954 movie Men of the Fighting Lady (also known as Panther Squadron). The F9F was featured in the flying sequences in the 1955 movie The Bridges at Toko-Ri, although in the 1953 James A. Michener novel upon which the movie was based, the main character flew an F2H Banshee.
References
Notes
1. Meyer 2002
2. Winchester 2004, p.96.
3. a b Taylor 1969, p. 506.
4. Grossnick and Armstrong 1997
5. Winchester 2004, p. 97.
6. Pictorial and history in Argentine service (Spanish)
Bibliography
-Grossnick, Roy and William J. Armstrong. United States Naval Aviation, 1910-1995. Annapolis, Maryland: Naval Historical Center, 1997. ISBN 0-16049-124-X.
-Meyer, Corwin H. "Grumman Panther". Flight Journal, Oct. 2002.
-Schnitzer, George. Panthers Over Korea. Baltimore, Maryland: Publish America, 2007. ISBN 1-4241-7942-4.
-Sullivan, Jim. F9F Panther/Cougar in action. Carrollton, Texas: Squadron/Signal Publications, 1982. ISBN 0-89747-127-X.
-Taylor, John W.R. "Grumman F9F Cougar". Combat Aircraft of the World from 1909 to the Present. New York: G.P. Putnam's Sons, 1969. ISBN 0-425-03633-2.
-Winchester, Jim, ed. "Grumman F9F Panther". Military Aircraft of the Cold War (The Aviation Factfile). London: Grange Books plc, 2006. ISBN 1-84013-929-3.
Living Warbirds: The best warbirds DVD series.
Source: WikiPedia