Grumman G-21 Goose Videos
Grumman G-21 Goose Video - Crashing on landing
Grumman G-21 Goose Aircraft Information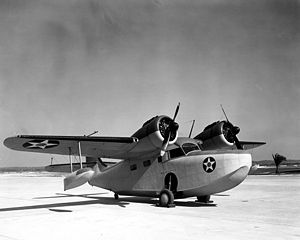 Picture: Grumman G-21 Goose
Role - transport amphibious aircraft
Manufacturer - Grumman
First flight - 1937
Primary users - United States Navy
United States Army Air Forces
Royal Air Force
Royal Canadian Air Force
Number built - 345
The Grumman G-21 Goose amphibious aircraft was designed as an eight-seat "commuter" plane for businessmen in the Long Island area. The Goose was Grumman's first monoplane to fly, its first twin-engined aircraft and its first aircraft to enter commercial airline service. During World War II, the Goose became an effective transport for the US military (including the Coast Guard), as well as serving with many other air forces. During hostilities, the Goose took on an increasing number of combat and training roles. In postwar use, the adaptable little transport continued in use.
Design and development
In 1936, a group of wealthy residents of Long Island, including E. Roland Harriman, approached Grumman and commissioned an aircraft that they could use to fly to New York City.[1] In response the Grumman Model G-21 was designed as a light amphibian transport. The typical Grumman rugged construction was matched to an all-metal, high-winged monoplane powered by two 450 horsepower (340 kW) Pratt & Whitney R-985 Wasp Jr. nine-cylinder, air-cooled radial engines mounted on the leading edge of high-set wings. The deep fuselage served also as a hull and was equipped with hand-cranked retractable landing gear. First flight of the prototype took place on 29 May 1937.[2]
The fuselage also proved versatile as it provided generous interior space that allowed fitting for either a transport or luxury airliner role. Having an amphibious configuration also allowed the G-21 to go just about anywhere, and plans were made to market it as an amphibian airliner.[3] Some had a hatch in the nose, which could remain open in flight.
Modifications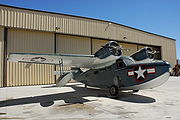 Picture: JRF-1 Goose
There were a number of modifications of the Goose, but the most numerous were those by McKinnon Enterprises, who made three different conversions. The first involved replacing the Goose's engines with four Lycoming GSO-480 piston engines. The second, named "Turboprop Goose" involved replacing the engines with two Pratt & Whitney Canada PT6A turboprops. The third and final variant was the "Turbo-Goose", which was based on the"Turboprop Goose", but with larger windows, and retractable floats on the wings.
New production
In November 2007, Antilles Seaplanes of Gibsonville, North Carolina announced it was restarting production of the Goose.[4] PWC PT6A-34 turboprops will replace the original Pratt & Whitney piston engines,[5] and the airframe and systems will be updated, increasing the seating capacity from eight to ten; the aircraft will be known as the Antilles Super Goose. The first example is now being assembled.[4][6]
Operational history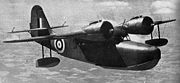 Picture: Goose of the Royal Air Force
Envisioned as corporate or private "flying yachts" for Manhattan millionaires, initial production models normally carried two to three passengers and had a bar and small toilet installed. As well as being marketed to small air carriers, the G-21 was also promoted as a military transport. In 1938, the US Army Air Force purchased the type as the OA-9 (later, in the war years, examples impressed from civilian ownership were designated the OA-13A). The most numerous of the military versions were the United States Navy variants, designated the JRF.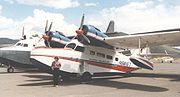 Picture: Grumman G.21 of Alaska Island Air in 1989
The amphibian was soon adopted by the Coast Guard and, during World War II, it also served with the RCAF in the transport, reconnaissance, rescue and training roles. The G.21 was used for air-sea rescue duties by the Royal Air Force (RAF). The RAF, in a common naming convention with all of its aircraft, designated the type as "Goose".
On returning to civilian service, after the war, the Goose found continued commercial use in locations from the wilderness of Alaska to the sunny climes of Catalina. At least one Goose is still in commercial service today. Pen Air operates a daily flight between Dutch Harbor and Akutan in Alaska. Akutan does not have a regular airport, so the Goose lands in the harbor then offloads passengers at a small paved area/boat ramp.
A total of 345 were built, with about 60 still airworthy today, most being in private ownership, some of them operating in modified forms.[7]
Operators
Military operators
Argentina
Bolivia
Brazil
Canada
- Royal Canadian Air Force
Cuba
France
Japan
Paraguay
- Paraguayan Naval Aviation
Peru
- Peruvian Air Force
Portugal
Sweden
United Kingdom
- Royal Air Force
United States
- United States Army Air Corps
- United States Army Air Force
- United States Navy
- United States Coast Guard
Governmental operators
United States
- United States Fish and Wildlife Service operated two aircraft.
Canada
- Royal Canadian Mounted Police[8]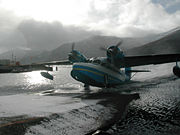 Civil operators
Picture: 1942 Grumman Goose at Akutan, Alaska, operated by PenAir
Australia
- Asiatic Petroleum
British Guiana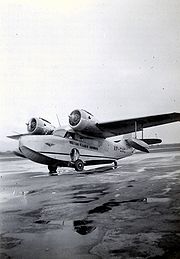 - British Guiana Airways
Picture: British Guiana Govt. Airways Grumman Goose c. 1955. Piarco Airport, Trinidad.
Canada
- Air BC
- Almon Landair Ltd
- European Coastal Airways
- H.J. O'Connell Supplies
- Oakley Air Ltd Canada
- Pacific Coastal Airlines
- Sioux Narrows Airways
- West Coast Air Sevices
Dutch East Indies
- Koninklijke Nederlandsch-Indische Luchtvaart Maatschappij
Fiji
- Yaukuve Resort
Iceland
- Loftleiðir
Norway
United States
- Aero Accessories Inc.
- Air Metal Fabricators
- Alaska Coastal Airlines
- Alaska Coastal-Ellis Airlines
- Alaska Island Air
- Alaska Fish and Game
- Amphib. Inc.
- Antilles Airboats
- Avalon Air Transport
- Baron Aviation
- Caribbean Clipper
- Catalina Air
- Catalina Channel Airlines
- Devcon Construction
- Flight Data Inc.
- Ford Motors
- Goose Aviation
- Gulf Oil
- Kodiak Airways
- Kodiak Western
- North Coast Aero
- Ozark Management
- PenAir
- SouthEast Skyways
- Superior Oil
- Teufel Nursuries
- Tuthill Corporation
- Virgin Islands Seaplane Shuttle
- Waterlines Ltd
- Webber Airlines
Accidents and incidents
- June 22 1972. N1513V of Reeve Aleutian Airways written off at False Pass, Alaska.[9][10]
- September 2, 1978, Charles F. Blair, Jr., former Grumman test pilot and husband to actress Maureen O'Hara was flying a Grumman Goose from St. Croix to St. Thomas when the plane crashed into the ocean due to engine failure. He and three passengers were killed, seven passengers were severely injured.
- On 3 August, 2008, a Grumman Goose of Pacific Coastal Airlines with seven passengers and crew crashed during a flight from Port Hardy to Chamiss Bay. The aircraft was completely destroyed by a fire. There were only two survivors.[11]
- On 16 November, 2008 a Grumman Goose of Pacific Coastal Airlines with 8 passengers and crew crashed during a flight from Vancouver International Airport to Toba Inlet, BC. The plane exploded into a mass of burning wreckage according to the lone survivor. This person was rescued up by the Coast Guard on South Thormanby Island off British Columbia's Sunshine Coast. The company resumed floatplane operations on November 19, 2008.[12]
Specifications (JRF Goose)
General characteristics
- Crew: two
- Length: 38 ft 4 in (11.7 m)
- Wingspan: 49 ft (14.9 m)
- Height: 12 ft (3.7 m)
- Wing area: 375 ft² (34.8 m²)
- Empty weight: 5,571 lb (2,527 kg)
- Loaded weight: 7,200 lb (3,273 kg)
- Max takeoff weight: 8,200 lb (3,720 kg)
- Powerplant: 2x Pratt & Whitney Wasp Junior SB-2 air-cooled radials, 450 hp (340 kW) each
Performance
- Maximum speed: 184 mph (296 km/h)
- Range: 1,050 mi (1,690 km)
- Service ceiling: 21,000 ft (6,400 m)
- Rate of climb: 1,240 ft/min (380 m/min)
- Wing loading: 21.9 lb/ft² (106.9 kg/m²)
- Power/mass: 0.11 hp/lb (0.18 kW/kg)
Armament
- 2 x .50-cal machine guns
- 2 x 250-lb depth charges
Popular culture
- In Jimmy Buffett's first novel, Where is Joe Merchant?, protagonist Frank Bama owned and operated a rebuilt Grumman Goose dubbed the Hemisphere Dancer. (The actual Hemisphere Dancer is a Grumman Albatross that belongs to Buffett and is now the centerpiece for his Margaritaville Cafe restaurant in Orlando, FL).
- A Goose named "Cutter's Goose" is prominent on the 1980s series, "Tales of the Gold Monkey," a TV series starring Stephen Collins, inspired by the movie Only Angels Have Wings.
- A Goose plays central part in Larry Nivens novel Dream Park.
- In the popular Flight Simulation game, Microsoft Flight Simulator X, players can fly a Grumman Goose in multiple liveries. The aircraft is a detailed replica of the plane. Extensive research was done so that the plane was accurately depicted in the game.
Related development
- Grumman Widgeon
References
Notes
1. Antilles Seaplanes Goose history page. Retrieved: 30 August 2008.
2. Aerofiles.com Grumman page. Retrieved: 30 August 2008.
3. Truelson 1976
4. a b Antilles Seaplanes News page. Retrieved 30 August 2008.
5. Super Goose specifications page. Retrieved: 30 August 2008.
6. Antilles Seaplanes page announcing commencement of construction. Retrieved: 30 August 2008.
7. "Seven confirmed dead in B.C. plane crash". canada.com. http://www.canada.com/topics/news/story.html?id=3874032a-97af-458b-ab27-beb7757f27a3. Retrieved 2008-11-17.
8. "Grumman Goose has served coast for many years as 'flying-boat workhorse'". canada.com. http://www.canada.com/topics/news/story.html?id=262732da-ac45-479d-a4e7-0cf5a405bdb6. Retrieved 2008-11-17.
9. NTSB
10. NTSB States 1970 as year!?
11. TheGlobeAndMail.com - 5 dead in B.C. plane crash
12. CBC News - 7 dead in plane crash off B.C. coast - November 16, 2008.
Bibliography
- Thruelsen, Richard. The Grumman Story. New York: Praeger Publishers, Inc., 1976. ISBN 0-275-54260-2.
- Winchester, Jim, ed. "Grumman Goose/Mallard." Biplanes, Triplanes and Seaplanes (The Aviation Factfile). Rochester, Kent, UK: Grange Books plc, 2004. ISBN 1-84013-641-3.
Living Warbirds: The best warbirds DVD series.
Source: WikiPedia