Chengdu FC-1/JF-17 Thunder Video - Warrior in the Sky
Chengdu FC-1/JF-17 Thunder Video - JF-17 Thunder vs. F-16 Falcon
Chengdu FC-1/JF-17 Thunder Aircraft Information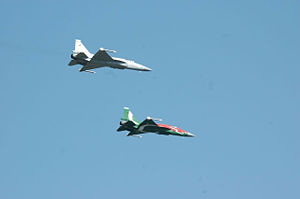 (Image: A JF-17 flypast performance in Islamabad, Pakistan.)
Role: Multi-role combat aircraft
Manufacturer: Chengdu Aircraft Industry Corporation, Pakistan Aeronautical Complex
First flight: 25 August 2003
Introduced: 12 March 2007
Status: Under serial production and in active service with Pakistan Air Force
Primary user: Pakistan Air Force
Produced: In China: June 2007–present
In Pakistan: January 2008–present
Unit cost: US$15-20 million (estimated)
The PAC JF-17 Thunder, also known in China as the Chengdu FC-1 Fierce Dragon,[1] is a light-weight multi-role combat aircraft jointly developed by Chengdu Aircraft Corporation of China and Pakistan Aeronautical Complex of Pakistan. The "JF" and "FC" designations stand for "Joint Fighter" and "Fighter China" respectively.
The first two aircraft were delivered to the Pakistan Air Force on 12 March 2007.[2] The JF-17/FC-1 is designed to be a cost-effective fighter which can meet the tactical and strategic needs of air forces of developing countries. On 22 January 2008, Pakistan started limited serial production of the aircraft at the Pakistan Aeronautical Complex, Kamra. Full-fledged production of JF-17 is expected to start from 2009 after completing testing and avionics evaluation. [3][4][5]
Development
The JF-17 is being built by China's Chengdu Aircraft Industry Corporation (CAC) and Pakistan's Pakistan Aeronautical Complex. The project is expected to cost around US$500 million, divided equally between China and Pakistan. The project is supported by China National Aero-Technology Import & Export Corporation for the Chinese side. Each individual aircraft is expected to have a fly-away cost of around US$8-15 million. Initial development of JF-17 is believed to have been completed in a period of four years,[6] although later improvements to the aircraft design did take up more time. Pakistan has announced that it has 150 aircraft on order, but this may well go up to 275.[7] The JF-17 will replace Pakistan's MiG-21-derived Chengdu F-7, Nanchang A-5 and Dassault Mirage III/Mirage V aircraft currently in service. Azerbaijan[8] and Zimbabwe have already placed orders and eight other countries have expressed interest in purchasing the JF-17 at a recent
military exhibition in Pakistan, according to an official.
Origins
After a successful deal with China's Chengdu Aircraft Corporation (CAC) in the early 1980s resulting in the Chengdu F-7M, the United Kingdom offered a further upgrade to improve the performance of the F-7M by adopting either General Electric F404 or Pratt & Whitney PW 1120 turbofan engines. The radar options would include the Red Fox, a repackaged version of the Blue Fox radar used on Sea Harrier FRS Mk 1, and the Emerson AN/APG-69. Although radar tests were successful, the upgrade was rejected before any engine tests because both the radar and engine cost more than a new J-7 (2 million 1984 United States Dollars). The name Super-7, however, was retained to be used for FC-1/JF-17.
In 1986, Chengdu Aircraft Corporation signed an agreement with Grumman Aerospace to develop an upgraded Chengdu F-7P called "Saber II" for the Pakistan Air Force. Considered a replacement of the abandoned Super-7 project, F-7 was redesigned with side intakes replacing the nose intake. The resulting aircraft looked like a single-seat Guizhou JL-9/FTC-2000. The General Electric AN/APG-67 radar used on the F-20 Tigershark would have been adopted. The program was terminated in 1990 due to the Tiananmen Square protest of 1989.
CAC kept the program alive by providing low-level funding from its own resources. After U.S. military and economic sanctions imposed on Pakistan in 1990 prevented the delivery of advanced F-16 Fighting Falcons, Pakistan again became interested in the continued Super-7 project which eventually evolved into the FC-1/JF-17.
Test flights
The first prototype was rolled out on 31 May 2003, conducted its first taxi trials on 1 July and made its first flight on 25 August of the same year. The third prototype, PT-03, made its first flight in April 2004. It is believed that at some point during these initial test flights, the name Super-7 was replaced by the Chinese designation FC-1 (Fighter China-1) and the Pakistani designation JF-17 (Joint Fighter-17).
The PT-04 prototype of JF-17 successfully completed its first operational flight in Chengdu, China, on Wednesday 10 March 2006.[9] On 28 April 2006, PT-04 made its first flight with fully operational avionics. This prototype of JF-17 is configured as a multi-role fighter-bomber, equipped with advanced avionics and capable of carrying multiple air-to-air and air-to-ground weapons. Pakistan received the first consignment of 2 aircraft on 23 March 2007. China was supposed to start official production in June 2007 while Pakistan Aeronautical Complex was planning to start manufacturing the JF-17 in 2008.
Evolution
The fourth prototype version was redesigned, with divertless supersonic intakes (DSI) being the most notable new feature; the DSI design diverts turbulent boundary layer airflow away from the engine inlet.[10][11] The wing leading edge extensions (LEX) were enlarged to improve flying characteristics. An electronic warfare fairing was added to the tip of the vertical stabiliser. Two sensors were fitted to the base of the vertical stabiliser to detect approach of enemy missiles.
At the 2006 Zhuhai Airshow, China, a Unit Training Device (UTD) appearing identical to the earlier mock-up of the JF-17 was publicly displayed.
A dual-seat combat-capable training variant was initially scheduled to begin flight testing in 2006, however the current plans for this variant are unknown.[12] It has been stated by some sources that work on this variant has not yet started because the priority of the Pakistan Air Force is to induct a large number of the single-seat variant to replace old aircraft.
Prototypes and their roles
Designation Role
Prototype-01 (PT-01) Flight performance verification
Prototype-02 (PT-02) Ground and load testing (static ground testing)
Prototype-03 (PT-03) Flight performance verification
Prototype-04 (PT-04) Weapons integration and avionics testing
Prototype-05 (PT-05) Fatigue testing (static ground testing)
Design
Airframe and flight control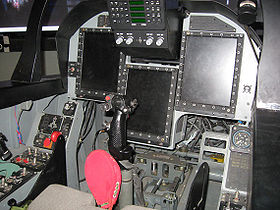 (Image: The JF-17 cockpit on display. The centre stick, up-front control panel, three multi-function displays and part of the throttle stick are visible, as are various switches and indicator lights)
JF-17's airframe is constructed from aluminium alloys to keep both costs and weight down while providing high structural strength. High strength steel and titanium alloys are partially adopted in some critical areas. Plans are in place to reduce weight further by increasing the use of carbon composite materials in the airframe.
The mid-mounted wings are of cropped-delta planform, giving the aircraft good low speed handling characteristics while reducing drag for high speed flight. Near the wing root are strakes, also called leading edge root extensions. These generate a vortex which has the effect of providing more lift to the wing at high angles of attack encountered during combat maneuvers. The wings make use of slats and flaps to increase lift for carrying heavy loads during take off and land safely in as short a distance as possible. Air-launched weaponry, mission/avionics pods and droptanks carrying extra fuel can be mounted on the eight hardpoints underneath the wings and fuselage.
A conventional tri-plane empennage arrangement is incorporated, with all-moving stabilator tail-planes to give high maneuverability and control, especially at supersonic speed. A conventional single fin and rudder are present, with twin ventral fins underneath the rear of the fuselage.
The retractable landing gear is of tricycle arrangement, with a single steerable nosewheel under the cockpit between the air intakes and two main gear wheels mounted under the fuselage, between the wings.
Two bifurcated air inlets, one on either side of the fuselage behind and below the cockpit, provide the jet engine's air supply. The position and shape of the inlets is designed to give the required airflow to the jet engine during maneuvers involving high angles of attack.
JF-17 has a composite flight control system (FCS), comprising of conventional controls with stability augmentation in the yaw and roll axis and a digital fly-by-wire (FBW) system in the pitch axis. The leading edge slats/flaps and trailing edge flaps are adjusted by the flight control system automatically during maneuvering to increase turning performance.[13] Some sources state that the system will be upgraded to provide fly-by-wire flight control in the roll and yaw axis also.
Cockpit and avionics
Overview
The aircraft cockpit is covered by a transparent acrylic canopy designed to give the pilot a good all-round field of view. The pilot sits on a rocket boosted ejection seat which is zero-zero capable, meaning the pilot can safely eject even at zero speed and zero altitude.
The pilot uses a centre stick to control the aircraft in pitch and roll. Rudder pedals control the aircraft's yaw motion (see flight dynamics). A throttle stick to control the engine throttle setting is located to the left of the pilot.
The cockpit incorporates "hands on throttle and stick" (HOTAS) controls to allow operation of all essential aircraft systems, especially combat-related systems such as radar and weapons, without the pilot having to remove his hands from the controls.
Avionics
The software used in the avionics systems of JF-17 totals more than one million lines of instructions, incorporating the concept of open architecture. Rather than using the common Ada programming language, which is optimised for security, the JF-17 software is written using the more commonly used C++ programming language to better utilize the large number of civilian software programmers available. The avionics of JF-17 prototypes used the Motorola 88000 microprocessor originally, but can be changed to other types of the same class. The fourth prototype of JF-17, PT-04, had many more advanced avionics features than its predecessors; these are included on the production version of the aircraft.
JF-17 uses a glass cockpit incorporating an Electronic Flight Instrument System (EFIS) and related Head-Up Display (HUD).
The EFIS is made up of three 8 inch by 12 inch multi-function displays (MFD) arranged side by side, with the centre display slightly lower down than the others. Each display has a portrait orientation (height greater than width) and each is a "smart" display, meaning they can be configured to show any of the available information.
The wide-angle holographic smart HUD has a minimum total field of view of 25 degrees. [14] A separate monochrome up-front control panel (UFCP) is located between the HUD and the centre display.
The People's Liberation Army Air Force (PLAAF) experienced problems with the HUDs of its Russian designed combat aircraft, these tended to fog up due to deployment in humid sub-tropical and tropical zones. The HUD system fitted to JF-17 was developed to ensure this problem would not occur when deployed in any environment.
Western HUDs can be incorporated directly onto the aircraft, if desired by the user, with little effort due to the modular avionics design and the adoption of the MIL-STD-1553B databus architecture.
Normally radar information is displayed on the head-down multi-function displays, but JF-17 can also project radar images onto the HUD. This enables the pilot to keep his eyes focused at infinity so that he can simultaneously view radar information and monitor the airspace around him, without having to re-focus his eyes. Monochrome images from electro-optical navigation/targeting pods carried by JF-17 can also be projected onto the HUD.
It is known that a helmet-mounted display (HMD) (or helmet-mounted sight) will be installed on JF-17, although the exact type is yet to be confirmed. This system assists in targeting enemy aircraft by projecting targeting information onto the pilot's visor and tracking the movements of his head/eyes.
Communication
JF-17 is equipped with two communication radios, one of them having capacity for data linking. The data link can be used to exchange data with ground control centres, AWACS/AEW aircraft and other combat aircraft also equipped with data links.
The ability to data link with other "nodes" such as aircraft and ground stations allows JF-17 to become part of a network, improving the situational awareness of the pilot as well as other entities in the network (see network-centric warfare).
Self-protection systems
JF-17 is fitted with a radar warning receiver (RWR) that gives data to the pilot on direction and proximity of enemy radars, as well as an onboard electronic counter-measures (ECM) suite that interferes with these radars to help stop them targeting the aircraft. These systems can be enhanced by the addition of externally-mounted avionics pods:
BM/KG300G self protection jamming (ECM) pod
KZ900 electronic reconnaissance (SIGINT) pod
They also allow the aircraft to take on the roles of aerial reconnaissance and suppression (or destruction) of enemy air defence (SEAD) when armed with the appropriate weaponry.
A missile approach warning (MAW) system uses several optical sensors mounted on the airframe that detect the rocket motors of missiles. Data collected by the MAW system, such as direction of inbound missiles and the time to impact (TTI), is shown on the cockpit displays and HUD to warn the pilot.
A countermeasure dispensing system releases decoy flares and chaff to help the aircraft evade enemy missiles and radars trying to track/destroy the aircraft.
Radar
It has been disclosed by PAF Air Chief Marshal Tanvir Mahmood Ahmed that Pakistan's JF-17s are equipped with the KLJ-7 radar.[15] This is a pulse doppler fire-control radar developed by China's Nanjing Research Institute of Electronic Technology (NRIET). Its multiple modes mean that it can engage targets in the air, on the ground or out at sea. Using the track-while-scan (TWS) mode, enemy aircraft can be engaged at beyond visual range (BVR) while the radar continues scanning for new threats. Close-in aerial combat and ground surveillance modes are also available.
This radar can reportedly manage up to 40 targets, monitor up to 10 of them in track-while-scan (TWS) mode and simultaneously fire on two BVR targets. The detection range for targets with a radar-cross section of up to 3 m2 is stated to be 120 km, or 50 km in look-down mode, while surface sea targets can be detected at up to 135 km. Target data is displayed on the multi-function display screens in the cockpit.
During the early prototype stage a number of radar systems were tested for both production and possible export versions. Other radars have also been considered for export versions of the aircraft, one of these is the Italian FIAR Grifo S7, which was tailored to meet the PAF's initial requirements of the Super-7.
Weaponry
JF-17 can be armed with a total of 3,629 kg (8,000 lb) of air-to-air and air-to-ground weaponry mounted externally on the aircraft's seven hardpoints.[16] One hardpoint is located under the fuselage between the main landing gear, two underneath each wing and one on each wing-tip. The wing-tip hardpoints are limited to carrying air-to-air missiles, although the rest can carry most types of weaponry. The under-fuselage and inboard under-wing hardpoints can also carry droptanks containing extra fuel (see Propulsion and fuel system). The aircraft's internal armament comprises of one GSh-23-2 twin-barrel 23mm cannon mounted under the port side air intake, which can be replaced with a GSh-30-2 30mm twin-barrel cannon.[17] [18] [19]
Being primarily an export-orientated fighter, JF-17's tactical/mission avionics, i.e. weaponry and sensor avionics, support the MIL-STD-1760 data bus so that Western systems can easily be integrated with the aircraft.[20] This allows JF-17 to effectively use Western as well as Chinese sensors and weapon systems such as radars, electronic warfare suites, missiles and bombs.[21]
Advanced beyond visual range (BVR) air-to-air missiles such as the Chinese PL-12/SD-10, as well as other short range close-combat air-to-air missiles such as the Chinese PL-9 and the South African A-darter can be deployed.
Air-to-ground weapons such as unguided rockets, unguided gravity bombs and precision-guided munitions (PGM) such as satellite guided bombs can also be utilised.
For infra-red or laser-guided munitions, electro-optical targeting pods must be carried externally, such as the Chinese Blue Sky navigation/attack pod or the FILAT (Forward-looking Infra-red Laser Attack Targeting) pod. These pods enable JF-17 to attack targets in any weather during day or night.
Certain types of weapons, such as the Russian KAB series of bombs, need special adapter rails to be fitted to the aircraft's hardpoints.
Propulsion and fuel system
The JF-17 is powered by a single Russian Klimov RD-93 turbofan engine. This engine is a variant of the RD-33 engine used on the Mig-29 combat aircraft. The turbofan engine gives more thrust and significantly lower specific fuel consumption than the turbojet engines fitted to older combat aircraft being replaced by JF-17. The engine's air supply is provided by two bifurcated air inlets, their design being optimised to provide ample airflow to the engine even at high angles of attack encountered during violent combat maneuvers.
The advantages of using only one engine are that both maintenance time and cost are significantly lower than twin-engined fighters. The aircraft's small size and low weight gives a thrust-to-weight ratio of 0.99, comparable to many of its contemporaries such as the Dassault Mirage 2000.
After Indian protests, Russia and China had signed an end-user certificate for the RD-93 engines preventing China from exporting the JF-17 to Pakistan. In 2007 however, the President of Russia, Vladimir Putin made a surprise move and intervened, allowing re-export of the engines to Pakistan and six other countries.[22][23] Following this the former Russian Prime Minister Mikhail Fradkov visited Pakistan to boost relations between the two countries.[24]
JF-17's fuel system comprises of internal fuel tanks located in the wings and fuselage. These are refuelled through a single point pressure refuelling system (see turbine fuel systems) and can hold a maximum of 5,130 lb of fuel.[25] Internal fuel storage can be supplemented by external fuel tanks. One 800 litre droptank can be mounted on the aircraft's centerline hardpoint under the fuselage and two 800 litre or 1100 litre droptanks can be fitted to the wings, each mounted on the two inboard under-wing hardpoints.[25]
The fuel system is also compatible with aerial refuelling. When fitted with its extendable refuelling probe the aircraft can take on fuel from a tanker aircraft, increasing its range and loitering time significantly. Apart from the first 12 aircraft, all production JF-17s are expected to be fitted with extendable refuelling probes.
Planned upgrades
The first 50 JF-17s entering Pakistan Air Force service will most likely incorporate only Chinese avionics and other systems. Once JF-17 enters full production, extendable in-flight refueling probes will be added. Minor airframe modifications to add two more external hardpoints have also been mentioned by some sources.
Subsequent upgrades will be made on PAF JF-17s approximately every five years. Planned additions include:
Greater use of composite materials in the airframe to decrease weight.
Chinese Infra-Red Search and Track (IRST) system, possibly the Type Hongguang-I Electro-optical radar (??-??????) originally developed for the Chengdu J-10 fighter by Sichuan Changhong Electric Appliance Corporation. JF-17 is already compatible with this system but currently it must be carried externally in a pod mounted on one of the hardpoints.
New engine; most likely the Chinese WS-13 TianShan, although the PAF is considering fitting European powerplants such as the French Snecma M88 to its aircraft.
Minor airframe modifications to reduce the aircraft's radar cross-section by adding stealthy features.[26][27]
Beyond the initial 50 PAF JF-17s, the remaining production aircraft may also be equipped with European avionics, radars and weaponry. Pakistan had begun negotiations with British and Italian defence firms over potential avionics and radars for JF-17 during initial development. Some of the radar options for JF-17 are the Italian Galileo Avionica Grifo S7 [28] and the French Thomson-CSF RC400 (a variant of the RDY-2), along with the MBDA MICA IR/RF short/medium range air-to-air missiles.[29]
Operational history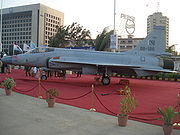 (Image: A JF-17 on display at the IDEAS 2008 defense exhibition in Karachi, Pakistan.)
Small batch production began in China on June 2006. Two JF-17 were delivered to the Pakistan Air Force (PAF) prior to the 23 March 2007 parade and another six were delivered in 2008. Serial production in 2008 was planned at an annual 10-15 planes per year, while from 2009 it is planned to be at 25-30 planes per year.
On 14 August 2006, the ex-President of Pakistan Pervez Musharraf declared in his Independence Day speech that the JF-17 would be flying in Pakistani skies by 23 March 2007. The first two JF-17s were delivered to Pakistan Air Force on 12 March 2007.[2] The aircraft's first public appearance was on 23 March 2007 during a fly-past performance by the PAF, as part of the Pakistan Day Joint Services Parade in Islamabad.[30]
On 31 March 2007, the PAF Chief of Air Staff, Air Chief Marshal Tanvir Mahmood Ahmed, made the following statements: "PAF will soon induct fourth and fifth generation high-tech fleet of fighter-bomber aircraft with the aim to modernize the country's air force, which includes the induction of 10 to 12 squadrons of JF-17 Thunder aircraft." "During this year, six more JF-17 aircraft will be received from China and in 2008 the serial production of the aircraft will commence at Pakistan Aeronautical Complex Kamra." "Fifteen aircraft will be manufactured in 2008, while 20 in the next year with the aim to achieve capability to manufacture 25 to 30 aircraft per year," also hinting the PAF is set to acquire up to 250 JF-17 Thunder aircraft.[31][32]
In 2007, after a visit to China, the ex-Prime Minister of Pakistan Shaukat Aziz said in a press conference held in Islamabad that serial production of JF-17 would soon start in 2008 and Pakistan would like to sell fourth generation JF-17 multirole combat aircraft to those interested. The Prime Minister also confirmed that the JF-17s in Pakistan had completed 500 combat missions/sorties.[33]
On 7 March 2009, an agreement was signed between the Pakistan Air Force and the Chinese export corporation CATIC that included an order of 42 JF-17 combat aircraft.[34]
Potential customers
The Azerbaijan Air Force has negotiated with Pakistan for the purchase of 26 JF-17, worth between 16 and 18 million dollars each.[8][35] The Sudanese Air Force is also reported to be negotiating for 12 aircraft.[36] The Zimbabwe Air Force reportedly ordered 12 JF-17 in 2004, but there are no current sources that confirm payment or intent of delivery.[37][38][39]
Variants
PT-01, PT-02, PT-03 - single-seat initial prototype variant
PT-04, PT-05 - single-seat final prototype variant, based on PT-03 but redesigned with larger leading edge root extensions, electronic warfare fairing fitted to vertical stabiliser, divertless supersonic intakes, etc. (see JF-17 evolution)
JF-17 / FC-1 - production single-seat variant, based on PT-04 redesign
Operators
Azerbaijan
Azerbaijan Air Force - 26 ordered [40][8]
China
People's Liberation Army Air Force - Under evaluation
Pakistan
Pakistan Air Force - At least 8 small batch production/serial production aircraft delivered, 150 aircraft currently ordered and a total of 275 aircraft expected.[41][42][32] According to Air Chief Marshal Tanvir Mahmood Ahmad of the PAF, the first JF-17 squadron will be inducted into the PAF fleet in the first quarter of 2009.[43]
Specifications (JF-17/FC-1)
General characteristics
Crew: 1 (2 for proposed twin-seater)
Length: 14.0 m [44] (45.9 ft)
Wingspan: 9.45 m [44] (31 ft)
Height: 4.77 m (15 ft 8 in)
Wing area: 24.4 m² [44] (263 ft²)
Empty weight: 6,411 kg [45] (14,134 lb)
Loaded weight: 9,100 kg including 2× wing-tip mounted air-to-air missiles [46] [47] (20,062 lb)
Max takeoff weight: 12,700 kg [46] (28,000 lb)
Powerplant: 1× Klimov RD-93 turbofan [48]
Dry thrust: 49.4 kN [49] [50] (11,106 lbf)
Thrust with afterburner: 84.4 kN [51] [52] (18,973 lbf)
G-limit: +8.5 g [16]
Internal Fuel Capacity: 2300 kg (5,130 lb) [53]
Performance
Maximum speed: Mach 1.8 [54] [55]
Combat radius: 1,352 km [56] (840 mi)
Ferry range: 3,000 km [57] [58] (2,175 mi)
Service ceiling: 16,700 m [59] (54,790 ft)
Thrust/weight: 0.99 [60] [61]
Armament
Guns: 1× 23mm internal GSh-23-2 twin-barrel cannon (can be replaced with 30mm GSh-30-2 twin-barrel cannon)
Hardpoints: 7 in total (4× under-wing, 2× wing-tip, 1× under-fuselage) with a capacity of 3,629 kg (8,000 lb) external fuel and ordnance,
Rockets: 57mm/90mm unguided rocket pods [64]
Missiles:
Air-to-air missiles: PL-5E, PL-9C, PL-12 / SD-10
Air-to-surface missiles: anti-radiation missiles; anti-ship missiles (AM-39 Exocet); cruise missiles (Ra'ad ALCM); etc. [63]
Bombs:
Gravity/Unguided bombs: general purpose (Mk-82, Mk-84); anti-runway (Matra Durandal); etc. [62]
Precision guided munitions: laser-guided (GBU-10, GBU-12, LT-2); satellite-guided; etc. [62]
Cluster bombs: anti-armour (CBU-100/Mk-20 Rockeye); etc. [62]
Others:
Up to 3 external fuel drop-tanks (1× under-fuselage 800 litres, 2× under-wing 800/1100 litres each) for extended range/loitering time
Externally mounted avionics pods for EW, ECM, ELINT, FLIR and targeting:
-BM/KG300G self-protection jamming (ECM) pod
-KZ900 electronic reconnaissance (SIGINT) pod
-Blue Sky navigation/attack pod
-FILAT (Forward-looking Infra-red Laser Attack Targeting) pod
Avionics
-KLJ-7 Radar
Related development
Chengdu J-7
Chengdu J-10
References
1. Note: Some analysts refer to the J-10 Vigorous Dragon (F-10 Vanguard) as the "Fierce Dragon".
2. Anon. (12 March,2007) Two JF-17s Delivered to Pakistan. GEO News.
3. JF-17 production commences - Jane's Air Forces News
4. Urdu
5. Sub-assembly of Thunder aircraft begins at Kamra -DAWN - Top Stories; January 23, 2008
6. Anon. (2003) JF-17 Thunder/FC-1. Global Security.
7. http://www.dailytimes.com.pk/default.asp?page=2008\11\29\story_29-11-2008_pg5_4
8. Azeri Defence Spending Under Fire
9. Anon. (11 May, 2006) 4th Prototype JF-17 Thunder aircraft successfully completed inaugural flight JF-17 Thunder. Pak Tribune.
10. Anon. (12 May, 2006) JF-17 Thunder. Pakistan Defence - JF-17 Multirole Aircraft.
11. Anon. (30 Dec, 2006) FC-1/JF-17 Multirole Fighter Aircraft. Sino Defence.
12. MILAVIA Aircraft - Chengdu FC-1/JF-17 Thunder
13. http://www.pac.org.pk/amfsite-final/jf17specifications.html
14. http://www.pac.org.pk/amfsite-final/jf17specifications.html
15. MILAVIA News - JF-17 Arrived in Pakistan
16. a b Pakistan Aeronautical Complex
17. MILAVIA Aircraft - Chengdu FC-1/JF-17 Thunder Specifications
18. FC-1/JF-17 Specifications - SinoDefence.com
19. FC-1/JF-17 Specifications - SinoDefence.com
20. http://www.pac.org.pk/amfsite-final/jf17specifications.html
21. http://www.defensenews.com/story.php?i=3938427
22. Russia President allows re-export of engines to Pakistan.
23. Chinese Fighter Jets to Reach Pakistan.
24. Russian Prime Minister visits Pakistan to boost relations.
25. a b JF-17 Specifications
26. Anon. JF-17 Thunder. Pakistan Aeronautical Complex.
27. Anon. JF-17 Thunder - Specifications. Pakistan Aeronautical Complex.
28. Anon. Italian Grifo family. Sensors and Airborne Systems.
29. http://www.defensenews.com/story.php?i=3938427
30. Anon. (24 March, 2007) JF-17 Thunder main focus of attention at Pak Day fly-past. Pak Tribune.
31. Pub. (31 March, 2007) PAF to induct high-tech aircraft in numbers soon; aging fleet to be replaced till 2015: Air Chief. APP/Aaj TV News.
32. a b Anon. (31 March, 2007) PAF to seek more Chinese aircraft, says air chief. The News, Pakistan.
33. Tariq, Iqbal (23 April, 2007) Pakistan wants to sell JF-17 Multirole Fighter. Pakistan Defence.
34. Pak, China sign agreement for production of JF-17The News 2009-03-08
35. Azerbaijan's military aviation opportunities
36. [1]
37. http://www.zimbabwesituation.com/jun10_2004.html
38. IISS Military Balance 2006
39. [2]
40. Azerbaijan's military aviation opportunities
41. http://www.sinodefence.com/special/arms-trade/export.asp
42. http://www.dailytimes.com.pk/default.asp?page=2008\11\29\story_29-11-2008_pg5_4
43. http://www.defenseindustrydaily.com/stuck-in-sichuan-pakistani-jf17-program-grounded-02984/
44. 2008 Aviation Source Book, Aviation Week & Space Technology, January 28, 2008
45. http://www.pac.org.pk/amfsite-final/jf17.html
46. Frawley, Gerald. "Chengdu FC-1", The International Directory of Military Aircraft, 2002/2003. Aerospace Publications, 2002. ISBN 1-875671-55-2.
47. http://www.pac.org.pk/amfsite-final/jf17specifications.html
48. http://www.pac.org.pk/amfsite-final/jf17.html
49. http://www.pac.org.pk/amfsite-final/jf17.html
50. http://www.sinodefence.com/airforce/fighter/fc1_specs.asp
51. http://www.pac.org.pk/amfsite-final/jf17.html
52. http://www.jf-17.com/specifications.htm
53. http://www.pac.org.pk/amfsite-final/jf17specifications.html Pakistan Aeronautical Complex
54. [3]
55. http://cnair.top81.cn/J-10_J-11_FC-1.htm
56. http://www.pac.org.pk/amfsite-final/jf17.html
57. http://www.sinodefence.com/airforce/fighter/fc1_specs.asp
58. [4]
59. http://www.sinodefence.com/airforce/fighter/fc1_specs.asp
60. http://www.pac.org.pk/amfsite-final/jf17.html
61. http://www.pac.org.pk/amfsite-final/jf17specifications.html
62. http://www.pac.org.pk/amfsite-final/jf17.html
63. http://www.pac.org.pk/amfsite-final/jf17.html
64. http://www.wdif.net/air/fc-1-jf-17-multirole-fighter-aircraft-7.html
Living Warbirds: The best warbirds DVD series.
Source: WikiPedia