North American FJ-1 Fury Aircraft Information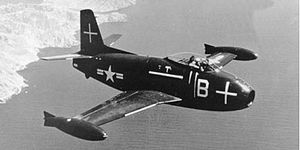 Picture: An FJ-1 Fury in 1947
Role - Fighter aircraft
National origin - United States
Manufacturer - North American Aviation
First flight - 11 September 1946
Introduced - October 1947
Primary users - United States Navy
United States Marine Corps
Number built - 31 (including prototype)
The North American FJ-1 Fury was the first operational jet aircraft in United States Navy service, and was developed by North American Aviation as the NA-135.[1] The FJ-1 was an early transitional jet of limited success which carried over similar tail surfaces, wing and canopy derived from the piston-engined P-51 Mustang. The evolution of the design to incorporate swept wings would become the basis for the land-based XP-86 prototype of the United States Air Force's enormously influential F-86 Sabre, which itself formed the basis for the Navy's carrier-based FJ-2/-3 Fury.
Design and development
Ordered in late 1944 as the XFJ-1 in competition with proposals from Douglas and Vought, the Fury began as a straight-wing, tricycle gear fighter with a single turbojet passing through the fuselage. The wing, empennage and canopy strongly resembled that of the piston-engined P-51 Mustang, North American Aviation's highly successful World War II fighter.
The first flight of the prototype XFJ-1 took place on 11 September 1946, with the first of thirty deliveries beginning in October 1947. The Fury's first landing on an aircraft carrier was made 10 March 1948 aboard USS Boxer. Flown operationally by Navy squadron VF-5, the FJ-1 pioneered jet-powered carrier operations and underscored the need for catapult-equipped carriers. The Fury was capable of launching without catapult assistance, but on a crowded flight deck the capability was of small practicality. In reality, taking off without a catapult launch, pitched the FJ-1 into a perilous, slow climb that was considered too risky for normal operations.[2]
As straight wings were seen at the time as the only way to ensure the low speed and stability needed for carrier landings, the FJ-1 used a straight wing. No provision for wing-folding had been made as dive brakes mounted in the wings made that option unfeasible. In order to conserve carrier deck space, a unique "kneeling" nose undercarriage along with a swivelling "jockey wheel" allowed the FJ-1 to be stacked tail-high, close to another FJ-1.[3]
Although ordered into production, the initial order for 100 units was trimmed to only 30 aircraft which were mainly used in testing at NAS North Island, with VF-5A, later redesignated VF-51, operated the type in operational service beginning in August 1948. Although VF-51 went to sea on Boxer by May 1949, the FJ-1s were phased out in favor of the new F9F-3 Panther.[4]
Ending its service career in US Naval Reserve units, the FJ-1 eventually was retired in 1953. The one highlight in its short service life was VF-51's win in the Bendix Trophy Race for jets in September 1948. The unit entered seven FJ-1s, flying from Long Beach, California to Cleveland, Ohio, with VF-51 aircraft taking the first four places, ahead of two California ANG F-80 Shooting Stars.[1]
Variants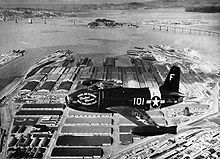 Picture: A U.S. Navy FJ-1 Fury of the Oakland Naval Air Reserve flies over Oakland, California in 1950.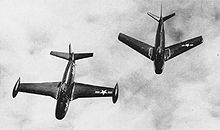 Picture: FJ-1 and FJ-2 in 1952
XFJ-1
Prototype aircraft, powered by a 3,820 lbf (17 kN) General Electric J35-GE-2 turbojet engine, three built.
FJ-1 Fury
Single-seat fighter aircraft, powered by a 4,000 lbf (17.8 kN) Allison J35-A-2 turbojet engine, armed with six 0.50 in (12.7 mm) machine guns, 30 built.
Specifications (FJ-1)
General characteristics
Crew: 1
Length: 34 ft 5 in (10.48 m)
Wingspan: 38 ft 2 in (11.63 m)
Height: 14 ft 10 in (4.52 m)
Wing area: 221 ft² (20.5 m²)
Empty weight: 8,843 lb (4,010 kg)
Loaded weight: 15,118 lb (6,854 kg)
Powerplant: 1× Allison J35-A-2 turbojet, 4,000 lbf (17.8 kN)
805 gal (3018 l)
Fuel provisions Internal fuel load: 465 gal (1,743 l), Wing Tip Tanks: 2 × 170 gal (644 l) JP-4 fuel Performance
Maximum speed: 547 mph at 9,000 ft (880 km/h at 2,743 m)
1,496 mi (with external tanks). (2,407 km)
Range: 1,496 mi, (2,407 km)
Service ceiling: 32,000 ft. (9,753 m)
Rate of climb: 3,300 ft/min at sea level (1,005 m/min)
Thrust/weight: 0.38
Stalling speed (power off): 121 mph (106 kn, 194 km/h)
Armament
Guns: 6 × 0.50 in (12.7 mm) M2 Browning machine guns (1,500 rounds in total)
Related development
P-51 Mustang
T-2 Buckeye
F-86 Sabre
FJ-2/-3 Fury
FJ-4 Fury
Comparable aircraft
Dassault Mystère
F9F Panther
FH Phantom
F-84 Thunderjet
Hawker Sea Hawk
Saab Tunnan
Supermarine Attacker
References
Notes
1. a b "The FJ-1 Fury." Retrieved: 29 April 2008.
2. "North American FJ-1 Fury – carrier-borne fighter." aviastar.org. Retrieved: 29 April 2008.
3. "FJ Fury." boeing.com. Retrieved: 29 April 2008.
4. "FJ Fury." globalsecurity.org. Retrieved: 29 April 2008.
Bibliography
Taylor, John, W.R., ed. Jane's All the World's Aircraft 1965-1966. London: Jane's All the World's Aircraft, 1967. ISBN 0-71061-377-6.
Wagner, Ray. The North American Sabre. London: Macdonald, 1963. No ISBN.
Winchester, Jim, ed. Military Aircraft of the Cold War (The Aviation Factfile). London: Grange Books plc, 2006. ISBN 1-84013-929-3.
Living Warbirds: The best warbirds DVD series.
Source: WikiPedia