More North American SNJ-4 Videos 1
North American Aviation SNJ-4 - N75964
Manufacturer: North American
Model: SNJ-4
Year built: 1943
Serial Number: 88-9830
Number of Seats: 2
Number of Engines: 1
Engine Type: Reciprocating
Engine: P&W R1340 Series
North American Aviation SNJ-4 (T-6 Texan Variant) Aircraft Information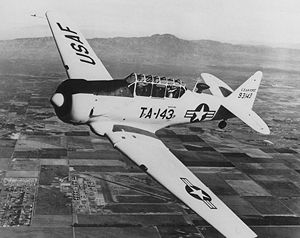 (Image: T-6 Texan/SNJ/Harvard)
Role: Trainer aircraft
Manufacturer: North American Aviation
First flight: 1 April 1935
Number built: 15,495
Variants: CAC Wirraway
The T-6 Texan was a single-engine advanced trainer aircraft designed by North American Aviation, used to train fighter pilots of the United States Army Air Forces, United States Navy, Royal Air Force and other air forces of the British Commonwealth during World War II. The T-6 is known by a variety of designations depending on the model and operating air force. The USAAC called it the "AT-6", the US Navy, the "SNJ", and British Commonwealth air forces, the Harvard. It remains a popular warbird aircraft.
Development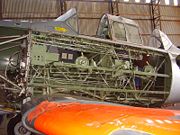 (Image: Harvard under restoration exposing internal structure)
The T-6 originated from the North American NA-16 prototype (first flown on April 1, 1935) which, modified as the NA-26, was submitted as an entry for a USAAC "Basic Combat" aircraft competition in March, 1937. The first model went in to production and 180 were supplied to the USAAC as the BC-1 and 400 to the RAF as the Harvard I. The US Navy received 16 modified aircraft, designated the SNJ-1, and a further 61 as the SNJ-2 with a different engine.
A further 92 BC-1A and three BC-2 aircraft were built before the shift to the "advanced trainer" designation, AT-6, which was equivalent to the BC-1A. The differences between the AT-6 and the BC-1 were new outer wing panels with a swept forward trailing edge, squared-off wingtips and a triangular rudder, producing the definitive Texan appearance. After a change to the rear of the canopy, the AT-6 was designated the Harvard II for RAF/RCAF orders and 1,173 were supplied by purchase or Lend Lease, mostly operating in Canada as part of the Empire Air Training Scheme.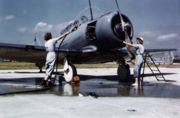 (Image: WAVES washing a SNJ at NAS Jacksonville.)
Next came the AT-6A which was based on the NA-77 design and was powered by the Pratt & Whitney R-1340-49 Wasp radial engine. The USAAF received 1,549 and the US Navy 270 (as the SNJ-3). The AT-6B was built for gunnery training and could mount a .30 in machine gun on the forward fuselage. It utilised the R-1340-AN-1 engine which was to become the standard for the remaining T-6 production. Canada's Noorduyn Aviation built a R-1340-AN-1 powered version of the AT-6A which was supplied to the USAAF as the AT-16 (1,500 aircraft) and the RAF/RCAF as the Harvard IIB (2,485 aircraft), some of which also served with the Fleet Air Arm and Royal Canadian Navy.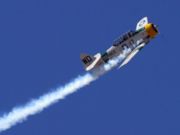 (Image: A SNJ-5 variant flying in an airshow in 2004)
In late 1937 Mitsubushi purchased two NA-16's as technology demonstrators and possibly a licence to build more. However the aircraft developed by Watanabe/Kyushu as the K10W1 (Allied code name Oak) bore no more than a superficial resemblance to the North American design. It featured a full monocoque fuselage as opposed to the steel tube fuselage of the T-6 and NA-16 family of aircraft, as well as being of smaller dimensions overall and had no design details in common with the T-6. It was used in very small numbers by the Imperial Japanese Navy from 1942 onwards. The IJA did not operate any, as they had other aircraft that they used for training. After the war the Japanese Air Self Defense Force operated Texans.
The NA-88 design resulted in 2,970 AT-6C Texans and 2,400 as the SNJ-4. The RAF received 726 of the AT-6C as the Harvard IIA. Modifications to the electrical system produced the AT-6D (3,713 produced) and SNJ-5 (1,357 produced). The AT-6D, redesignated the Harvard III, was supplied to the RAF (351 aircraft) and Fleet Air Arm (564 aircraft). Subsequently the NA-121 design with a completely clear rearmost section on the canopy, gave rise to 25 AT-6F Texans for the USAAF and 931, as the SNJ-6 for the US Navy. The ultimate version, the Harvard 4, was produced by Canada Car and Foundry during the 1950s, and supplied to the RCAF, USAF and Bundeswehr.
A total of 15,495 T-6s of all variants were built.
Operational history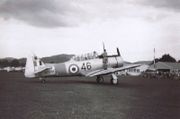 (Image: RNZAF North American Harvards at Onerahi Aerodrome, near Whangarei, New Zealand in 1961.)
During the Korean War and to a lesser extent, the Vietnam war, T-6s were pressed into service as forward air control aircraft. These aircraft were designated T-6 "Mosquito"s.[1] The RAF used the Harvard in Kenya against the Mau Mau in the 1950s where they operated with 20 lb bombs and machine guns against the gangs. Some operations took place at altitudes around 20,000 ft asl. A Harvard was the longest-serving RAF aeroplane, with an example, taken on strength in 1945, still serving in the 1990s (as a chase plane for helicopter test flights - a role the Shorts Tucano's high stall speed was ill-suited for). The T-6G was also used in a light attack or counter insurgency role by France during the Algerian war in special Escadrilles d'Aviation Légère d'Appui (EALA), armed with machine guns, bombs and rockets. At its peak there were 38 EALA's active. The largest unit was the Groupe d'Aviation Légère d'Appui 72, which consisted of up to 21 EALAs. Portugal also used ex-French aircraft during the Portuguese Colonial War.
Since the Second World War, the T-6 has been a regular participant at air shows, and was used in many movies. For example, in Tora! Tora! Tora! and The Final Countdown, converted single-seat T-6s painted in Japanese markings represent Mitsubishi Zeroes. The New Zealand Warbirds "Roaring 40s" aerobatic team use ex-Royal New Zealand Air Force Harvards. The Reno National Air Races also has a class specifically for the T-6 during the National Air Races each year.
Variants
BC-1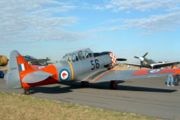 BC-1
Basic Combat trainer version initial production version with 600hp R-1340-47 engine, 177 built
(Image: AT-6C Harvard IIA in RNZAF markings)

BC-1A
Same as BC-1 but with semi-monocoque rear fuselage, squared-off wingtips and vertical tail surfaces, 93 built.

BC-1B
One BC-1A fitted with an AT-6A wing centre section.
(Image: T-6 Texan in Portuguese Air Force museum)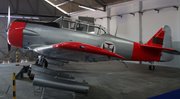 BC-1I
BC-1s converted to instrument trainers, 30 modified
AT-6 Texan
AT-6 Texan
Same as BC-1A with minor changes, powered by a 600hp R-1340-47 and armed with forward-firing 0.3in machine gun, nine original started as BC-1As and 85 built.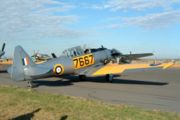 AT-6A
Same as AT-6 but with 600hp R-1340-49 and removable wing centre section fuel tanks, 1847 built with 298 transferred to the United States Navy as the SNJ-3. Survivors re-designated T-6A in 1948.
(Image: SNJ-4 Texan in SAAF markings)

AT-6B
Same as AT-6A but with 600hp R-1340-AN-1 and dorsal gun fitted as standard, 400 built.

AT-6C
Same as AT-6B but with material changes to low-alloy steel and plywood, 2970 built including transfers to the United Kingdom as the Harvard III.
(Image: T-6 Texan in RAF desert camouflage colour scheme)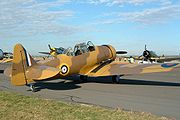 AT-6D
Same as AT-6B but with a 24V DC electrical system, 4388 built including transfers to the United States Navy as the SNJ-5 and to the United Kingdom as the Harvard IIA. Redesignated T-6D in 1948.

XAT-6E
One AT-6D re-engined with a 575hp V-770-9 engine for trials.

AT-6F
Same as AT-6D but with a strengthened airframe and minor modifications, 956 built including transfers to the United States as the SNJ-6, Redesignated T-6F in 1948.
AT-16
AT-16
Noorduyn built AT-6As for lend-lease as Harvards, 1800 built
T-6 Texan
T-6A
AT-6As re-designated in 1948.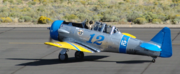 T-6C
AT-6Cs re-designated in 1948 including 68 re-builds with new serial numbers.
(Image: T-6 Texan at the 2005 Reno Air Races)

T-6D
AT-6D re-designated in 1948 including 35 re-builds with new serial numbers.

T-6F
AT-6F re-designated in 1948.

T-6G
Earlier model AT-6/T-6s re-built between 1949-1953. They have improved cockpit layout, increased fuel capacity, modified landing gear with steerable tailwheel, updated radios and a 600hp R-1340-AN-1 engine. 2068 modified.
LT-6G
T-6Gs converted for battlefield surveillance and forward air controller duties, 97 modified.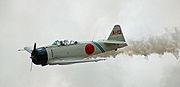 T-6H
Number of T-6Fs converted T-6G standard.
(Image: T-6 Texan converted to resemble a Mitsubishi Zero as flown by the Commemorative Air Force)

T-6J
Designated used for Canadian-built Harvard Mk 4s supplied to Belgian, France, Italy, Portugal and West Germany, 285 aircraft.
SNJ Texan
SNJ-1
United States Navy designation same as BC-1 with metal-covered rear-fuselage, 16 built.

SNJ-2
Same as SNJ-1 but with a R-1340-56 engine and detailed changes, 61 built.

SNJ-3
Same as AT-6A, 270 built and 296 transferred from USAAC.

SNJ-3C
SNJ-3 converted as deck landing trainers with arrester gear, twelve modified.

SNJ-4
Same as AT-6C, 1240 built.

SNJ-4C
SNJ-4s converted as deck landing trainers with arrester gear.

SNJ-5
AT-6Ds transferred from the USAAC, 1573 aircraft.

SNJ-5C
SNJ-5s converted as deck landing trainers with arrester gear.

SNJ-6
AT-6Fs transferred from the USAAF, 411 aircraft.

SNJ-7
Early models modified to T-6G standards in 1952.

SNJ-7B
An armed variant of the SNJ-7.

SNJ-8
Order for 240 cancelled.
Harvard
Harvard I
Similar to BC-1 but without rear gun and with a 600hp R-1340-S3H1 engine, 400 aircraft.

Harvard II
Similar to BC-1A, 526 built, again without provision for rear gunner.

Harvard IIA (RAF & Commonwealth)
AT-6C, many with wooden rear fuselages when first delivered.

Harvard IIA (RCAF)
'Armed' Harvard II - Any RCAF Harvard II & IIB fitted with guns (in the wing), rockets or bombs.

Harvard IIB
Noorduyn built Mk.II's, some to US orders as AT-16's for lend-lease. Transfers back from the USAAF (1800) and 757 built.

Harvard T.T. IIB
Target Tug - 42 aircraft built for the RAF by Noorduyn. Number probably included in II totals.

Harvard IIF
Bombing/gunnery trainer - One-off modified from Mk.II with bomb aimers blister and AT-6 cockpit.

Harvard III
AT-6D, 537 aircraft for RAF.

Harvard IV
Development of Harvard II paralleling the T-6G, and built by Canadian Car & Foundry, 270 for the RCAF and 285 for USAF. Some publications refer to these as T-6J however the aircraft record cards do not use this designation.
A-27
A-27
Tandem two-seat attack version of the AT-6 with a 785hp R-1820-75 engine and five O.3in machine guns (two in nose, one on each wing and one dorsal). Designation used for ten aircraft for Thailand impressed into United States Army Air Corps use.
North American designation
NA-16
Prototype for entire family of aircraft.

NA-18
NA-16 modified to USAAC requirements.

NA-19
BT-9 slightly modified from NA-18.

NA-19A
BT-9A Armed version of BT-9.

NA-20
BT-9 Demonstrator built for China.

NA-22
Re-engined BT-9.

NA-23
BT-9B Some minor changes from BT-9, unarmed.

NA-26
BC-1 Basic Combat Demonstrator aircraft, First Retractable Gear Variant. Sold to RCAF.

NA-27
As per NA-26 but for demonstration in Europe.

NA-28
NJ-1 BT-9 built to USN specifications.

NA-29
Y1BT-10, BT-9C & BT-9D Minor improvements over earlier BT-9's

NA-30
Intended production version of Y1BT-10, cancelled. Similar to BT-9 but different engine.

NA-31
As per BT-9C but with a different engine for Sweden as a pattern aircraft for the Sk 14.

NA-32
Pattern aircraft for Australian Government.

NA-33
Pattern aircraft for Australian Government built as Commonwealth Aircraft Corporation Wirraway (755 built).

NA-34
Variant of BT-9 for Argentina. First major export order for NAA.

NA-36
The BC-1

NA.44
Prototype attack version, one built.

NA.55
The BC-1A
NA.59
The AT-6

NA-69
Attack version for Thailand, not delivered became the A-27.

NA.72
Attack version for Brazil, 30 built.

NA.74
Attack version for Chile.

NA.88
The AT-6D (last 800 as NA.121)

NA.121
The last 800 AT-6Ds
Specifications (T-6G/Harvard)
General characteristics
Crew: two (student and instructor)
Length: 29 ft (8.84 m)
Wingspan: 42 ft (12.81 m)
Height: 11 ft 8 in (3.57 m)
Wing area: 253.7 ft² (23.6 m²)
Empty weight: 4,158 lb (1,886 kg)
Loaded weight: 5,617 lb (2,548 kg)
Powerplant: 1× Pratt & Whitney R-1340-AN-1 Wasp radial engine, 600 hp (450 kW)
Performance
Maximum speed: 208 mph at 5,000 ft (335 km/h at 1,500 m)
Cruise speed: 145 mph (233 km/h)
Range: 730 miles (1,175 km)
Service ceiling 24,200 ft (7,400 m)
Rate of climb: ft/min (m/s)
Wing loading: lb/ft² (kg/m²)
Power/mass: hp/lb (kW/kg)
Armament
Provision for up to 3× 0.30 in (7.62 mm) machine gun
Source: WikiPedia