North American T-2 Buckeye Video - In flight - Hellenic Air Force
North American T-2 Buckeye Video - Flyby
North American T-2 Buckeye Aircraft Information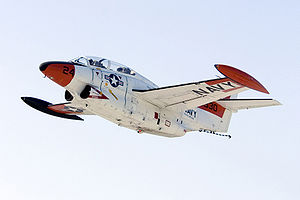 Picture: A T-2C Buckeye taking off from NAS Patuxent River
Role - Trainer aircraft
Manufacturer - North American
First flight - 31 January 1958
Introduced - November 1959[1]
Retired - 2008[1]
Primary users - United States Navy
Hellenic Air Force
Venezuelan Air Force
Number built - 529
The North American T-2 Buckeye was the United States Navy's intermediate training aircraft, intended to introduce Student Naval Aviators to jets.[1] It entered initial service in 1959, and was replaced by the T-45 Goshawk in 2008.[1]
Design and development
The first version of the aircraft entered service in 1959 as the T2J-1. It was re-designated the T-2A in 1962 under the joint aircraft designation system. The two-seat trainer was powered by one Westinghouse J34-WE-46/48 turbojet. The aircraft was subsequently redesigned, and the single engine was replaced with two Pratt & Whitney J60-P-6 turbojets in the T-2B. The T-2C was fitted with two much more powerful 2,950 lbf (13,100 N) thrust General Electric J85-GE-4 turbojets. The T-2D was an export version which was sold to the Venezuelan air force, while the T-2E was sold to the Greek Air Force. The T-2 Buckeye (along with the TF-9J) replaced the T2V-1/T-1A Seastar, though the T-1 would continue in some uses into the 1970s.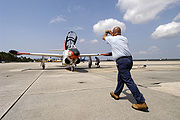 Picture: T-2 being parked at Naval Air Station Pensacola, FL on August 30, 2005.
The Buckeye was designed as a low-cost multi-stage trainer. Its straight wing is similar to that used in the original North American FJ-1 Fury. Its cockpit controls are similar to the T-28C trainer. The T-2's performance is between that of the Air Force's T-37 Tweet, and the TA-4J Skyhawk. While it has no built-in armament, the T-2 has two underwing hardpoints for .50 in gun pods, 100 lb (45 kg) practice bombs or 2.75 in rockets.
All T-2 Buckeyes were manufactured by North American at Air Force Plant 85, located just south of Port Columbus Airport in Columbus, Ohio. 273 aircraft were built during its production run. The name Buckeye refers to the state tree of Ohio, as well as the mascot of the Ohio State University.
Virtually every Naval aviator from the late 1950's until 2004 received training in the T-2 Buckeye, a career spanning four decades. In the Naval Aviator syllabus, the T-2 has been replaced by the near-sonic T-45 Goshawk (the US Navy version of the BAE Hawk), which is more comparable to other high performance subsonic trainers, or the USAF T-38 Talon. More recently, the T-2 has been used as a director aircraft for aerial drones. Several T-2 Buckeyes are now registered in civilian markings and regularly appear at airshows.
Variants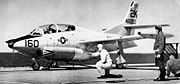 Picture: A T-2A of VT-7 on USS Antietam in the early 1960s.
T-2A
Two-seat intermediate jet training aircraft, powered by a 3,400-lb (1542-kg) thrust Westinghouse J34-WE-46/48 turbojet. Original designation T2J-1 Buckeye. 217 built.
YT-2B
Two T-2As were converted into T-2B prototype aircraft.
T-2B
Improved version, powered by two 3,000-lb (1360-kg) thrust Pratt & Whitney J60-P-1 turbojets. 97 built.
YT-2C
One T-2B was converted into a T-2C prototype aircraft.
T-2C
Final production version for the US Navy, powered by two 2,950-lbf thrust General Electric J85-GE-4 turbojets. 231 built.
DT-2B and DT-2C
Small numbers of T-2Bs and T-2Cs were converted into drone directors.
T-2D
Export version for Venezuela. 12 built.
T-2E
Export version for Greece. 40 built.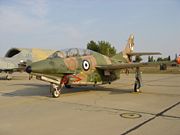 Picture: A T-2E Buckeye of the Hellenic Air force.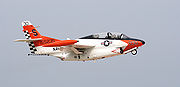 Picture: A civilian operated T-2B Buckeye[2] painted in United States Navy colors
Specifications (T-2C Buckeye)
General characteristics
Crew: 2
Length: 38 ft 8 in (11 m)
Wingspan: 38 ft 2 in (11.6 m)
Height: 14 ft 9 in (4.5 m)
Wing area: 255 ft² (23.70 m²)
Empty weight: 8,115 lb (3,652 kg)
Max takeoff weight: 13,180 lb (5,931 kg)
Powerplant: 2× General Electric J85-GE-4 turbojets, 2,950 lbf (13 kN) each
Performance
Maximum speed: 521 mph (834 km/h)
Range: 910 mi (1,456 km)
Service ceiling: 44,400 ft (13,500 m)
Related development
FJ-1 Fury
Comparable aircraft
T2V SeaStar
TA-4J Skyhawk
Fouga Zéphyr
T-45 Goshawk
References
1. a b c d http://www.defensetech.org/archives/004362.html
2. FAA Record fo N27WS
Living Warbirds: The best warbirds DVD series.
Source: WikiPedia