North American Aviation T-28A - N81643
Manufacturer: North American Aviation
Model: T-28A
Year built: 1949
Serial Number: 49-1643A
Number of Seats: 2
Number of Engines: 1
Engine Type: Reciprocating
Engine: Wright R-1300-1B
North American Aviation T-28 Trojan Aircraft Information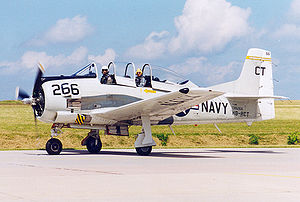 Role: Trainer aircraft
Manufacturer: North American Aviation
First flight: 24 September 1949
Primary users: United States Air Force, United States Navy, South Vietnamese Air Force, Argentine Navy
(Image: T-28B Trojan)
The North American Aviation T-28 Trojan was a piston-engined military trainer aircraft used by the U.S. Air Force and U.S. Navy beginning in the 1950s. Although the Air Force phased out the aircraft out of primary pilot training by the early 1960s, continuing use only for limited training of special operations aircrews and for primary training of select foreign military personnel, the aircraft continued to be used as a primary trainer by the Navy (and by default, the Marine Corps and Coast Guard) well into the early 1980s.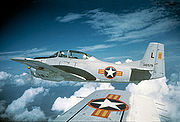 (Image: VNAF T-28s over Vietnam)
The largest single concentration of this aircraft was employed by the U.S. Navy at NAS Whiting Field in Milton, Florida in the training of student naval aviators. The last U.S. Navy training squadron to fly the T-28 was VT-27, based at NAS Corpus Cristi, Texas, flying the last T-28 training flight in early 1984. Many T-28s were subsequently sold to private civil operators, and due to their reasonable operating costs are often found flying as warbirds today.
Design and Development
On 24 September 1949 the XT-28 (company designation NA-159) was flown for the first time, designed to replace the T-6 Texan. Found satisfactory, a contract was issued and between 1950 and 1957 a total of 1,948 were built. The T-28's service career ended by the introduction of the T-34 turboprop trainer.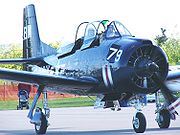 (Image: Canadian civil T-28C in US Navy markings in 2004)
Following the T-28's withdrawal from U.S. military service, a number were remanufactured by Hamilton Aircraft into two versions called the Nomair. The first refurbished machines, designated T-28R-1 were similar to the standard T-28s they were adapted from, and were supplied to the Brazilian Navy. Later, a more ambitious conversion was undertaken as the T-28R-2, which transformed the two-seat tandem aircraft into a five-seat cabin monoplane for general aviation use.
Operational History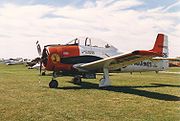 (Image: Canadian civil T-28B in US Marine Corps markings in 1988, featuring Bill the Cat cartoon nose art)
In the COIN role, T-28s saw extensive service during the Vietnam War in VNAF hands, as well as the Secret War in Laos. They were also supplied to Congo by the CIA to support Moise Tshombe's regime. France used locally remanufactured T-28s in close-support and patrol roles in Algeria. In the Philippines, T-28s, known locally as "Tora-toras", figured prominently in a series of coup de etats in the 1980s and were employed as dive bombers by rebel military forces. The T-28 Trojan was the first US attack fixed wing aircraft (non-transport type) lost in SOUTH Vietnam, during the Vietnam War. Capt. Robert L. Simpson, USAF, Detachment 2A, lst Air Commando Group, and Lt. Hoa, SVNAF, were shot down by ground fire on 28 August 1962 while flying Close Air Support (CAS). Neither crewman survived. The USAF lost 23 T-28s to all causes during the war, with the last two losses occurring in 1968. [1]
Variants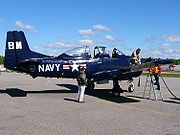 XT-28
Prototype, 2 built.
(Image: Canadian civil T-28B refuelling)

T-28A
US Air Force version with an 800 hp (597 kW) R-1300 Cyclone engine, 1,194 built.

T-28B
US Navy version with 1,425 hp (1,063 kW) engine, 489 built.

T-28C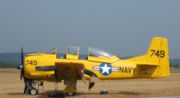 US Navy version, a T-28B with shortened propeller blade and tailhook for carrier landing training, 266 built.
(Image: Meeting aérien Ambérieux en Bugey (France), 2006)
T-28D Nomad
T-28As converted for the counter insurgency (COIN) role. Re-engined as per the T-28B and C, and fitted with six underwing hardpoints. Total 393 converted - 321 by NAA, plus 72 by Fairchild Hiller.
AT-28D
T-28Ds used for attack training by the USAF.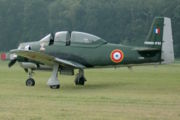 Fennec
Ex-USAF T-28As refurbished and modified by Sud-Aviation in France
(Image: French T-28 Fennec)
T-28R-1 Nomair
Ex-USAF T-28s refurbished for Brazilian Navy
T-28R-2 Nomair
Ex-USAF T-28s converted into general aviation aircraft
Specifications (T-28D)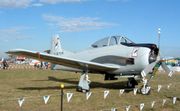 General characteristics
Crew: Two
Length: 33 ft 0 in (10.06 m)
Wingspan: 40 ft 1 in (12.22 m)
Height: 12 ft 8 in (3.86 m)
Wing area: 268 ft² (24.9 m²)
Empty weight: 6,424 lb (2,914 kg)
Max takeoff weight: 8,500 lb (3,856 kg)
Powerplant: 1× Wright R-1820-86 Cyclone radial engine, 1,425 hp (1,063 kW)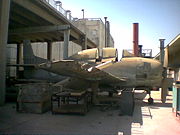 Performance
Maximum speed: 343 mph (552 km/h)
Service ceiling 35,500 ft (10,820 m)
Source: WikiPedia