Supermarine Attacker Aircraft Information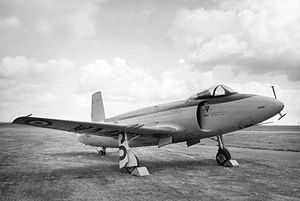 Role - Naval fighter
National origin - United Kingdom
Manufacturer - Supermarine
First flight - 27 July 1946
Introduced - August 1951
Retired - FAA 1954
RNVR 1957
PAF 1964
Primary users - Fleet Air Arm
Royal Naval Volunteer Reserve
Pakistan Air Force
Number built - 182 + 3 prototypes
Developed from - Supermarine Spiteful
The Supermarine Attacker was a British single-seat naval jet fighter built by Supermarine for the Royal Navy's Fleet Air Arm (FAA). It was the FAA's first jet fighter.[1]
Design and development
The Attacker developed from a Royal Air Force (RAF) fighter jet project, under Air Ministry Specification E.10 of 1944 (the E for experimental). The project was intended to provide an interim fighter for the RAF while another aircraft, the Gloster E.1/44 also using the Nene was developed. The RAF rejected both designs since they offered no perceptible performance advantage over the contemporary Gloster Meteor and the de Havilland Vampire, the RAF's first two operational jet aircraft. [2] Supermarine offered a navalised version of the project to the Admiralty. The prototype Type 392 serial number TS409 land version was first flown on 27 July 1946, by test pilot Jeffrey Quill.
The design of the Attacker used the laminar flow straight-wings of the Supermarine Spiteful, a piston-engined fighter intended to replace the Supermarine Spitfire, and what became the Attacker was originally referred to as the "Jet Spiteful". The Attacker suffered from a number of deficiencies which led to it quickly being superseded, one being that the aircraft retained the Spiteful's tail-wheel undercarriage, due to the extent of the re-tooling that would have been required to alter the Spiteful's wing, rather than a nose-wheel undercarriage, thus making the Attacker more difficult to land on aircraft carriers. This same tail-down attitude meant that during operations off grass airfields the jet exhaust would create a long furrow in the ground that "three men could lie down in".[3].
The first navalised prototype, Type 398 TS413 flew on 17 June 1947 flown by test pilot Mike Lithgow, three years after the Meteor had made its first flight. Production orders for the FAA were placed in November 1949. The first production aircraft to take to the skies was the F 1 variant in 1950, entering service with the FAA in August 1951 with the first squadron being 800 Naval Air Squadron. The F 1's armament consisted of four 20 mm (.79 in) Hispano Mk V cannons, with 125 rounds of aummunition per gun. It was powered by a single Rolls-Royce Nene Mk. 101 turbojet engine.
Operational history
The Attacker had a brief career with the Fleet Air Arm, not seeing any action during its time with the FAA and being taken out of first-line service in 1954. It remained in service with the Royal Naval Volunteer Reserve (RNVR) for a little while longer; taken out of service in 1956. The Attacker was replaced by the more capable Hawker Sea Hawk and de Havilland Sea Venom. Between 1952–53, 36 Attackers were sold to the Pakistani Air Force (PAF). The aircraft was replaced in the PAF in the 1960s.
Variants
Two more variants of the Supermarine Attacker were built for the FAA. The FB 1 was a fighter-bomber which differed little from the F 1 except that it was expected to operate as a ground attack aircraft. The third, and last, variant of the Attacker was the FB 2 which introduced a new Rolls-Royce Nene engine and modifications to its structure. The Supermarine Attacker now had eight underwing pylons which could carry two 1,000 lb (454 kg) bombs or eight unguided rockets.
Type 392
Prototype land version to specification E.10/44, ordered as one of three prototypes on 30 August 1944, one built and first flown 27 July 1946.[4]
Type 398
Prototype navalised variant ordered on 30 August 1944, one built and first flown 17 June 1947. [4]
Type 513
Prototype second naval prototype to specification E.1/45 ordered on 30 August 1943, one built and first flown 24 January 1950.[4]
Type 398 Attacker F 1
Production Nene 3 powered variant, 63 ordered on 29 October 1948 and built at South Marston, 50 built as F1 as two were cancelled and the last 11 built as FB1s. First flight of production F1 was on 4 April 1950.[4]
Attacker FB1
Last 11 production F 1s were built as FB 1s plus an additional aircraft ordered on 27 March 1951 to replace one aircraft destroyed on a production test flight.[4] The FB1 had been modified from the original design to allow it to carry rocket projectiles or bombs under the wings .
Attacker FB2
Updated fighter-bomber variant powered by the Nene 102, 24 ordered on 21 November 1950, 30 ordered on 16 February 1951 and a further 30 ordered on 7 September 1951, all 84 built at South Marston.[4]
Type 538 Attacker
Land based Nene 4 powered variant for the Pakistan Air Force, 36 built with the first delivered in 1953.[1]
Operators
Pakistan
Pakistan Air Force, 36 aircraft.
United Kingdom
Fleet Air Arm, 146 aircraft.
- 736 NAS (Training Squadron)
- 800 NAS
- 803 NAS
- 890 NAS
Royal Naval Volunteer Reserve
- 1831 RNVR Squadron
Accidents and incidents
On 23 May 1950, Vickers test pilot Les Colquhoun was flying the first production Attacker F 1 WA469; he was testing the effectiveness of the air brakes. On the third of two dives, the outer portion of the starboard wing folded up and the ailerons became locked. Colquhoun decided not to eject and managed to do a high-speed landing at Chilbolton, he used all but the last 100 yards (90m) of the runway and burst a tyre.[5] He had saved the aircraft so the cause could be discovered and was awarded the George Medal for his efforts.[6]
Another notable incident when Attacker FB Mk.1, WA535 from RNAS Stretton crashed on 05.02.1953 near Winwick killing the pilot Mr Roy Edwin Collingwood aged 22.
Survivors
Following its retirement from service in 1956 Attacker Serial number WA473 was placed on display on the gate at AHU Abbotsinch, in 1961 it was moved to the Fleet Air Arm Museum in Somerset, UK. [7]
Specifications (F 1)
Data from The Illustrated Encyclopedia of Aircraft [8]
General characteristics
Crew: 1
Length: 37 ft 6 in (11.43 m)
Wingspan: 36 ft 11 in (11.25 m)
Height: 9 ft 11 in (3.02 m)
Wing area: 226 sq ft (21.0 m2)
Empty weight: 8,434 lb (3,826 kg)
Gross weight: 12,211 lb (5,539 kg)
Powerplant: 1 × Rolls-Royce Nene turbojet, 5,000 lbf (22 kN) thrust
Performance
Maximum speed: 590 mph (950 km/h; 510 kn)
Range: 590 mi (513 nmi; 950 km)
Service ceiling: 45,000 ft (13,716 m)
Rate of climb: 6,350 ft/min (32.3 m/s)
Armament
Guns: 4 × Hispano No. 3 Mark 5 20mm Cannon
Related development
Supermarine Spiteful
Supermarine Swift
References
Notes
1. a b Bingham 2004, p. 109.
2. Taylor 1969, pp. 432–433.
3. Gunston 1975, p. 130.
4. a b c d e f Sturtivant 2004, pp. 562–572.
5. Bingham 2004, p. 101.
6. London Gazette: (Supplement) no. 38982, p. 3949, 1 August 1950. Retrieved on 1 November 2009.
7. "Supermarine Attacker." Fleet Air Arm Museum. Retrieved: 27 February 2008.
8. Orbis 1985, p. 2980.
Bibliography
Bingham, Victor. Supermarine Fighter Aircraft. Ramsbury, UK: The Crowood Press, 2004. ISBN 1-86126-649-9.
Birtles, Philip. Supermarine Attacker, Swift and Scimitar (Postwar Military Aircraft 7). London: Ian Allan, 1992. ISBN 0-7110-2034-5.
Gunston, Bill. "Fighters of the Fifties: Vickers-Supermarine Attacker". Aeroplane Monthly, March 1975.
The Illustrated Encyclopedia of Aircraft (Part Work 1982-1985). London: Orbis Publishing, 1985.
Quill, Jeffrey (OBE, AFC, FRAeS). Spitfire - A Test Pilot's Story. London: Arrow Books, 1989. ISBN 0-09-937020-4.
Sturtivant, Ray. Fleet Air Arm Fixed-Wing Aircraft since 1946. Tonbridge, Kent, UK: Air-Britain (Historians) Ltd., 2004. ISBN 0-85130-283-1.
Taylor, John W.R. "Supermarine Attacker". Combat Aircraft of the World from 1909 to the Present. New York: G.P. Putnam's Sons, 1969. ISBN 0-425-03633-2.
Taylor, Michael J.H., ed. "Supermarine Attacker". Janes's Encyclopedia of Aviation, Vol. 5. Danbury, Connecticut: Grolier Educational Corporation, 1980. ISBN 0-7106-0710-5.
Living Warbirds: The best warbirds DVD series.
Source: WikiPedia