Vickers Warwick Aircraft Information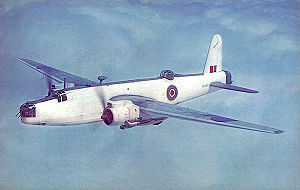 Picture - Warwick B/ASR Mk.I BV285
Role: Maritime reconnaissance, air-sea rescue, transport
Manufacturer: Vickers-Armstrongs
First flight: 13 August 1939
Primary users: RAF Polish Air Force in exile BOAC
Number built: 842
Developed from: Vickers B.9/32

The Vickers Warwick was a multi-purpose British aircraft used during the Second World War. Built by Vickers-Armstrongs at Brooklands, Surrey, the Warwick was used by the Royal Air Force (RAF) as a transport, air-sea rescue and maritime reconnaissance platform and by the civilian British Overseas Airways Corporation (BOAC).
Design and development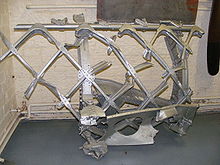 Picture - A section of the rear fuselage from a Warwick showing the geodesic construction in duralumin. On exhibit at the Armstrong & Aviation Museum at Bamburgh Castle.
The Warwick was designed to meet Air Ministry specification B.1/35 for a two-engined heavy (by the standards of the day) bomber. It was designed in parallel with the smaller Wellington, both being derived from the Vickers Type 271 design to Specification B.9/32.
Vickers-Armstrongs completed two prototypes, with the first, (serial K8178) powered by Rolls-Royce Vulture liquid-cooled "X" engines flying from Brooklands on 13 August 1939, with the second prototype (L9704), originally designed with a Napier Sabre powerplant, was fitted with the Bristol Centaurus radial engine flying on 5 April 1940. The Vulture engine proved unreliable, and while the Centaurus powered prototype was more promising, its development was at an early stage, and use of the American Pratt & Whitney Double Wasp radial was proposed, with the second prototype being converted to use the R-2800-S14A4-G engines and first flying in this form in July 1941.
The Warwick used Barnes Wallis' geodesic airframe construction pioneered in the Wellesley and Wellington. In this system, a network of intersecting structural members made from duralumin were covered by wired-on fabric. The load was distributed amongst the structure, providing great redundancy in the event of damage, at the expense of complexity of construction.
An initial production order for 250 Warwicks, consisting of 150 Double Wasp powered Mk Is and 100 Centaurus powered Mk IIs was placed on 28 December 1940. A total of 219 Warwick Mark Is were built, the last 95 with 2,000 hp (1,500 kW) R-2800-47 engines.
Operational history
Production Warwick Mk Is started to be delivered to the RAF for testing in July 1942. Only 16 aircraft were delivered as bombers, as by this time more capable four-engined heavy bombers such as the Short Stirling and Handley Page Halifax were in service. The Warwick was subsequently considered for transport and air-sea rescue roles.
After BV243 was successfully converted into a transport to serve as a trial aircraft, an additional 13 Mk Is were converted on the production line as C Mk 1 transports for use by BOAC, being used briefly on its Middle East services before being transferred back to RAF Transport Command in 1944. 100 similar aircraft were built for the RAF as Warwick C Mk IIIs, entering service with 525 Squadron in June 1944. They were mainly used in the Mediterranean theatre, until being retired in 1946.
The remainder of the first batch of 250 Warwicks were used by the RAF Coastal Command for anti-submarine reconnaissance. From 1943 Warwicks were loaded with the 1,700 lb (770 kg) Mk IA airborne lifeboat and used for air-sea rescue. The lifeboat, designed by yachtsman Uffa Fox, laden with supplies and powered by two 4 hp (3 kW) motors, was aimed with a bombsight near to ditched air crew and dropped on parachutes into the sea from an altitude of about 700 ft (320 m). Warwicks were credited with rescuing crews from Halifaxes, Lancasters, Wellingtons and Fortresses, and during the Arnhem landings, from Hamilcar gliders.
A production order for 525 Warwick Mk V was placed although 235 were ultimately completed, most going directly into storage in 1944. In early 1945, the variant was issued to 179 Squadron at St. Eval while 17 and 27 Squadrons of the South African Air Force also received the Mk V.
Variants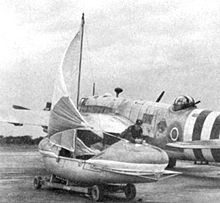 Picture - A rigged airborne lifeboat in front of a Warwick with D-Day identification stripes.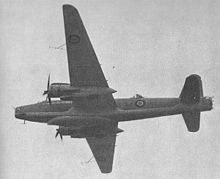 Picture - Air-sea rescue Warwick with an airborne lifeboat under the fuselage
Warwick Mark I
Warwick B Mk I - original production bomber, of 150 ordered, only 16 aircraft were built. They were used for a variety of tests.
Warwick C Mk I or Vickers Type 456 - transport version for BOAC, for use on its Mediterranean and North African routes. 14 built.
Warwick B/ASR Mk I - 40 aircraft converted from the Warwick B.Mk I bomber. The Warwick ASRs were used as air-sea rescue aircraft. They could carry two sets of Lindholme lifesaving equipment.
Warwick ASR (Stage A) - 10 aircraft converted from the Warwick B Mk 1 bomber. The Warwick ASR (Stage A) was used for air-sea rescue. They could carry one airborne lifeboat and two sets of Lindholme lifesaving equipment.
Warwick ASR (Stage B) - 20 aircraft converted from the Warwick B Mk 1 bomber. The Warwick ASR (Stage B) were air-sea rescue aircraft, carrying the same equipment as the Warwick ASRs and ASR (Stage As).
Warwick ASR Mk I or Type 462 was an air-sea rescue version, it could carry an airborne lifeboat. The aircraft was powered by two 1,850 hp (1380 kW) Pratt & Whitney Double Wasp R-2800-S1A4G radial piston engines; 205 built.

Warwick Mark II
Warwick B Mk II or Vickers Type 413 - bomber prototype, only one exaple was ever built, converted from a Warwick B Mk I.
Warwick GR Mk II or Vickers Type 469 - anti-submarine, general reconnaissance version. It was equipped to carry torpedoes and bombs. It was powered two 2,500 hp (1,864 kW) Bristol Centaurus VI radial piston engines; 118 built.
Warwick GR Mk II Met - meteorological reconnaissance version of the Warwick GR Mk II; 14 built.

Warwick Mark III
Warwick C Mk III or Vickers 'Type 460 - transport version. It had a pannier-like extension below the central fuselage, the normal loaded weight being raised to 45,000 lb (20,400 kg). It could carry 24 equipped troops or eight to 10 passengers in the VIP version. No armament was carried; 100 built.

Warwick Mark IV
Warwick ASR Mk VI or Vickers Type 485 - final air-sea rescue version. The aircraft was powered by two Pratt & Whitney R-2800-2SBG Double Wasp radial piston engines; 94 built.

Warwick Mark V
Warwick GR Mk V or Vickers Type 474 - anti-submarine, general reconnaissance aircraft. It was powered by two Bristol Centaurus VII radial piston engines, armed with 7 machine guns and could carry 6,000 lb (2,700 kg) of bombs, mines or depth-charges. A Leigh light was fitted ventrally. It arrived too late to see service; 210 built.

Operators
Military Operators
Poland
Polish Air Forces in exile in Great Britain
No. 301 Polish Bomber Squadron
No. 304 Polish Bomber Squadron

South Africa
South African Air Force
No. 17 Squadron SAAF
No. 27 Squadron SAAF

United Kingdom
Royal Air Force
No. 38 Squadron RAF
No. 167 Squadron RAF
No. 179 Squadron RAF
No. 251 Squadron RAF
No. 269 Squadron RAF
No. 275 Squadron RAF
No. 276 Squadron RAF
No. 277 Squadron RAF
No. 278 Squadron RAF
No. 279 Squadron RAF
No. 280 Squadron RAF
No. 281 Squadron RAF
No. 282 Squadron RAF
No. 283 Squadron RAF
No. 284 Squadron RAF
No. 292 Squadron RAF
No. 293 Squadron RAF
No. 294 Squadron RAF
No. 353 Squadron RAF
No. 520 Squadron RAF
No. 525 Squadron RAF
No. 621 Squadron RAF

Civil Operators
United Kingdom
BOAC

Specifications (Warwick ASR Mk I)
Data from Vickers Aircraft since 1908
General characteristics
Crew: six
Length: 72 ft 3 in (22.00 m)
Wingspan: 96 ft 8½ in (29.48 m)
Height: 18 ft 6 in (5.6 m)
Wing area: 1,006 ft² (93.5 m²)
Empty weight: 28,154 lb (12,797 kg)
Max takeoff weight: 45,000 lb (20,455 kg)
Powerplant: 2x— Pratt & Whitney R-2800/S.1A4-G "Double Wasp" radial piston engine, 1,850 hp (1,380 kW each) each

Performance
Maximum speed: 224 mph (195 knots, 361 km/h)
Range: 2,300 miles (2,000 NM, 3,700 km)
Service ceiling: 21,500 ft (6,550 m)
Rate of climb: 660 ft/min (3.35 m/s)

Armament
Guns: 8 x .303 (7.7 mm) Browning machine guns in three turrets

Related development
Vickers Wellington

Comparable aircraft
Avro Manchester

Bibliography
"Airborne Lifeboats:Fully Provisioned Power Lifeboat Dropped to Ditched Air Crews". Flight, 18 January 1945, pp. 62-64.
Andrews, C.F and E.B. Morgan. Vickers Aircraft since 1908. London: Putnam, 1988. ISBN 0-85177-815-1.
Barfield, Norman. "Vickers-Armstrongs Warwick variants". Aircraft in Profile, Volume 11. Windsor, Berkshire, UK: Profile Publications Ltd., 1972.
"Dropping an Airborne Lifeboat". Flight, 8 March 1945, p. 253.
Green, William and Gordon Scarborough. WW2 Fact Files: RAF Bombers, Part 2. London: Jane's Publishing Company Ltd., 1981. ISBN 0-7106-0118-2.
Jones, Barry. "Database:Vickers Warwick". Aeroplane, June 2010, Vol 38 No 6, Issue No 446. London:IPC. ISSN 0143-7240. pp. 63-78.
March, Daniel J. (editor). British Warplanes of World War II. London: Aerospace, 1998. ISBN 1-874023-92-1.
Mason, Francis K. The British Bomber since 1914. London: Putnam, 1994. ISBN 0-85177-861-5.
Taylor, John W.R. "Vickers Warwick". Combat Aircraft of the World from 1909 to the Present. New York: G.P. Putnam's Sons, 1969. ISBN 0-425-03633-2.
"Vickers 284 Warwick." Control Column, Official Organ of the British Aircraft Preservation Council, Volume 11, No. 2, February/March 1977.

Living Warbirds: The best warbirds DVD series.
Source: WikiPedia