Ling-Temco-Vought A-7 Corsair II Video - Historical Overview
A-7 Corsair II Video - A-7 Corsair Demonstrates Laydown Delivery B43 Nuclear Bomb
Ling-Temco-Vought A-7 Corsair II Aircraft Information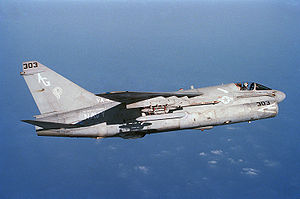 Picture - U.S. Navy A-7E from Attack Squadron 46 (VA-46)
Role: Attack aircraft
Manufacturer: Ling-Temco-Vought
First flight: 26 September 1965
Introduced: February 1967
Retired: 1991 (USAF, USN); 1993 (ANG) 1999 (Portuguese Air Force)
Primary users: United States Navy United States Air Force Portuguese Air Force Greek Air Force
Number built: 1,569
Unit cost: US$2.86 million
Developed from: F-8 Crusader
Variants: Vought YA-7F

The Ling-Temco-Vought A-7 Corsair II is a carrier-based subsonic light attack aircraft introduced to replace the United States Navy's A-4 Skyhawk, initially entering service during the Vietnam War. The Corsair was later adopted by the United States Air Force, to include the Air National Guard, to replace the A-1 Skyraider, F-100 Super Sabre and F-105 Thunderchief. The aircraft was also exported to Greece in the 1970s, and Portugal and Thailand in the late 1980s. The A-7 airframe design was based on the successful supersonic F-8 Crusader produced by Chance Vought. It was one of the first combat aircraft to feature a head-up display (HUD), an inertial navigation system (INS), and a turbofan engine.
Design and development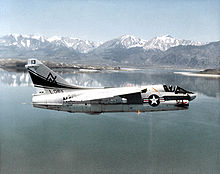 Picture - An A-7B Corsair II aircraft from Naval Air Reserve Attack Squadron 305 (VA-305)
In 1962, the United States Navy began preliminary work on VAX (Heavier-than-air, Attack, Experimental), a replacement for the A-4 Skyhawk with greater range and payload. A particular emphasis was placed on accurate delivery of weapons to reduce the cost per target. The requirements were finalized in 1963, announcing the VAL (Heavier-than-air, Attack, Light) competition. Contrary to USAF philosophy, which was to employ only supersonic fighter bombers such as the F-105 Thunderchief and F-100 Super Sabre, the Navy felt that a subsonic design could carry the most payload the farthest distance. Theoretically, a "slow fat duck" could fly nearly as fast as a supersonic one, since carrying dozens of iron bombs also restricted its entry speed, but a fast aircraft with small wings and an afterburner would burn more fuel.
To minimize costs, all proposals had to be based on existing designs. Vought, Douglas Aircraft, Grumman and North American Aviation responded. The Vought proposal was based on the successful F-8 Crusader fighter, having a similar configuration, but shorter and more stubby, with a rounded nose. It was selected as the winner on 11 February 1964, and on 19 March the company received a contract for the initial batch of aircraft, designated A-7. In 1965, the aircraft received the popular name Corsair II, after Vought's highly successful F4U Corsair of World War II. (There was also a Vought O2U Corsair biplane scout and observation aircraft in 1920s.)
Compared to the F-8 fighter, the A-7 had a shorter, broader fuselage. The wing had a longer span, and the unique variable incidence wing of the F-8 was omitted. To achieve the required range, the A-7 was powered by a Pratt & Whitney TF30-P-6 turbofan producing 11,345 lbf (50.5 kN) of thrust, the same innovative combat turbofan produced for the F-111 and early F-14 Tomcats, but without the afterburner needed for supersonic speeds. Turbofans achieve greater efficiency by moving a larger mass of air at a lower velocity.
The aircraft was fitted with an AN/APQ-116 radar, later followed by the AN/APQ-126, which was integrated into the ILAAS digital navigation system. The radar also fed a digital weapons computer which made possible accurate delivery of bombs from a greater stand-off distance, greatly improving survivability compared with faster platforms such as the F-4 Phantom II. It was the first U.S. aircraft to have a modern head-up display, (made by Marconi-Elliott), now a standard instrument, which displayed information such as dive angle, airspeed, altitude, drift and aiming reticle. The integrated navigation system allowed for another innovation - the projected map display system (PMDS) which accurately showed aircraft position on two different map scales.
The A-7 had a fast and smooth development. The YA-7A made its first flight on 27 September 1965, and began to enter Navy squadron service late in 1966. The first Navy A-7 squadrons reached operational status on 1 February 1967, and began combat operations over Vietnam in December of that year.
The A-7's integrated weapons computer provided highly accurate bombing with CEP of 60 ft (20 m) regardless of pilot experience. When Vought technical representatives were available to "tweak" the inertial systems, the CEP was often less than five meters for experienced fleet aviators. The inertial navigation system required a mere 2.5 minutes on the ground for partial (coarse) alignment, a big improvement over 13 minutes required in F-4 Phantom II. For newly manufactured E models, the A-7 required only 11.5 man hours of maintenance per mission resulting in quick turnaround and high number of combat-ready aircraft. However, after several years of exposure to the harsh marine conditions aboard aircraft carriers, the maintenance hours per sortie were often twice this amount.
The A-7 offered a plethora of leading-edge avionics compared to contemporary aircraft. This included data link capabilities that, among other features, provided fully "hands-off" carrier landing capability when used in conjunction with its approach power compensator (APC) or auto throttle. Other notable and highly advanced equipment was a projected map display located just below the radar scope. The map display was slaved to the inertial navigation system and provided a high-resolution map image of the aircraft's position superimposed over TPC/JNC charts. Moreover, when slaved to the all-axis auto pilot, the inertial navigation system could fly the aircraft "hands off" to up to nine individual way points. Typical inertial drift was minimal for newly manufactured models and the inertial measurement system accepted fly over, radar, and TACAN updates.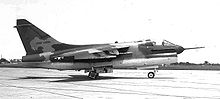 Picture - YA-7D-1-CV AF Serial No. 67-14582, the first USAF YA-7D, 2 May 1968. Note the Navy-style refueling probe and the modified Navy BuNo used as its USAF tail number.
Improved versions
Secretary of Defense Robert McNamara prodded the Air Force to adopt not only the hugely successful F-4, but also the Navy's A-7 Corsair as a low-cost follow-on to F-105s until the troubled F-111 came online, and as a close-air support replacement for A-1 Skyraider. On 5 November 1965, the USAF announced that it would purchase a version of the A-7, designated the A-7D, for Tactical Air Command. The Air Force ordered the A-7D with a fixed high speed refueling receptacle behind the pilot optimized for the KC-135's flying boom rather than the folding long probe of the Navy aircraft. The most important difference from the preceding Navy versions was the adoption of the Allison TF41-A-1 turbofan, a license-built version of British Rolls-Royce Spey. With 14,500 lbf (64.5 kN) of thrust, the engine offered a considerable boost in performance. The M61 Vulcan cannon was selected in place of the twin single-barrel 20 mm cannon. In addition, avionics were upgraded. The YA-7D prototype with TF30 flew on 6 April 1968, with the first TF41 aircraft taking to the air on 26 September 1968. The aircraft were later updated to carry the Pave Penny laser spot tracker to add the capability to drop guided bombs. A total of 459 were built and assigned to tactical fighter wings of the Tactical Air Command (TAC).
The Navy was so impressed with the performance gain of USAF A-7D that they ordered their own version with the TF41 engine and M61 cannon, the A-7E, to go along with the new continuous solution weapon systems and sophisticated avionics that was developed in the A-7C model that was highly advanced for that era. The first prototype flew on 25 November 1968. A-7Es were built in 1970s with outstanding mission success in the fleet. In 1979 the first around-the-clock night-attack FLIR-capable aircraft were delivered to VA-81 at NAS Cecil Field, Florida and VA-22 at NAS Lemoore, California. These aircraft were fitted with a nonjettisonable FLIR pod on the left inboard wingstation which broadcast temperature discriminating images through the HUD. During the 1980s, when defense budgets finally allowed, funding for various system upgrades and engineering change proposal mods were incorporated to increase reliability, safety and mission effectiveness. In 1986, 231 A-7Es were equipped to carry the Low-Altitude Night Attack (LANA)pod, which projected amplified light image on the HUD and, in conjunction with radar, provided terrain following down to 460 mph (740 km/h) at 200 ft (60 m). A total of 529 examples were built (not counting 67 A-7Cs).
Production of Corsairs continued through 1984, yielding a total of 1,569 aircraft built. The A-7 Corsair has the distinction of being the only United States single seat jet fighter-bomber of the 1960s that was designed, built, and deployed directly into the Vietnam War.
Operational history
Initial operational basing/homeporting for U.S. Navy A-7 squadrons was at NAS Cecil Field, Florida for Atlantic Fleet units and NAS Lemoore, California for Pacific Fleet units. This was in keeping with the role of these bases in already hosting the A-4 Skyhawk attack squadrons that would eventually transition to the A-7. From 1967 - 1971 a total of 27 Navy squadrons took delivery of four different A-7A/B/C/E models. The Vought plant in Dallas, TX employed up to 35,000 workers turned out one aircraft a day for several years to support the Navy carrier-based needs for Vietnam and SE Asia and commitments to NATO in Europe. In 1974, when the USS Midway (CV 41) became the first Forward Deployed Naval Force (FDNF) aircraft carrier to be homeported in Yokosuka, Japan, two A-7A squadrons assigned to Carrier Air Wing FIVE (CVW-5) were concurrently homeported at NAF Atsugi, Japan. In 1978, these squadrons (VA-93 and VA-56) finally transitioned to the much more advanced A-7E model. Six Naval Reserve squadrons would also eventually transition to the A-7, operating from NAS Cecil Field, Florida; NAS Atlanta/Dobbins ARB, Georgia; NAS New Orleans, Louisiana; NAS Alameda, California and NAS Point Mugu, California. An additional active duty squadron stood up in the 1980s, Tactical Electronic Warfare Squadron 34 (VAQ-34) at NAS Point Mugu, which would operate twin-seat TA-7C and EA-7L aircraft with both a pilot and a Naval Flight Officer in an adversary electronic warfare role.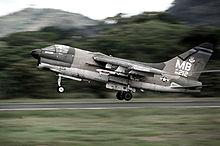 Picture - An A-7D of the 355 TFS/354 TFW takes off from Howard AFB in the Panama Canal Zone during a 1977 deployment.
Initial USAF basing of the A-7D was at Edwards AFB, California and Eglin AFB, Florida in 1968 for prototype testing. Initial lead-in pilot training squadrons were established at Luke AFB, Arizona, and Nellis AFB, Nevada in 1969. The first operational USAF basing was at Myrtle Beach AFB, South Carolina (354 TFW) in 1970, with subsequent basing at Davis-Monthan AFB, Arizona (355 TFW) in 1971 and England AFB, Louisiana (23 TFW) in 1972. The Luke-based A-7Ds were reassigned to Davis-Monthan in 1971 along with the lead-in pilot training mission. A fourth operational A-7D wing was assigned to Korat Royal Thai Air Force Base, Thailand (388 TFW) in early 1973 derived from deployed Myrtle Beach aircraft.
Pilots of the early A-7s lauded the aircraft for general ease of flying (with the exceptions of poor stability on cross-wind landings and miserable stopping performance on wet runways with an inoperative anti-skid braking system) and excellent forward visibility but noted a lack of engine thrust. This was addressed with A-7B and more thoroughly with A-7D/E. The turbofan engine provided a dramatic increase in fuel efficiency compared with earlier turbojets - the A-7D was said to have specific fuel consumption one sixth that of an F-100 Super Sabre at equivalent thrust. An A-7D carrying 12 x 500 lb (227 kg) bombs at 480 mph (775 km/h) at 33,000 ft (10,000 m) used only 3,350 lb (1,500 kg) of fuel per hour. Typical fuel consumption at mission retrograde during aircraft carrier recovery was approximately 30 pounds per minute compared to 100+ pounds per minute for the Phantom F-4J/N series. The A-7 Corsair II was tagged with the nickname "SLUF" ("Short Little Ugly Fucker") by pilots.
Southeast Asia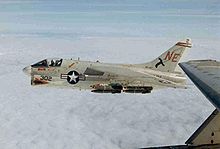 Picture - A VA-147 A-7A from the USS Ranger (CVA 61) over Vietnam in 1968
In Vietnam, the hot, humid air robbed even the upgraded A-7D and A-7E of power. Takeoff rolls were lengthy and fully-armed aircraft struggled to reach 800 km/h. For A-7A aircraft, high density altitude and maximum weight runway takeoffs often necessitated a "low transition", where the aircraft was intentionally held in "ground effect" a few feet off the runway during gear retraction, and as much as a 10-mile (16 km) departure at treetop altitude before reaching a safe flap retraction speed. (Note: the A-7A wing flap systems were either fully extended or fully retracted. The A-7A flap handle did not have the microswitch feature of later models that permitted the flaps to be slowly raised by several degrees per tap of the flap handle as airspeed slowly increased during max-weight takeoffs.)
Carrier catapult launches at maximum weight under these performance-robbing conditions were not significantly better and were characterized by the aircraft decelerating by as much as 20 knots (37 km/h) immediately after launch. As a result, A-7A units operated their aircraft 4 thousand pounds below the max-rated takeoff weight for the A-7E.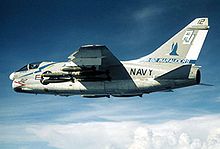 Picture - A-7C of VA-82 Marauders operating in SE Asia
The first U.S. Navy A-7As were deployed to Vietnam in 1967 with VA-147 Argonauts aboard USS Ranger. The aircraft made their first combat sortie on 4 December 1967. In the following months, VA-147 flew around 1,400 sorties losing only one aircraft. In January 1968, USS Ranger participated in the incident surrounding the capture of USS Pueblo in the Sea of Japan by North Korea. The Navy's improved A-7B model arrived in Vietnam in early 1969, with the definitive A-7E following in 1971. The U.S. Navy's first A-7 loss occurred on 22 December 1967, less than three weeks after entering combat.
In late spring of 1971, VA-86 and VA-82 were forced to transition to the A-7C due to unexpected problems with the A-7E's TF-41 engines. The Sidewinders and Marauders then deployed from Jun 1972 to Mar 1973 aboard USS America (CV-66) for a ten-month combat cruise. On that deployment, VA-82 played a role in the attack that destroyed the Thanh Hoa Bridge, a vital link in the North Vietnamese Army supply lines and a target that seemed indestructible during the Vietnam War.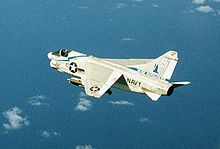 Picture - A-7C of VA-82
Four A-7Cs from VA-82 successfully delivered 8,000 lbs of high explosives with two planes carrying two 2,000 lb (910 kg) Walleyes, while two other carried also 2,000 lbs in Mk 84 GP bombs. In a simultaneous attack, the center piling on the bridge's west side was hit and broke the span in half. After this, the Thanh Hoa bridge was considered permanently destroyed and removed from the target list. Approximately 98 USN A-7 Corsairs were lost during the war.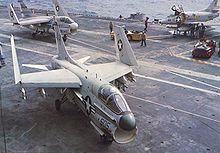 Picture - A-7Bs of CVW-16 on the USS Ticonderoga in 1968
The USAF A-7Ds were also widely used in Vietnam and Cambodia with 354th Tactical Fighter Wing, and the 388th Tactical Fighter Wing, flying from Korat RTAFB, Thailand. A-7s from the 354th TFW entered action in October 1972 and attacked targets as far as 800 km from airbases, extensively utilizing mid-air refueling. The A-7Ds were quickly assigned the "Sandy mission" of providing air cover for Combat Search and Rescue missions of downed pilots. Taking over for A-1 Skyraiders (and adopting their call sign of "Sandy"), the A-7's higher speed was somewhat detrimental for escorting the helicopters but the aircraft's high endurance and durability were an asset and it performed admirably. On 18 November 1972, Major Colin A. Clarke led a successful CSAR mission near Thanh Hoa to rescue a downed F-105 Wild Weasel crew. The mission lasted a total of 8.8 hours during which Clarke and his wingman took a number of hits from 0.51 cal (12.7 mm) anti-aircraft fire. For his actions in coordinating the rescue, Clarke was awarded the Air Force Cross, the USAF's second-highest decoration for valor, and his A-7D (AF Serial No. 70-0970) was eventually placed on display on 31 January 1992 at the National Museum of the United States Air Force at Wright-Patterson AFB, Ohio.
The USAF A-7D flew a total of 12,928 combat sorties during the war with only six losses - the lowest of any U.S. fighter in the theater. The aircraft was second only to B-52 Stratofortress in the amount of ordnance dropped on Hanoi and dropped more bombs per sortie with greater accuracy than any other U.S. attack aircraft.
A-7Ds from Korat flew combat operations over Vietnam until mid-January 1973, in Laos until 22 February 1973, and in Cambodia until 15 August 1973. The last shot fired in anger by United States military forces in Southeast Asia was fired by an A-7D of the deployed 345th TFW / 353 TFS assigned to Korat RTAFB on 15 August 1973.

Picture - A-7D from the 3 TFS/388 TFW, Korat RTAFB, 1973
During the war in Southeast Asia, U.S. Navy A-7 Corsairs were painted gloss gray/white in color while USAF A-7s were normally painted in full jungle camouflage paint schemes. The U.S. Navy did experiment with camouflage paint schemes for some of their aircraft during the war, but during landing operations, the flight deck crews found their duties complicated, due to the inherent changing of the weather conditions aboard a moving ship and the color coded uniforms of the flight deck crew; with the added dangers involved to an already cluttered flight deck, it was determined to keep naval aircraft readily visible for the sake of safety.
On 15 May 1975, A-7E aircraft aboard the USS Coral Sea, in conjunction with A-7D aircraft assigned to the 388 TFW / 3 TFS at Korat RTAFB, provided air cover in what is considered the last battle of the Vietnam war, the recovery of the SS Mayagx¼ez after it was hijacked by Cambodian communists. By the time Operation Mayaguez was over, three U.S. helicopters had been shot down, six received severe damage, three others were heavily damaged and only one was still flyable. Of the total force of 231 Marines, Airmen, and Sailors who landed on Koh Tang Island during this operation, 18 men were KIA or unaccounted for and at least three of these were later determined to have been inadvertently left alive on the island.
Grenada and Lebanon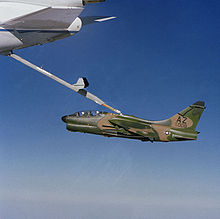 Picture - A-7K of the 162 TFG, Arizona Air National Guard, in 1982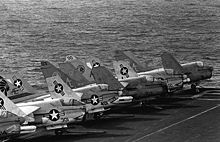 Picture - A-7Es on the USS Independence (CV 62) in 1983
Navy A-7E squadrons VA-15 and VA-87, from the USS Independence, provided close air support during the Invasion of Grenada, codenamed Operation Urgent Fury, in October 1983.
Navy A-7s also provided air support during the U.S. mission in Lebanon in 1983. Along with an A-6 Intruder, one A-7 was shot down by Syrian surface-to-air missiles (SAM) on 4 December 1983.
One of the A-6 pilots, Lt. Mark Lange, was killed; his Bombadier Navigator, Robert Goodman, ejected and was captured by the Syrians. From the A-7, LCDR Coughlin and his B/N, Hellman, ejected and were rescued, though both suffered severe injuries.
Libya
On 24 March 1986, during the Gulf of Sidra dispute with Libya, Libyan air defense operators fired SA-5 missiles at two Fighter Squadron 102 (VF-102) F-14s from USS America that were orbiting in international air space on a Combat Air Patrol (CAP) station. A-7s operating from Saratoga responded by firing the first AGM-88 HARM missiles used in combat. On the next day, A-6s attacked Libyan warships approaching the US Fleet, while A-7s again lauched HARM missiles against Libyan SAM sites.
In April 1986, Navy Sixth Fleet A-7Es from VA-72 and VA-46 aboard USS America (CV 66) also participated in Operation El Dorado Canyon, the retaliatory attack on Libya, using HARM and Shrike anti-radar missiles to protect the naval strike force from SAMs.
Operation Earnest Will/Operation Praying Mantis
During the Iran-Iraq War of the 1980s, continued Iranian and Iraqi attacks on shipping in the Persian Gulf were becoming so frequent that by 1987 the Kuwaitis requested U.S. assistance. To maintain freedom of navigation within that body of water, Operation Earnest Will was initiated. At the outset, 11 Kuwaiti tankers were "re-flagged", the Middle East Force escorting the first ships through the Strait of Hormuz into the Persian Gulf to Kuwait, and then returning outbound, beginning on 22 July 1987.
During escort duty while steaming 55 miles (89 km) northeast of Qatar on 14 April 1988, lookouts on board guided missile frigate USS Samuel B. Roberts spotted three mines ahead. Going to general quarters, the ship soon struck a fourth mine that exploded and blew a 21-foot (6.4 m) hole in her port side near frame 276, injuring 10 sailors, and inflicting "considerable damage to the hull, deckhouse and foundation structures, essentially breaking the ship's back." However, damage control efforts made by the crew were successful and the ship was saved. Over the next 10 days, coalition mine countermeasures vessels located eight additional mines, examination of which left little doubt as to their Iranian origins.
Operation Praying Mantis was designed as a "measured response" to this incident, as well as to repeated Iranian shipping harassment and provocations; A-7Es from VA-22 and VA-94, along with A-6E Intruders from VA-95 participated in sinking the Iranian Frigate Sahand, which had fired missiles at two American A-6Es.
Panama
The Ohio Air National Guard's 180th Tactical Fighter Group (180 TFG) was deployed on rotation in Panama when hostilities began in late December 1989 and participated in Operation Just Cause. They were among the ANG units that routinely rotated to Howard Air Force Base to provide a presence in Panama Cornet Cove deployment exercises.
Operation Desert Shield/Storm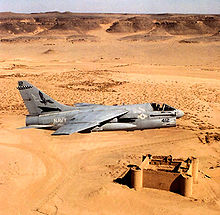 Picture - A-7E from VA-72 flying over the Saudi desert during Operation Desert Shield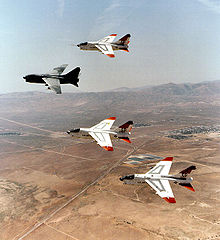 Picture - Prototype YA-7Ds 67-14582 and 67-14584, along with 69-6191 and 69-6217 making last flyover retirement formation over Edwards AFB, California, heading to AMARC, August 1992
While USAF A-7s stayed home in favor of A-10s, the US Navy deployed two of their last A-7E squadrons to Operation Desert Shield in August 1990 aboard USS John F. Kennedy (CV 67), the only carrier of six deployed to Desert Storm to operate the A-7. VA-46 and VA-72 made the last combat sorties of the A-7 in Operation Desert Storm flying from the Red Sea to targets throughout Iraq. The A-7 was used both day and night to attack a wide range of heavily defended deep interdiction targets in Iraq as well as "kill boxes" (geographically defined kill zones) in Kuwait, employing a variety of weapons including precision-guided munitions (PGM's), such as the TV-guided Walleye glide bomb, unguided general purpose bombs, and High Speed Anti-Radiation missiles (HARM). The A-7 was also used as a tanker in numerous in-flight refueling missions.
Use in F-117 development
The 4450th Tactical Group stationed at Nellis AFB, Nevada had the distinction of being the last active USAF unit to operate the A-7 Corsair II. The mission of the 4450th TG was the operational development of the F-117 Nighthawk, and the unit needed a surrogate aircraft for pilot training and practice. A-7Ds and A-7Ks were obtained from various active duty and air national guard squadrons and were assigned initially to the "(P)" or "Provisional" unit of the 4450th Tactical Group, redesignated the 4451st Tactical Squadron in January 1983.
The A-7s were used as a deception and training aircraft by the group between 1981 and 1989. It was selected because it demanded about the correct amount of pilot workload expected in the F-117A, was single seat, and many of the F-117A pilots had F-4 or F-111 backgrounds. A-7s were used for pilot training before any F-117As had been delivered to bring all pilots to a common flight training base line. Later, the A-7s were used to chase F-117A tests and other weapon tests at the Nellis Range.
A-7 flight operations began in June 1981 concurrent with the very first YF-117A flights. The A-7s wore a unique "LV" tailcode (for Las Vegas) and had a dark purple/black paint motif. The A-7s were based officially at Nellis Air Force Base and were maintained by the 4450th Maintenance Squadron.
In addition to providing an excuse for the 4450th's existence and activities, the A-7s were also used to maintain pilot currency, particularly in the early stages when very few production F-117As were available. The pilots learned to fly chase on F-117A test and training flights, perform practice covert deployments, and practice any other purpose that could not be accomplished using F-117As, given the tight restrictions imposed on all F-117A operations.
Some A-7s operated from the Tonopah Test Range Airport, about 30 miles (48 km) southeast of Tonopah, Nevada where the F-117s were being operationally tested. As a deception operation, care was taken to ensure that F-117As were never left parked outside aircraft hangars during daylight hours. However, A-7s were deliberately and routinely left outside hangers for the benefit of any orbiting Soviet spy satellites. Soviet intelligence agencies examining spy satellite imagery of the base would undoubtedly notice the A-7s parked on the Tonopah flight line, and would not be particularly interested. The intention of this deception was to convince the Soviets that Tonopah operated nothing more exciting than some A-7 Corsairs.
As part of the deception and to develop deployment procedures, the 4451st TS deployed A-7s to Kunsan AB, South Korea in 1984 to participate in Team Spirit 1984. The word was purposely leaked that the 4450th TG A-7Ds were carrying "super secret" atomic anti-radar devices that would render the aircraft invisible. To maintain the deception, each A-7D was outfitted with old napalm canisters painted black with a flashing red danger light in the rear. The canisters carried a radiation warning tag over an ominous-looking slot on which was printed: "Reactor Cooling Fill Port." When the 4450th TG deployed carrying these bogus devices, the USAF Security Police closed down the base and ringed the field with machine gun toting vehicles. They forced all the runway personnel to turn their backs to the A-7s as they taxied past, and actually had them spreadeagled on the deck with their eyes closed until the 4450th TG A-7s took off.
There were approximately 20 A-7D aircraft used in developing the F-117, including several two-seat TA-7K trainers. In January 1989, just three months after the USAF admitted the F-117A existed, the A-7s were retired to AMARC and were replaced by AT-38B Talons as training aircraft and the 4451st TS was deactivated.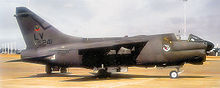 Picture - A-7D-5-CV AF Serial No. 69-6241 of the 4451st Test Squadron / 4450th Tactical Group at Nellis AFB, Nevada in 1984
Training and retirement
Pilots quipped that the Corsair "is not very fast, but it sure is slow." For dissimilar air combat training (DACT), and aerial demonstrations by the Blue Angels, the Navy would choose the more nimble A-4 Skyhawk as a subsonic maneuvering platform, as some considered the A-7 to be inadequate in air combat, even though it was highly maneuverable and was more fitting as a highly successful attack aircraft with a stable bombing platform. The Marine Corps would also pass on the Corsair, opting instead for the V/STOL vertical landing AV-8 Harrier as their light attack aircraft to replace their A-4F/M Skyhawks.
Naval Reserve and Air National Guard units, however, were often forced to operate the A-7E and D models in rather challenging air-to-air duels with USAF F-15 Eagles and USN F-14 Tomcats. Several A-7 units adopted a technique pioneered by the Puerto Rico Air National Guard: if an F-15 approaches gun range, depart the A-7 from controlled flight and deploy as much chaff and flares as possible. Departing an A-7 from controlled flight resulted in very high and simultaneous roll, yaw and pitch rates. It also caused a near instantaneous airspeed loss of 100 to 150 knots (280 km/h) that made successful gun-tracking by an opponent nearly impossible. Deploying chaff and flares during such an event spewed these devices in all directions as the range between the two aircraft rapidly diminished and consequently posed a chaff/flare collision threat to the attacking aircraft, as documented by the Puerto Rico ANG's former 156th Fighter Wing, then flying the A-7, and the Louisiana Air National Guard's 159th Fighter Wing flying the F-15.
Beginning in 1974, active duty U.S. Air Force wings began transferring A-7Ds to Air National Guard (ANG) units. The Air Force had planned to end procurement of the A-7D in 1974 as a result of the development of the Fairchild-Republic A-10 Thunderbolt II, which was programmed to replace the Corsair as the Air Force's close air support aircraft. However, Congressional decisions added additional funding to the DOD FY 1975 and FY 1976 budgets for the procurement of additional A-7Ds, primarily to keep the LTV production line in Dallas open and the workers employed in the wake of post-Vietnam DOD procurement reductions. As a result of these unplanned acquisitions, the Air Force assigned these new 1975 and 1976 built aircraft, along with new twin seat A-7Ks trainers in 1979 directly to the Air National Guard. In March 1976, A-10 production aircraft began arriving at active-duty units (355th TFW; 354th TFW) in 1977 and began replacing the Corsairs of active duty squadrons. The A-7Ds were subsequently transferred to Air National Guard units.
By 1981, with the exception of the A-7Ds used in the F-117A program, the last active-duty Corsairs were reassigned to ANG squadrons by the 23d Tactical Fighter Wing at England Air Force Base, Louisiana. Many active duty pilots missed the performance and sophistication of the Corsair. The A-7Ds used by the 4450th Tactical Group in Nevada were either retired or sent to ANG units in 1989.
F-16s began replacing the Air National Guard Corsairs beginning in the late 1980s and the last were retired in 1993 by the ANG units at Rickenbacker ANGB, (Ohio); Des Moines International Airport/ANGB, (Iowa); Tulsa International Airport/ANGB, (Oklahoma); and Springfield-Beckley Municipal Airport/ANGB, (Ohio).
U.S. Navy A-7 Corsairs began being phased out of the fleet during the mid-1980s with the arrival of the McDonnell Douglas (now Boeing) F/A-18 Hornet. The last Navy A-7s were retired by the last fleet operational squadrons (VA-46 and VA-72) in May 1991 shortly after their return from Operation Desert Storm.
Some of these surplus aircraft were passed to Greece, Thailand and Portugal; however by the end of 1998, with the exception of some airframes used as static displays, all US A-7s were disposed of by the AMARC at Davis-Monthan AFB, Arizona.
The Hellenic Air Force purchased new A-7H aircraft in moderate numbers. The last two squadrons that used the aircraft were the 335th and 336th. The A-7 remains still in limited operational use by the latter, as the type is gradually being retired, to be replaced by newly purchased F-16s.
The Portuguese Air Force selected the A-7P (modified A-7A/B models) and flew them extensively from 1981 onward. The reliability and exceptional range allowing unrefueled routine flights to the Madera Islands and Lajes AB in the Azores.
Variants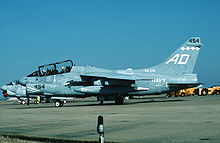 Picture - TA-7C of VA-174 in 1988
A-7A
First production version. Early USN Corsair IIs had two 20 mm Colt Mk 12 cannons with 250 rounds per gun. Maximum ordnance, carried primarily on the wing pylons, was theoretically 15,000 lb (6,804 kg), but was limited by maximum takeoff weight, so the full weapon load could only be carried with greatly reduced internal fuel; Equipped with AN/APN-153 navigational radar, AN/APQ-115 terrain following radar, and a separate AN/APQ-99 attack radar; 199 built.
A-7B
Uprated TF30-P-8 engine with 12,190 lbf (54.2 kN) of thrust. In 1971, surviving A-7Bs were further upgraded to TF30-P-408 with 13,390 lbf (59.6 kN) of thrust; AN/APQ-115 terrain following radar in earlier A-7A is replaced by AN/APQ-116 terrain following radar; 196 built.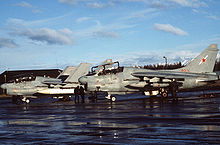 Picture - EA-7L of VAQ-34 in 1987
A-7C
First 67 production A-7E with TF30-P-408 engines.
TA-7C
Two-seat trainer version for U.S. Navy, 24 converted from A-7B, 36 from A-7C. In 1984, 49 airframes, including the 8 EA-7Ls, were re-engined with the TF41-A-402 and upgraded to A-7E standard.
A-7D
Version built for the USAF, with one Allison TF41-A-1 turbofan, and a single 20 mm M61 Vulcan gatling cannon; AN/APN-153 navigational radar in earlier models is replaced by AN/APN-185 navigational radar, AN/APQ-116 terrain following radar in earlier A-7B/C is replaced by AN/APQ-126 terrain following radar; 459 built.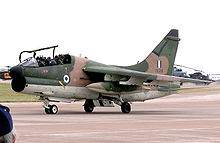 Picture - Greek Air Force TA-7H
A-7E
Naval carrier-capable equivalent of the A-7D; AN/APN-185 navigational radar in earlier A-7D is replaced by AN/APN-190 navigational radar, AN/APQ-126 terrain following radar in earlier A-7D is replaced by AN/APQ-128 terrain following radar; 529 built.
YA-7F Strikefighter (A-7D Plus)
Stretched, supersonic version of A-7 powered by an F100, optimized for interdiction role, but cancelled after two prototypes were built.
A-7G
Proposed version for Switzerland, none built.
A-7H
Modified A-7E for Greece without air-refuelling capability, 60 built.
TA-7H
Two-seat trainer version for Greece.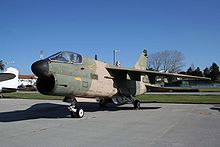 Picture - A-7P of the Portuguese Air Force
EA-7L
8 TA-7C modified into electronic aggressor aircraft used by VAQ-34, upgraded to A-7E standard while retaining twin seats in 1984.
TA-7K
Two-seat trainer version for Air National Guard, 30 built.
A-7P
Ex-US Navy A-7A rebuilt for Portugal, 44 refurbished with TF30-P-408 engines and an avionics fit similar to the A-7E.
TA-7P
Two-seat trainer version for Portugal; six converted from ex-US Navy A-7A.
YA-7E/YA-7H
Two-seat prototypes built by Ling-Temco-Vought as a private venture.
Operators
Greece
Portugal
Thailand
United States

Aircraft on display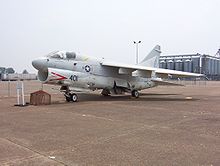 Picture - Retired A-7 Corsair II in front of the Veterans' Museum in Halls, Tennessee
An A-7P is on display with the Portuguese Air Force (FAP) Museum
An A-7P is on display at the Polish Aviation Museum, Krakow
An A-7D is on display at the National Museum of the U.S. Air Force, Wright-Patterson AFB, Dayton, Ohio. The aircraft (AF Ser. No. 70-0970) was flown by Major Colin Clark on a nine hour rescue mission in Southeast Asia, for which he received the Air Force Cross.
An A-7D is on display near Headquarters, 12th Air Force (12 AF) at Davis-Monthan AFB, Arizona.
An A-7D and YA-7F are on display at the Hill Aerospace Museum at Hill AFB, Utah.
An A-7D on display at the Aerospace Museum of California in Sacramento, California on the former McClellan Air Force Base.
An A-7D is used for Aircraft Maintenance Technician training at Tulsa Technology Center in Tulsa, OK. It is fired up every month or so to show the Powerplant students how the engine performs in the aircraft. Tulsa Tech also utilizes the TF-41 jet engine in its indoor turbine test cell.[1]
An A-7D on display at the Evergreen Air & Space Museum in McMinville, Oregon.
An A-7D is on display at the 185th Air Refueling Wing in Sioux City, Iowa, an Iowa Air National Guard base.
An A-7D is on display on the NW Beaver Drive overlook at Camp Dodge in Johnston, Iowa , an Iowa Army National Guard base.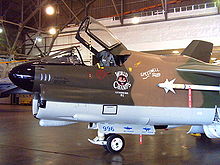 Picture - A-7D "Speedwell" at Wings Museum
An A-7D (No. 73-0996, "Speedwell", from the Colo. Air Nat'l Guard) attack fighter on display at the Wings Over the Rockies Air and Space Museum, Denver, Colorado
An A-7E in the markings of VA-174 is on display at the War Eagles Air Museum, located at the Dox±a Ana County Airport, Santa Teresa, New Mexico.
An A-7E in the markings of VA-46 on loan from the National Museum of Naval Aviation is on display at NAS Jacksonville, Florida.
An A-7E on loan from the National Museum of Naval Aviation is on display aboard the USS Midway (CV-41) Museum in San Diego, California.
An A-7E on loan from the National Museum of Naval Aviation is on display at NAS Lemoore, California.
An A-7E on loan from the National Museum of Naval Aviation is on display at NAS Fallon, Nevada.
A TA-A7C, Navy Bureau number 154-407 Corsair II located at the National Atomic Museum adjacent to Kirtland AFB in Albuquerque, New Mexico.
An A-7E in the markings of VF-147 is on display at the USS KIDD Veterans Memorial in Baton Rouge, Louisiana.
An A-7E in the markings of VA-72 is on display at the National Museum of Naval Aviation at NAS Pensacola, Florida.
An A-7 on loan from the National Museum of Naval Aviation at NAS Pensacola, Florida is located on the east side of the Interstate 75, just south of Lake City, Florida near Mile Marker 275.
An A-7E on loan from the National Museum of Naval Aviation is on display in the Tillamook Air Museum, a World War II blimp hangar in Oregon.
Another A-7 is on display in Hickory, North Carolina, at the Hickory Regional Airport's new Hickory Aviation Museum as of May 2007, operated by the Sabre Society of North Carolina (also based there). The society has a small but very nice collection of aircraft, most donated by the National Museum of Naval Aviation in Pensacola.
An A-7 cross section is on display in a mock aircraft carrier hangar at the Museum of Science and Industry in Chicago, Illinois.
An A-7 is on display at the USS Kidd Memorial in Baton Rouge, LA
An A-7 is on display at the Virginia Aviation Museum in Richmond, VA
An A-7, tail number 68-0290, is on loan from the National Museum of the United States Air Force and is located on the corner of East Jackson Street and South Maple Street in Cullom, Illinois.
An A-7 with Gulf War markings is on static display at the Rimini Aviation Museum in Italy, on the coast of the Adriatic Sea.
Two A-7s are on static display at New Century AirCenter, New Century, Kansas, which was formerly Naval Air Station Olathe, near Kansas City. One is a two-seat version.
There are several A-7s in both Navy and Air Force markings on display at the Pima Air Museum adjacent to Davis-Monthan AFB in Tucson, Arizona.
An A-7E is on display on the flight deck of the USS Yorktown (CV-10), at the Patriot's Point Naval and Maritime Museum in Mount Pleasant, SC.
A-7A 152681, with markings from service with VA-125 is on display at the Prairie Aviation Museum in Bloomington, IL.
An A-7 is in the collection of the Oakland Aviation Museum http://www.oaklandaviationmuseum.org/ in Oakland, CA.
An A-7 is on display atop a pylon at the east gate of the decommissioned Alameda Air Station, Alameda Point, Alameda CA.
A-7D 70-1019, formerly of the 354th Tactical Fighter Wing is on static display at the former Myrtle Beach AFB as part of the City of Myrtle Beach "Warrior Park".
A-7D S/N:69-6200 is on display at the Wings of Eagles Museum [2] at the Elmira-Corning Regional Airport, in Horseheads, NY.
A-7E(2)S/N 159971 on display at the Carolina's Aviation Museum at Charlotte, N.C. Douglas International Airport; the aircraft last flew off the USS John F. Kennedy during Operation Desert Storm.

Specifications
A-7E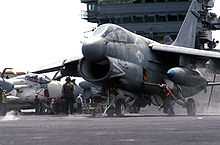 Picture - An Attack Squadron 72 (VA-72) A-7E aboard the USS Eisenhower
Data from Complete Encyclopedia of World Aircraft, International Directory of Military Aircraft
General characteristics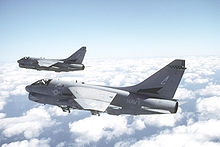 Picture - An air-to-air port side profile view of Attack Squadron 72 (VA-72) A-7E Corsair II aircraft.
Crew: 1
Length: 46 ft 1.5 in (14.06 m)
Wingspan: 38 ft 9 in (11.81 m)
Height: 16 ft 0.75 in (4.90 m)
Wing area: 375 ft² (34.8 m²)
Airfoil: NACA 65A007 root and tip
Empty weight: 19,490 lb (8,840 kg)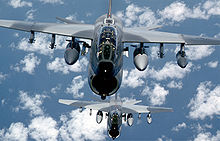 Picture - An air-to-air front view of a TA-7K
Max takeoff weight: 42,000 lb (19,050 kg)
Powerplant: 1x— Allison TF41-A-2 turbofan, 14,500 lbf (64.5 kN)
Performance
Maximum speed: 600 knots (698 mph, 1,123 km/h) ; at sea level
Combat radius: 621 nmi (700 mi, 1,127 km)
Ferry range: 2,485 nmi (2,860 mi, 4,600 km) ; with external fuel tanks
Wing loading: 77.4 lb/ft² (379 kg/m²)
Thrust/weight: 0.50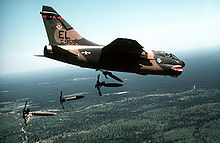 Picture - A-7D-7-CV air dropping Mark 82 hi-drag bombs over the Tyndall Air Force Base range.
Armament
Guns: 1x— 20 mm (0.787 in) M61 Vulcan gatling gun with 1,030 rounds
Hardpoints: 6x— under-wing plus 2x— fuselage pylon stations (for mounting AIM-9 Sidewinder AAMs only) holding up to 15,000 lb (6,800 kg) of payload.
Rockets:
4x— LAU-10 rocket pods (each with 4x— 127 mm Mk 32 Zuni rockets)
Missiles:
Air-to-air missiles:
2x— AIM-9 Sidewinder
Air-to-surface missiles:
2x— AGM-45 Shrike Anti-radiation missile (ARM); or
2x— AGM-62 Walleye TV-guided Glide bomb; or
2x— AGM-65 Maverick; or
2x— AGM-88 HARM; or
2x— GBU-15 electro-optically guided Glide bomb
Bombs: Up to 30x— 500 lb (227 kg) Mark 82 bombs or any combination of the following;
Mark 80 series of unguided bombs (including 3 kg and 14 kg practice bombs)
Paveway series of laser-guided bombs
Up to 4x— B28 nuclear bomb/B57 nuclear bomb/B61 nuclear bombs
Others:
up to 4 x— 300/330/370 US Gallon drop tanks (pylon station No. 1,3,6 & 8 are wet plumbed) for ferry flight/extended range/loitering time.
Often carried a hose and drogue type Buddy Store in addition to drop tanks for use as a tanker aircraft.

Avionics
Texas Instruments AN/APQ-126 terrain following radar

Related development
F-8 Crusader
Vought YA-7F

Comparable aircraft
Sukhoi Su-17
A-6 Intruder

Bibliography
NAVAIR 01-45AAA-1, A-7A/B Flight Manual. US Navy, 15 August 1973.
NAVAIR 01-45AAE-1, A-7C/E Flight Manual. US Navy, 1 March 1973.
"A Corsair by any other name:The Story of Sandy, SLUF and the Little Hummers". Air International, March 1982, Vol 22 No.3. pp. 121-125, 143146. ISSN 0306-5634.
"A Corsair by any other name:Sandy, SLUF and the Little Hummers: Part Two". Air International, April 1982, Vol 22 No. 4. pp. 169-176, 202-203.
Donald, David and Jon Lake, eds. Encyclopedia of World Military Aircraft. London: AIRtime Publishing, 1996. ISBN 1-880588-24-2.
Dorr, Robert F. "A Plus for the Corsair". Air International, August 1987, Vol 33 No. 2. Bromley, UK:Fine Scroll. ISSN 0306-5634. pp. 61-65, 84-87, 93.
Higham, Robin and Carol Williams. Flying Combat Aircraft of USAAF-USAF (Volume 2). Andrews AFB, Maryland: Air Force Historical Foundation, 1978. ISBN 0-8138-0375-6.
Hobson, Chris. Vietnam Air Losses, USAF/USN/USMC, Fixed-Wing Aircraft Losses in Southeast Asia, 1961-1973. North Branch, Minnesota: Specialty Press, 2001. ISBN 1-85780-1156.
Mersky, Peter B. "A-7 Corsair II in US Navy Service". International Air Power Review, Volume 10, Autumn/Fall 2003. Norwalk Ct, USA: AIRtime Publishing. ISSN 1473-9917. ISBN 1-880588-58-7.
Swanborough, Gordon and Peter M. Bowers. United States Military Aircraft Since 1909. Washington, DC: Smithsonian Books, 1989. ISBN 0-87474-880-1.
Swanborough, Gordon and Peter M. Bowers. United States Navy Aircraft Since 1911. London: Putnam, Second edition, 1976. ISBN 0 370 10054 9.
Swanborough, Gordon and Peter M. Bowers. United States Navy Aircraft Since 1911. Annapolis, Maryland: Naval Institute Press, 1990. ISBN 0-87021-792-5.
Wings of Eagles

Living Warbirds: The best warbirds DVD series.
Source: WikiPedia