Vought F6U Pirate Aircraft Information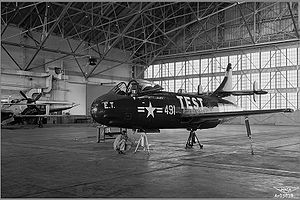 Role: Fighter aircraft
Manufacturer: Chance Vought
First flight: 2 October 1946
Status: Cancelled in 1950
Number built: 33

The Vought F6U Pirate was the company's first jet fighter. A specification was issued by the US Navy's Bureau of Aeronautics ("BuAer") for a single-seat carrier-based fighter powered by a Westinghouse "24C" (later "J34") turbojet, on 5 September 1944. In December of that year, Chance Vought was awarded a contract for three prototypes, with the initial "XF6U-1" prototype flying on 2 October 1946.
Design and development
The Pirate was an uninspired design, with the intakes slung under the wing roots, exhaust in the tail, fitted with straight wings and tail surfaces, plus optional wingtip tanks. The aircraft featured unusual construction techniques, including "Metalite" skinning of balsa, sandwiched between two thin sheets of aluminum, and "Fabrilite" skinning of balsa, sandwiched between sheets of fiberglass for the vertical tail and air intake. Production aircraft had two auxiliary fins, one towards the tip on each side of the tailplane. While not quite as conservative in design as the Ryan FR Fireball (which included a propellor and piston engine for takeoff and landing, and only used its jet for high-speed cruising), it was still very much a piston-engined aircraft design fitted with an underpowered jet engine.
The first XF6U-1 prototype was powered by a Westinghouse J34-WE-22 turbojet with 3,000 lbf (13.34 kN) thrust, one third of the weight of the aircraft. Therefore the prototype was seriously underpowered. To help improve the aircraft's performance, the third prototype, which first flew on 10 November 1947, was fitted with a Westinghouse J34-WE-30 afterburning engine of 4,224 lbf (18.78 kN) thrust, the first United States Navy fighter to have such a powerplant.
Operational history
The first production F6U-1 performed its initial flight on 5 March 1949, and 20 of the aircraft were provided to a Navy operational evaluation squadron. The judgement from the evaluation was that the Pirate was unacceptably unimpressive. Naval aviators disparagingly called the F6U the "groundhog".
On 30 October 1950, BuAer informed Vought of the Navy's opinion of the Pirate in terms both bureaucratic and scathing: "The F6U-1 had proven so sub-marginal in performance that combat utilization is not feasible." The aircraft ended up being used to develop arrester gear and barriers, and transitioned at least one Texas Naval Reserve squadron to jets.
Variants
XF6U-1 - Three prototypes.
F6U-1 - The initial production version. (29 built)
F6U-1P - Photo-reconnaissance version. (1 built)

Operators
United States
United States Navy

Specifications (F6U-1)
Data from The Complete Book of Fighters
General characteristics
Crew: 1
Length: 37 ft 7 in (11.46 m)
Wingspan: 32 ft 10 in (10 m)
Height: 12 ft 11 in (3.39 m)
Wing area: 203.4 ft² (18.9 m²)
Empty weight: 7,320 lb (3,320 kg)
Loaded weight: 12,900 lb (5,850 kg)
Powerplant: 1x— Westinghouse J34-WE-30A turbojet
Dry thrust: 3,150 lbf (14.0 kN)
Thrust with afterburner: 4,224 lbf (18.78 kN)

Performance
Maximum speed: 596 mph (517 kn, 959 km/h)
Range: 1,170 mi (1,020 nmi, 1,880 km)
Service ceiling: 46,260 ft (14,100 m)
Rate of climb: 8,060 ft/min (40.95 m/s)
Wing loading: 63.4 lb/ft² (304 kg/m²)
Thrust/weight: 0.327

Armament
Guns: 4 x— 20 mm (0.79 in) M3 cannon under the nose

Comparable aircraft
F-84 Thunderjet

Related lists
List of fighter aircraft
List of military aircraft of the United States (naval)

Bibliography
Eden, Paul and Soph Moeng, eds. The Complete Encyclopedia of World Aircraft. London: Amber Books Ltd., 2002. ISBN 0-7607-3432-1.
Green, William and Gordon Swanborough. The Complete Book of Fighters. New York: Barnes & Noble Inc., 1988, ISBN 0-07607-0904-1.
Koehnen, Richard. Chance Vought F6U Pirate (Naval Fighters Number Nine). Simi Valley, California: Ginter Books, 1983. ISBN 0-942612-09-4.

Living Warbirds: The best warbirds DVD series.
Source: WikiPedia