Vought OS2U Kingfisher Video - Taxi
Vought OS2U Kingfisher Aircraft Information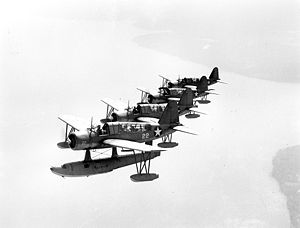 Role: Observation floatplane
Manufacturer: Vought
First flight: 1938
Retired: 1959 (Cuba)
Primary users: United States Navy Fleet Air Arm Royal Australian Air Force Soviet Naval Aviation
Number built: 1519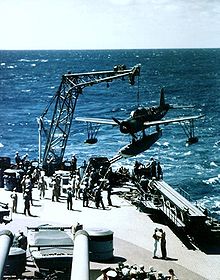 Picture - USS Missouri recovers a Vought OS2U Kingfisher during her 1944 shakedown cruise. Note the catapult below the plane, which was used to launch the planes off the battleship.
The Vought OS2U Kingfisher was a American catapult-launched observation floatplane. It was a compact mid-wing monoplane, with a big central float and small stabilizing floats. Performance was modest, because of its light engine. The OS2U could also operate on fixed, wheeled, taildragger landing gear.
The OS2U was the main shipboard observation aircraft used by the United States Navy during World War II, and 1,519 of the aircraft were built. It served on battleships and cruisers of the US Navy, and with the United States Coast Guard, the United States Marine Corps in VMS-3, the Royal Navy and the Soviet Navy. The Royal Australian Air Force also operated a few Kingfishers from shore bases.
The Naval Aircraft Factory OS2N was the designation of the OS2U-3 aircraft built by the Naval Aircraft Factory in Philadelphia, Pennsylvania. The OS2U first flew on March 1, 1938.
Operational history
The Kingfisher was widely used as a shipboard, catapult-launched scout plane on US Navy ships in World War II, as well as playing a big role in support of shore bombardments and air-sea rescue. Two examples showing the plane's rescue capabilities include the recovery of World War I ace Eddie Rickenbacker and his crew from the Pacific in November 1942 and Lt. James Burns' unique use of the plane in April 1944 to taxi airman rescued from the Truk Lagoon to a waiting submarine. In all Lt. Burn rescued ten survivors on two trips and won the Navy Cross for his efforts. Additionally, the Kingfisher served as a trainer in both its seaplane and landplane configurations throughout the war.
Variants
XO2SU-1 Prototype Vought Model VS.310 powered by a 450 hp (336 kW) Pratt & Whitney R-985-4 engine, one built. OS2U-1 Initial production variant as the prototype but powered by a 450 hp (336 kW) Pratt & Whitney R-985-48, 54 built. OS2U-2 Production variant with minor equipment changes and powered by a 450 hp (336 kW) Pratt & Whitney R-985-50, 158 built. OS2U-3 Based on the 02SU-2 with self-sealing fuel tanks, armour protection, two .30 cal (7.62 mm) guns (dorsal and nose mounted), and able to carry 325 lb (147 kg) of depth charges or 100 lb (45 kg) bombs, powered by a 450 hp (336 kW) Pratt & Whitney R-985-AN2 engine, 1006 built. OS2U-4 Two aircraft converted with narrow-chord and high-aspect ratio wings, also fitted with full-span flaps. Not developed. OS2N-1 Naval Aircraft Factory built OS2U-3 with a 450 hp (336 kW) Pratt & Whitney R-985-AN-2 or -AN-8 engine, 300 built. Kingfisher I British designation for the OS2U-3, 100 delivered to the Royal Navy.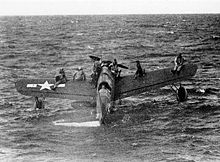 Picture - Downed American airmen near Truk await rescue on the wings of an OS2U Kingfisher
Operators
Australia
Royal Australian Air Force
No. 107 Squadron RAAF

Chile (fifteen) Cuba
Cuban Naval Aviation operated four aircraft between 1942 and 1959.

Dominican Republic (three) Mexico (six, 201 Squadron) Netherlands (twenty-four not delivered in time) Soviet Union
Soviet Naval Aviation

United Kingdom
Fleet Air Arm received 100 aircraft.

United States
United States Navy
United States Coast Guard operated 40 aircraft.

Uruguay
Uruguayan Navy (six)

Survivors
At least eight Kingfishers survive in collections of historic aircraft around the world . These include those at museums as well as those located with battleships that once carried aircraft of this type onboard. Those in museum collections include one at the National Museum of Naval Aviation at Pensacola, FL, obtained in 1971 from the Uruguayan Navy. Another Kingfisher can be seen at the National Air and Space Museum outside of Washington DC. . This aircraft was loaned to the Palm Springs Air Museum north of Palm Springs International Airport while the NASM's Udvar-Hazy Centre was under construction. There is a Kingfisher waiting 'to be restored' at the Yanks Air Museum at Chino, California as is also one at Whale World, Albany, Western Australia. In the Museo Nacional Aeronx¡utico y del Espacio de Chile, Santiago there is a restored Kingfisher, as is one at Museum of the Revolution (Museo de la Revolucix³n), Havana, Cuba. The latter is equipped with a 'fixed gear'.
Kingfishers found with battleships include the one obtained years ago from Mexico that is now located in the aircraft pavilion at the battleship USS Alabama in Mobile, AL. Unfortunately, the building and the aircraft sustained some damage from Hurricane Ivan in 2004 . There is another one onboard the battleship USS North Carolina in Wilmington, NC. With the assistance of an RCAF Piasecki helicopter, Lynn Garrison salvaged this Kingfisher from Calvert Island, off British Columbia during the winter of 1963. It crashed there on a ferry flight to Alaska during World War Two. Garrison then donated it to the North Carolina Battleship Commission. It was restored for display by volunteers at Vought Aeronautics in Grand Prairie, TX.
Specifications (OS2U-3)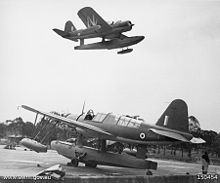 Picture - Two Australian Kingfisher aircraft in 1942
Data from "The Complete Encyclopedia of World Aircraft" Editors: Paul Eden & Soph Moeng, ISBN 0-7607-3432-1, page 1128
General characteristics
Crew: Two, pilot and observer
Length: 33 ft 10 in (10.31 m)
Wingspan: 35 ft 11 in (10.95 m)
Height: 15 ft 1.5 in (4.61 m)
Wing area: 262 ft² (24 m²)
Empty weight: 4,123 lb (1,870 kg)
Max takeoff weight: 6,000 lb (2,721 kg)
Powerplant: 1x— Pratt & Whitney R-985-AN-2 radial engine, 450 hp (336 kW)

Performance
Maximum speed: 164 mph (264 km/h)
Range: 805 mi (1,296 km)
Service ceiling: 13,000 ft (3,960 m)

Armament
Guns: 2 x— .30 in (7.62 mm) M1919 Browning machine guns
Bombs: 650 lb (295 kg) of bombs

Comparable aircraft
Arado Ar 196
Northrop N-3PB
Edo OSE-1
SC Seahawk

Bibliography
Adcock, Al. OS2U Kingfisher in Action (Aircraft in Action No. 119). Carrollton, Texas: Squadron/Signal Publications, Inc., 1991. ISBN 0-89747-270-5.
Doll, Thomas E. and Jackson, B.R. "Vought-Sikorsky OS2U Kingfisher". Aircraft in Profile, Volume 14. Windsor, Berkshire, UK: Profile Publications Ltd., 1974, p. 113-136. ISBN 0-85383-023-1.
Pattison, Barry. Kingfisher in the Antipodes. Glen Waverly, Victoria 3150, Australia: Red Roo Model Publications, 1998.
Sturtivant, Ray & Burrow, M. Fleet Air Arm Aircraft: 1939 to 1945. Tonbridge, Kent, UK: Air Britain (Historians) Ltd, 1995. ISBN 0-85130-232-7.

Living Warbirds: The best warbirds DVD series.
Source: WikiPedia