Vought SB2U Vindicator Video - With Douglas TBD-1 Devastator, Curtiss SBC-4 Helldiver
Vought SB2U Vindicator Aircraft Information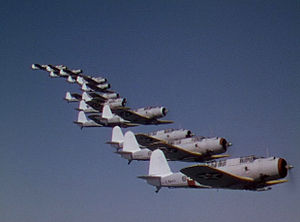 Picture - A U.S. Navy Vought SB2U Vindicator being tested by NACA
Role: Dive bomber
Manufacturer: Vought
First flight: 4 January 1936
Introduced: 1937
Retired: 1945
Primary users: United States Navy United States Marine Corps French Navy Royal Navy
Number built: ~170

The Vought SB2U Vindicator was a carrier-based dive bomber developed for the United States Navy in the 1930s, the first monoplane in this role. Obsolescent at the outbreak of World War II, Vindicators still remained in service at the time of the Battle of Midway, but by 1943, all had been withdrawn to training units. It was known as the Chesapeake in Royal Navy service.
Design and development
In 1934, the United States Navy issued a requirement for a new Scout Bomber for carrier use, and received proposals from six manufacturers. The specification was issued in two parts, one for a monoplane, and one for a biplane. Vought submitted designs in both categories, which would become the XSB2U-1 and XSB3U-1 respectively. The biplane was considered alongside the monoplane design as a "hedge" against the U.S. Navy's reluctance to pursue the modern configuration.
The XSB2U-1 was of conventional low-wing tailwheel monoplane configuration, with the pilot and tail gunner seated in tandem under a long greenhouse-style canopy. Its only remarkable design feature was a propeller with reversible pitch, allowing it to be used to brake the aircraft during a dive bombing attack.
The SB2U was evaluated against the Brewster XSBA-1, Curtiss XSBC-3, Great Lakes XB2G-1, Grumman XSBF-1 and Northrop XBT-1. All but the Great Lakes and Grumman submissions were ordered into production. Designated XSB2U-1, one prototype was ordered on 15 October 1934 and was delivered on 15 April 1936. Used for operational evaluation, its successful completion of trials led to further orders.
Around 170 of all Vindicator variants were produced, and a single example is preserved at the National Museum of Naval Aviation at NAS Pensacola.
Operational history
U.S. Navy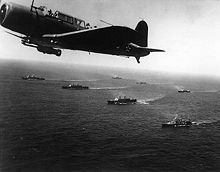 Picture - An SB2U from USS Ranger in November 1941
Vindicators served on four carriers, USS Lexington, USS Saratoga, USS Ranger, and USS Wasp between December 1937 and September 1942. Air Group Nine, destined for USS Essex, trained in Vindicators aboard the auxiliary carrier USS Charger but transitioned to the SBD Dauntless before Essex joined the war.
U.S. Marine Corps
VMSB-131 and VMSB-241 were the only two USMC squadrons that fielded the Marine-specific SB2U-3 between March 1941 and September 1943. VMSB-241's Vindicators saw combat at the Battle of Midway in June 1942. Airmen with experience in more modern aircraft spoke disparagingly of SB2Us as "vibrators" or "wind indicators" in their latter combat assignments.

Picture - Two SB2U-3s of VMSB-241, MAG-21, take off from Eastern Island shortly before the Battle of Midway
French Navy
Based on the SB2U-2, the V-156-F incorporated specific French equipment. Briefly after the deliveries started in July 1939, V-156-F crews were trained for carrier operations aboard Béarn, but when the war broke out the old carrier was declared too slow for operational service. As a result V-156-F-equipped units, escadrilles AB 1 and AB 3, were based ashore when the Battle of France started. AB 1 sustained heavy losses while attacking bridges and German ground targets in Northern France, while AB 3's V-156-Fs were briefly engaged against the Italians. By the time of the Armistice, there were only a handful of remaining Voughts in French hands, and the type was phased out of service.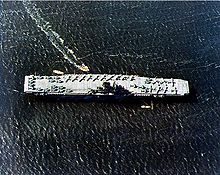 Picture - SB2U-3s on deck of the USS Wasp in June 1942
Royal Navy
France had placed an order for a further 50 V-156-Fs in March 1940, with delivery planned from March 1941. Following the defeat of France, this order was taken over by the British government for use by the Royal Navy's Fleet Air Arm, who named the aircraft the Chesapeake. The British required several modifications to the Chesapeake, including the additional fuel tank fitted to the SB2U-3, additional armour and heavier forward firing armament, with four rifle calibre machine guns replacing the single forward firing Darne machine gun of the French aircraft. Fourteen Chesapeakes were used to used to equip a reformed 811 Naval Air Squadron on 14 July 1941. The squadron, whose crews referred to it as the "cheesecake", was intended to use them for anti-submarine patrols and was earmarked for the escort carrier HMS Archer.
By the end of October that year, it had been decided that the Chesapeakes were under-powered for the planned duties and would not be able to lift a sensible warload from the small escort carriers. Accordingly, they were withdrawn from 811 Squadron in November 1941 for use as training aircraft and the unit was re-equipped with the biplane Fairey Swordfish.
Variants
XSB2U-1 - Single prototype.
SB2U-1 - Initial production version, 54 built.
SB2U-2 - 58 built
XSB2U-3 - Single prototype of the extended-range version, converted from the SB2U-1.
SB2U-3 - 57 built
V-156B - Export version for the French Navy, 24 built.
V-156B-1 - Export version for the British Royal Navy. Designated Chesapeake Mk.I; 50 built.

Operators
France
French Navy Aeronavale

United Kingdom
Royal Navy Fleet Air Arm
811 Naval Air Squadron

United States
United States Navy
United States Marine Corps

Specifications (SB2U-2)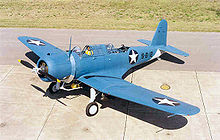 Picture - An SB2U-2 of VB-9 from the National Museum of Naval Aviation
Data from
General characteristics
Crew: Two, pilot and gunner
Length: 34 ft 0 in (10.36 m)
Wingspan: 42 ft in (12.80 m)
Height: 10 ft 3 in (3.12 m)
Wing area: 305 ft² (28 m²)
Empty weight: 4,713 lb (2,138 kg)
Loaded weight: 6,379 lb (2,893 kg)
Max takeoff weight: 7,332 lb (3,326 kg)
Powerplant: 1x— Pratt & Whitney R-1535-96 Twin Wasp Jr radial engine, 825 hp (616 kW)

Performance
Maximum speed: 251 mph (404 km/h)
Range: 630 mi (1,014 km)
Service ceiling: 27,500 ft (8,382 m)
Rate of climb: 1,340 ft/min (6.8 m/s)
Wing loading: 21 lb/ft² (103 kg/m²)
Power/mass: 0.13 hp/lb (0.21 kW/kg)

Armament
Guns: * 1 x— forward firing 0.30 in (7.62 mm) M1919 Browning machine gun in starboard wing (0.50 in (12.7 mm) M2 Browning machine gun in SB2U-3)
1 x— .30 in (7.62 mm) machine gun in flexible mount for tail gunner (.50 in (12.7 mm) in SB2U-3)
Bombs: 1 x— 1,000 lb (454 kg) or 500 lb (227 kg) bomb

Comparable aircraft
SBD Dauntless
SB2C Helldiver
Blackburn Skua
Fairey Barracuda
Aichi D3A
Junkers Ju 87

Related lists
List of military aircraft of the United States (naval)

Bibliography
Brown, Eric, CBE, DCS, AFC, RN. with William Green and Gordon Swanborough. "Vought Chesapeake". Wings of the Navy, Flying Allied Carrier Aircraft of World War Two. London: Jane's Publishing Company, 1980, pp. 20-29. ISBN 0-7106-0002-X.
Doll, Tom. SB2U Vindicator in Action (Aircraft No. 122). Carrollton, Texas: Squadron/Signal Publications Inc., 1992. ISBN 0-89747-274-8.
Green, William and Gordon Swanborough. "The Annals of Sugar Baker Two Uncle". Air Enthusiast, Eight, October 1978-January 1979. Bromley, UK:Fine Scroll. pp. 1-8, 74-79.
Mondey, David. The Hamlyn Concise Guide to American Aircraft of World War II. London: Chancellor Press, 1982. ISBN 1-85152-706-0.
Taylor, John W.R. "SB2U Vindicator". Combat Aircraft of the World from 1909 to the Present. New York: G.P. Putnam's Sons, 1969. ISBN 0-425-03633-2.
Thetford, Owen. British Naval Aircraft since 1912. London:Putnam, Fourth edition, 1978. ISBN 0 370 30021 1.

Living Warbirds: The best warbirds DVD series.
Source: WikiPedia